Are you confused about what to have this Thanksgiving day? Here we have provided a list of recipes you can make for Thanksgiving.
People following Christianity celebrate this Thanksgiving festival. It is observed on the fourth Thursday of November. i.e. 24th November this year.
Thanksgiving is a festival commemorating expressing gratitude for the blessings of the harvest. This celebration is before they cut the first crop of the harvest. Indians have festivals that share a similar sentiment to Thanksgiving. Examples of such festivals are Lohri, Onam, Uttarayan, Pongal, etc.
India is diverse; hence, there is a Christian population scattered all across the nation. Therefore, this festival is celebrated here even if it is not so common. It is majorly observed in the state of Goa in India, and the celebrations are enormous.
This festival is popularly known as Ladin here. The preparations start weeks prior, from building temporary altars outside churches to decorating them with flowers. Choir competitions are held singing litanies of the Virgin Mary and many more things.
Among all these, food is an inevitable part of the festivities. Traditionally, the feast for this festival consists of roast turkey, turkey stuffing with onions and celery, mashed potatoes, gravy, green beans, corn, dinner rolls, cranberry sauce, and pumpkin pie.
However, it is hard for the people of India to mimic these same recipes for Thanksgiving. Therefore, we will take some liberty and make a customized menu.
Download our Free Recipe Cookbook
---
Non-Alcoholic Beverages To Start Your Celebrations
Commonly, the drinks menu for Thanksgiving consists of eggnogs, apple cider, pumpkin latte, hot chocolate, and cocktails. But that is what Western people do. Therefore, we can hardly try or serve the other options except hot chocolate. Thus, this list will help with solving this problem.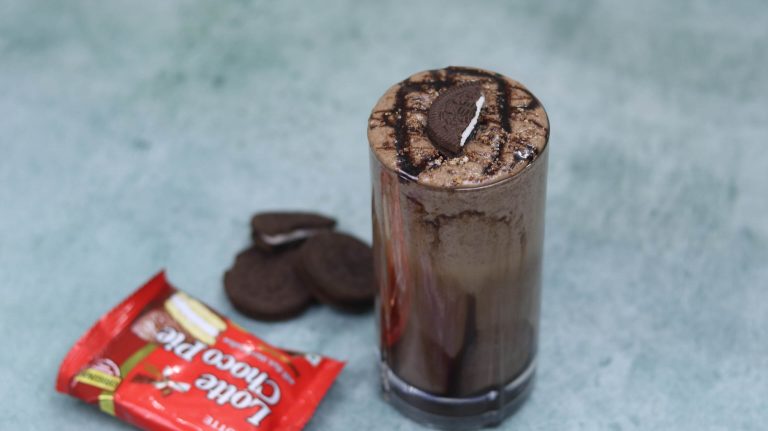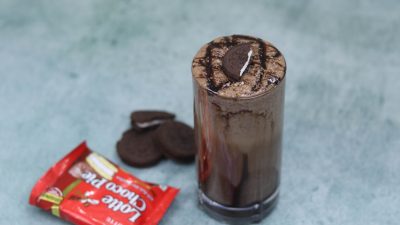 Oreo Cadbury Cake Shake with Lotte Choco Pie is a mad-mad drink for your kid's next birthday celebration. Try making it now. Watch video.
---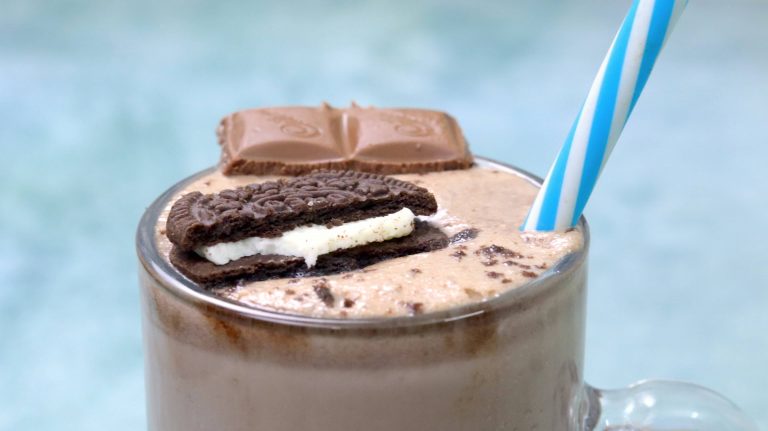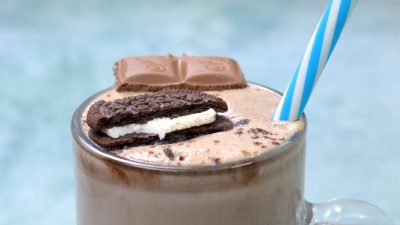 Oreo Dairy Milk Milkshake is sweet, smooth, yummy & chocolatey. Moreover, it is kids' favourite. They will ask for more. Hence, make more.
---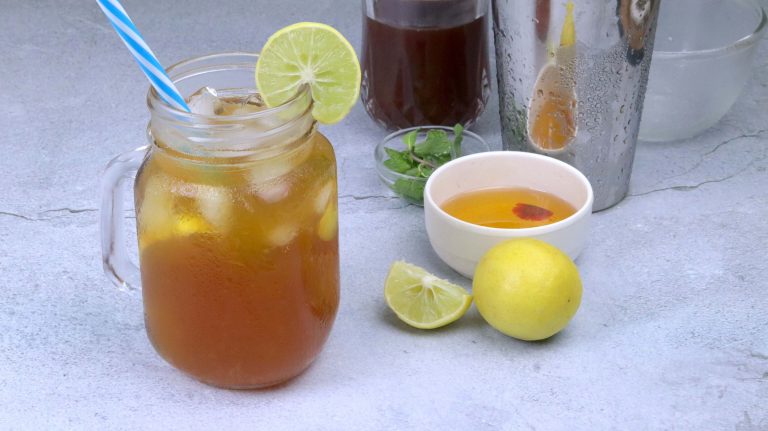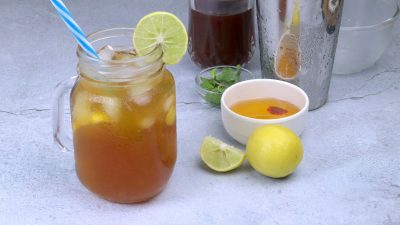 Lemon Ice Tea is an easy, no-cook, and adaptable recipe. Even if it is a summer drink, you can actually have this at any time & in any season
---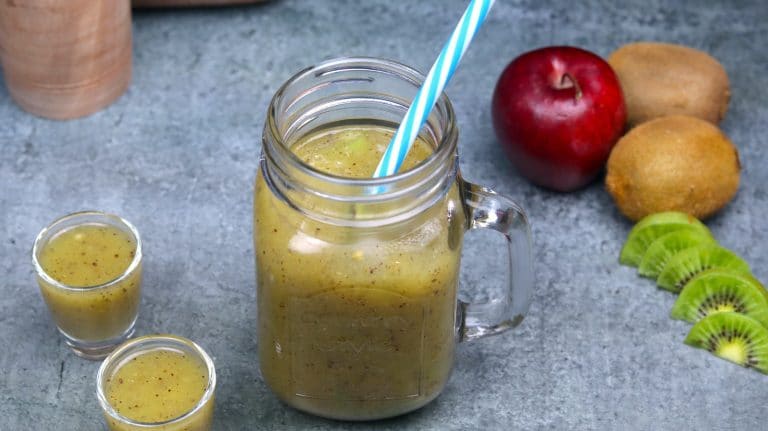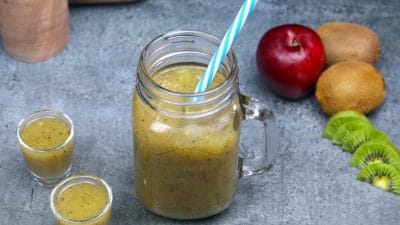 Kiwi Apple Smoothie is a super delicious and healthy drink with no sugar. It is one of the best solutions for a nutritious breakfast.
---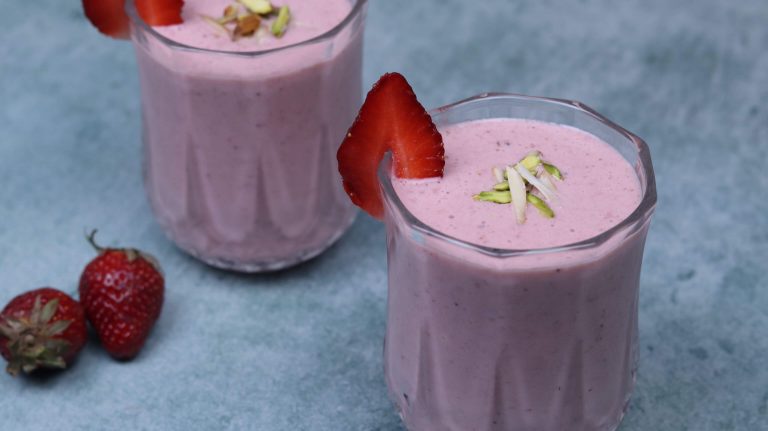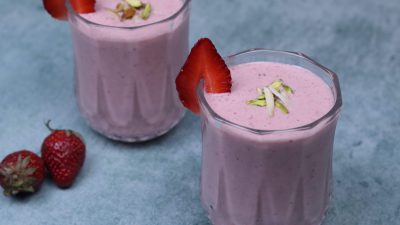 Gulkand strawberry milkshake is a creamy, flavorful & pinky refreshing summer drink. Serve during festivals & special occasions. Watch video.
---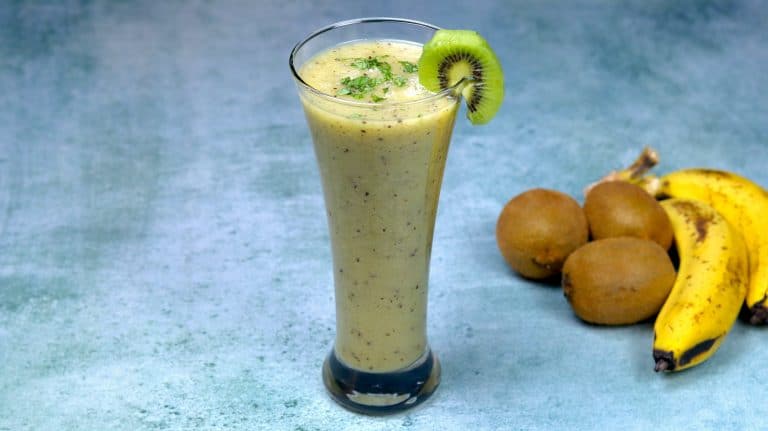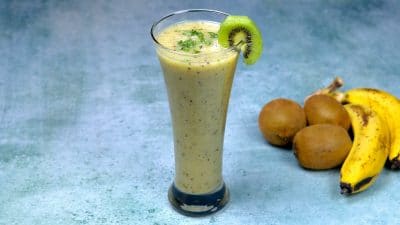 Kiwi banana smoothie is a scrumptious & tummy filling beverage. It tastes better when served cold. One can use honey or sugar.
---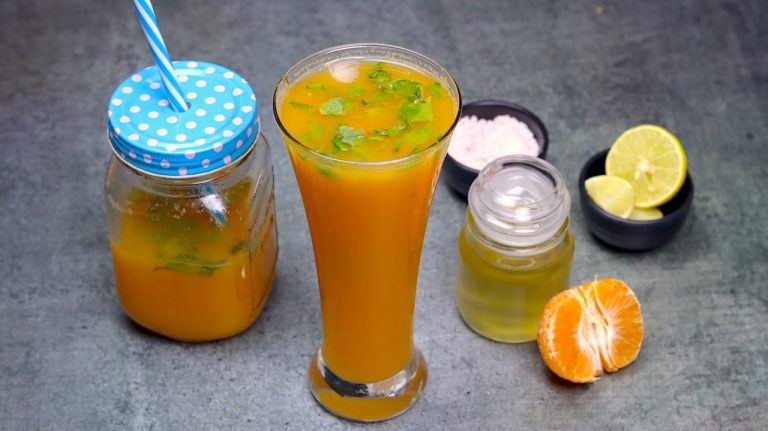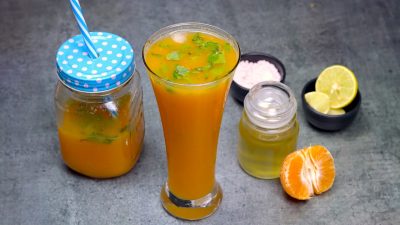 Virgin Orange Mojito is an orange-based version of the classic virgin mojito. It is a sweet & tangy non-alcoholic mocktail drink for parties.
---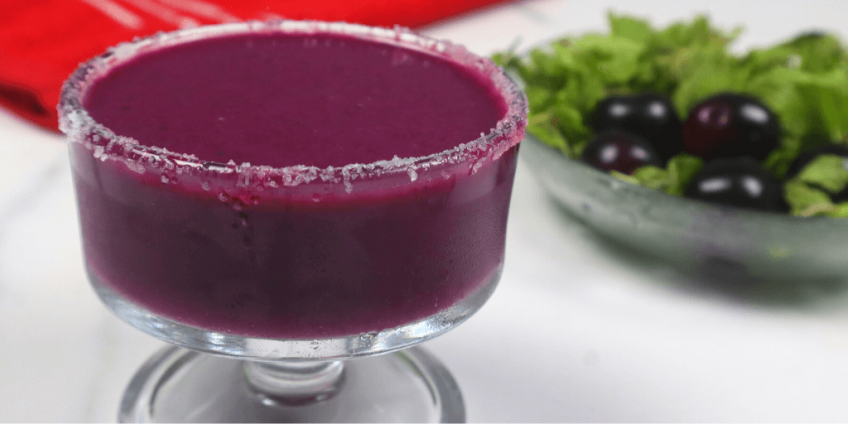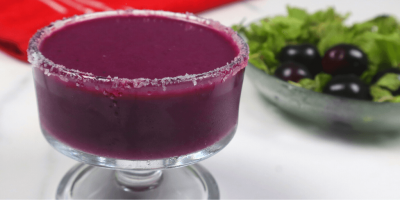 Black Jamun Shots is a trendy, easy to make, non-alcoholic fusion drink. A fresh drink good for digestive ailments & controlling diabetes.
---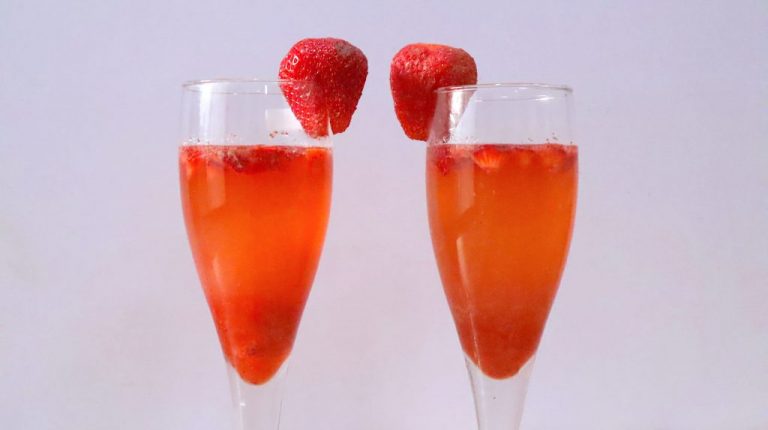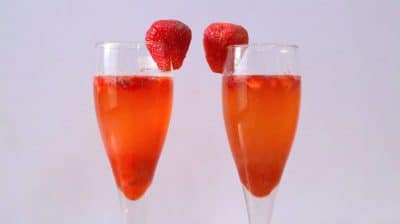 Enjoy each sip of this all natural non-alcoholic at home Strawberry drink. Each sip will fill your inner soul full of love.
---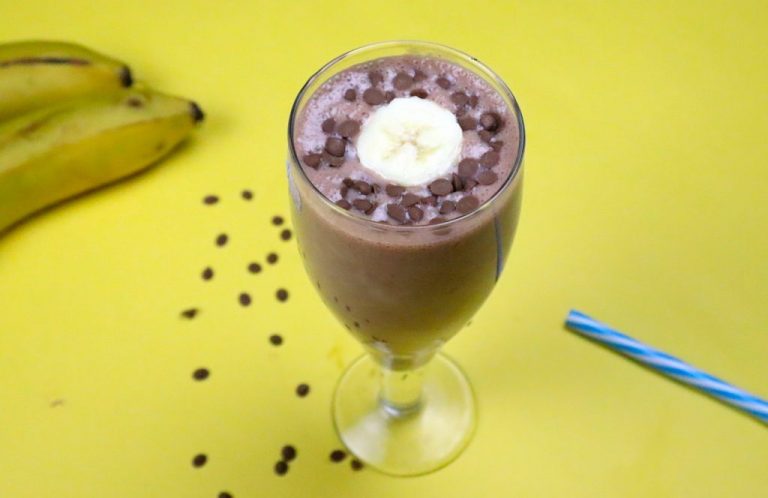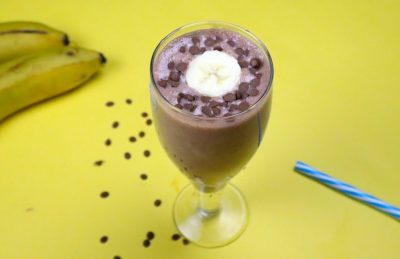 Chocolate banana milkshake is one of the tummy fillings shakes you will drink this summer. The shake is a perfect blend of cocoa powder & banana.
---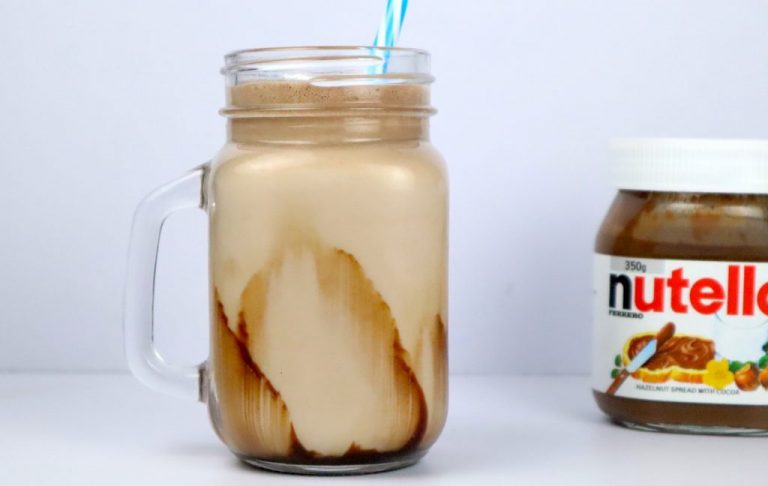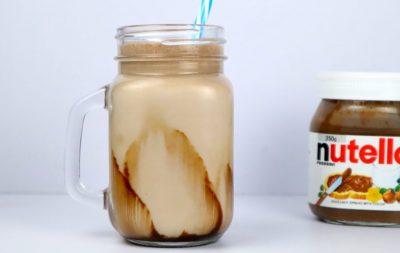 Nutella milkshake is amazing chocolatey feeling shake which is loved by all ages. Nutella is an old love & we are rewinding it specially for foodies.
---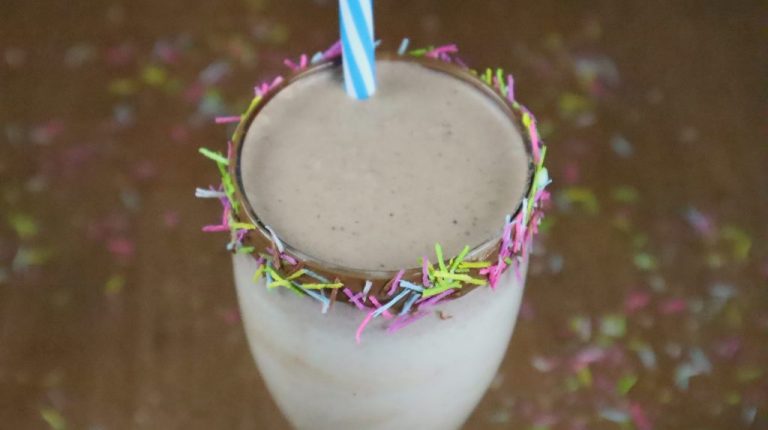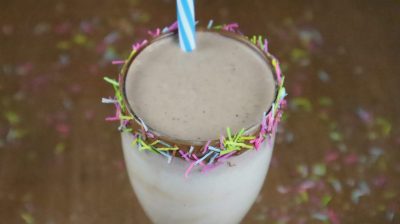 KitKat milkshake is a tribute to KitKat lovers who wants to find something innovative & here is the shake for you. It is a perfect blend of KitKat & milk.
---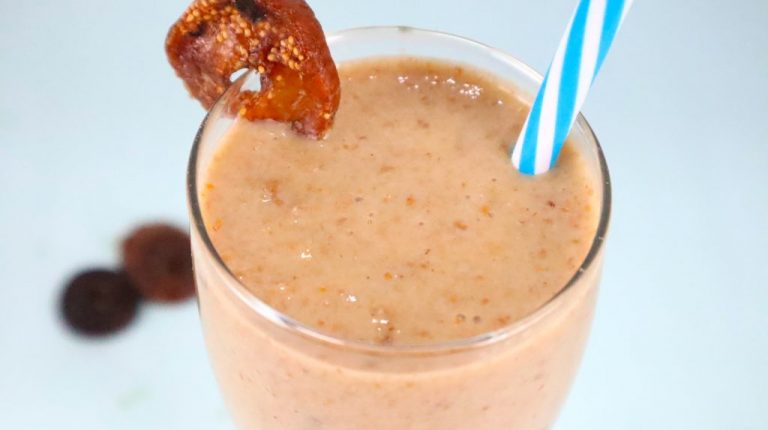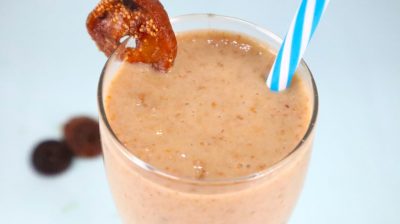 Anjeer milkshake is a quick & healthy recipe for all ages. In this recipe, we have used fresh soaked figs crushed with milk & sugar syrup.
---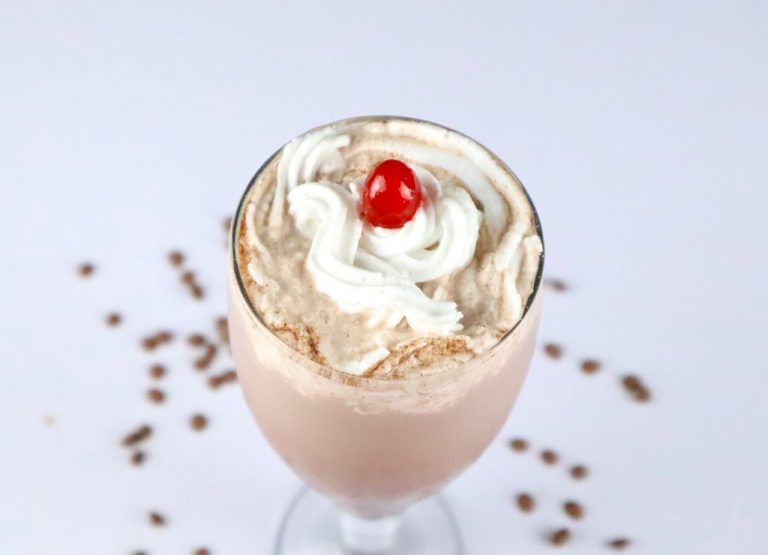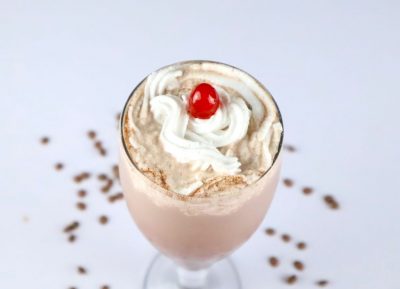 Chocolate milkshake is heavenly beverages suit your kids and teens made with flavoursome cocoa powder - a true indulgent to make for your special one. 
---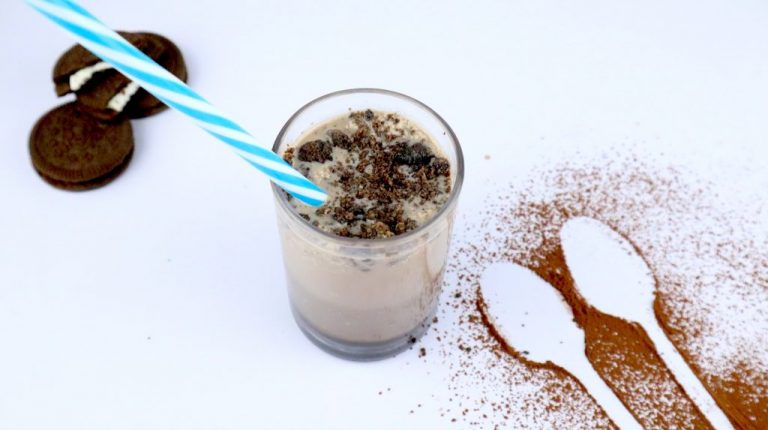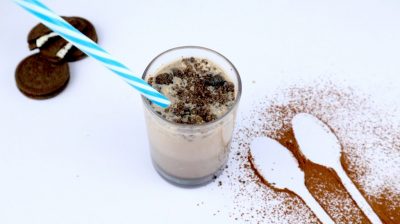 Oreo milkshake is a delicious treat for loved ones. Blend with Oreo cookies, milk and cream. It is perfectly made just like restaurants.
---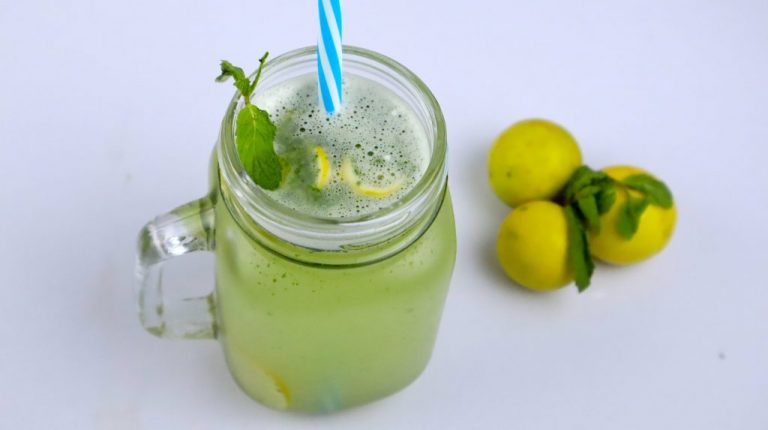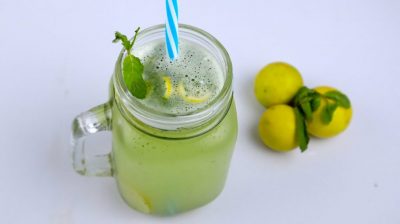 Lemon mint juice is a refreshing & healthy summer coolant. Do you know that you can make this drink sweet without adding sugar? Try now.
---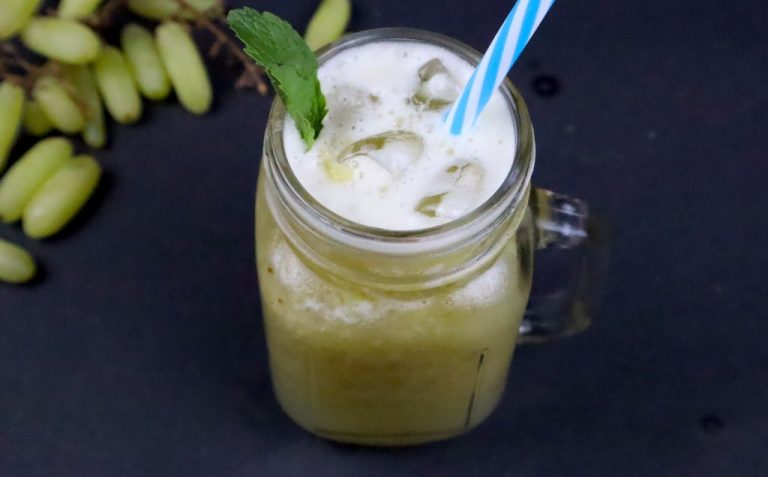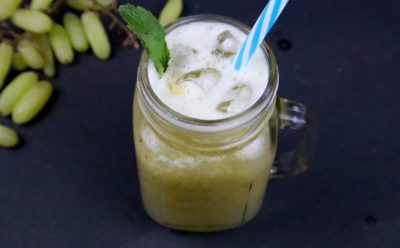 Grape juice is a genuinely delicious drink for a tasty appetite. It tastes sweet & tangy at the same time & perfect summer drink to cool down yourself.
---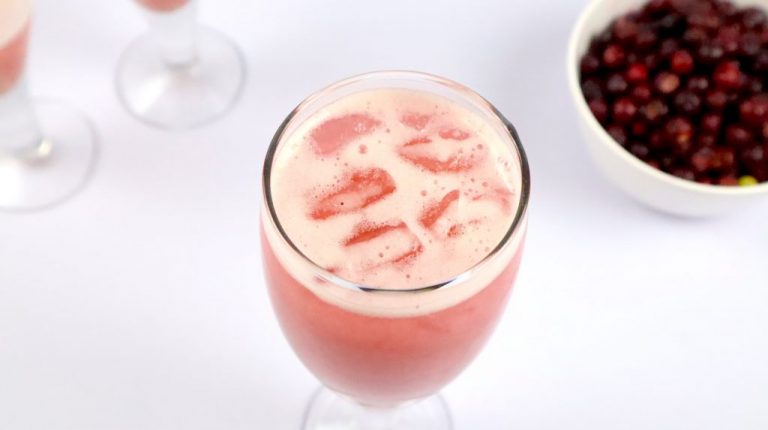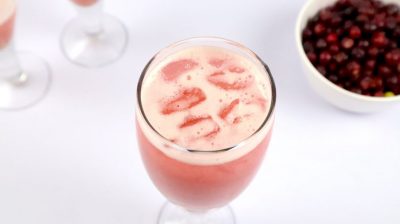 Phalsa juice also is known as Indian berry juice is one of the best refreshing and healthy drink. It is made from phalsa fruit berries crushing in water.
---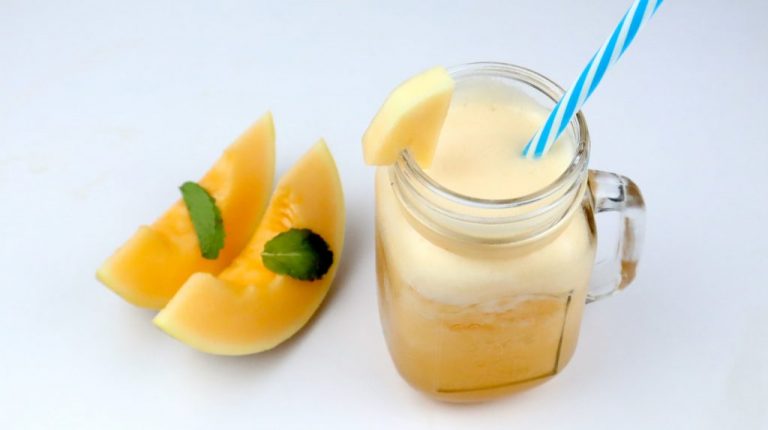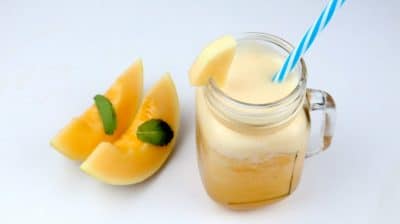 Melon juice is a refreshing drink which you will love & repeat maximum rounds. It is very tasty & healthy as well. It is the sweet drink to enjoy.
---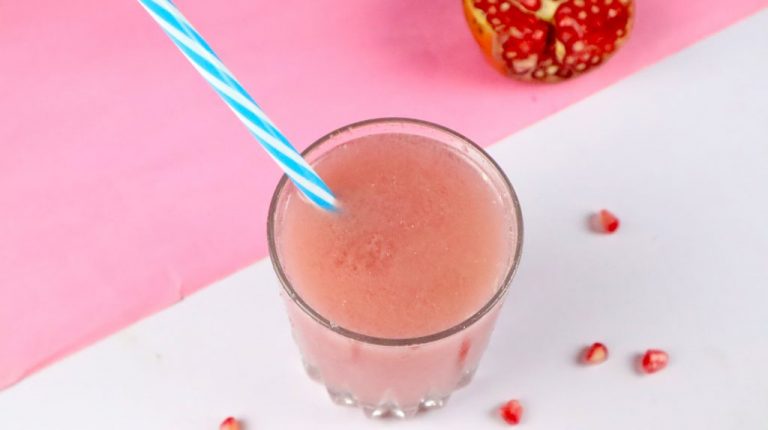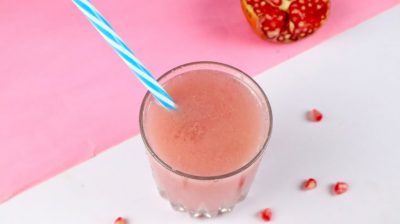 Pomegranate juice is a beautiful looking & appetizing drink. It is rich in antioxidents & an effective drink.   It takes a few moments to make it ready.
---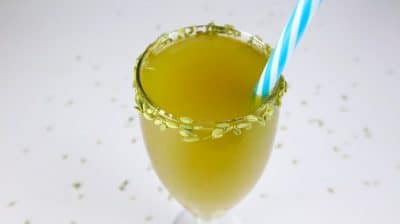 Variyali sharbat is a healthy summer drink popular in India. Fennel is the base ingredient here. Click to read the flavour profile.
---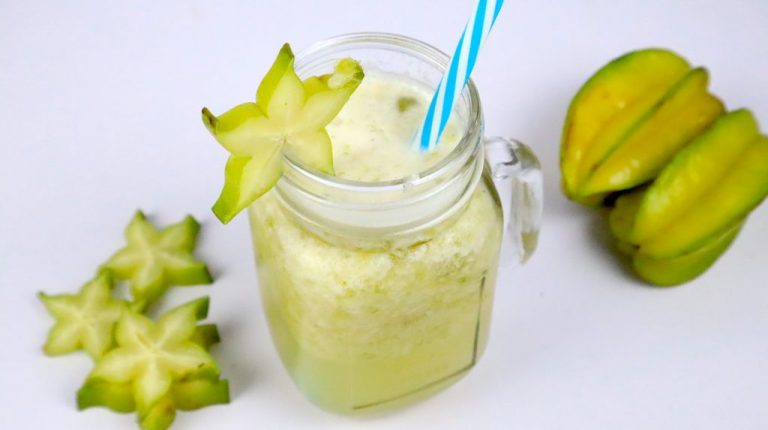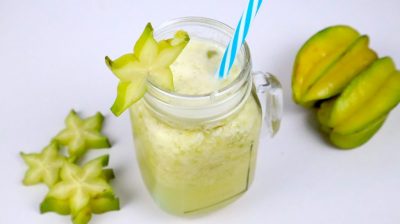 Star fruit is amazing sweet & sour beverage that gives you all the summer coolness. It is the best fragrant juice blends. It is easy to make recipe.
---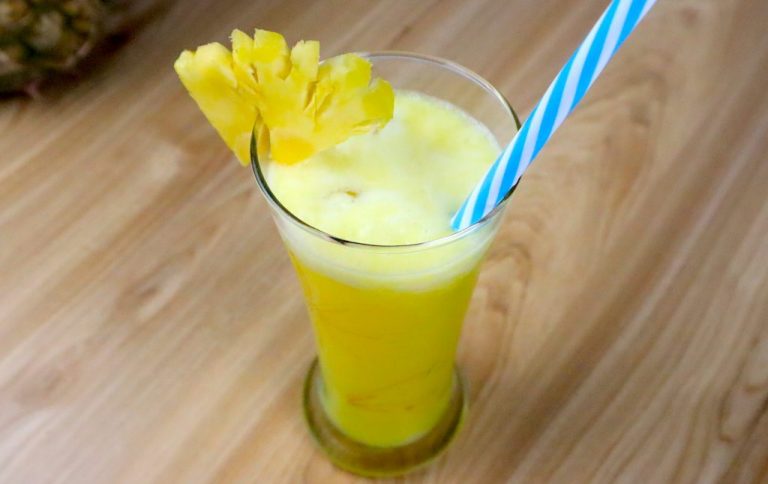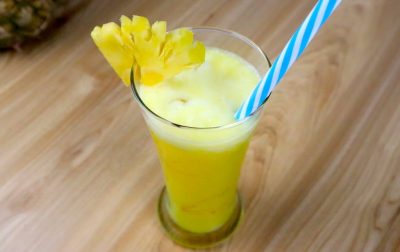 Pineapple juice is amazing tropic juice which is healthy & easy to make. Mixing with water, sugar syrup & ice cubes - your chilled heat killer juice.
---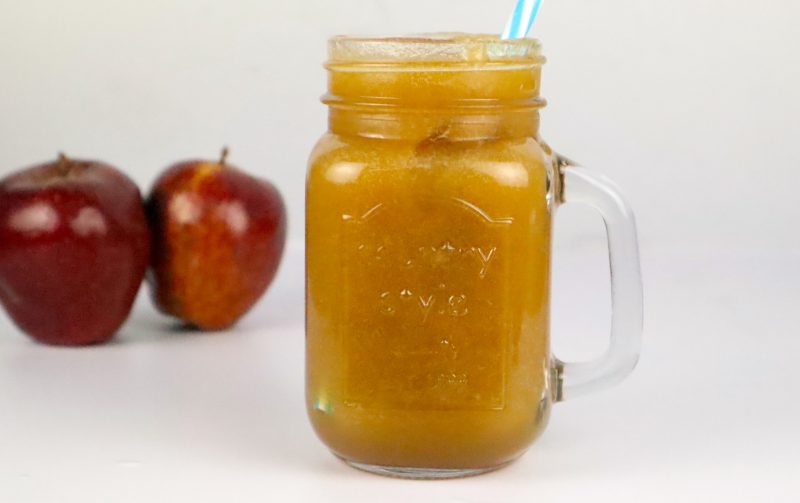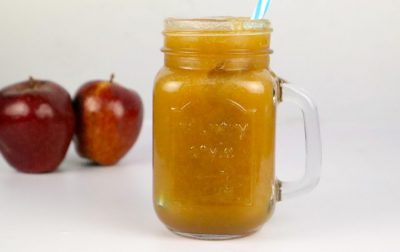 Apple juice is one of the healthiest juice full of vitamins & minerals. We are juicing fresh apple, adding sugar syrup and ice cubes - made in quick time.
---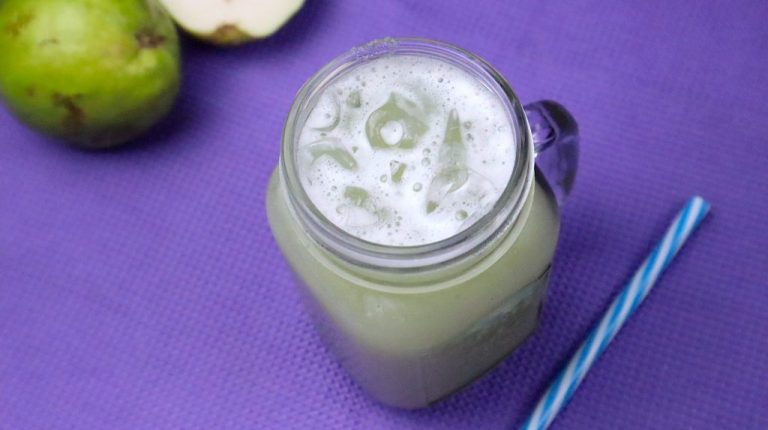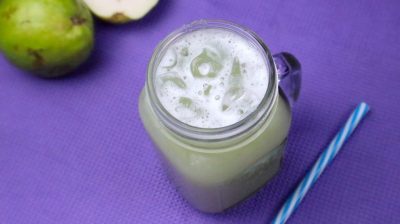 Guava juice extremely delicious and healthy tropical juice can be served in breakfast or as a light snack. It is thick in texture and tangy at the same time
---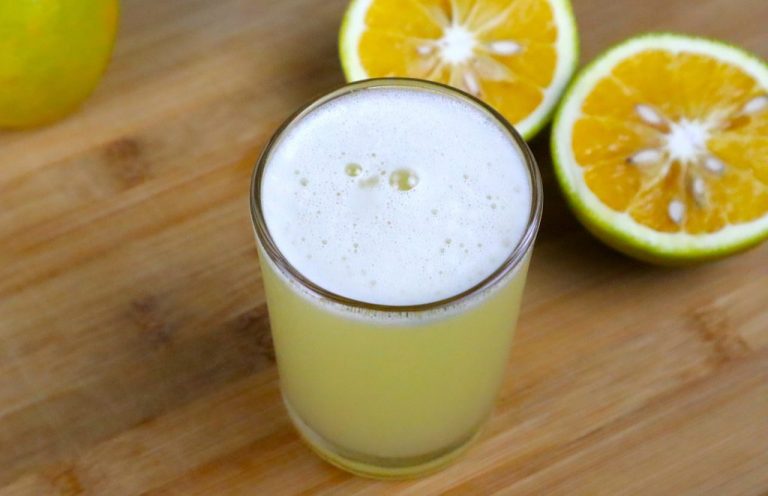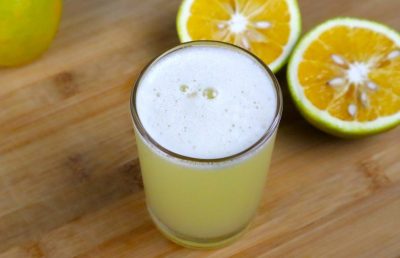 Mosambi Juice is healthy & packed with minerals, vitamins & antioxidants. Click to read what you can add to make your juice more flavourful.
---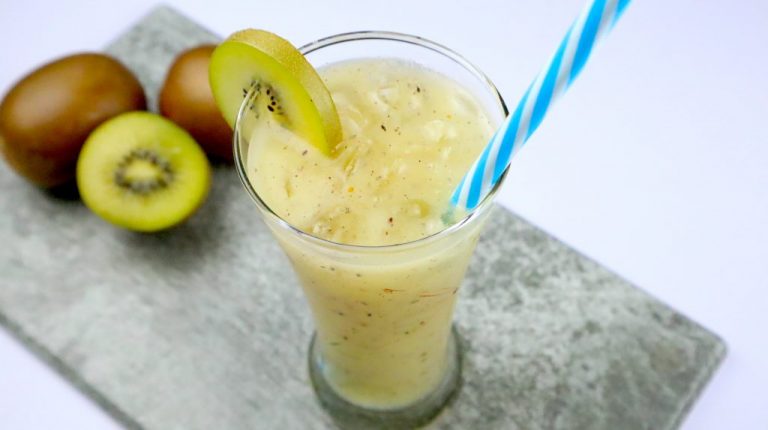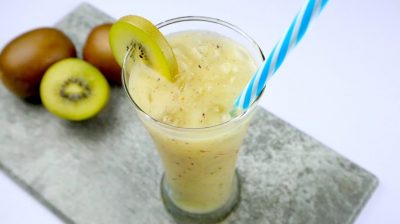 Kiwi juice is a vitamin & mineral-rich drink. It is favourite fruit-lover juice made with simple three-ingredient - riped Kiwi, sugar syrup and some ice.
---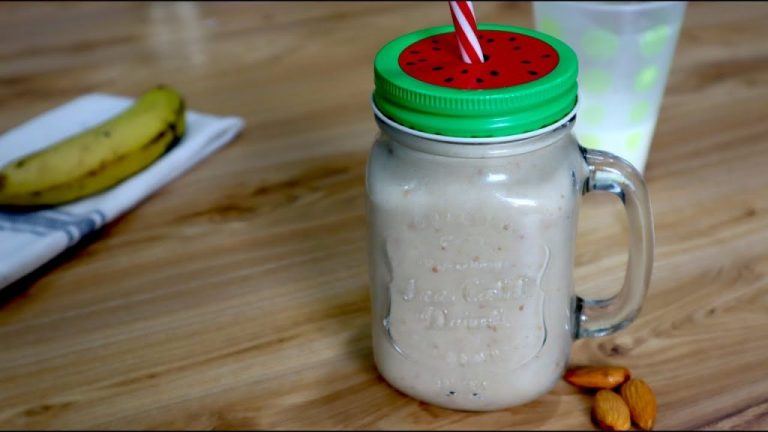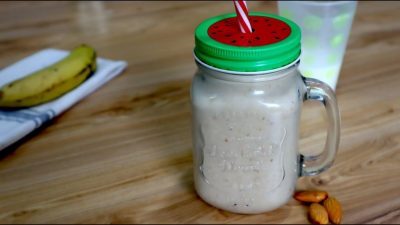 Peanut butter banana smoothie is tummy filling evening drink mix of some hearty ingredients like peanut butter, banana, almonds, milk & honey.
---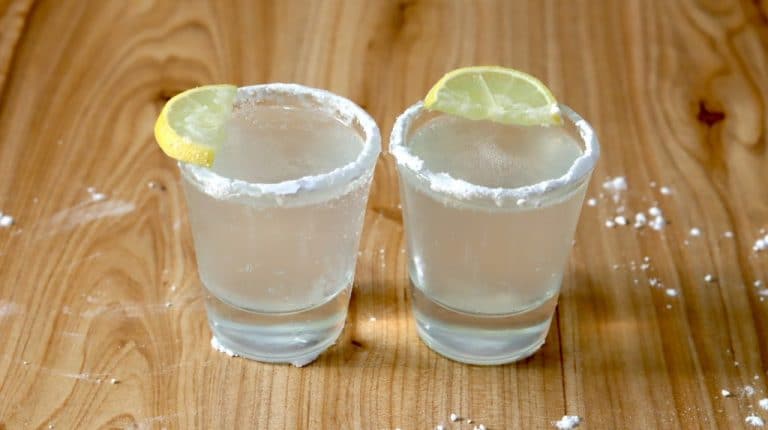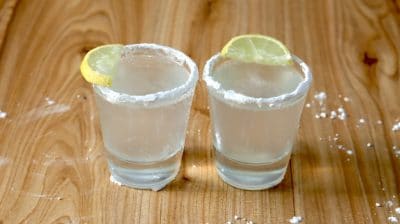 Lemon drop shots have a lemony, sweet & sour taste, fun to drink. It is a combination of the sweetness of sugar with the tartness of lemon.
---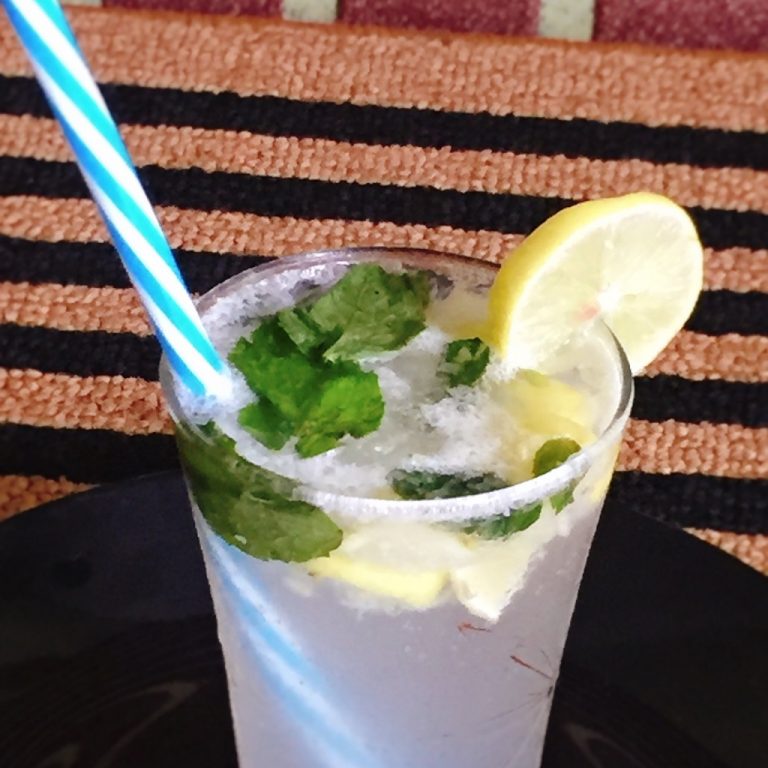 Virgin Mojito a refreshing and mood swinger drink with lemon, mint leaves, sugar, and carbonated drinks like sparkle water, soda, or Sprite.
---
Food Dishes To Serve For Thanksgiving
Since it is a festival related to harvest, it is sure to have a table full of a different feasts. As mentioned above, we cannot mimic the same traditional menu. However, these recipe takes into account the food ingredients that are common in dinner for Thanksgiving. These dishes consist of all the things from snacks & appetizers to the main course.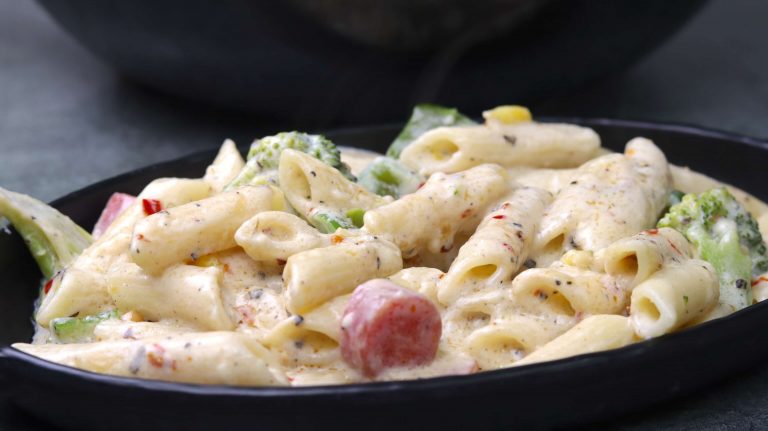 White Sauce Pasta is an Italian meal recipe that we can also have as a snack. This is a light & digestible dish even if having a heavy sauce.
---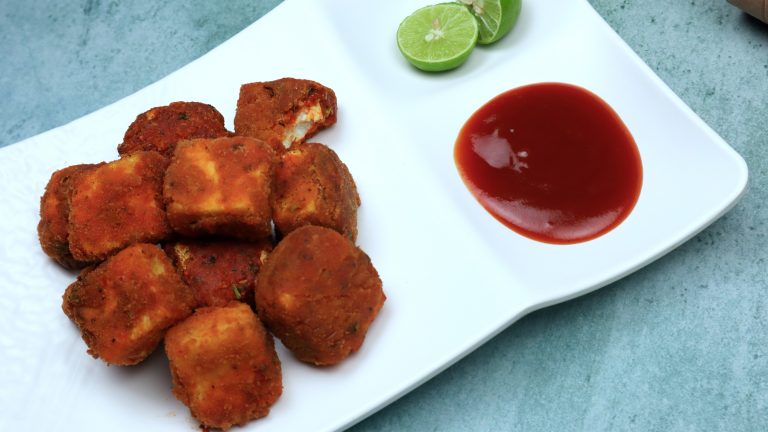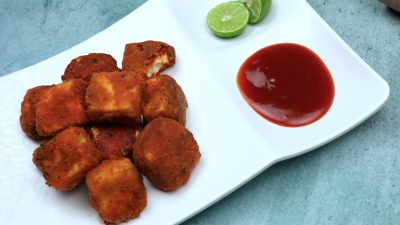 Paneer Nuggets is a snack with paneer as its core ingredient. Watch the recipe video or download the recipe card.
---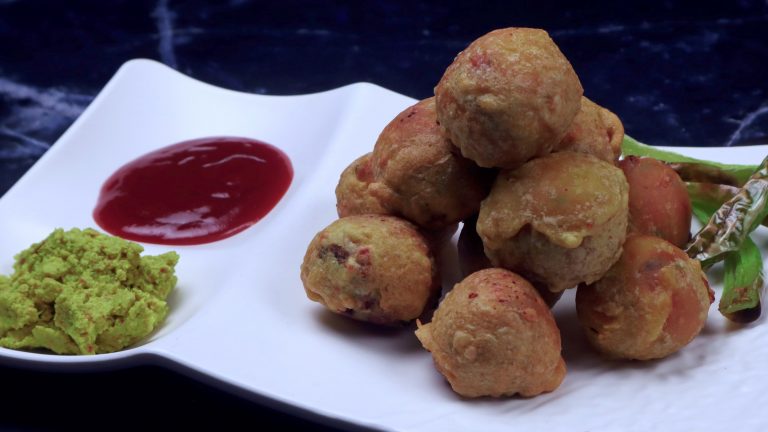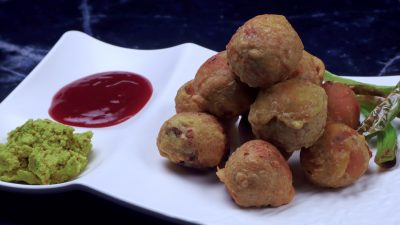 Cheese Pakoda is a delicious and cheesy variation of our typical pakodas. Watch the recipe video or download the recipe card
---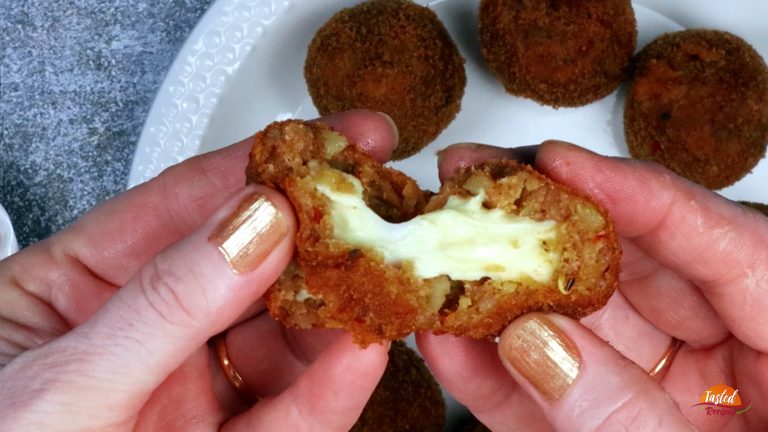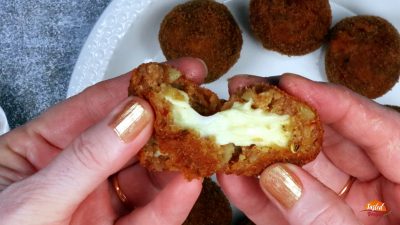 Filled with cheesy goodness, potato cheese balls are an easy-to-make snack. They are a quick & fuss-free starter recipe & extremely delicious.
---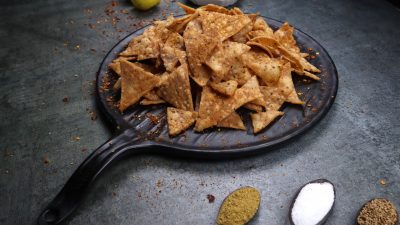 Rice Flour Nachos are our version of Mexican Nachos. Here, rice flour is a core ingredient instead of cornflour. They are tasty and crisp.
---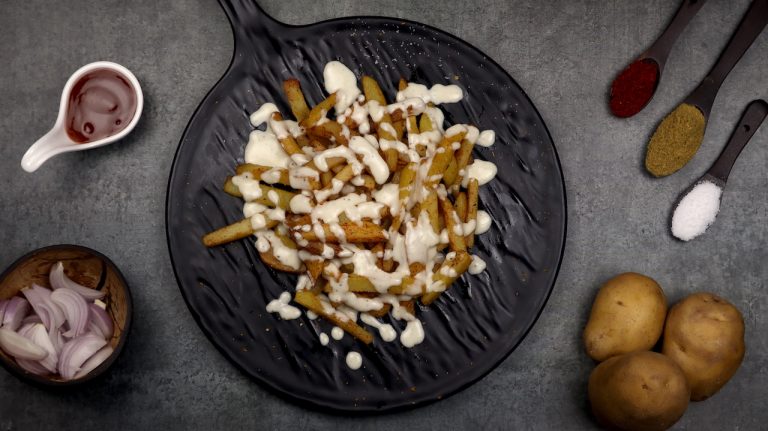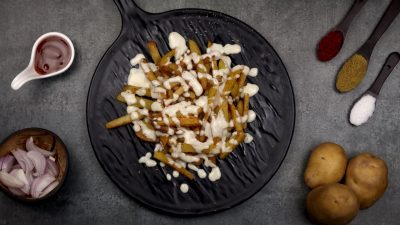 Fried Potatoes is a snack that is stick-like and deep-fried. Fried Potatoes With White Sauce is a deliciously cheesy and crispy fried snack.
---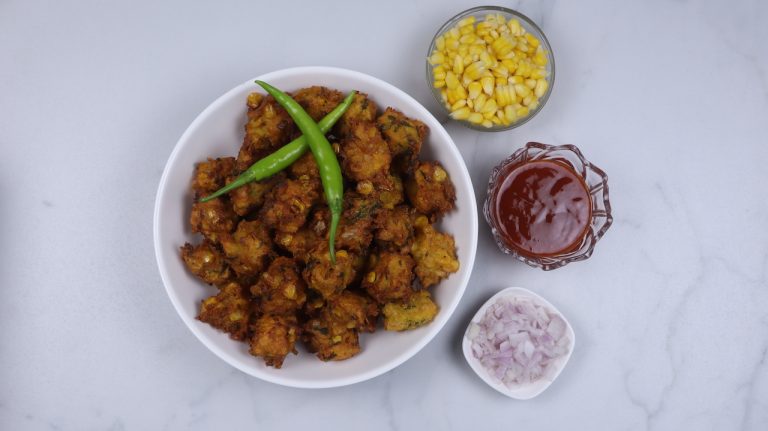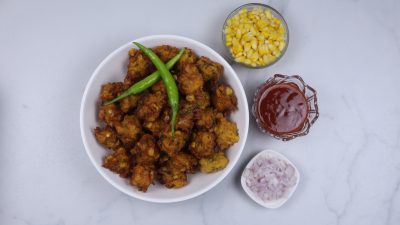 Corn vada is a deep-fried Indian snack recipe prepare with sweet corn. It's a lovely monsoon snack with spices and herbs.
---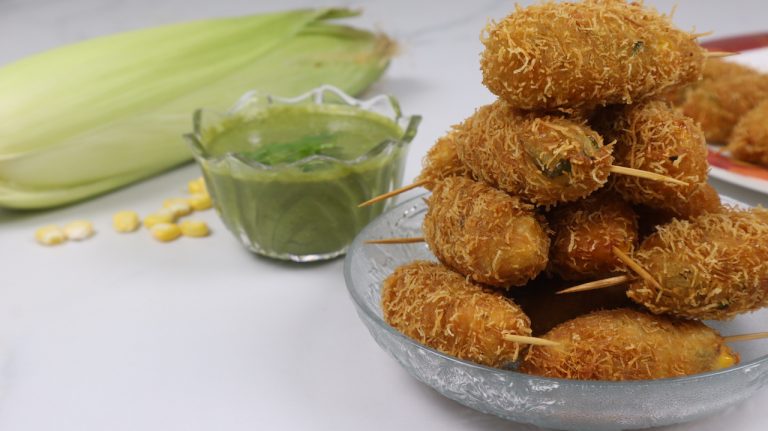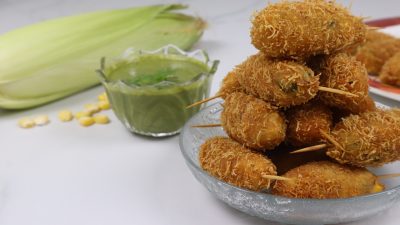 Corn Kabab is a crispy,  deep-fried, and tasty appetizer. It's a snack recipe, easy to prepare, and with home ingredients.
---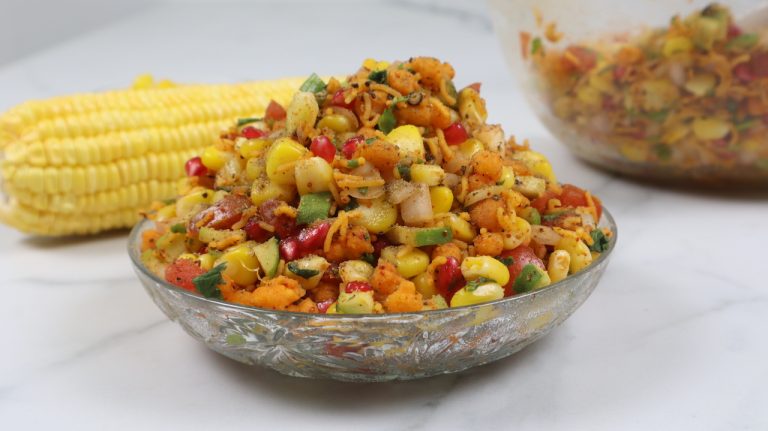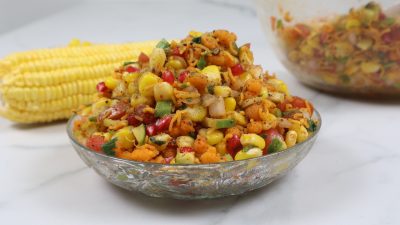 Sweet Corn Bhel is an excellent no-cook snack version of the classic bhelpuri variety. It is easy, delightful and requires less ingredients.
---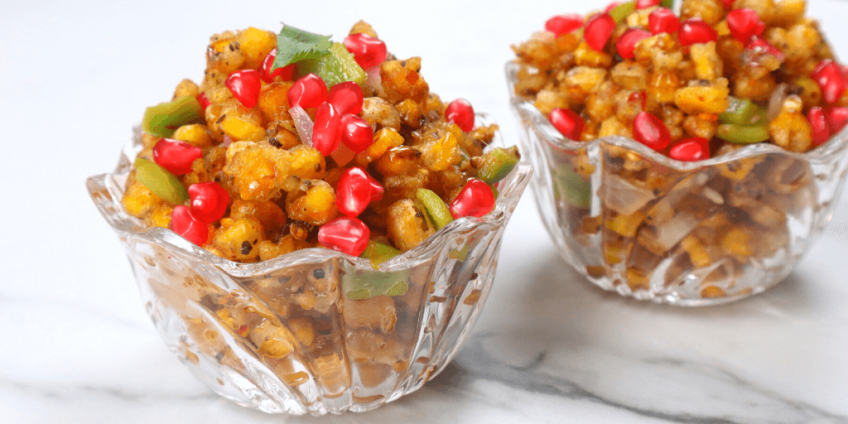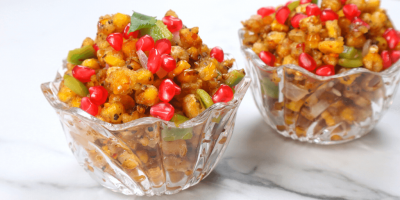 Tamarind Corn Chaat is a very unique and mouth-watering chaat recipe. It has a crunchy texture and is sweet, tangy, fiery, and spicy in taste. 
---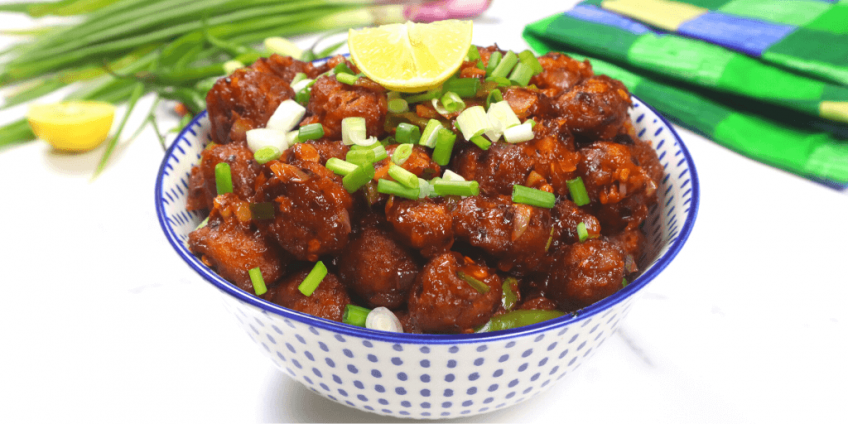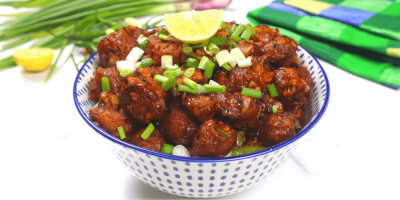 Soya Chunks Manchurian is the desi style of making authentic Chinese Manchurian. Click now to watch the recipe video or follow the steps.
---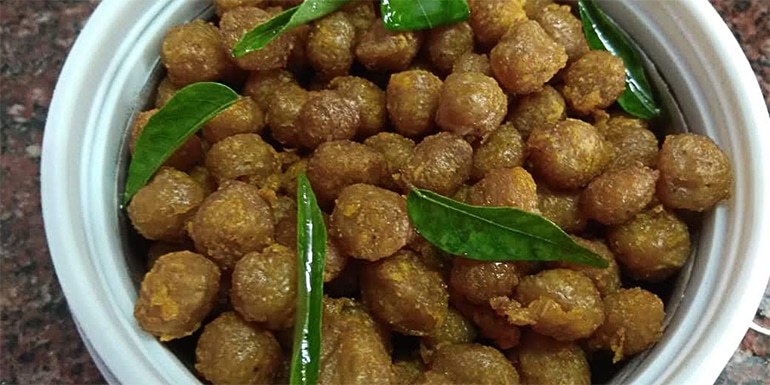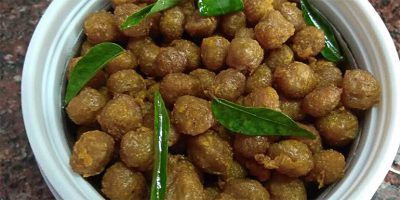 Soya chunks are a crispy and protein-rich snack. It's little spicy and completely changing the definition of healthy snack option.
---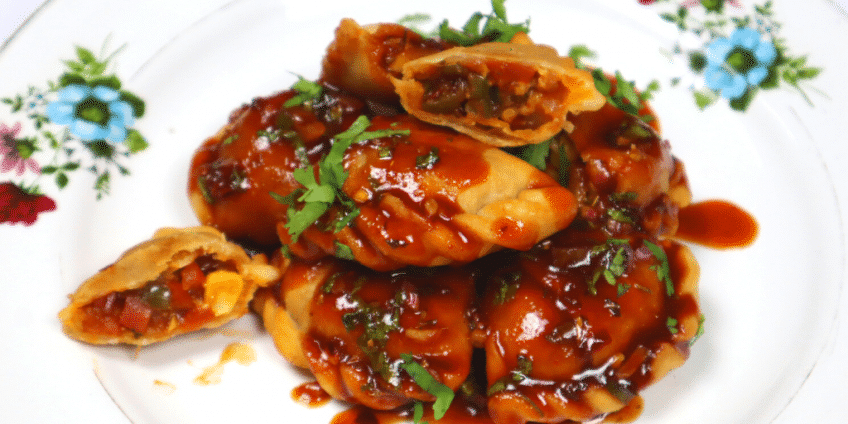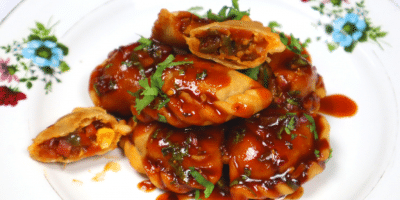 Mexican Samosa is a unique Indo-Mexican recipe with a sweet & sour taste. It's a different combination of samosa, Mexican sabji & sauce.
---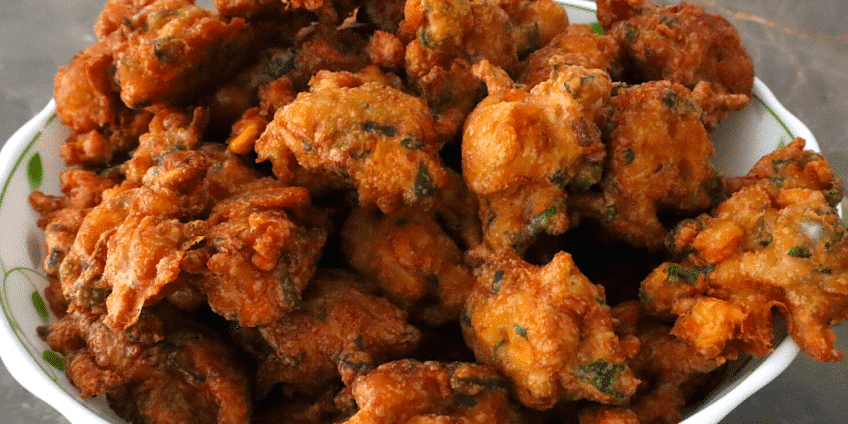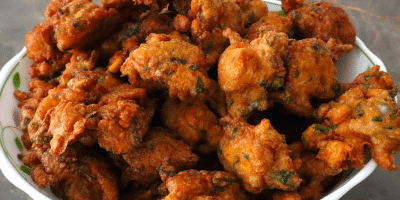 Corn Fritters are amazing snack items made of corn. It's crispy, deep-fried and tasty. A perfect savory fritters - quick and easy to make.
---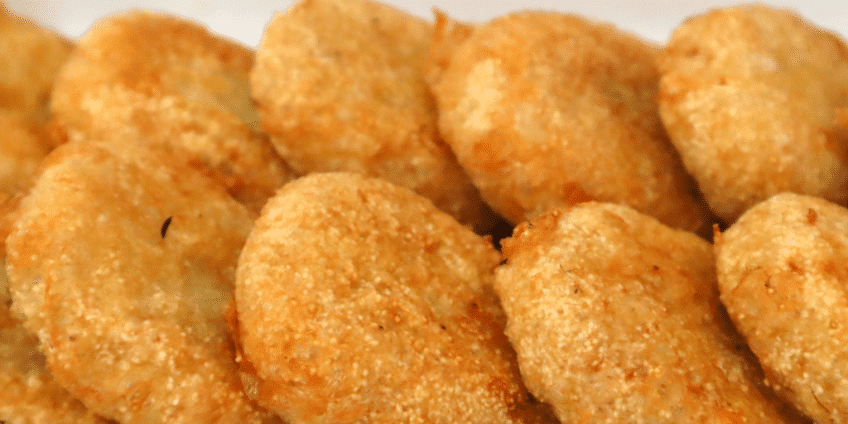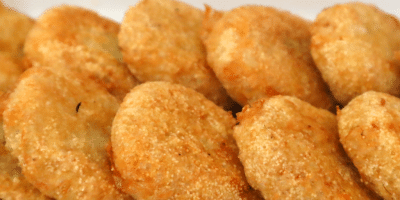 Chinese Chicken Cutlet is a delicious snack, having a versatile taste and ready in less than an hour. It's crispy from outside and soft from inside.
---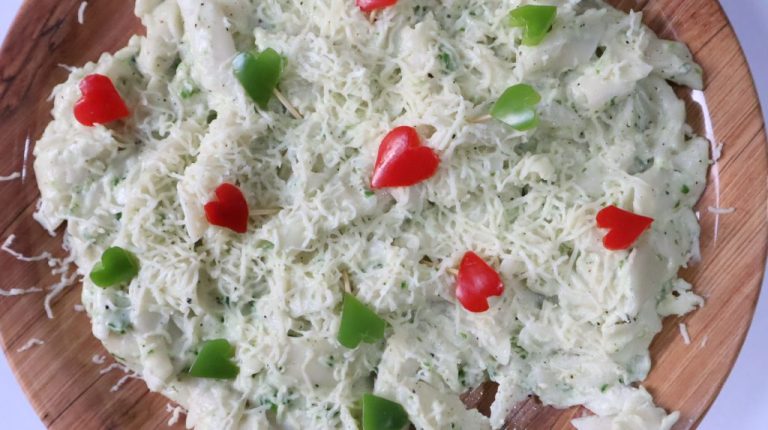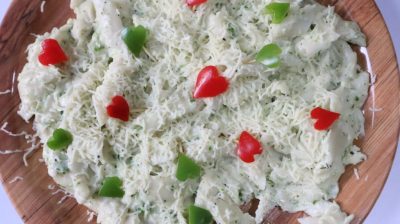 Spinach Alfredo Macaroni is a delicious and hearty dinner idea to make your loved one flooded with extra cheesy flavor.
---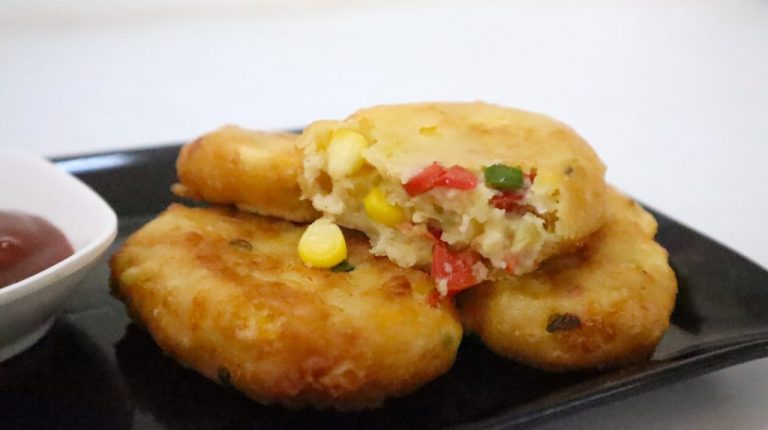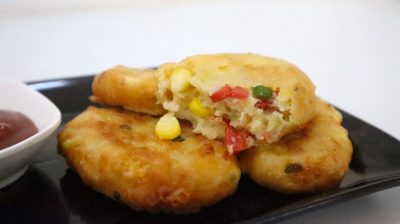 Corn Cutlet or Sweet Corn Cutlet is a mouth-watering and yummy veg appetizer made with simple ingredients and gets ready in less than 20 minutes.
---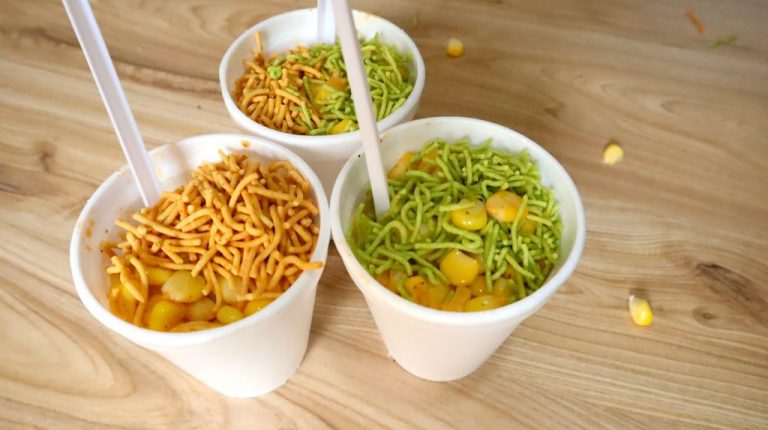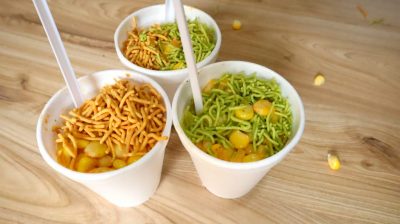 Chatpata Corn Chaat is a popular street food which you can find almost in every city of India. A kid pleaser and youngsters will surely love it.
---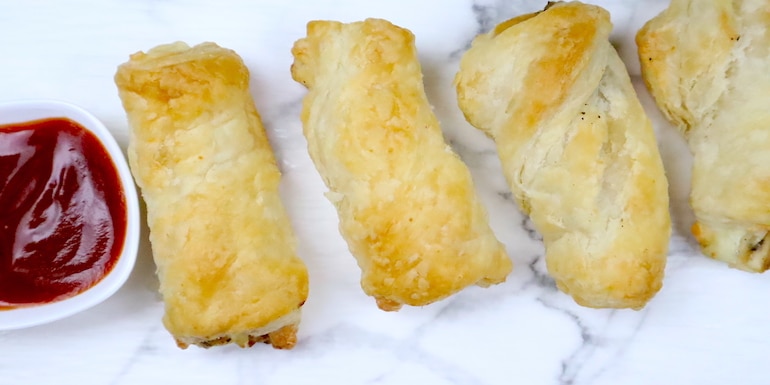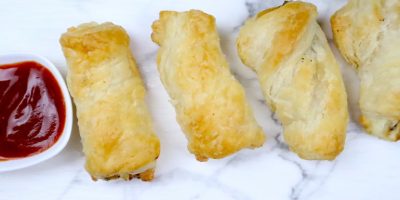 Twisted puff pastry filled with cheese and chicken with herbs makes it an elegant appetizer. Make a new appetizer this Ramazan.
---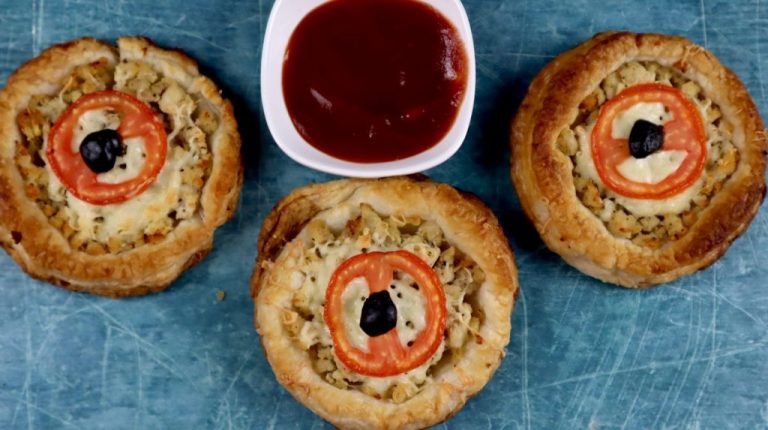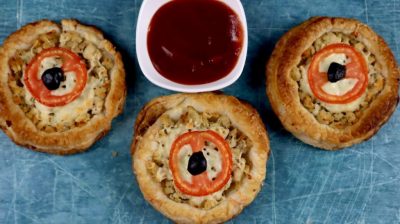 Mini chicken puff pizza is a quick & easy appetizer for Ramazan. Ready in 30 minutes, it's great for iftar, tea-time snacks & parties.
---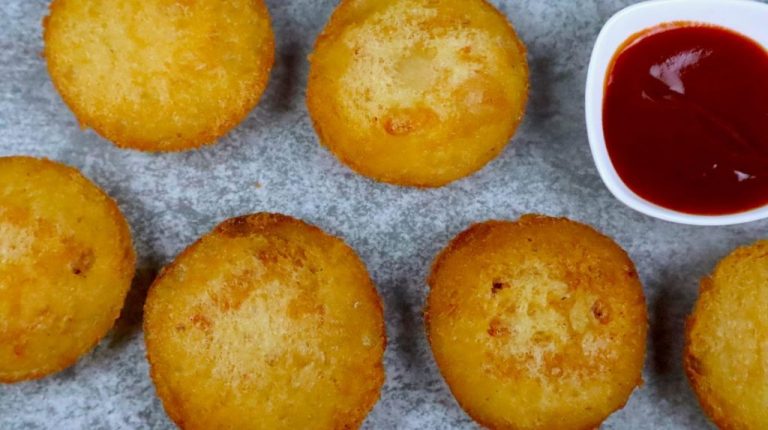 Spicy & delicious Tandoori Paneer Pakodas is a ginger food created with some twist. Paneer coated with tandoori masala sealed in bread & then fried.
---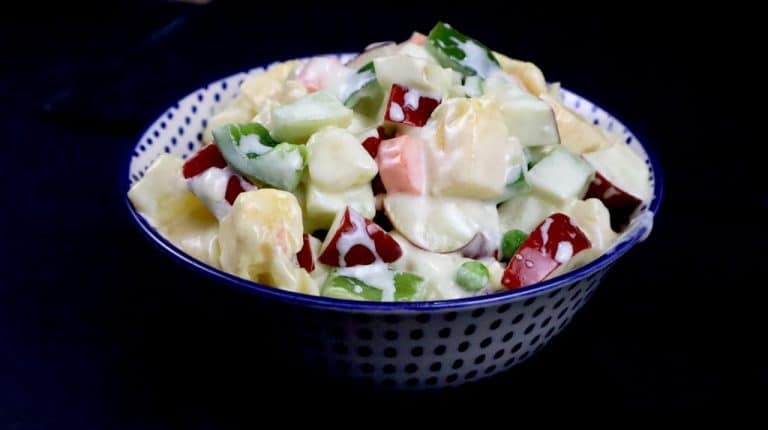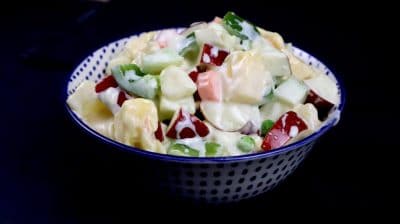 Russian salad is scrumptious & totally like a perfect meal for breakfast, lunch or dinner. It is very creamy and tangy & healthy meal option.
---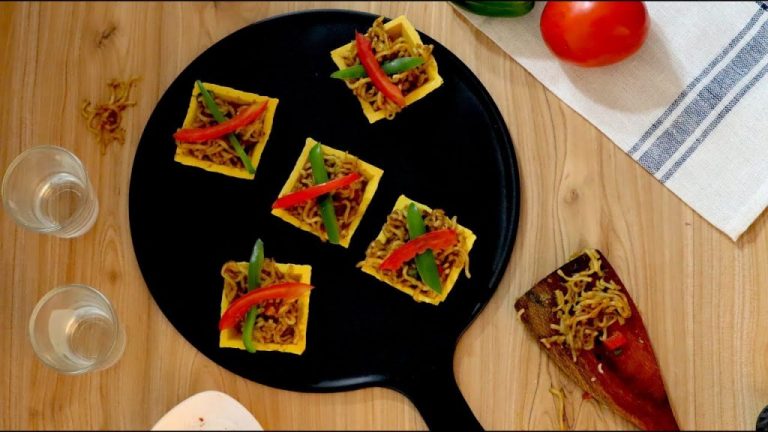 Maggi canapes are a new-age dish for kids & teens. It's crunchy, sizzling, soupy food that you can enjoy in your home or for a party.
---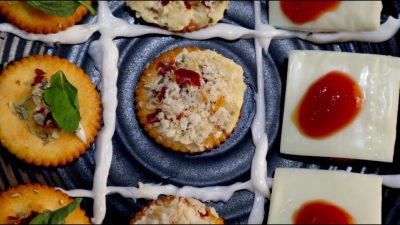 Monaco biscuit canapes are no-cook recipes for your snack ideas. These are small and usually decorative finger food.
---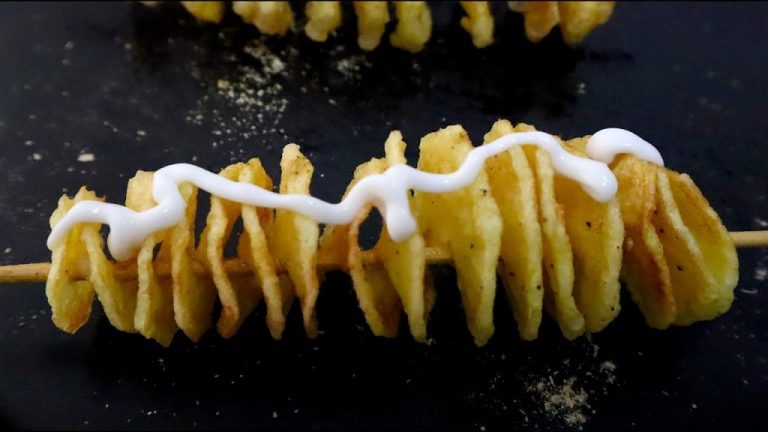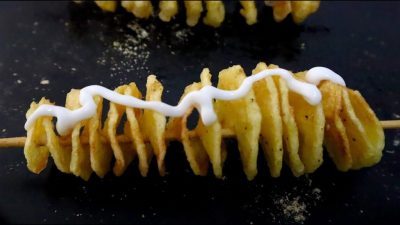 Potato Spiral has all kinds of masala taste and crunchiness. It is a famous street food recipe, especially for kids & teens. 
---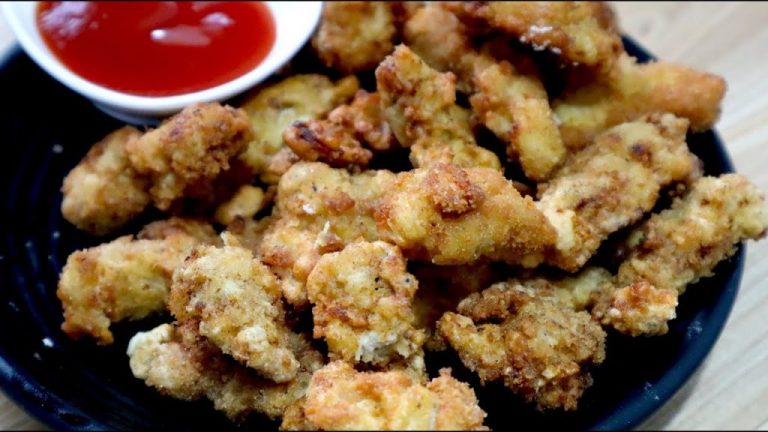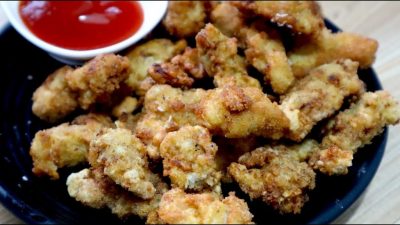 Crispy Chicken Fingers is a perfect party appetizer and a tummy filler. Tender from inside and crispy from outside. These pieces will melt in your mouth.
---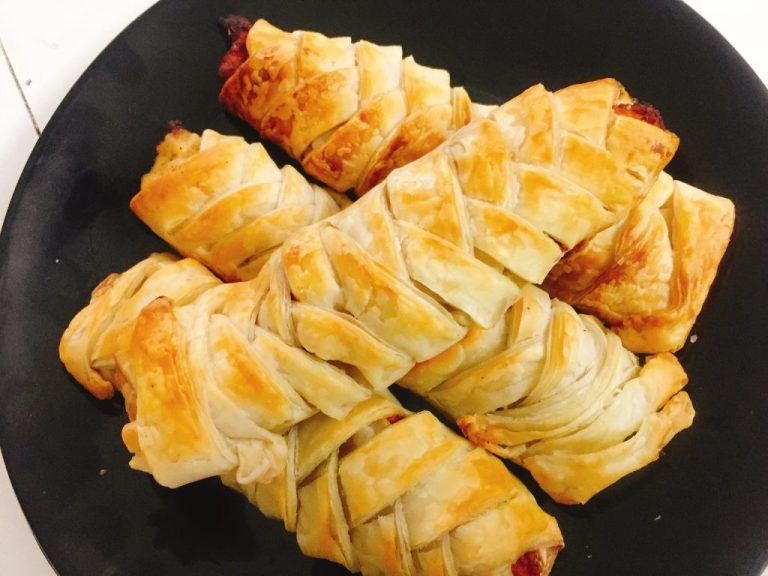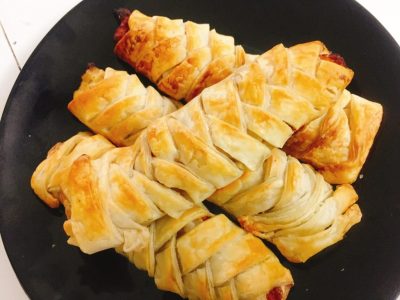 Chicken Pastry Roll is an appetiser made with ready puff pastry sheets and stuffed with cooked boneless chicken.
---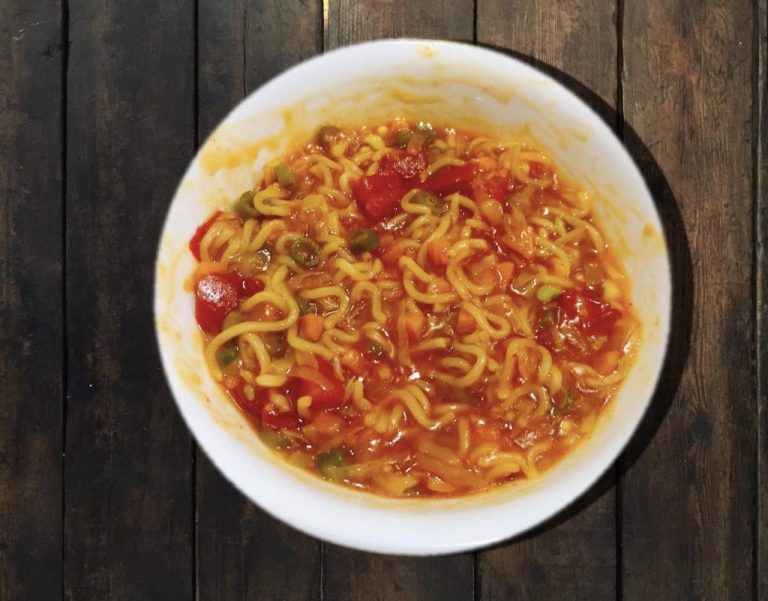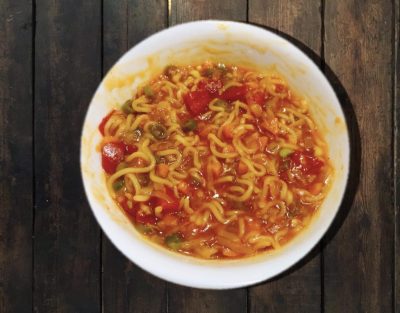 Veg Noodle soup is great combination of Indo-chinese taste. A perfect dinner recipe with a twist -sweet & sour soup mixed with Maggie noodle & masala & veg.
---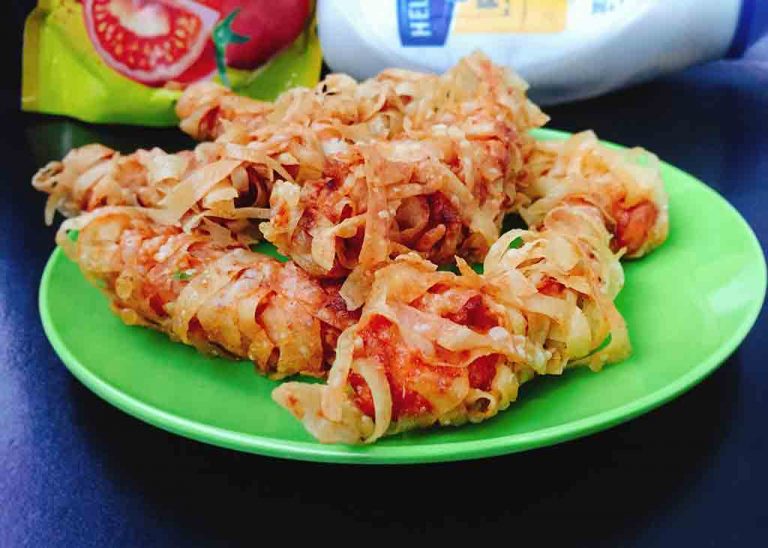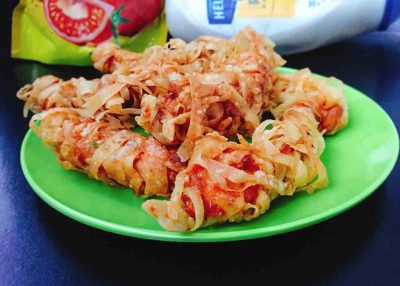 Crispy Thread Chicken is crispy and juicy chicken with a delicious taste, Chicken rolled in strips of samosa wraps. An easy-to-make Chicken starter dish.
---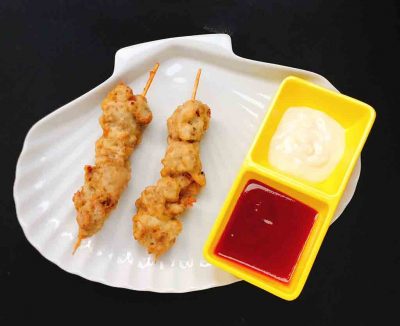 Crispy Chicken Sticks are yet another variety of kebabs with a mild, creamy taste that will surely blow your mind. Made with boneless chicken, fresh cream, cashew powder, ginger garlic paste, greek yogurt, lemon, breadcrums and eggs. In Ramadan, we need a variety of different starters and dinner food ideas for iftar.
---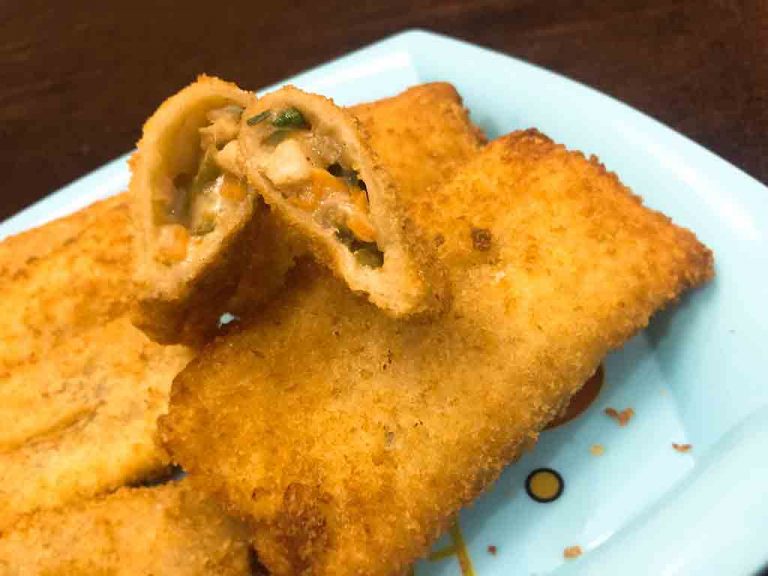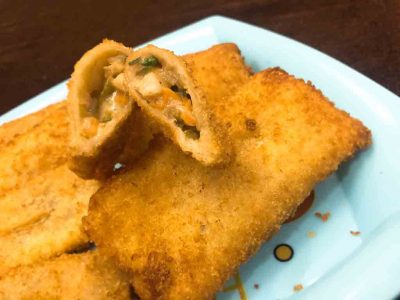 Bread Pockets are really simple and easy-to-make starters at home. A great choice for those who don't want to spend hours in the kitchen. Great choice for iftar, kids lunch box or parties. Bread pockets are a wonderful snack and a great appetizer. Bread Pockets can be made with both Veg and Non-Veg filling.
---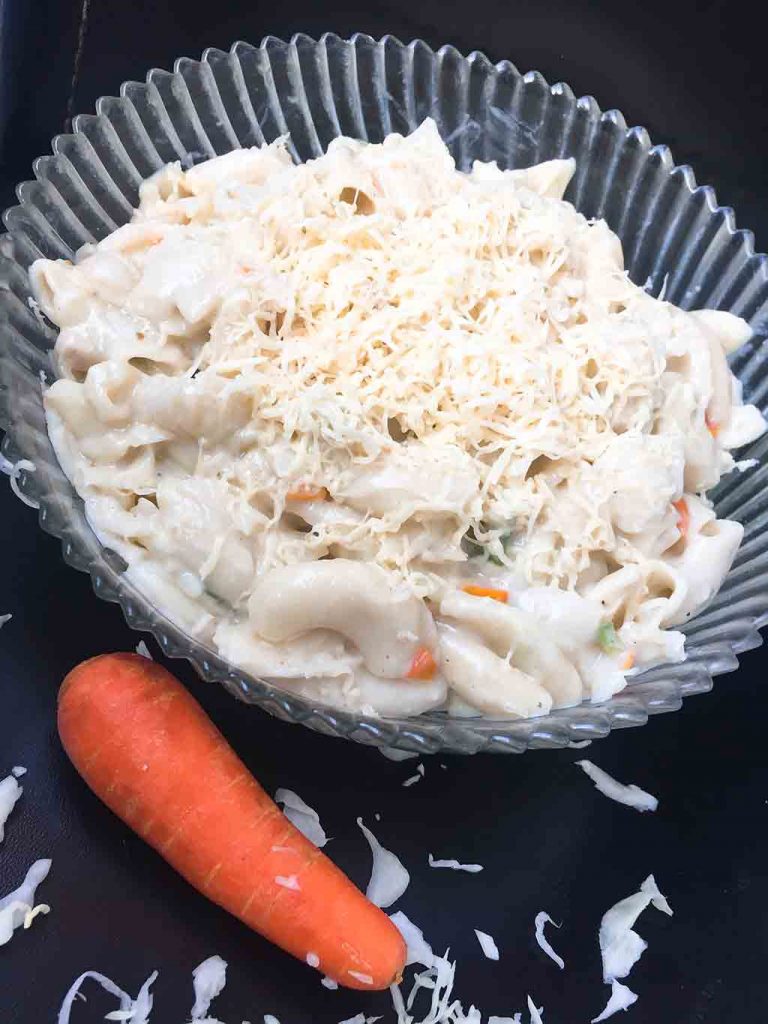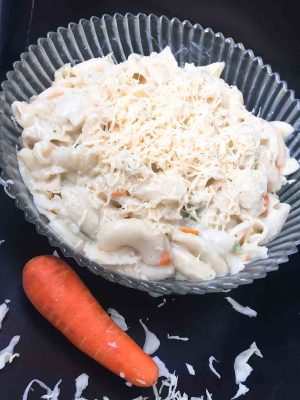 Chicken Alfredo Macaroni or Alfredo Pasta is a creamy and cheesy Italian recipe that will surely blow your mind. This Macaroni is very simple, no-fuss and easy recipe that you can make at home with very little ingredients. You just need plain macaroni, butter, maida (all purpose flour), some veggies, milk, and cheese.
---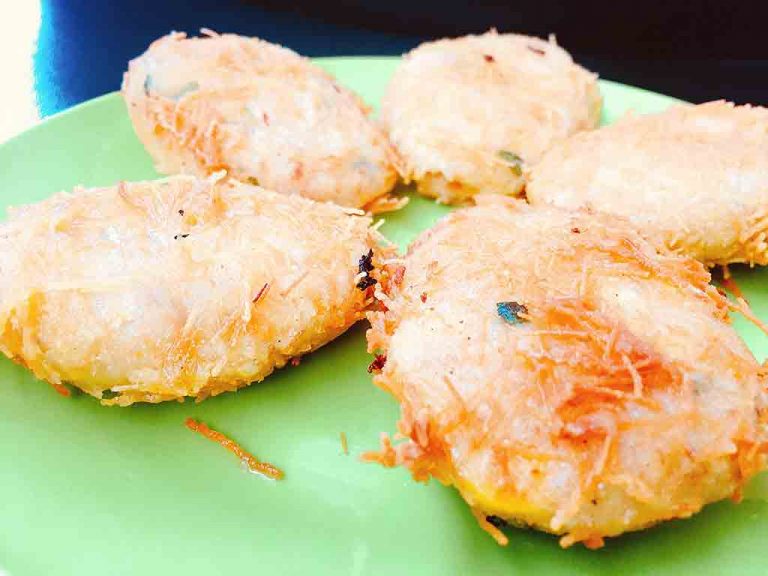 Chicken Corn Cutlet is a healthy, nutritious and delicious snack and appetizer that is really easy to prepare and mild on the stomach. Made with boneless chicken, boiled sweet corn, milk, maida (all purpose flour) and other at home ingredients. Mouthwatering, yummy snack loved by all, especially children.
---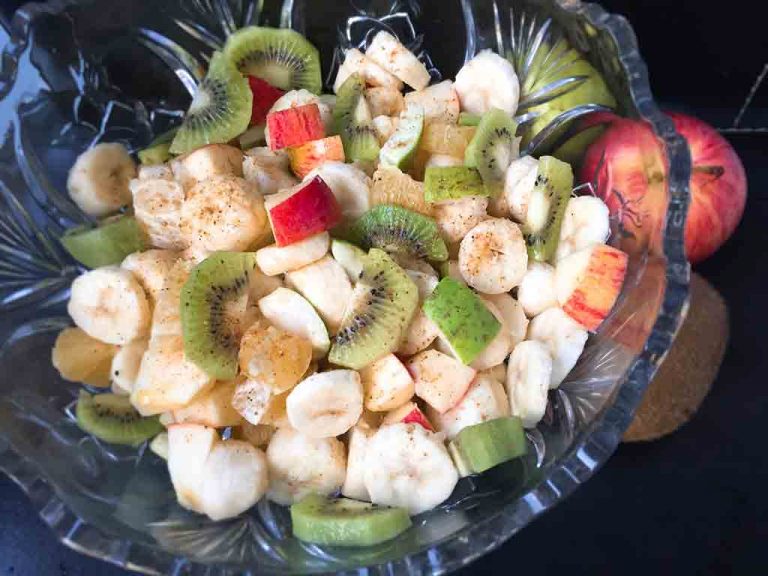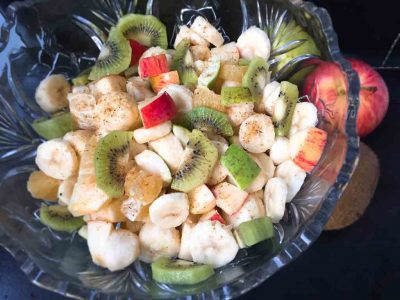 Fruit chaat is a delicious and refreshing salad and iftar fruit dish, made by combining juicy fruits with Salt, Honey, Chaat masala and Black Pepper. It is the perfect summer delight and must-have dish on iftar table. It will brighten up any meal and can be eaten at any time of the day.
---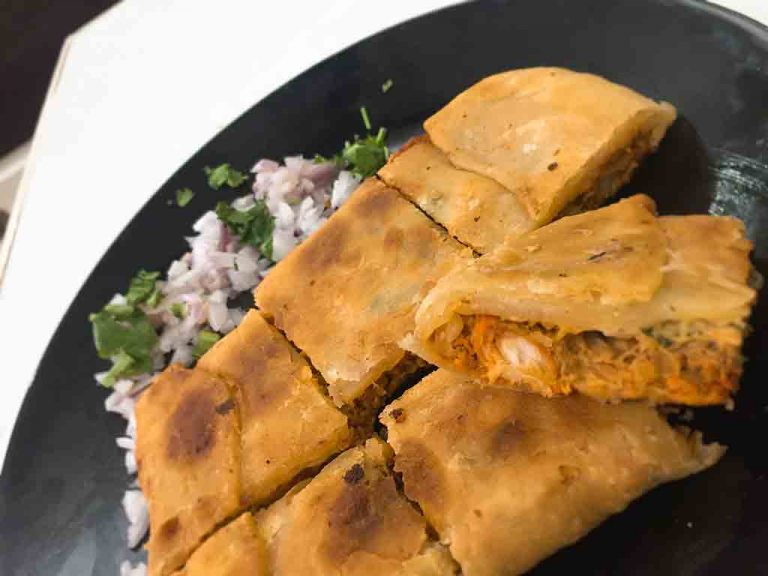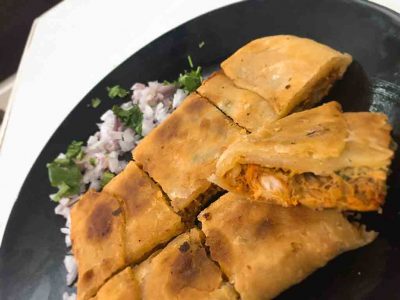 Chicken Baida Roti is a variation of Kheema Baida Roti. It is a shallow fried with precooked Chicken tikka mixed with egg
---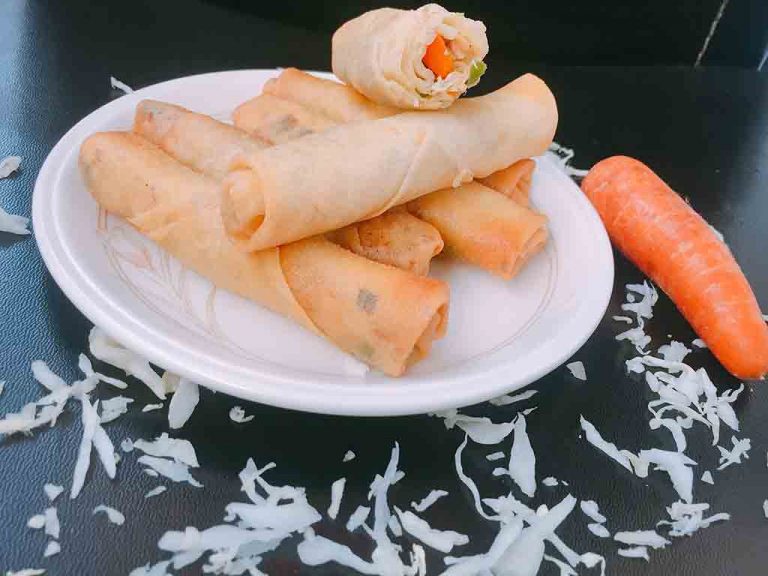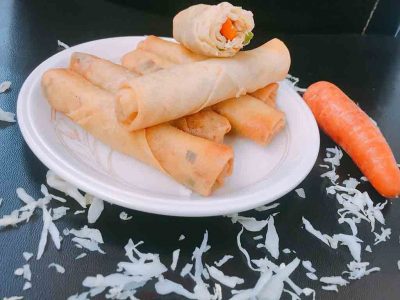 Spring Rolls are a popular Indo-Chinese starter and snack recipe served in almost all Asain Restaurants. This lovely starter comes in many variants. You can make it complete veggie and also with chicken. Made with spring roll wrappers filled with yummy chicken and veggies mixed with Chinese Sauces.
---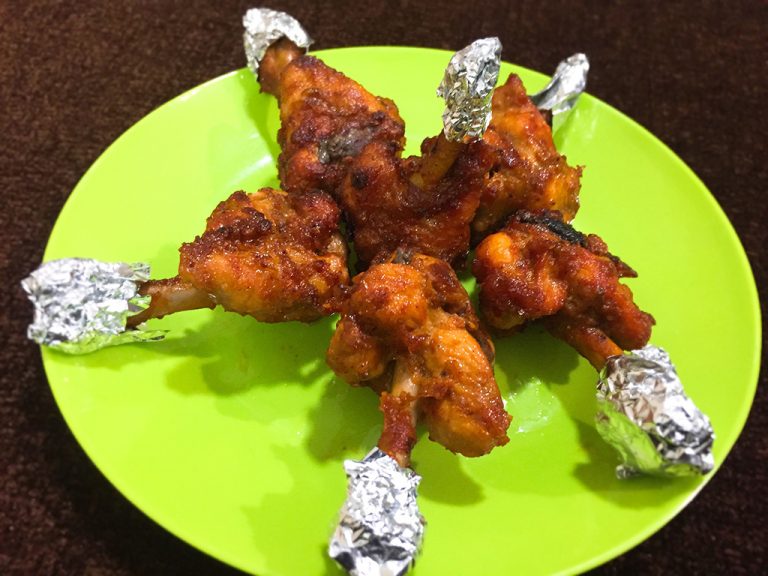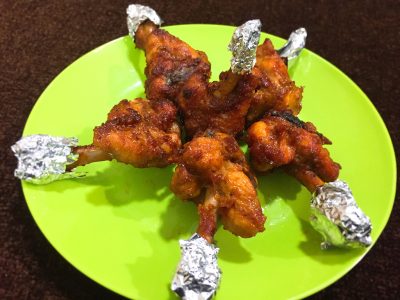 Chicken Lollipop is a popular Indo-Chinese starter recipe. It is a type of Hors D'oeuvres and is available on the streets and in restaurants.
---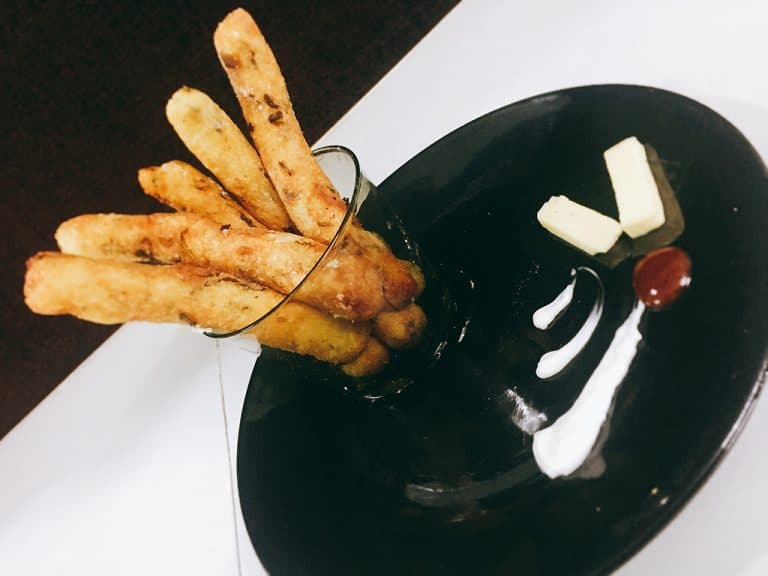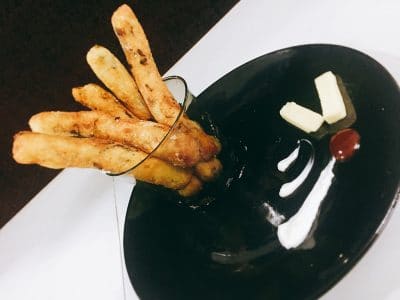 Crispy Potato Fingers is an easy-to-make veg cuisine made with potato, suji, and coriander leaves. Crunchy outside and tender inside
---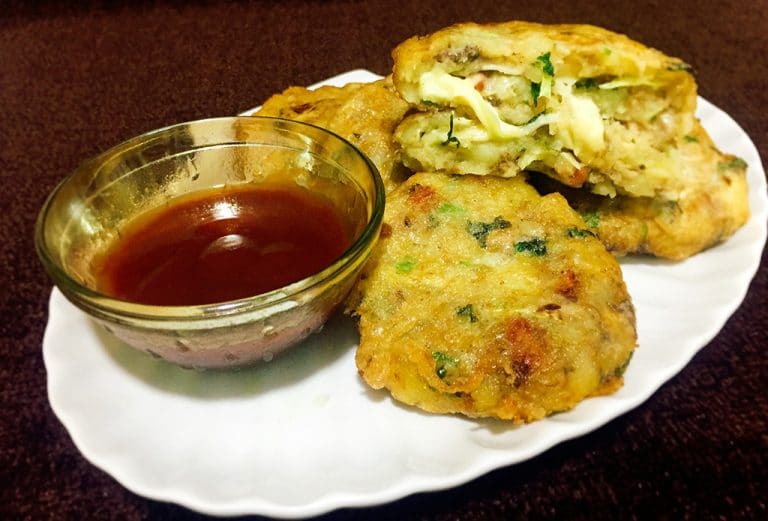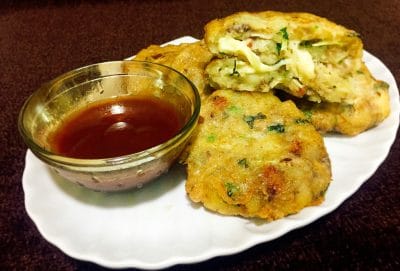 Cheesy Russian Cutlet is an easy yet delicious recipe made with boneless chicken, mashed potatoes, and various veggies. Delightful and light on the stomach. Due to its non-spicy taste, it is kid's favorite and also elders. A perfect starter for Ramadan iftar meals. 
---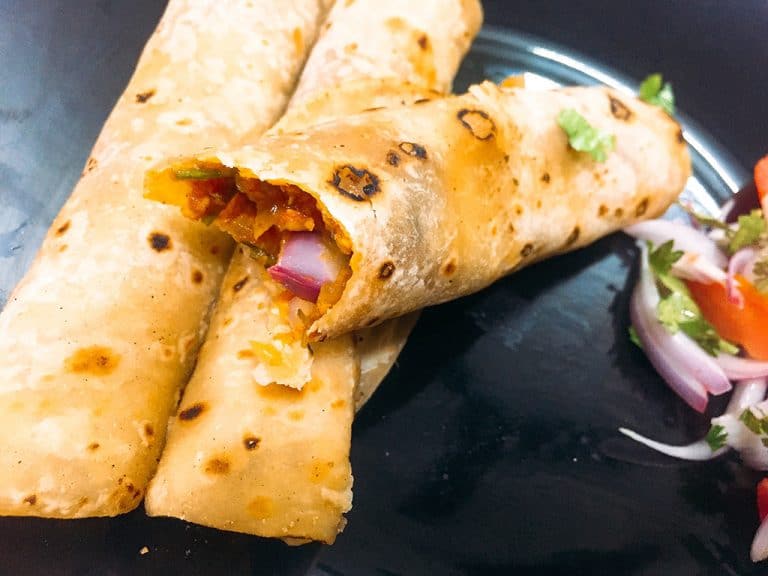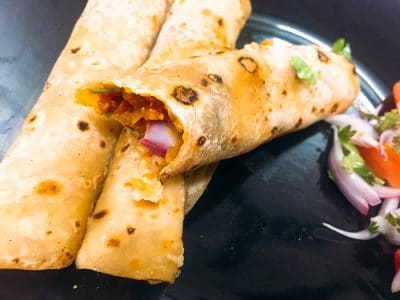 Delicious Chicken Frankie Roll is an extremely popular Indian street food made with paratha wrapped with spicy boneless chicken
---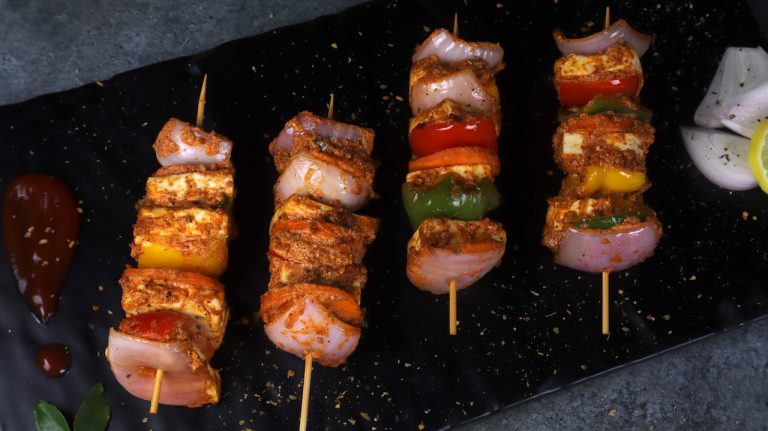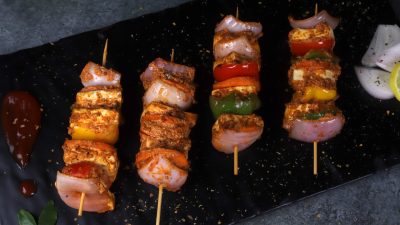 Paneer Tikka is a famous North Indian tandoor food. Here paneer is marinated in yoghurt & grilled thereafter. Click to watch the recipe video.
---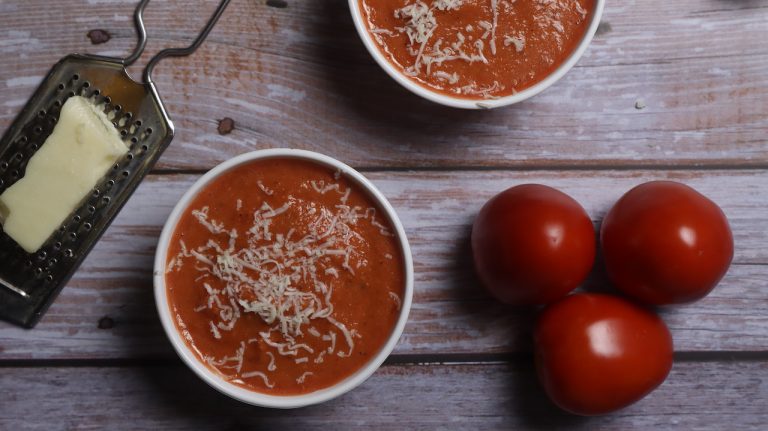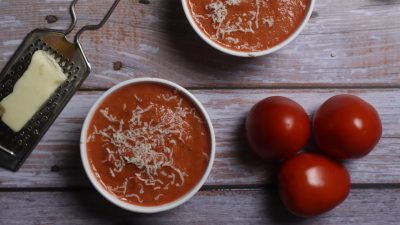 Roasted Tomato Soup is made with tomatoes, garlic, sugar, black pepper powder, salt, mint leaves, water, cheese, and oil.
---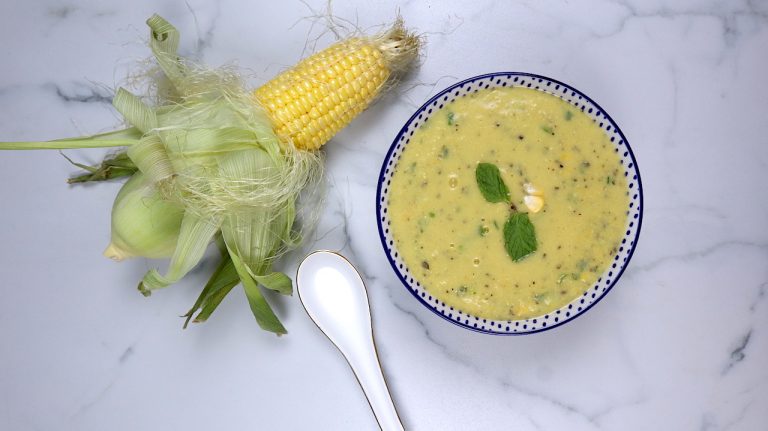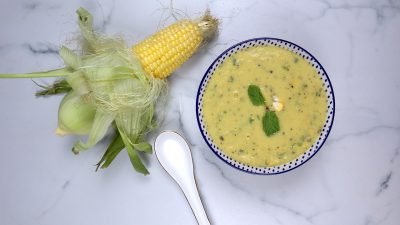 Sweet Corn Soup is a combination of Indo-Chinese vegetable soup. The soup is of thick, creamy texture and is extremely healthy.
---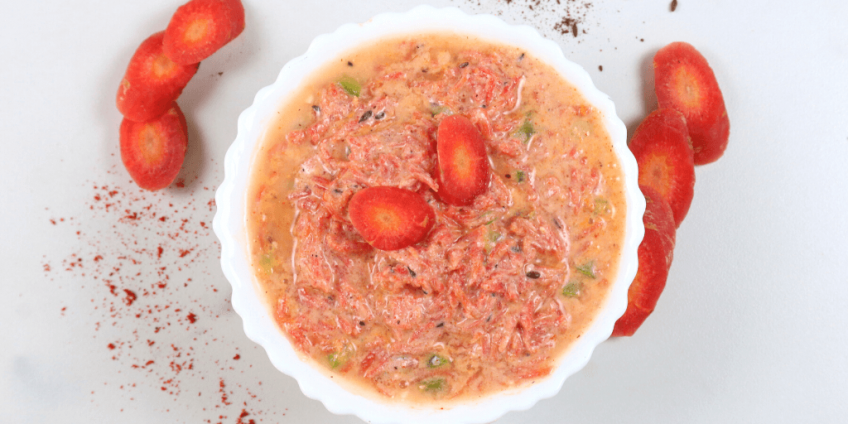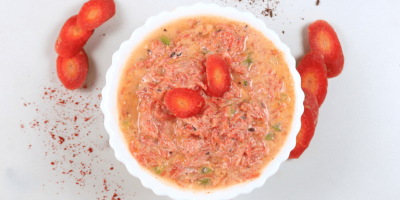 Carrot Raita is a sparkling and delicious recipe. One can prepare it with grated carrot, capsicum and mix with Indian spices. 
---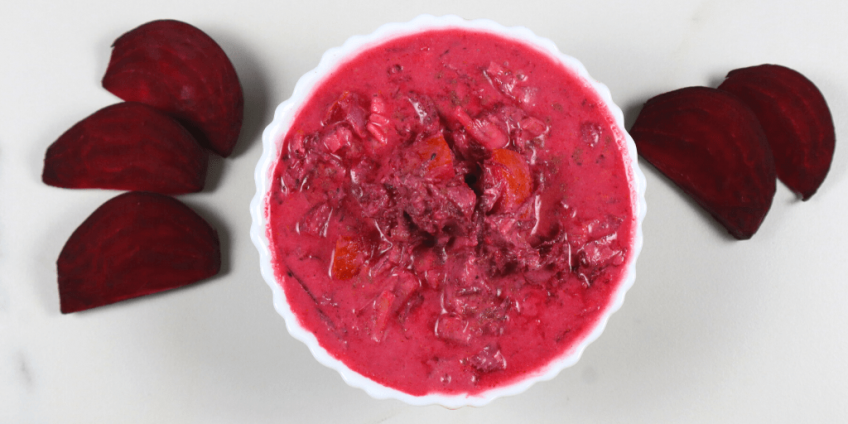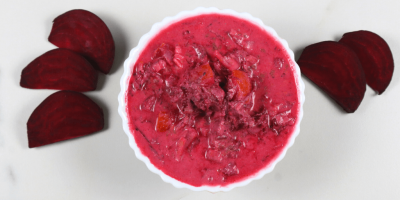 Beetroot Onion Raita is a classic, flavorsome and delicious recipe. It's easy to make, quick and healthy as well. It has beautiful color and taste as well. 
---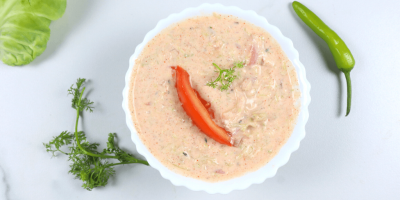 Cabbage Raita is a delicious, healthy recipe to serve with the main course. It is crunchy, bit spicy, and full of flavors.
---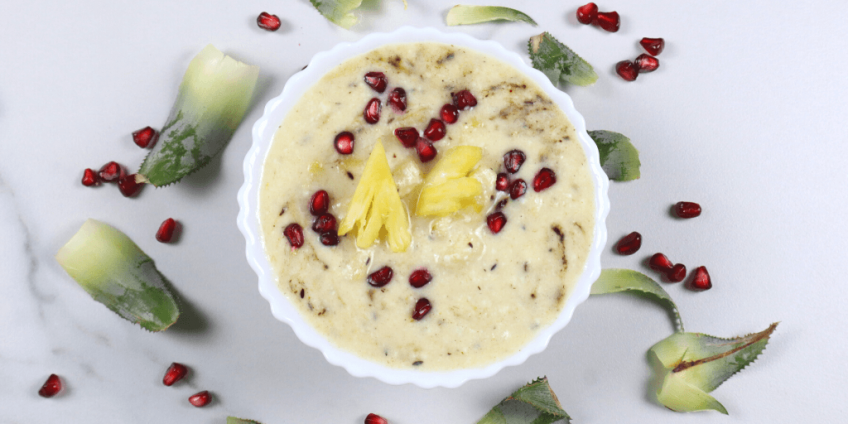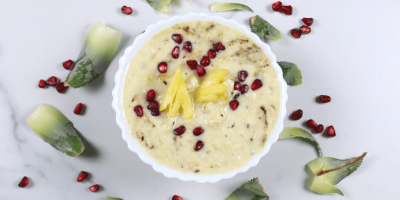 Pineapple Raita is refreshing, sweet, and one of the fruity raita. Eat it when it's freeze, and you will enjoy its fresh taste.
---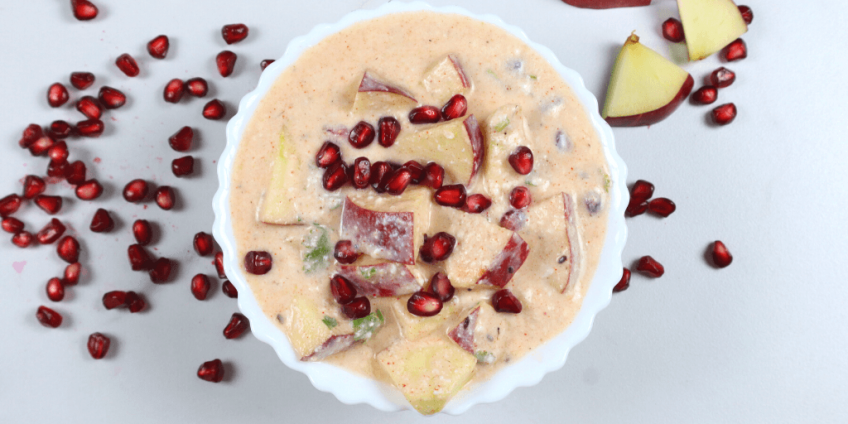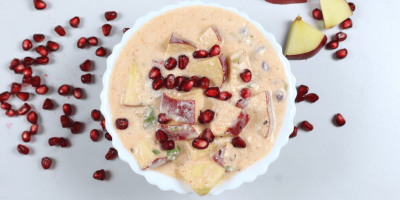 Apple Raita is a simple raita recipe to enjoy along with lunch or dinner meal. It's Indian, vegan, and full of flavors recipe.
---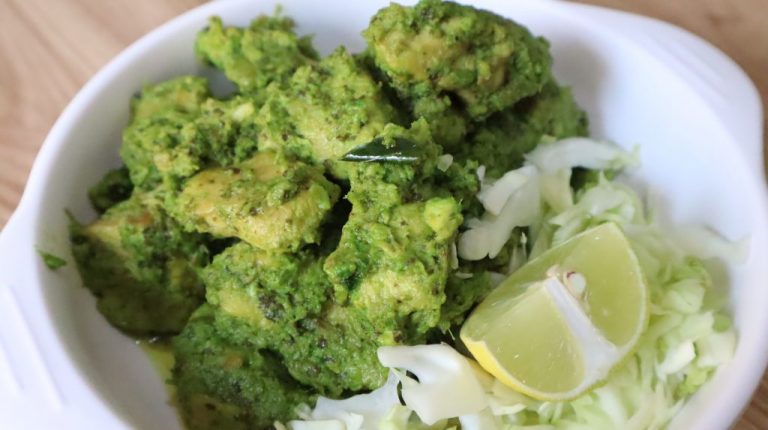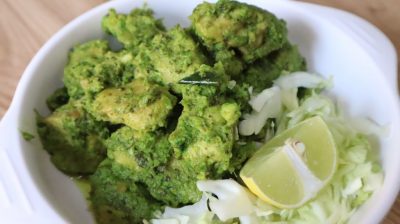 Hara bhara chicken tikka is a mouth-watering appetizer to serve. It is an exotic dish with spices & tanginess of coriander, mint & lemon.
---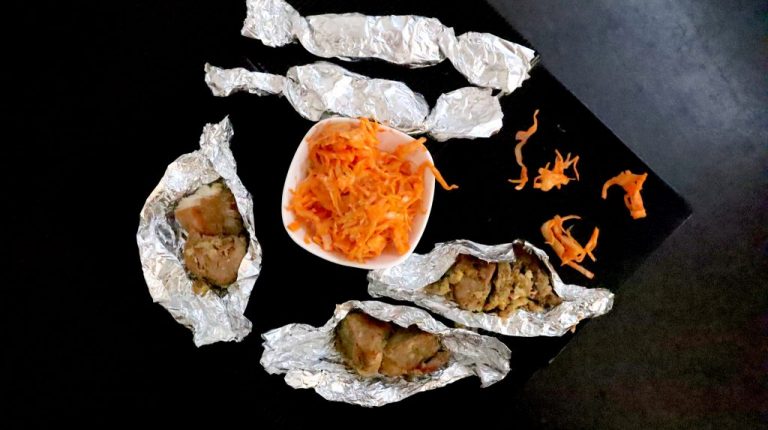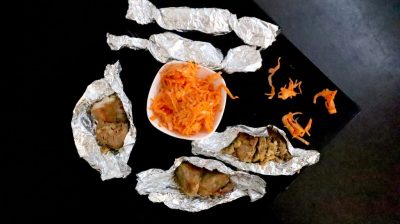 Chocolate chicken tikka is a very succulent dish with a unique fusion of soya sauce, red Chili sauce & cashew powder. The taste is tender & juicy.
---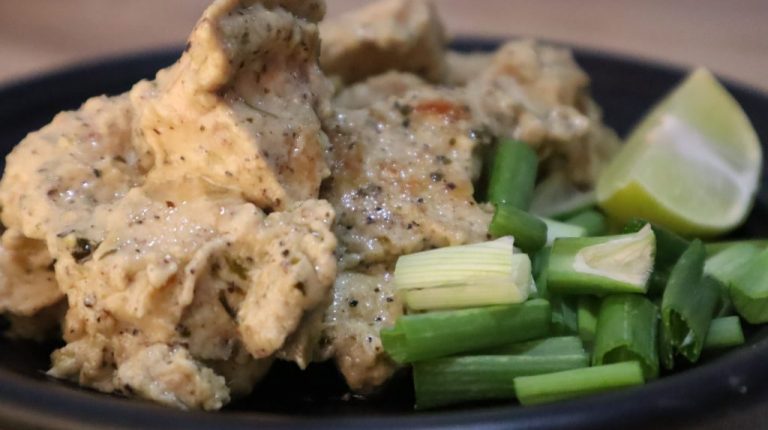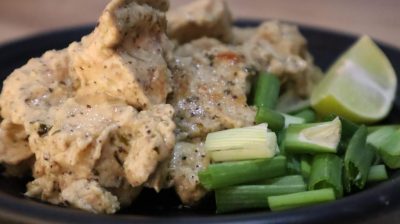 Malai chicken tikka is a creamy appetizer for your hungry stomach. The malai plays a major role as it is made of cashew powder, curry leaves & curd.
---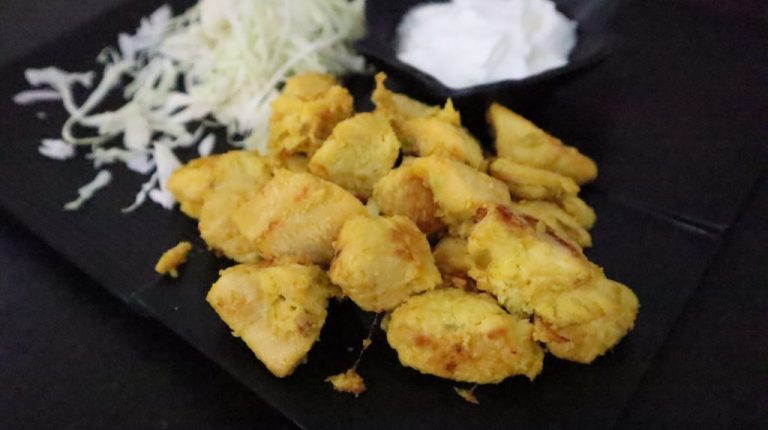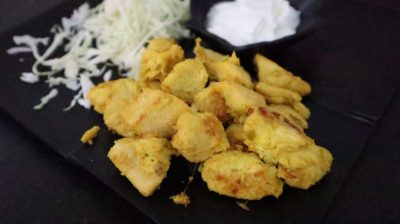 Saffron chicken tikka is a unique recipe in taste. The tikkas are just so perfect & tender cooked in soaked saffron. It is easy on the stomach.
---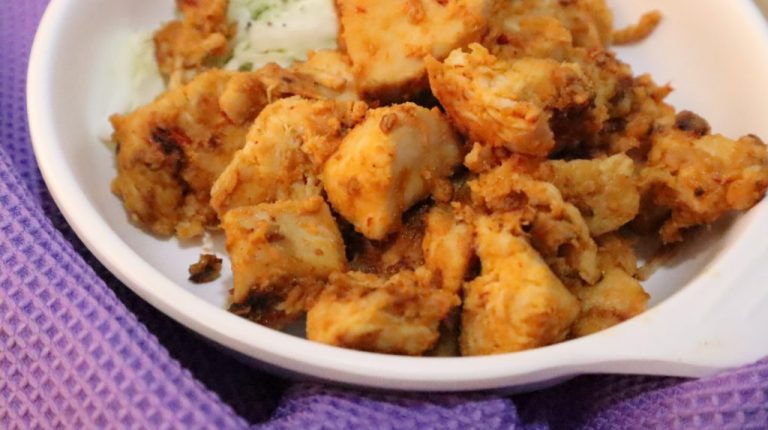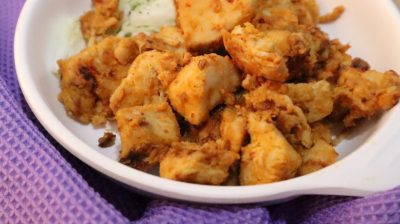 Schezwan chicken tikka is a spicy and flavoured dish, easy to make at home. An amazing modern age millennial appetizer going to win teens & kids' heart.
---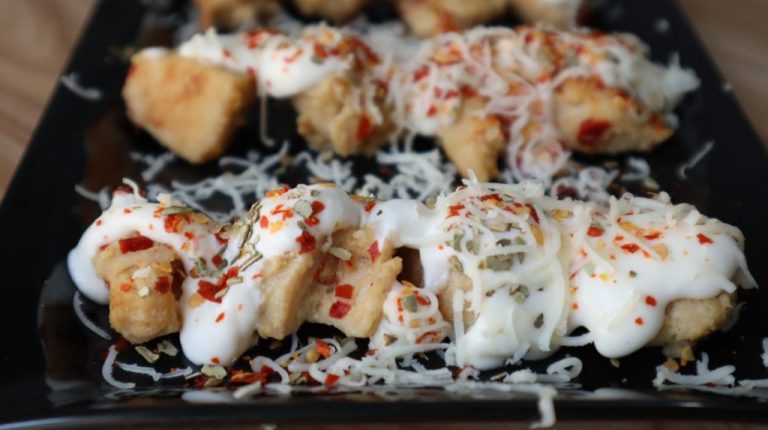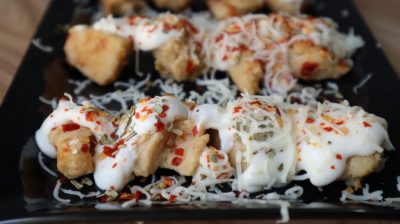 Cheesy chicken tikka is a party appetizer which just melts in the mouth. The taste is incredibly cheesy and yummy. The texture is creamy and tender.
---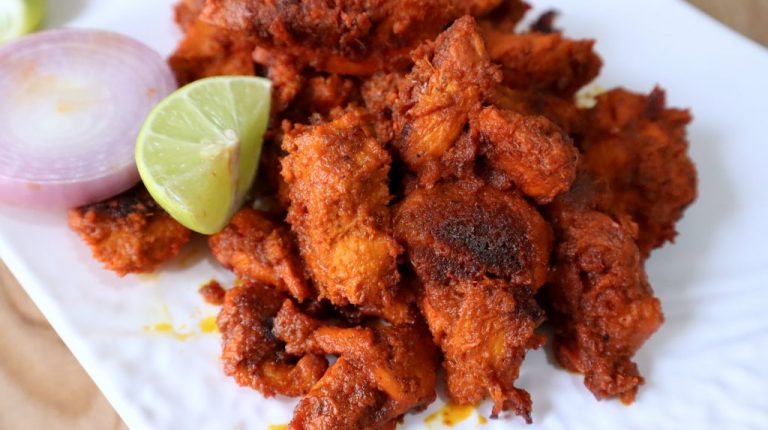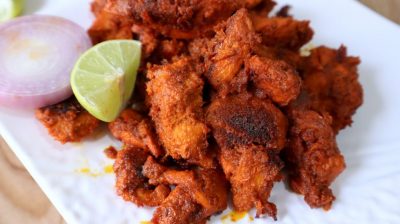 Tandoori Chicken Tikka is a delectable appetizer or starter dish. It has gained most love from all ages in Indian cuisine. It is spicy & has tangy taste.
---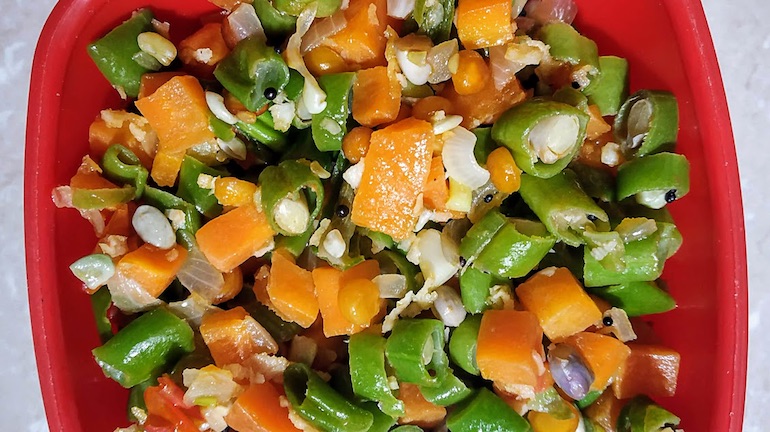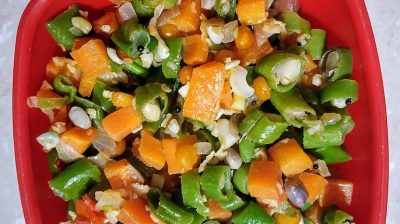 Carrot-Beans Poriyal Recipe is a chunky recipe which is popular South Indian style yummy and delicious dish. The combo will rock in Indian Cuisine.
---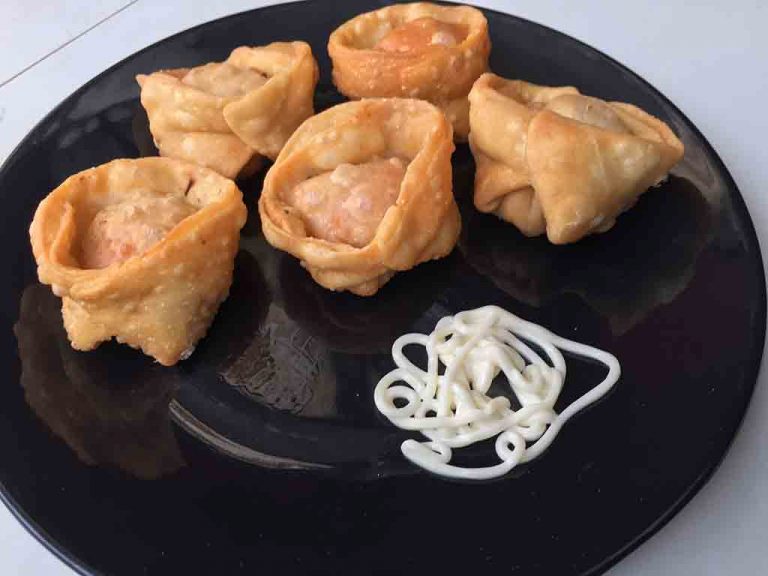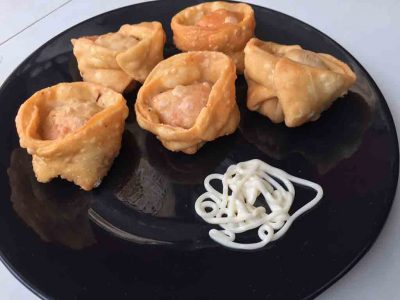 Chicken Wontons are a delicious Chinese fried appetizer, filled with boneless chicken mixed with Chinese sauces wrapped in a wheat-based wrapper and then deep-fried. Every bite is just delicious and bursting with yummy flavors. These wontons are dumplings commonly found in a number of Chinese dishes.
---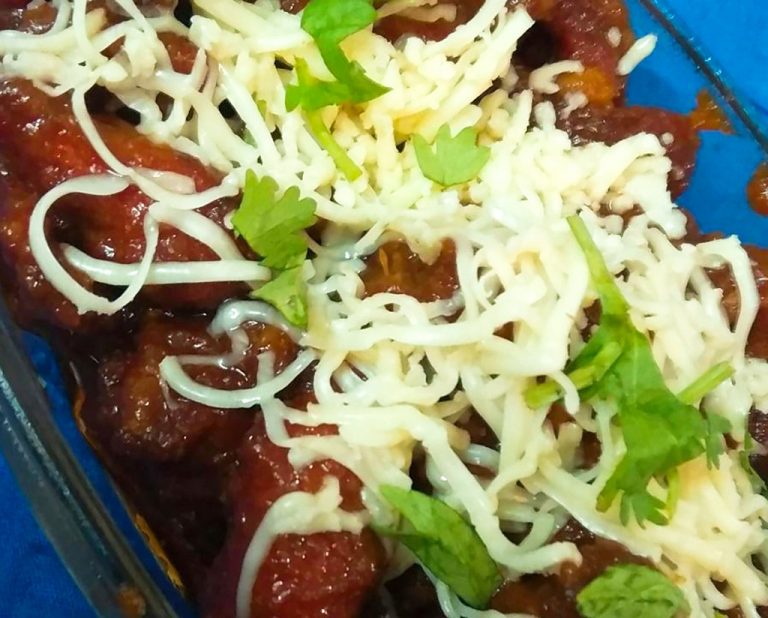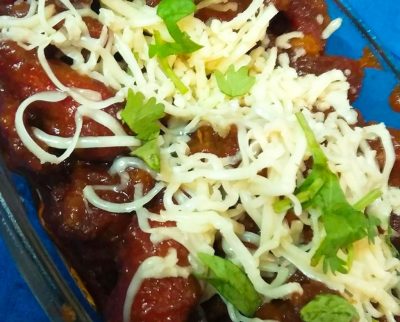 Appetizing Kurkure Chicken is a saucy and crispy starter that makes your taste buds crave for it again and again. It is made with boneless chicken, maida and chinese sauces. The tangy taste of this recipe will make you fall for it.
---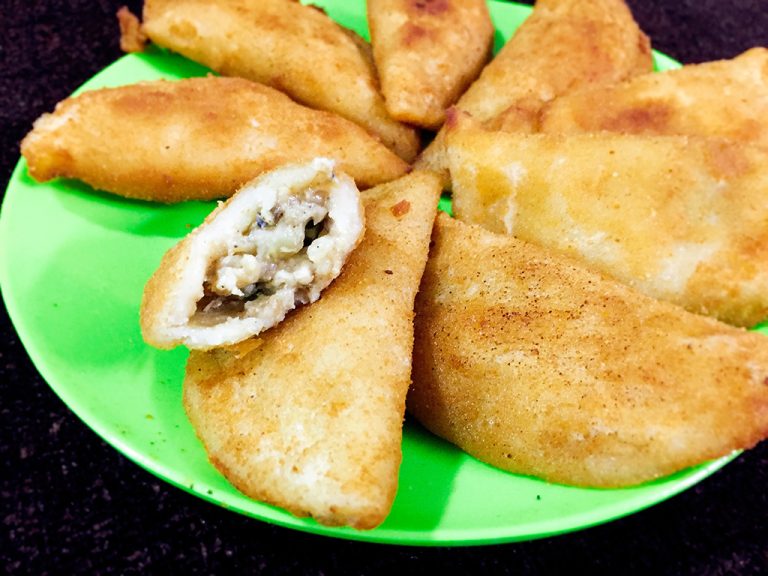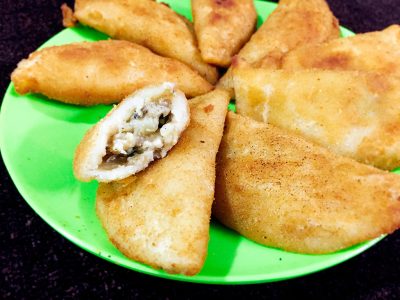 Cheesy Chicken Half Moon is a crispily fried starter recipe filled with yummy cheesy chicken and veggies that will make you go crazy.
---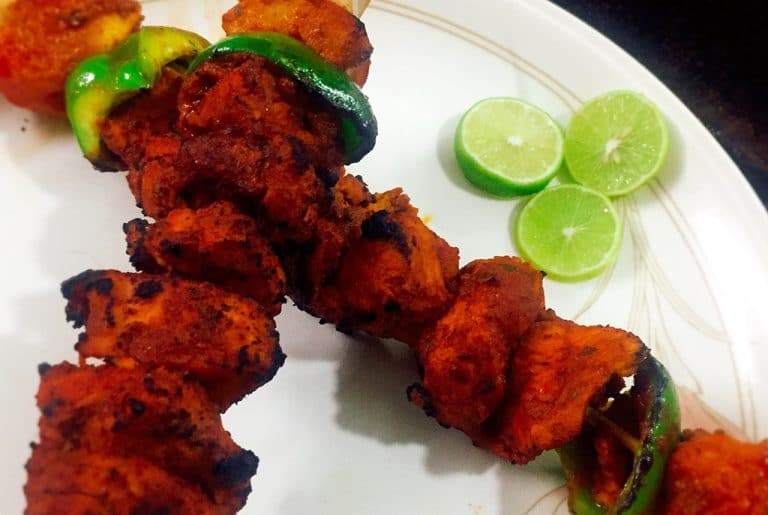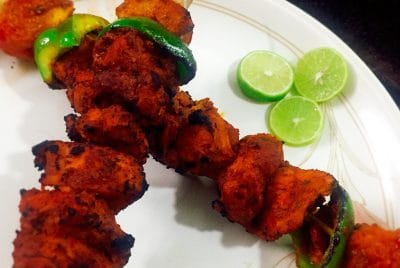 Appetizing Tandoori Chicken Tikka made with boneless chicken and Indian spices is a famous recipe all over India as well as around the world. It is also a famous street food in India which can be found everywhere. Easy to cook, healthy and always a crowd pleaser.
---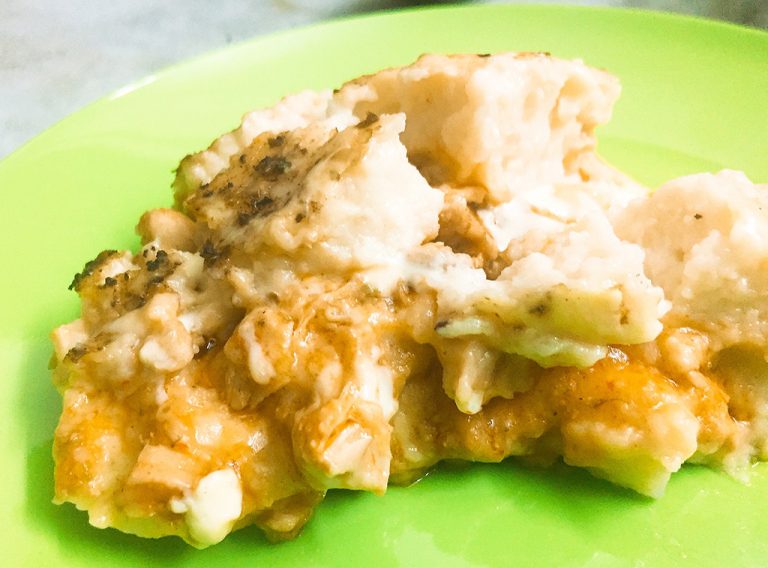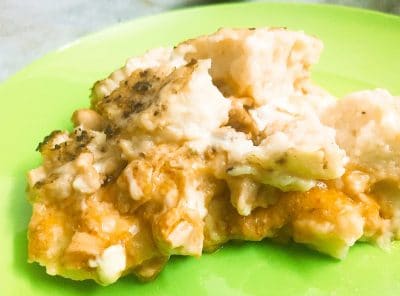 The mesmerizing Creamy Chicken Potato Gratin is a French Pie recipe made with Boneless Chicken, potato strips, cheese and creamy white homemade sauce. The creamy sauce, yummy cheddar cheese, soft potatoes, and the perfectly seasoned chicken breast makes this Creamy Chicken Potato Gratin as my family favorite.
---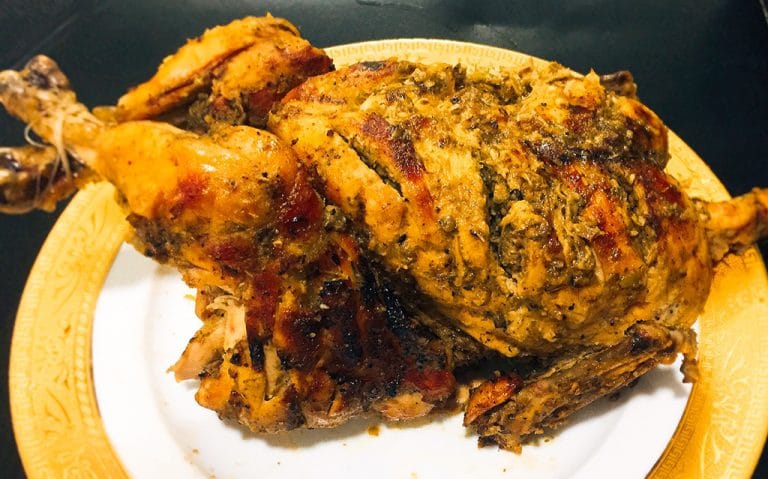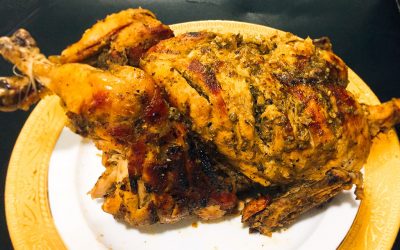 Arabic Roast Chicken made with simple at home ingredients like garlic, ginger, salt, pepper, butter etc. Arabic Roast chicken starts pulling you towards itself with its aromatic smell right from when it is being roasted. Loved by all age group, though it is kids, youngster or elders.
---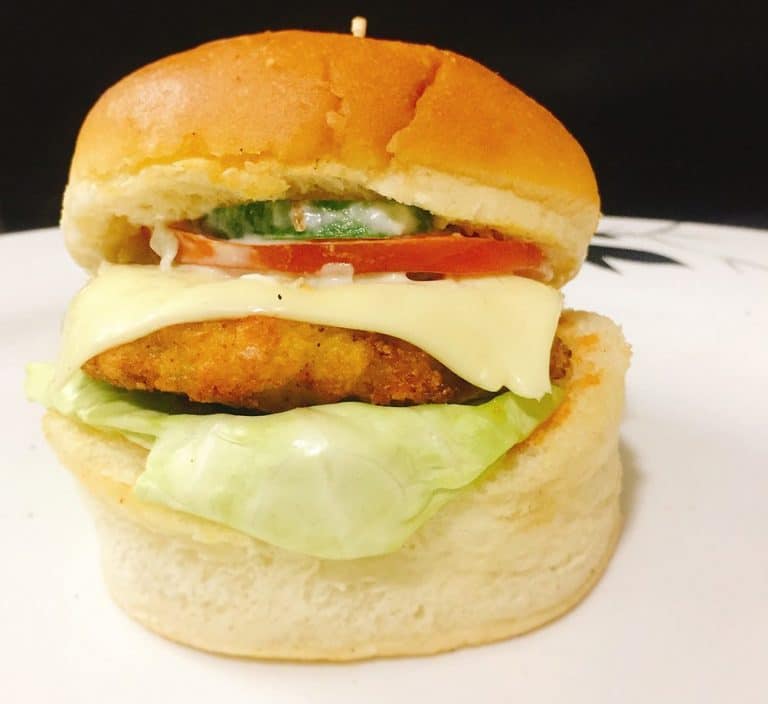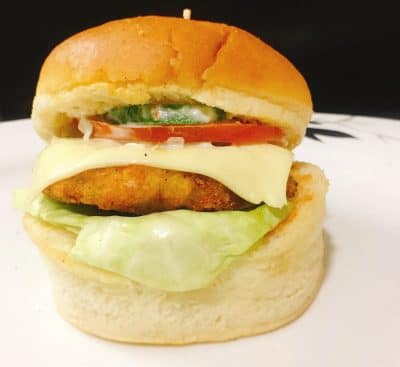 Cheesy Chicken Burger made with tender and juicy boneless meat coated in crispy batter with a spicy taste and topped with creamy mayonnaise.
---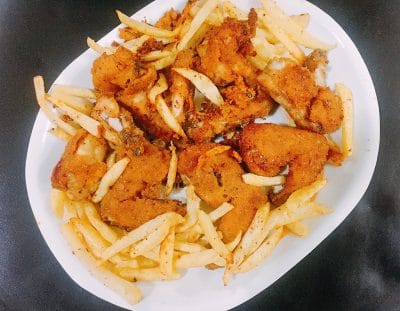 Crispy Chicken Wings is a deep fried chicken starter recipe made in almost every part of the world. A very easy to make and can be prepared in an hour even by men. Women can make in less time. It can be made in two ways; by baking or deep frying. Usually, what restaurants serve are the deep fried.
---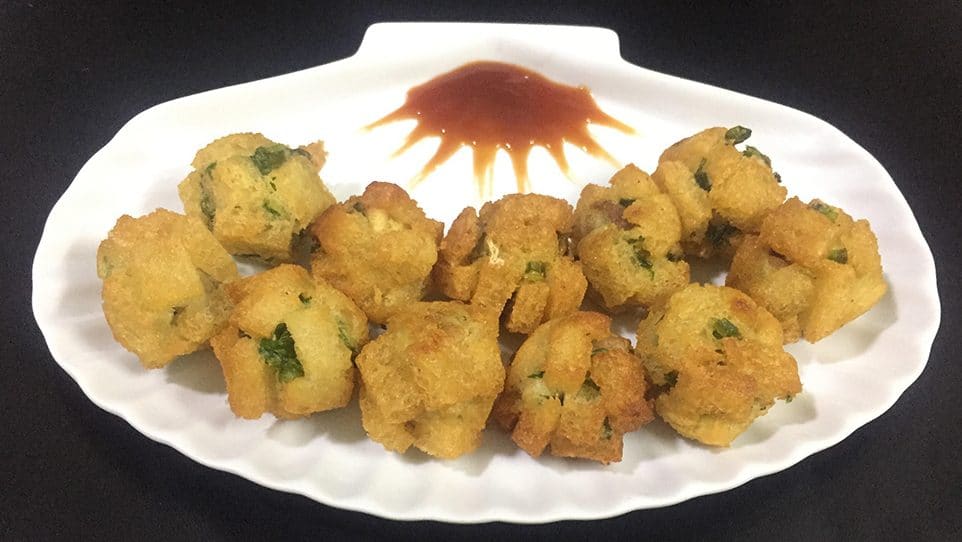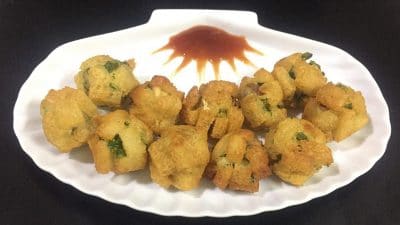 Cheesy Football Chicken is an Indian starter with a french taste. Loved by people of all ages, especially children as it is cheesy.
---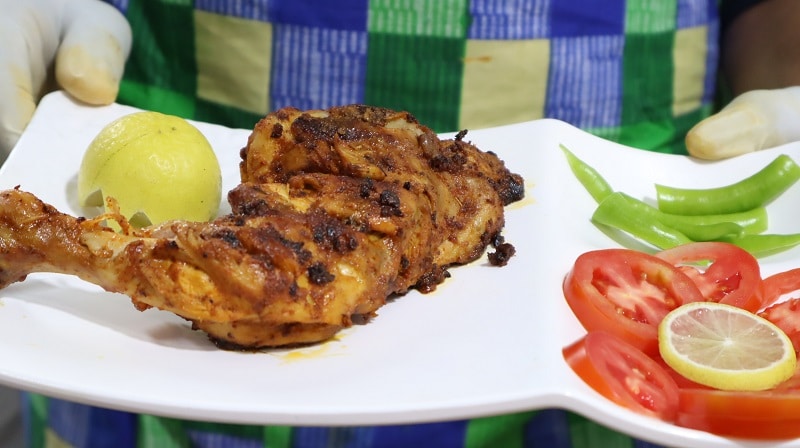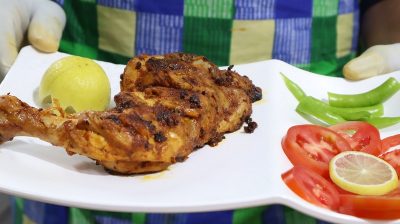 Appetizing Chicken Tandoori. A dish that can't be denied by anyone especially youngsters or elders.
---
Desserts To Wrap Up Thanksgiving Celebrations
Can you imagine a celebration day without anything sweet? Not at all, right? You cannot. Then it was impossible to complete this long list without anything to satisfy your sweet tooth. And down below is the remedy to that.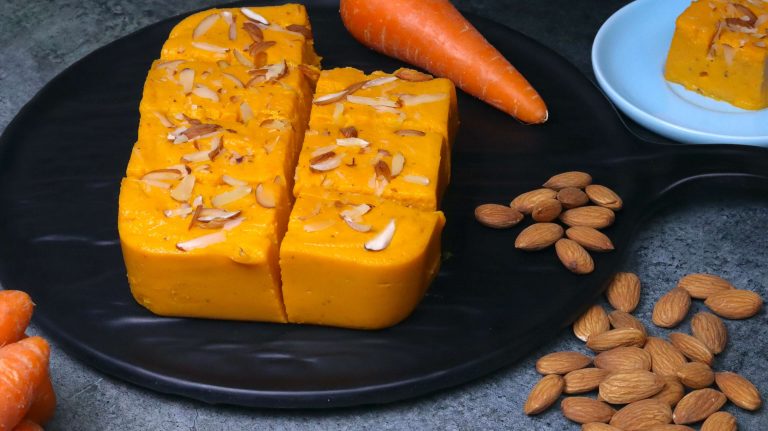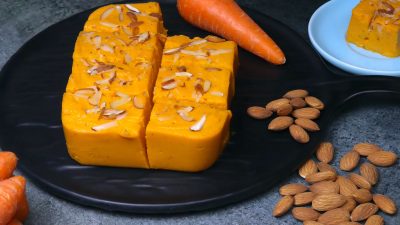 Carrot pudding is a dessert cum accompaniment, the main course for kids. It is a sweet dish that is quite flexible & fits every menu.
---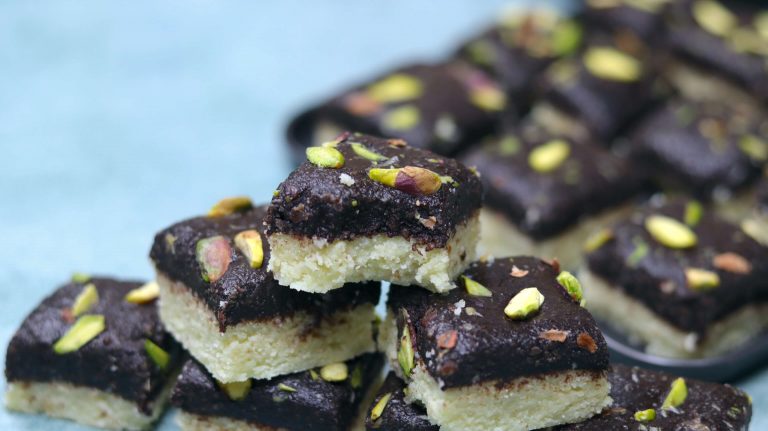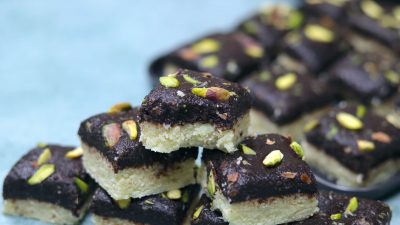 Double layer chocolate mawa barfi is smooth. Moreover, it is easy to make & requires minimal cooking time, efforts & expertise. Try it today.
---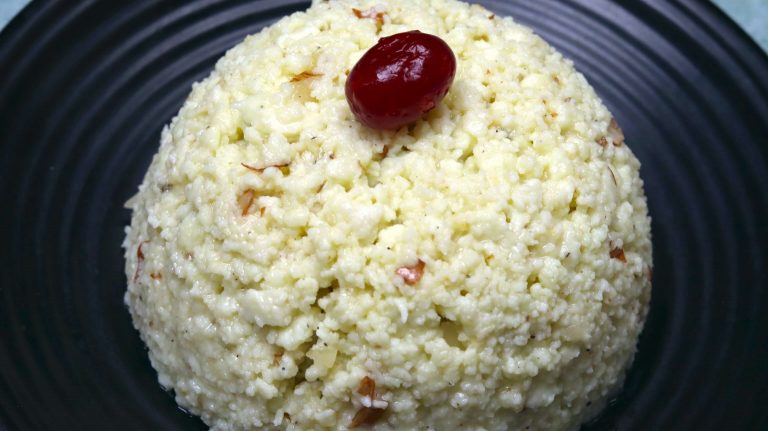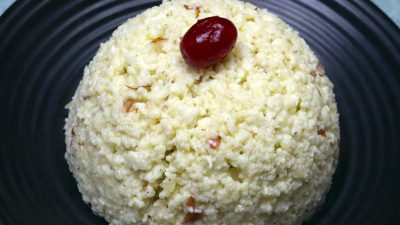 Paneer halwa with cherry topping is exquisite, flavory & enticing. Watch the recipe video. See how to plate this halwa like a birthday cake.
---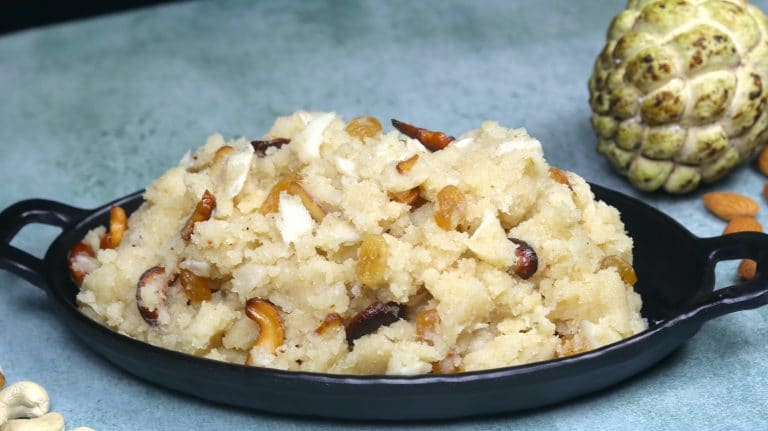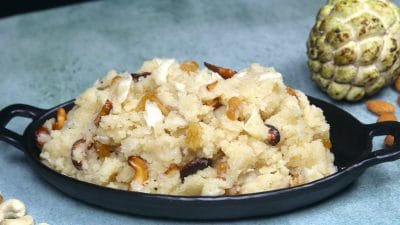 Custard apple halwa is a fusion sweet dish made using fruit pulp & rava aka suji. It's completely different from traditional halwa we eat.
---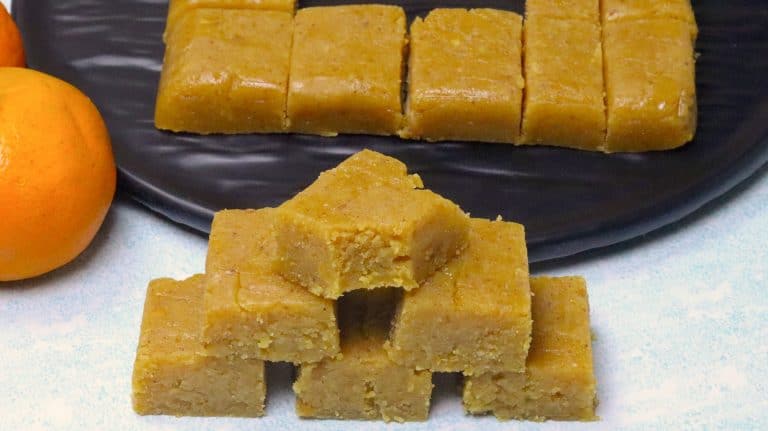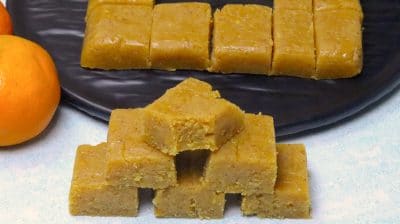 Orange Besan Burfi is an extended version of the regular burfi with a taste of orange. It is a tasty, fudgy, and melts in mouth recipe. 
---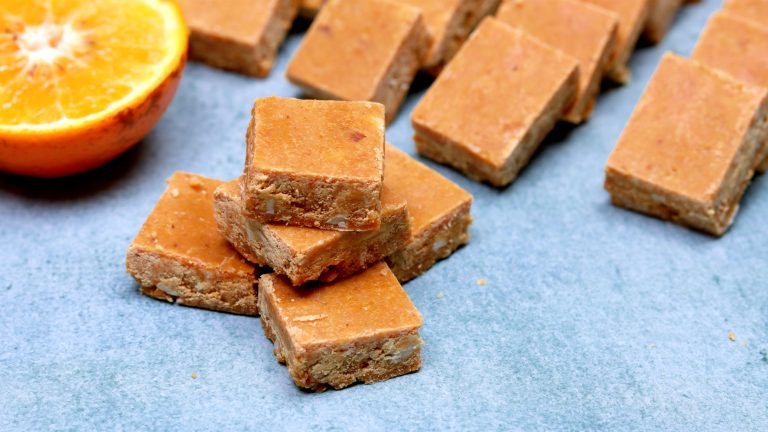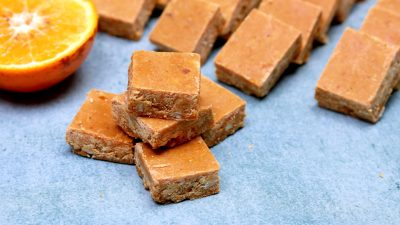 Orange Burfi Wit Milk Powder is an Indian dessert recipe. This fudge-like sweet is delicate, rich with ghee and dry fruits. 
---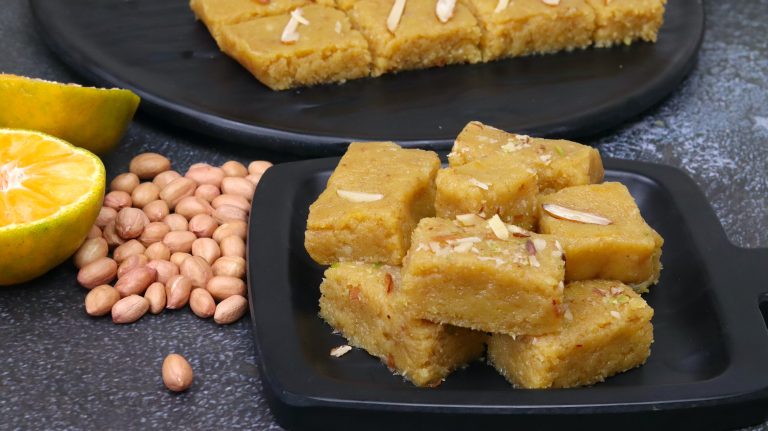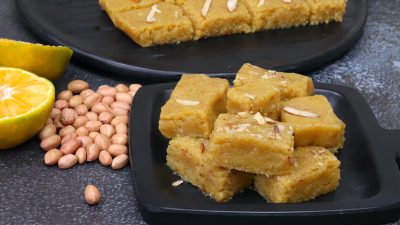 Peanut Fudge is a unique easy dessert recipe. This sweet is soft in texture and creamy. Also is a rich and filling dessert. 
---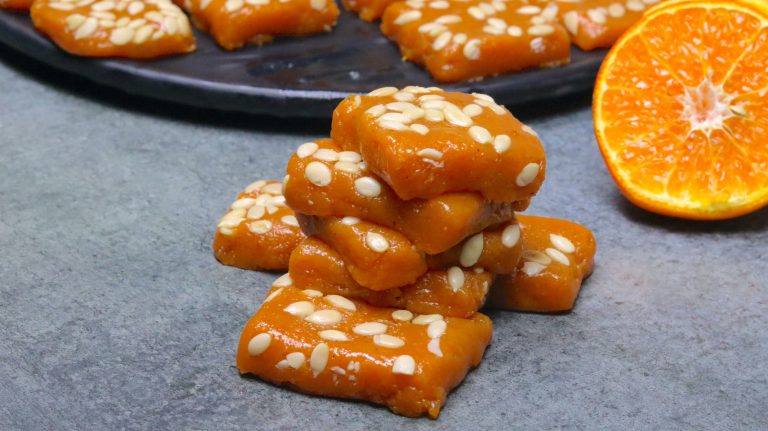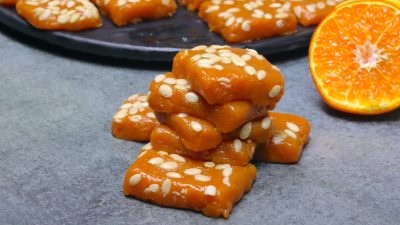 The quick and easy Orange Mawa Burfi without using coconut. The taste is awesome and is exactly like the one available in Nagpur
---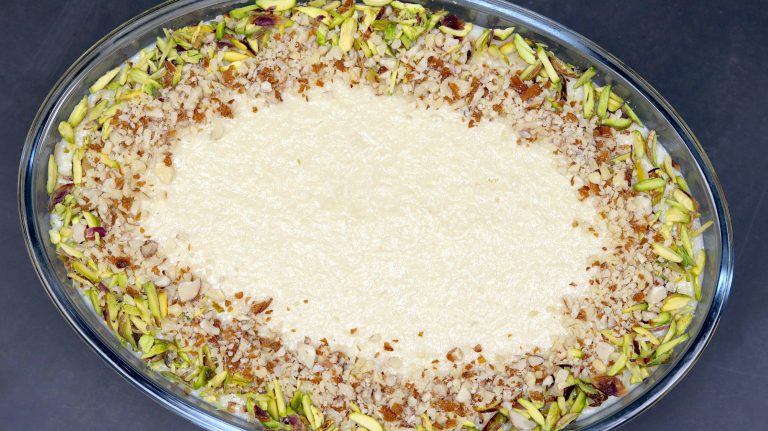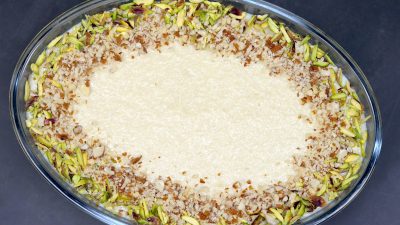 Layali Lubnan is a famous Lebanese dessert recipe. It resembles a rice pudding and is one of the best recipes for the month of Ramadan
---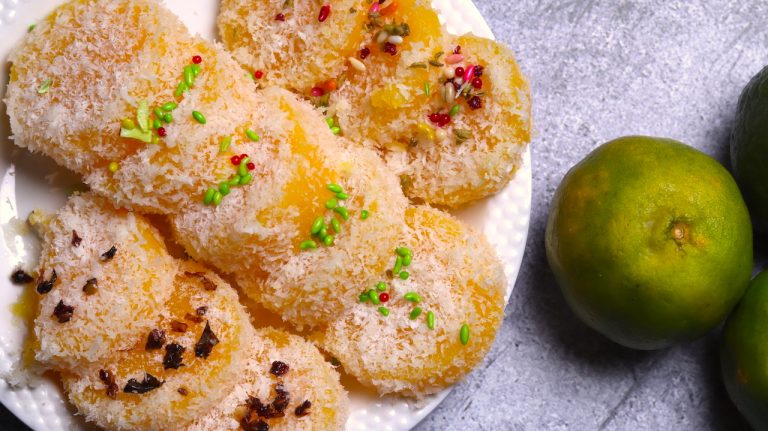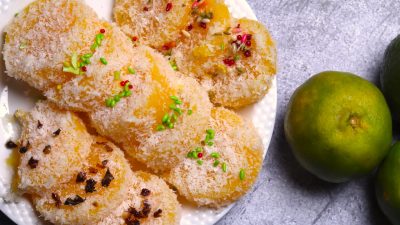 Orange Burfi is a quick and easy-to-make dessert recipe. It is a tasty & delicious sweet delicacy with the sweetness and tanginess of orange.
---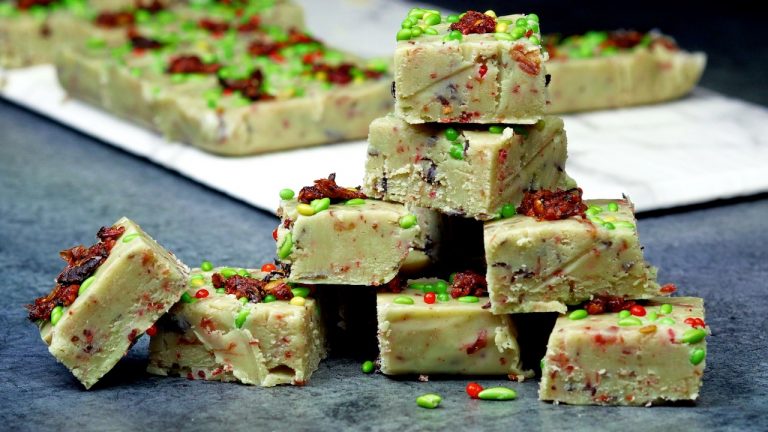 Paan Fudge is an innovative combination of desserts. Fudge is an American dessert and is given an Indian twist by adding paan flavor.
---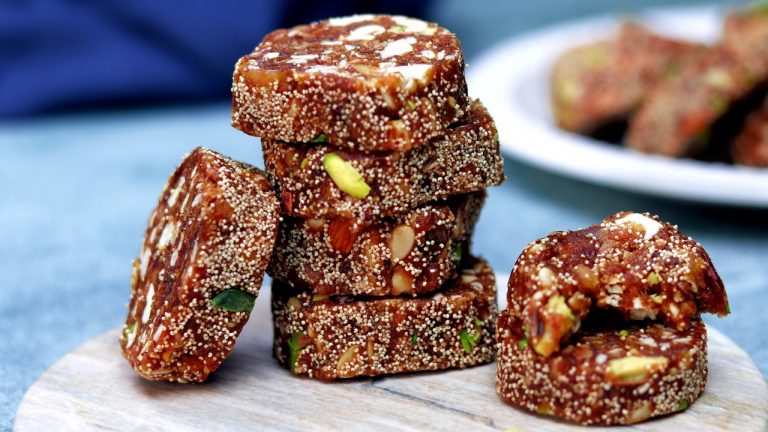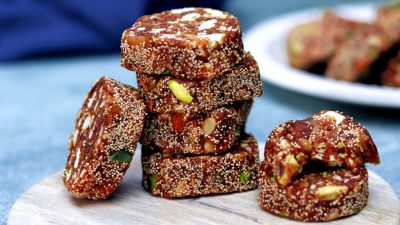 Khajur Roll is a sweet dish with lots of dates and dry fruits. It provides energy and warmth, hence it is a winter special food. 
---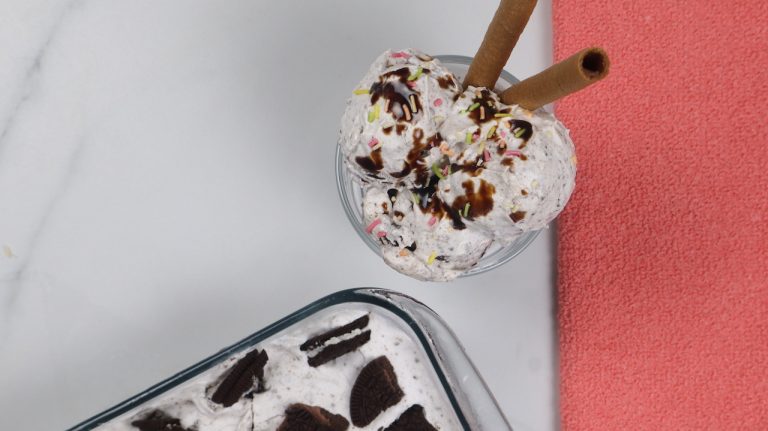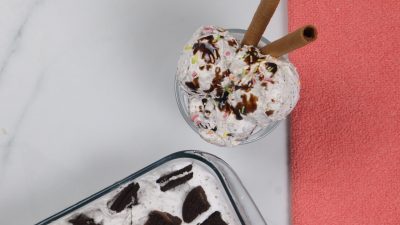 Oreo Ice-Cream is a home-made, no-churn dessert recipe. This recipe is an easy recipe consisting of our loved oreo cookies. 
---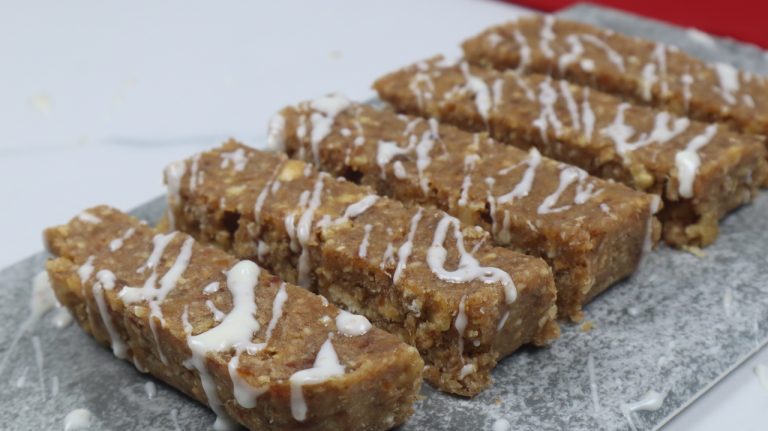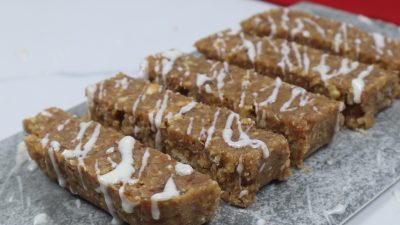 Dates Bars are no-cook, healthy, nutritious, and has the goodness of seeds and nuts. These are protein-rich bars and best for breakfast.