Layali Lubnan is a famous Lebanese dessert recipe. It resembles a rice pudding and is one of the best recipes for the month of Ramadan.
This sweet delicacy is ready with limited ingredients and does not take much time with cooking. The only time-consuming thing is for it to chill. Even after that, it is one of the easiest desserts of Lebanese cuisine. It is also very much consumed in some parts of the Middle East.
We have not made the use of any cream here. Instead, we are making the top layer separately using cornflour.  But usually, this recipe consists of whipped cream on the top. If you can make a whipping cream at home, then it would be better.
Layali Lubnan is a dish that is the most served in households. Sugar syrup is served along with the dish, but that can be optional. This sweet delight initially consists of the fragrance of rose and orange blossoms. However, we are using the simple vanilla essence to provide it with fragrance.
The base of it is semolina flour. It would help if you opted for coarse semolina rather than fine semolina while making this. Also, it would help if you were careful with the flames. Reduce the flame to medium once the content starts boiling and stir it.
Enjoy this royal looking sweet at night whenever you are in a mood to celebrate.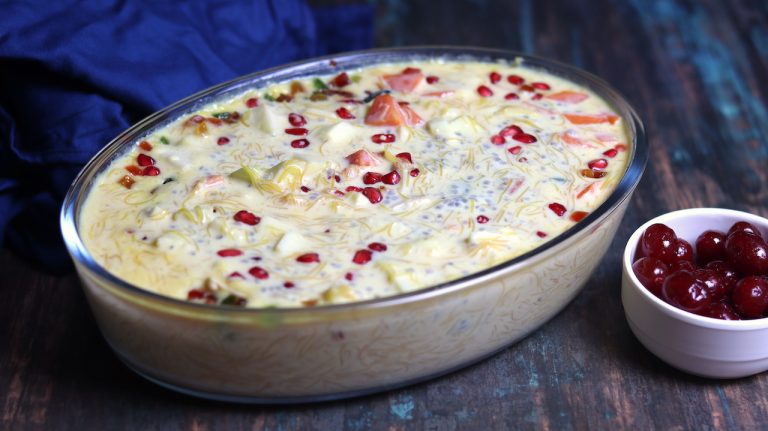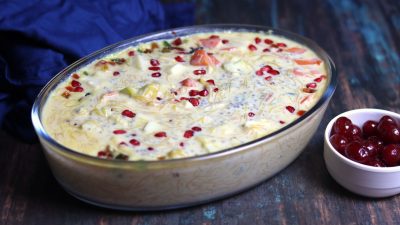 Vermicelli Custard is a fusion dessert recipe of seviya & custard. It is the combination of a vermicelli kheer and fruit custard.
Prep Time: 5min; Cook time: 20min;
---