Paneer Tikka is a tandoor variety popular, especially in North India. The name paneer tikka comes from the native Indian language. Surprisingly, it is one of the most searched food items on the internet. Let's see what it is.
What is Paneer Tikka?
Paneer is cottage cheese. Tikka means paneer pieces marinated in spice & masalas. Then we roast or fry the tikkas. That's how we get our paneer tikka.
Now there's another set of varieties called veg tikka & non-veg tikka. The veg tikka contains vegetables like potatoes, sweet potatoes, carrots, brinjal, etc. On the other hand, non-veg tikka has mutton or chicken pieces.
The marination process is more or less similar. Yet, there could be a difference in the spices used in both veg & non-veg tikkas.
With this in mind, let's start making paneer tikka now. We will start with the items that we need. Here we go.
Paneer Tikka Ingredients
The items that we require are divided into categories. For instance, vegetables, spices, herbs & masala powders. Not only this, but there are few dairy products we need. Hence, here's the complete list.
Spices & Masala (8 items)
Red Chili Powder – We need two types of red chilli powders. This one is for a spicy taste.
Coriander – Cumin Powder – This masala powder will integrate a woody flavour.
Garam Masala – The taste profile of garam masala is intense. Add mindfully.
Amchur Powder – It's the dry raw mango powder for sour flavour.
Salt – As per the taste.
Black Pepper Powder – Add black pepper carefully because the flavour is intense.
Red Chili Powder – The Kashmiri red chilli powder is for red colour. It's mildly hot.
Ginger-Garlic Paste – For flavour & aroma.
Vegetables (3 items)
Onion – Don't chop. Peel the layers carefully & cut them into large pieces.
Capsicum – Paneer tikka is incomplete without capsicum. We need red, green & yellow.
Carrot – Use orange carrots if available. If not, then go for red ones.
Dairy Products (5 items)
Paneer – Use soft paneer cubes large in size. Defrost the paneer before using it if it's in the fridge.
Butter – To fry marinated paneer & vegetables in the skewers.
Ghee – We will use ghee to introduce a smokey flavour by pouring it on hot coal pieces.
Curd – Use Punjabi dahi. It is mildly sweet. Moreover, it will reduce the extra hotness in the spice mix.
Oil – No specific brand recommendation here. Use regular cooking oil from your kitchen.
Other Items
Gram Flour – Using gram flour will make the spice mix thick. Moreover, it will help coat the paneer properly.
Lemon Juice – Do not use vinegar. Lemon juice is healthy & best for चटपटा खट्टा taste.
Which ingredients you can & cannot skip?
Okay, you can skip red & yellow colour capsicum if they aren't available. There won't be a significant difference in the taste. On the contrary, don't skip green capsicum because they are frequently available. Avoiding capsicum is a bad idea.
Further, it is ok if you don't have red or orange carrots. You can skip them. Remember not to bypass any of the spice or masala powders. Each one of them has a distinct taste profile. It is highly recommended that you don't leave out anything in the ingredient list.
The paneer tikka item list concludes here. Now let's move towards the cooking section.
Making Restaurant Style Paneer Tikka
The masaledar paneer tikka at the restaurant attracts people. We often dream about making them at home. The idea of making the best paneer tikka lies in the marination process. Therefore, let's counter the basics first.
Marination Process for Paneer Tikka
To marinate is the key to make enticing food immaterial of what you are making. The same applies to paneer tikka. Here we have curd as the base of marination. Add all the spice, herbs & masala to curd & make a thick paste. After that, add paneer cubes, onions & capsicum pieces. Mix & coat well.
Once you are done, allow it to rest for some time. Doing this will help the ingredients to release flavours. Additionally, the paneer cubes will come out flavourful & loaded with masala. That's the power of marination.
Arrange the Marinated Ingredients in Skewers
Stack the skewers with paneer cubes, onions & capsicum pieces gently. Keep the skewers aside carefully. Since your paneer cubes are nice & soft, make sure they don't break.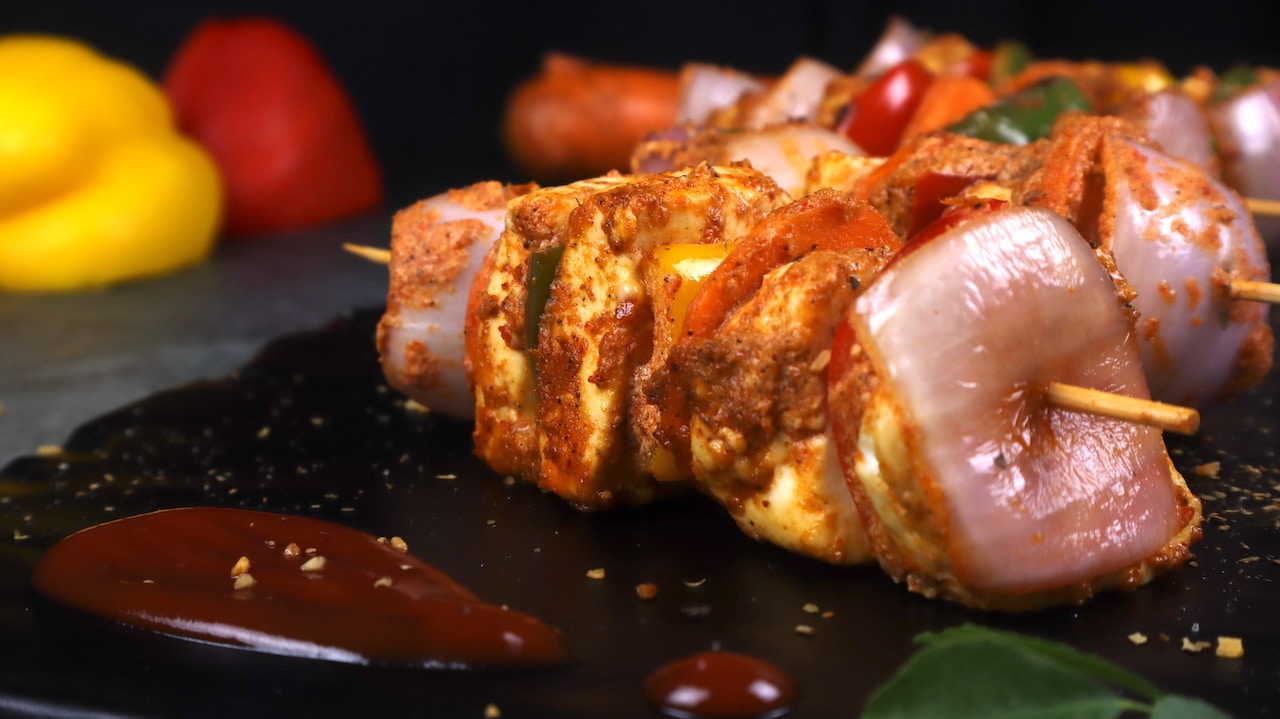 Shallow fry
Heat butter in a pan & shallow fry the paneer skewers. Monitor the flame so that it doesn't burn paneer or vegetables. However, even if it burns a little but still you will enjoy eating it.
Adding Smokey Flavour & Aroma to Paneer Tikka
It is one of my favourite parts. I love doing this. Put hot charcoal between the skewers & pour ghee over it. Immediately cover & let the smoke remain inside for a couple of minutes.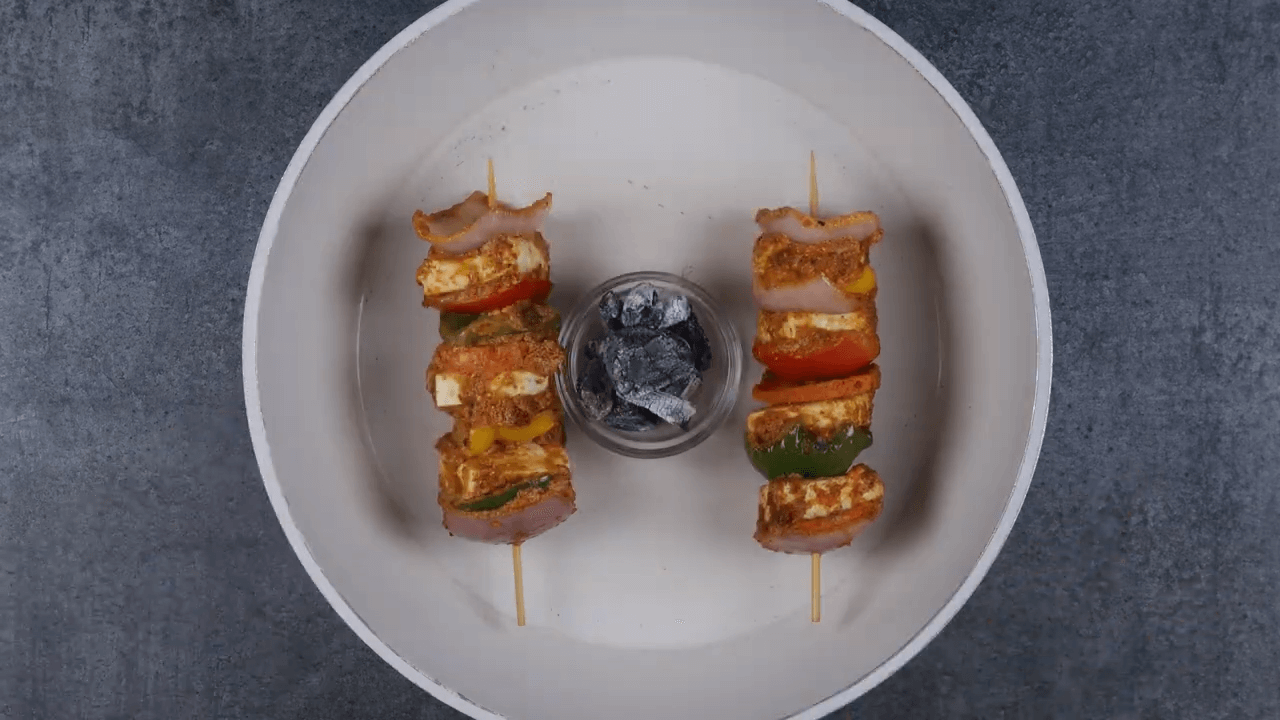 By doing this, your paneer tikka will get a smokey taste & aroma. Believe me, and it's worth it. Finally, after giving smoke, your paneer tikka is ready.
I hope you liked the recipe. Try yourself & let me know in the comments below. See you in the following recipe.
Also Read:
Paneer Burger is a unique and delicious burger recipe. You can say it is one of the Indian street burgers version, including paneer.