Paneer Tikka is a tandoor variety popular, especially in North India. The name paneer tikka comes from the native Indian language.
Paneer is cottage cheese. Tikka means marinating in spice & masalas and then roasting or frying them. Traditionally, they are roasted in a tandoor, but we can fry them in little oil at home and give them a smokey aroma to taste as if roasted in a tandoor.
Now there are varieties of veg tikka & non-veg tikka. The marination process is more or less similar. Yet, there could be a difference in the spices used in both veg & non-veg tikkas.
The veg tikka contains vegetables like sweet potatoes, carrots, potatoes, brinjal, etc. On the other hand, non-veg tikka has mutton or chicken pieces.
Adding Smokey Flavour & Aroma
Put hot charcoal between the skewers & pour ghee over it. Immediately cover & let the smoke remain inside for a couple of minutes.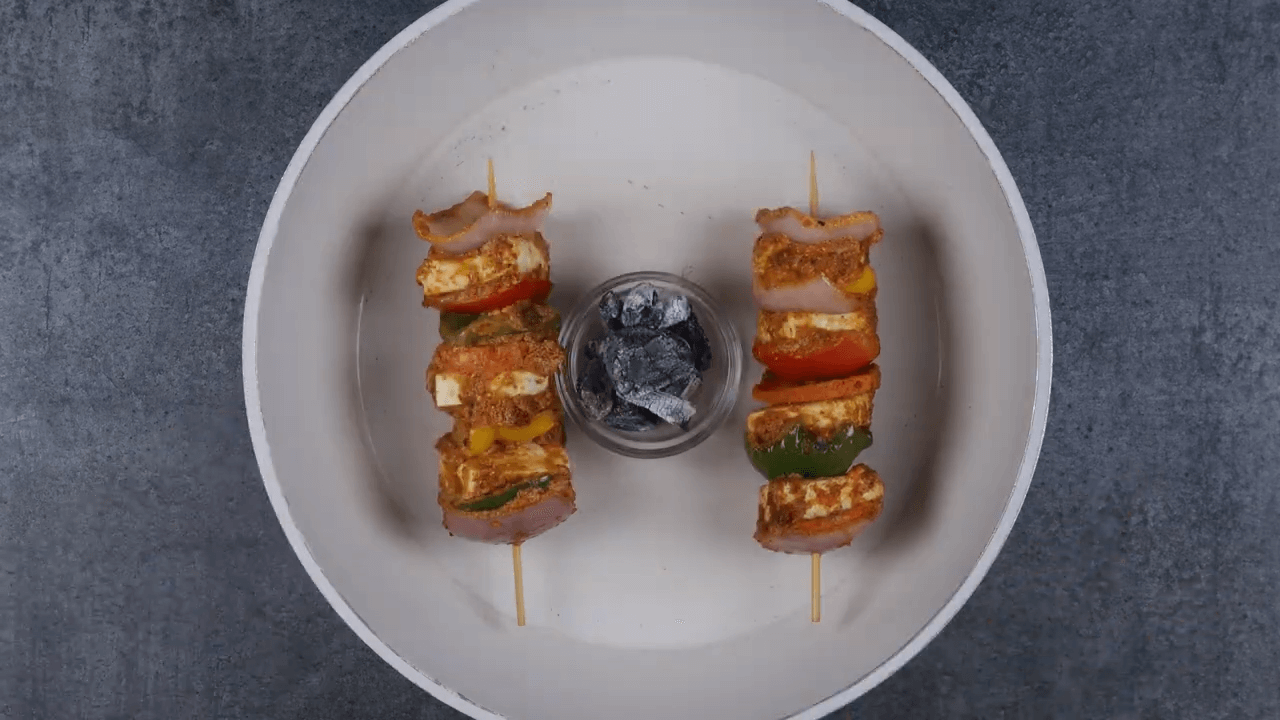 Your paneer tikka will get a smokey taste & aroma, and anyone having it will never be able to know if it is cooked on tandoor with charcoal or not.
Calories in Paneer Tikka
Here is the complete nutritional estimate of paneer tikka.
FAQ's
Let me share some frequently asked questions.
Why Marinate Paneer Tikka?
To marinate is the key to making enticing food soft and let the masala hold up while cooking immaterial of what you are making.
Here we have curd as the base of marination. Add all the spices, herbs & masala to curd & make a thick paste. After that, add paneer cubes, onions & capsicum pieces. Mix & coat well.
Once you are done, allow it to rest for some time. Doing this will help the ingredients to release flavours. Additionally, the paneer cubes will come out flavourful & loaded with masala. That's the power of marination.
Is Paneer tikka same as paneer tikka masala?
No, they are not the same. Paneer tikka is an appetizer, whereas paneer tikka masala is a gravy. However, both are made from the skewers of grilled paneer. One is served as is, and the other is spicy with masala gravy.
Is Paneer Tikka a junk food?
Paneer tikka is not an unhealthy option. However, it is always better to avoid having excessive calories. It is a good choice as an appetizer if done on a tandoor or without oil.
Is Paneer Tikka safe for health-conscious individuals?
Yes, it is a healthy recipe. However, it is high in fat, but it's good fat. Still, do not deep-fry it. If you add too much oil, it is not recommended for health-conscious individuals.
Can I skip yellow and red Capsicum?
Yes, you can skip red & yellow colour capsicum if they aren't available. There won't be a significant difference in the taste. However, don't skip green capsicum because they are frequently available. Avoiding capsicum as a whole is not a good idea.
Further, it is okay if you don't have carrots. You can skip them. Remember not to bypass any of the spice or masala powders. Each one of them has a distinct taste profile.
Also Read:
Paneer Burger is a unique and delicious burger recipe. You can say it is one of the Indian street burgers version, including paneer.