Want ideas for recipes to include in the Diwali menu? Here is a comprehensive list of all the recipes you can make this Diwali.
As we all are aware, Diwali is the biggest festival in India. Indians anticipate this festival eagerly all year, from kids to elders, for different reasons.
Traditionally, the Diwali festival represents the victory of good over bad, chasing away everything dark and evil. The thought behind this festival is enough to set the atmosphere. Everyone is naturally in a happy and positive mood. There is always a celebration with lights and decorations.
However, there is one thing that is highlighted here. Without a doubt, food is the best part of any festival, adding to the positivity and celebration of it.
Hence, with the help of the list below, let's make this year's Diwali more unique and welcoming.
Download our Free Recipe Cookbook
---
Drink and Beverages Recipes for Diwali
Generally, we rarely consider including drinks on the menu for Diwali recipes. However, there is no norm as to which we are restricted from doing so. We can include drinks if we want to. So here are some non-alcoholic drinks recipes suggestions to have this Diwali.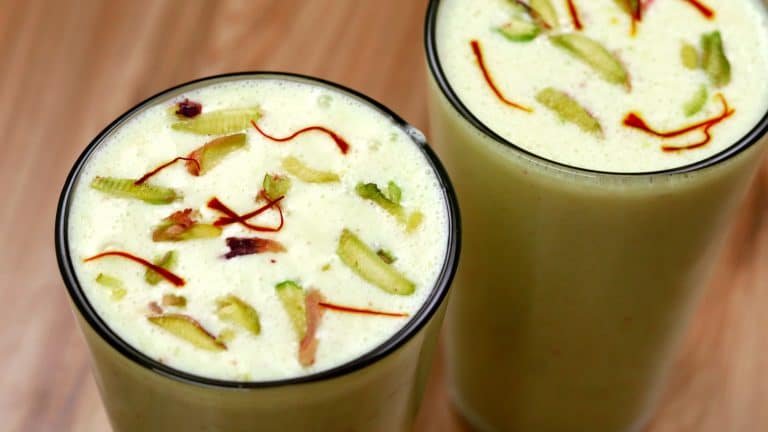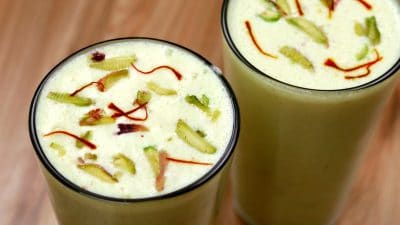 The Kesar Pista Lassi is an all-time favourite flavor of Indians in the summer season. Click to learn how to make bazar type lassi at home.
---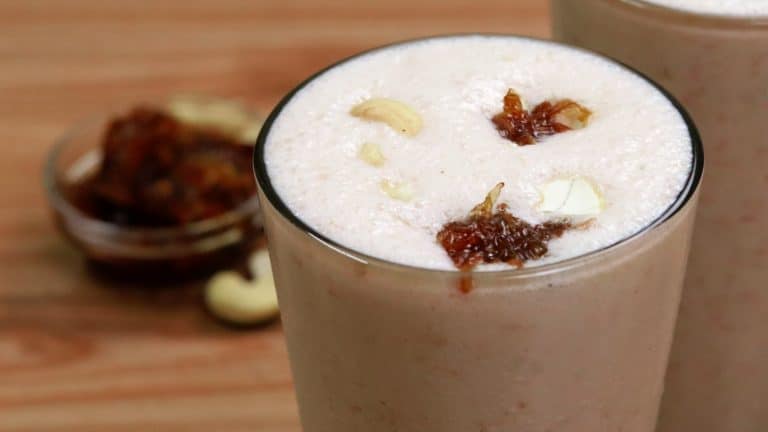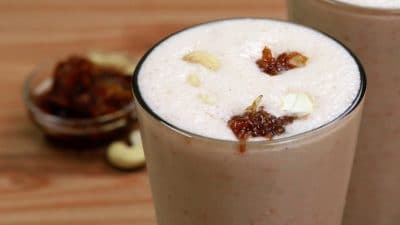 Kaju Gulkand Lassi is a yoghurt-based Indian drink equivalent to a smoothie. This drink is tasty, refreshing, and popular among Indians.
---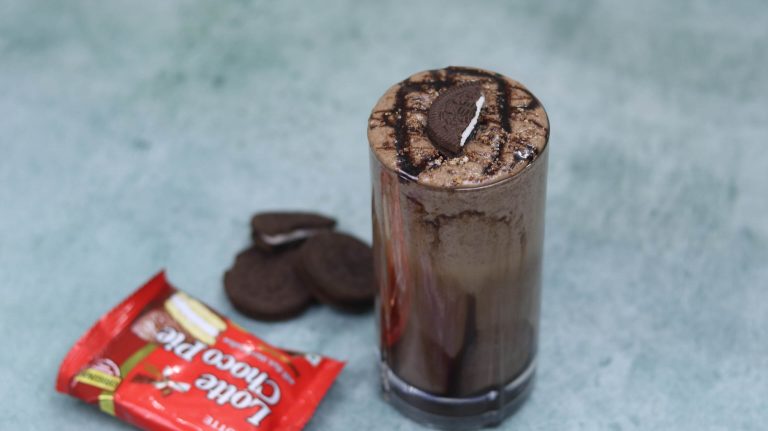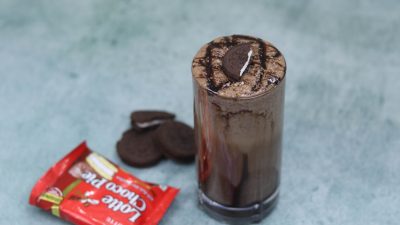 Oreo Cadbury Cake Shake with Lotte Choco Pie is a mad-mad drink for your kid's next birthday celebration. Try making it now. Watch video.
---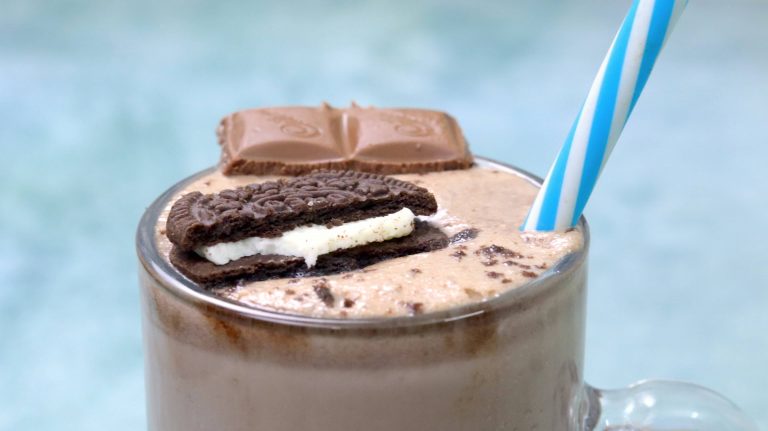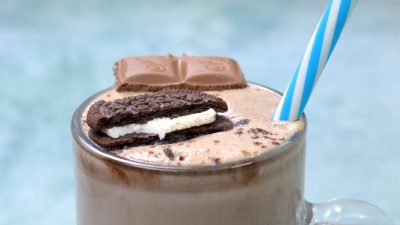 Oreo Dairy Milk Milkshake is sweet, smooth, yummy & chocolatey. Moreover, it is kids' favourite. They will ask for more. Hence, make more.
---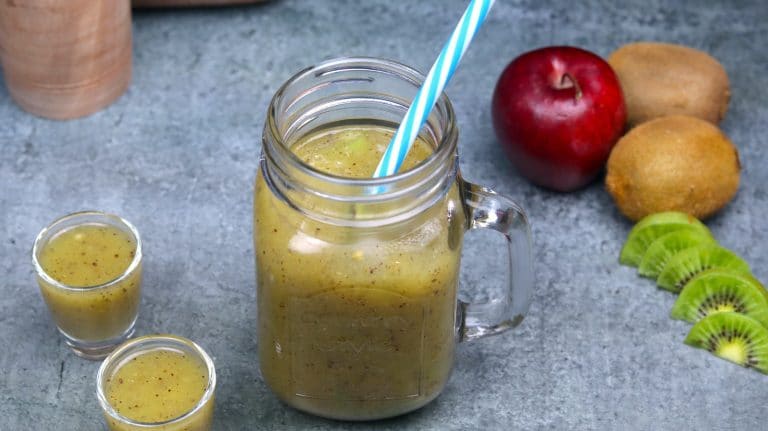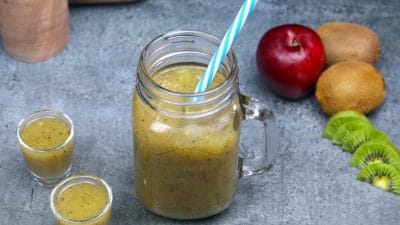 Kiwi Apple Smoothie is a super delicious and healthy drink with no sugar. It is one of the best solutions for a nutritious breakfast.
---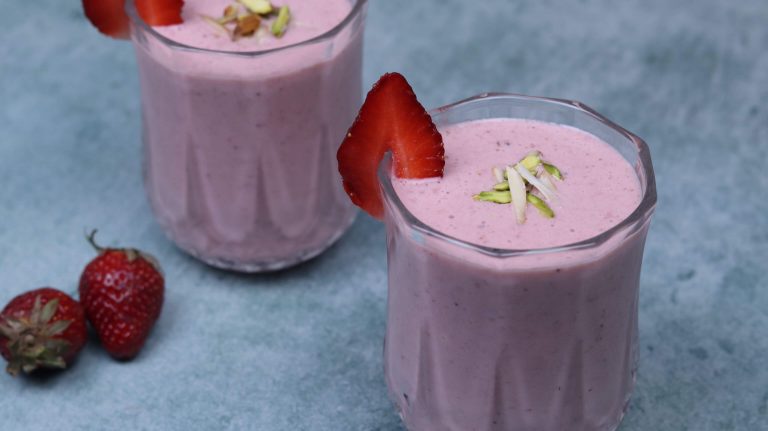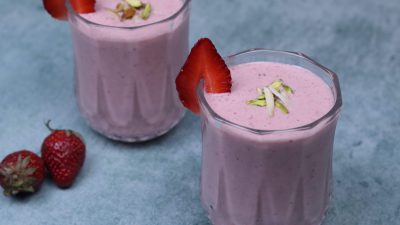 Gulkand strawberry milkshake is a creamy, flavorful & pinky refreshing summer drink. Serve during festivals & special occasions. Watch video.
---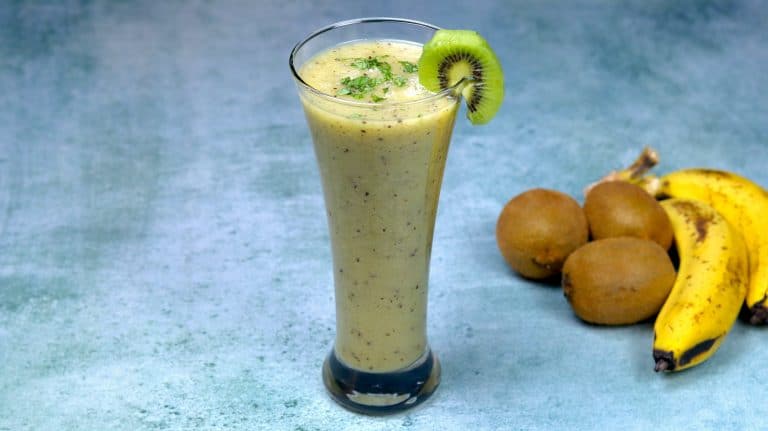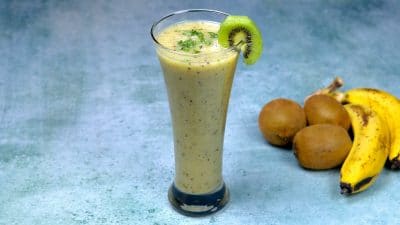 Kiwi banana smoothie is a scrumptious & tummy filling beverage. It tastes better when served cold. One can use honey or sugar.
---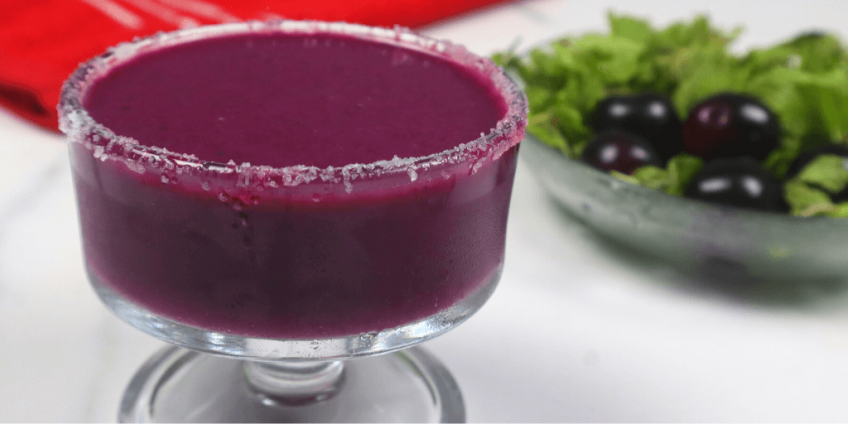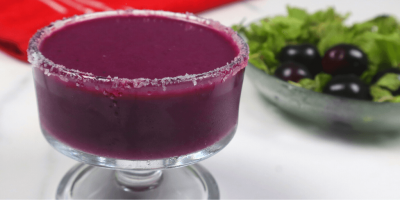 Black Jamun Shots is a trendy, easy to make, non-alcoholic fusion drink. A fresh drink good for digestive ailments & controlling diabetes.
---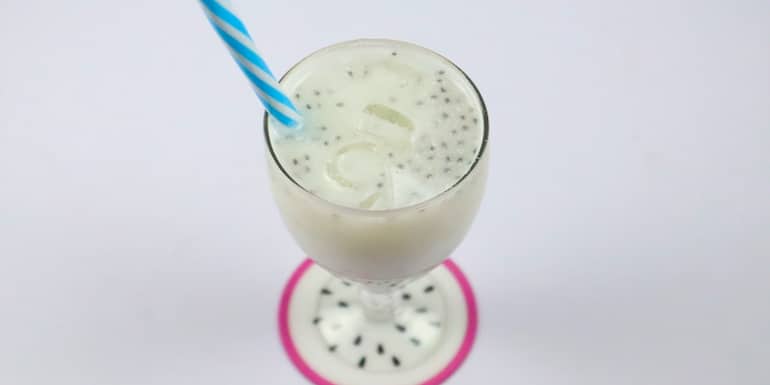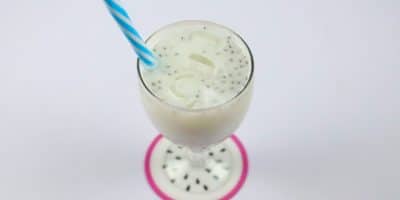 Milk Soda is a street-style fusion drink that requires fewer ingredients to prepare. It has a unique taste. Click to watch the recipe video.
---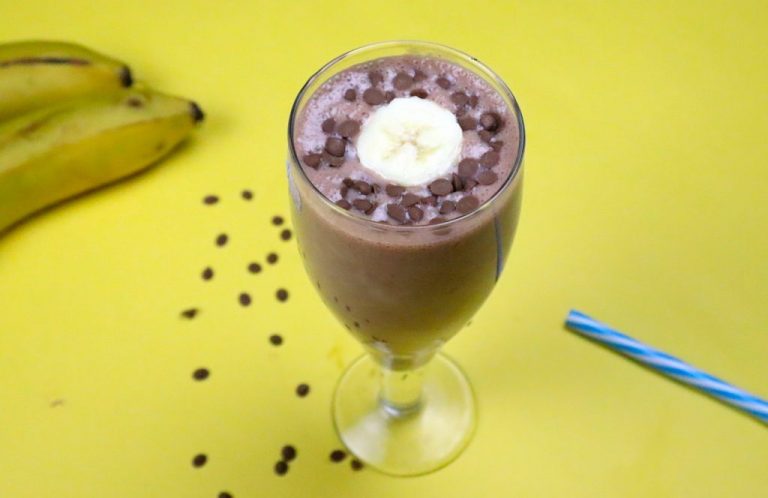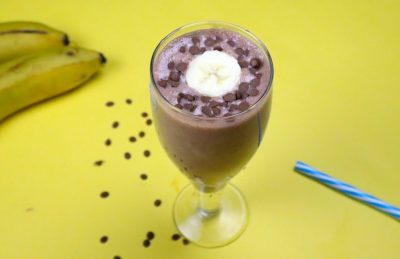 Chocolate banana milkshake is one of the tummy fillings shakes you will drink this summer. The shake is a perfect blend of cocoa powder & banana.
---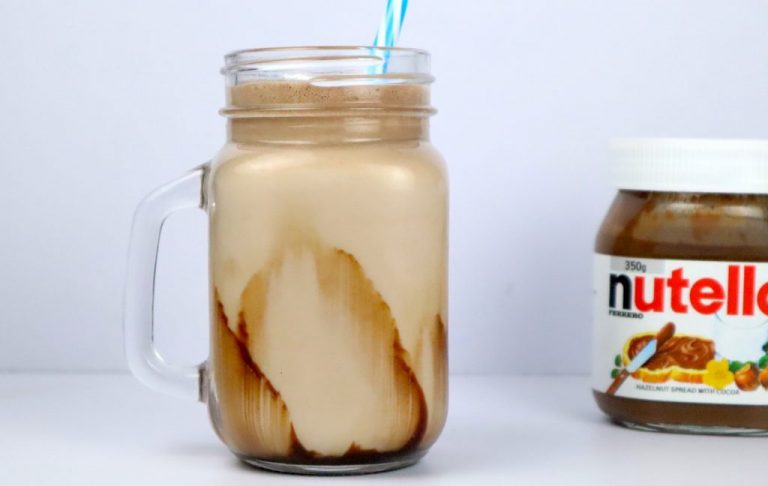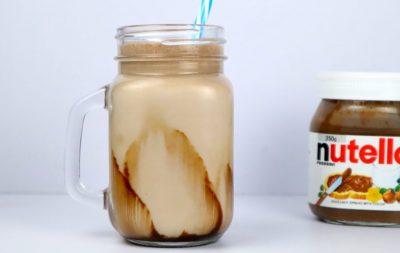 Nutella milkshake is amazing chocolatey feeling shake which is loved by all ages. Nutella is an old love & we are rewinding it specially for foodies.
---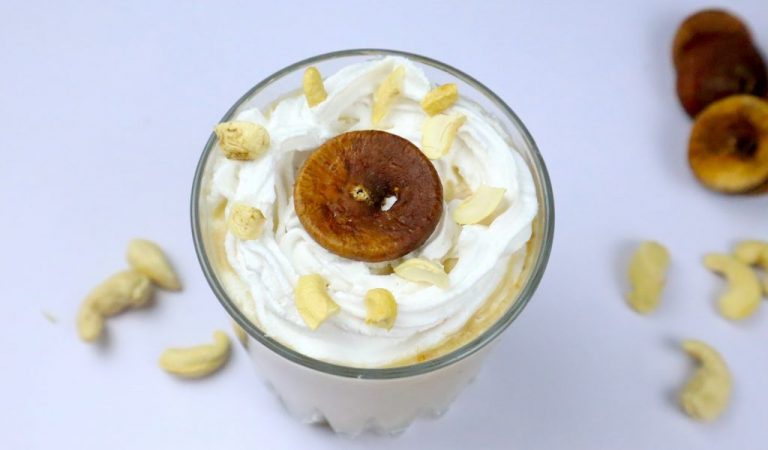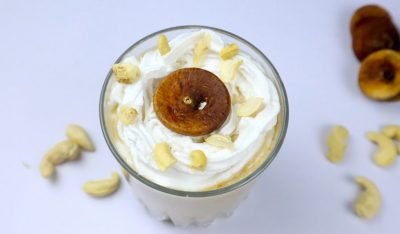 Kaju Anjeer Milkshake is a creamy nice milkshake & has many nutritional values. It tastes scrumptious when the chewy fig comes into your mouth. The thickness of the shake is real goodness.
---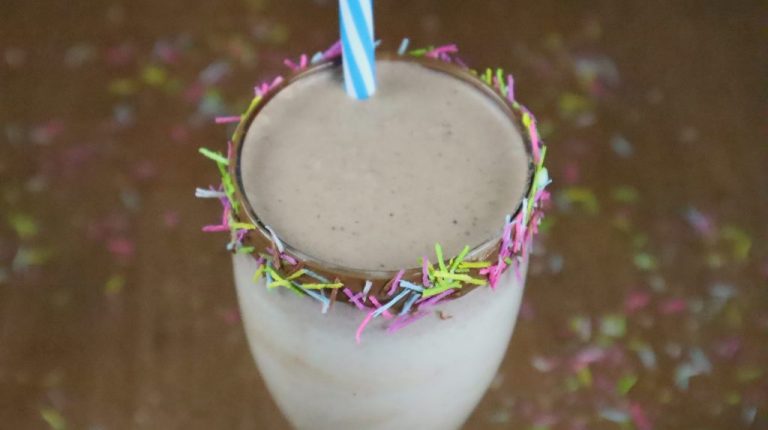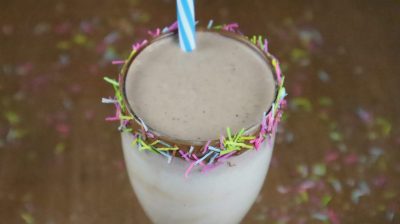 KitKat milkshake is a tribute to KitKat lovers who wants to find something innovative & here is the shake for you. It is a perfect blend of KitKat & milk.
---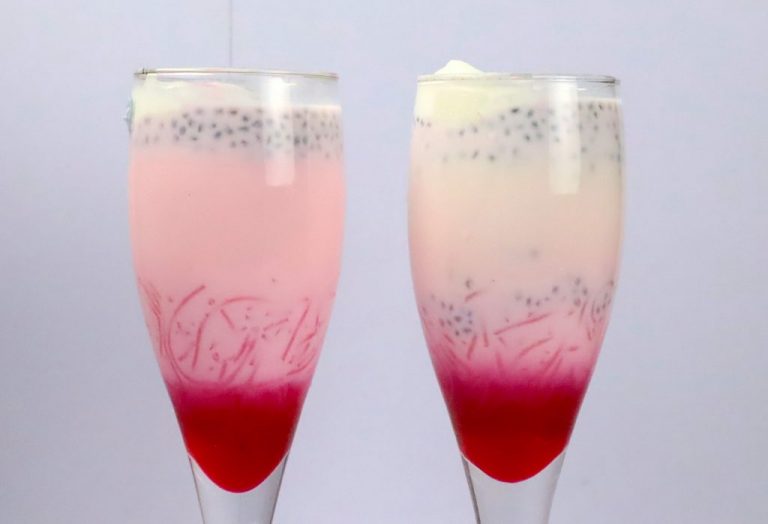 Falooda is an amazing beverage flavoured with rose syrup & other key ingredients like vermicelli, basil seeds & milk. The taste is outrageous.
---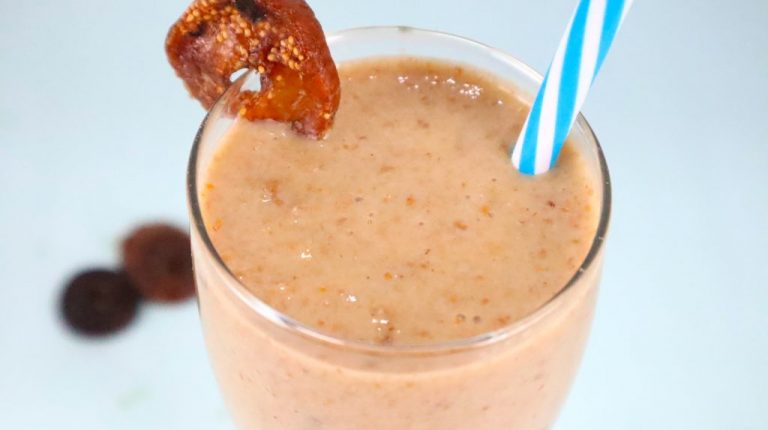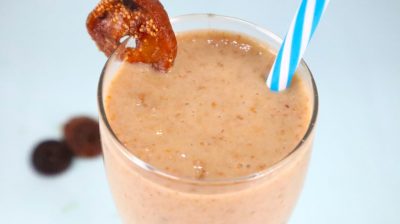 Anjeer milkshake is a quick & healthy recipe for all ages. In this recipe, we have used fresh soaked figs crushed with milk & sugar syrup.
---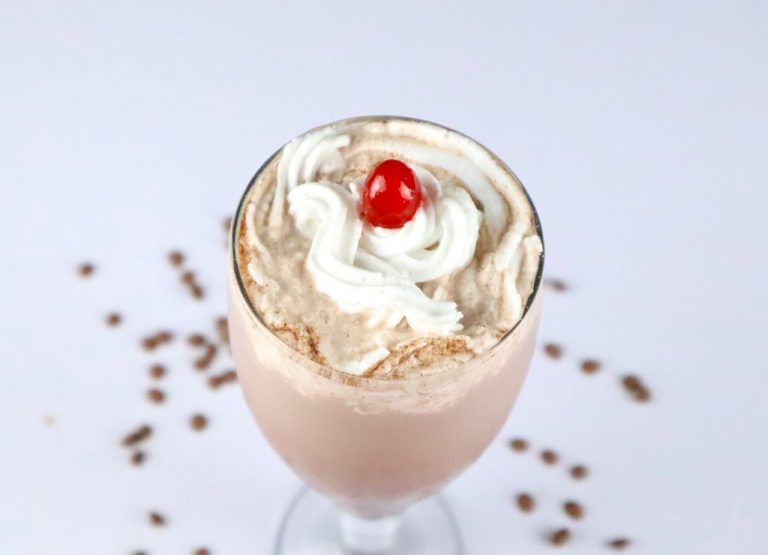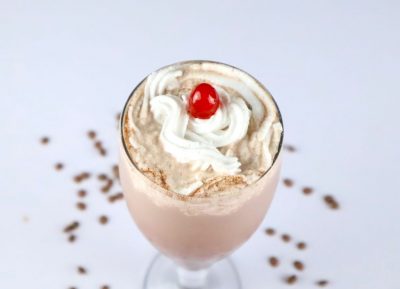 Chocolate milkshake is heavenly beverages suit your kids and teens made with flavoursome cocoa powder - a true indulgent to make for your special one. 
---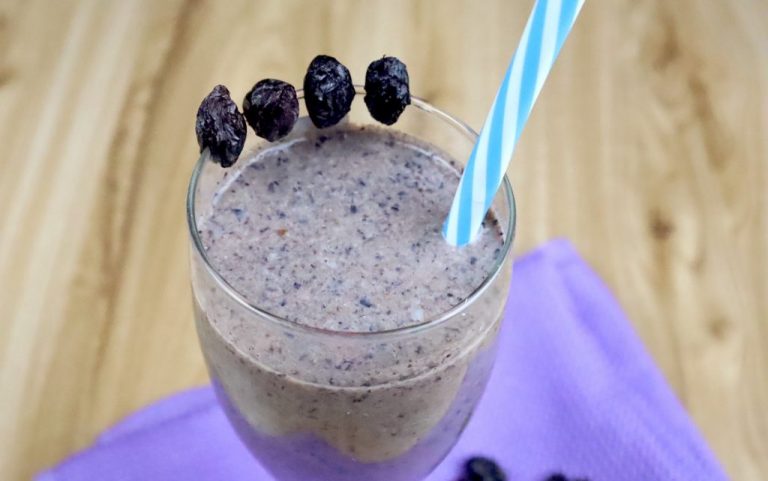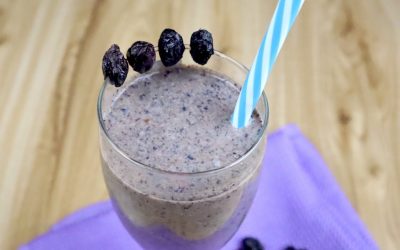 Raisins milkshake is healthiest drink one will enjoy the most. It is blended with soaked raisins, milk & sugar syrup. Easy to make & best for digestion.
---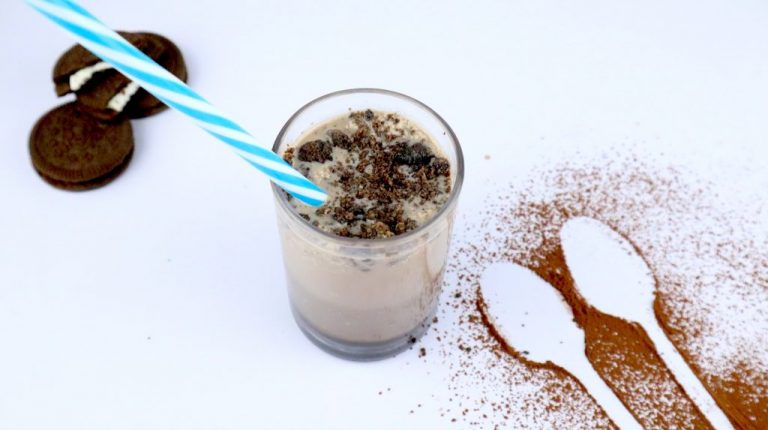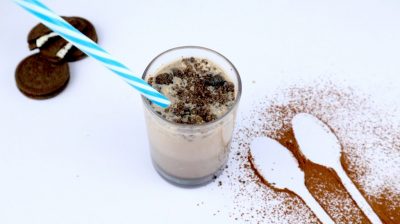 Oreo milkshake is a delicious treat for loved ones. Blend with Oreo cookies, milk and cream. It is perfectly made just like restaurants.
---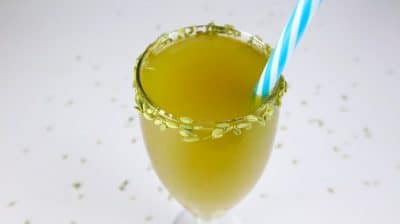 Variyali sharbat is a healthy summer drink popular in India. Fennel is the base ingredient here. Click to read the flavour profile.
---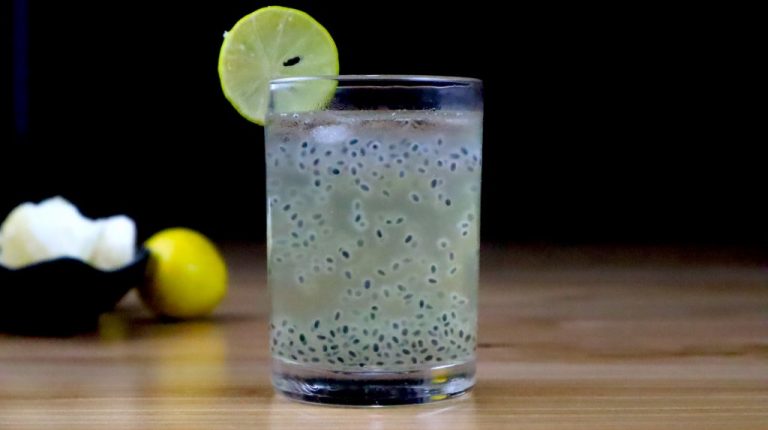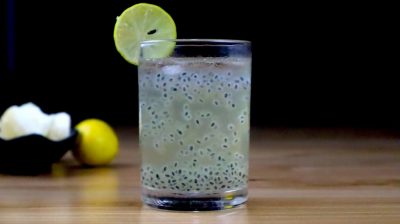 Gur Ka Sharbat is perfect summer drink and thirst killer. It tastes sweet & you can have at any time. It is made with Jaggery & basil seeds.
---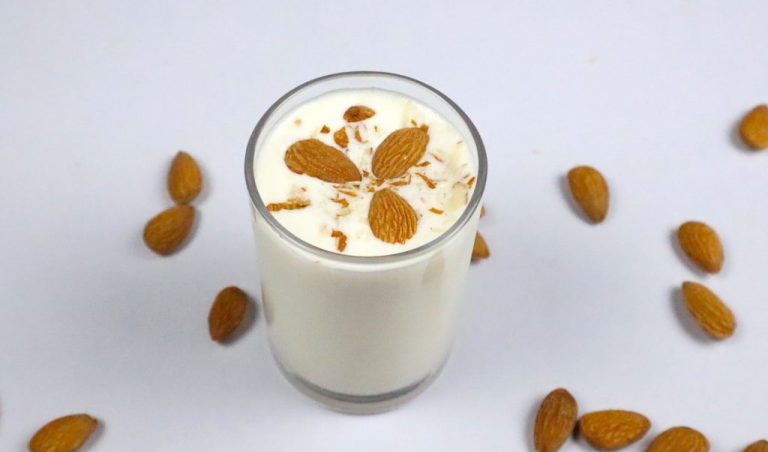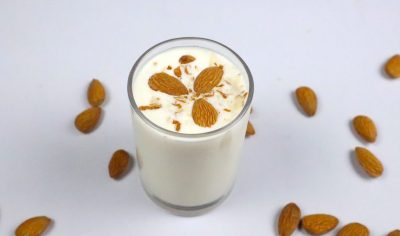 Almond milkshake is a super healthy drink good for brain memory. It is made with soaked almonds, milk & sugar syrup. It is a simple homemade shake.
---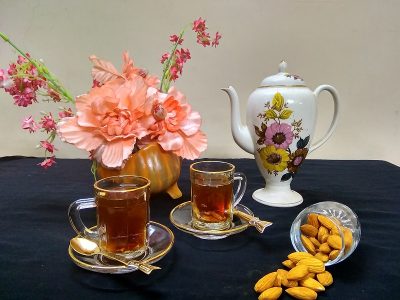 Kashmiri Kahwa is a soothing drink consumed in some regions of Central Asia like Pakistan, Middle East, Afghanistan and in northern India, Kashmir.
---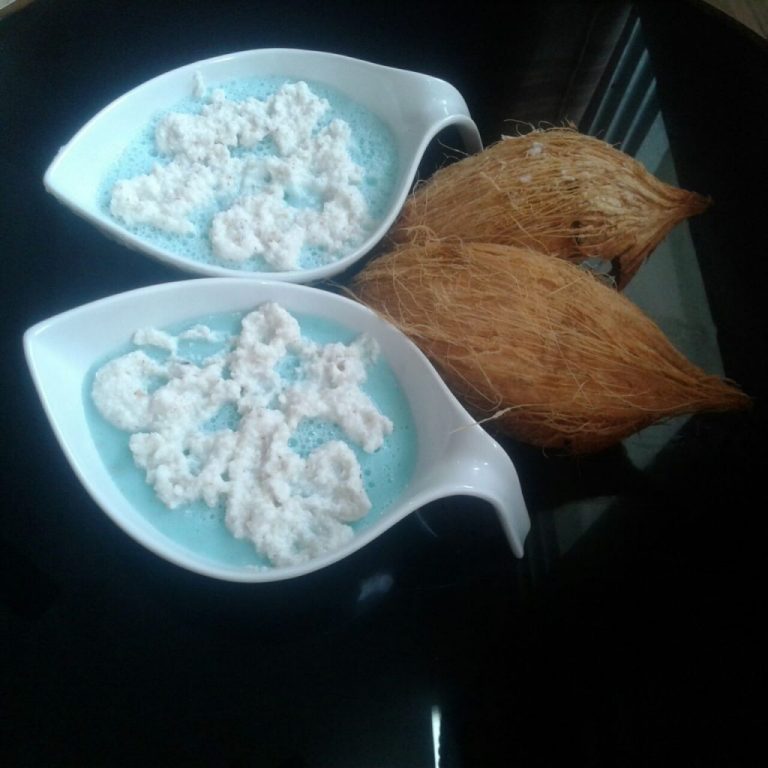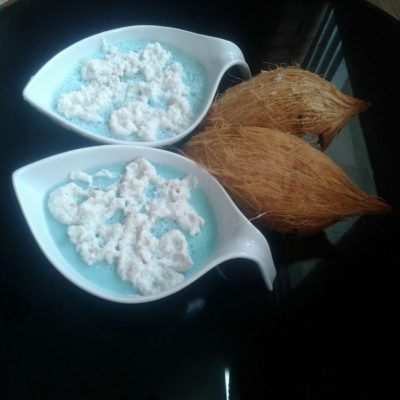 Dry Coconut Falooda is a delicious fruity pudding, flavored with dry coconut and coconut milk which makes it a perfect treat for any kind of gatherings. 
---
Snacks and Farsan Diwali Recipes
If there is something other than sweets that gets the most attention on the food menu for Diwali, that would be snacks. Just like the dessert recipes for Diwali, there is a long list of snack dishes people make for Diwali, and that too in advance. Let's see what they are.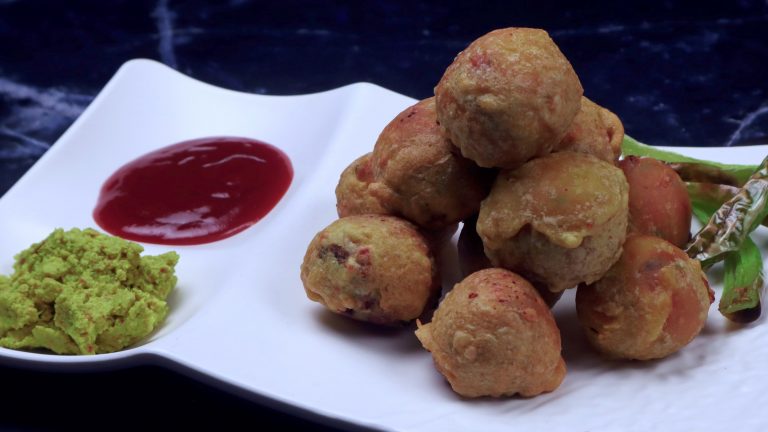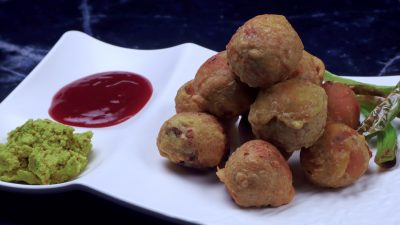 Cheese Pakoda is a delicious and cheesy variation of our typical pakodas. Watch the recipe video or download the recipe card
---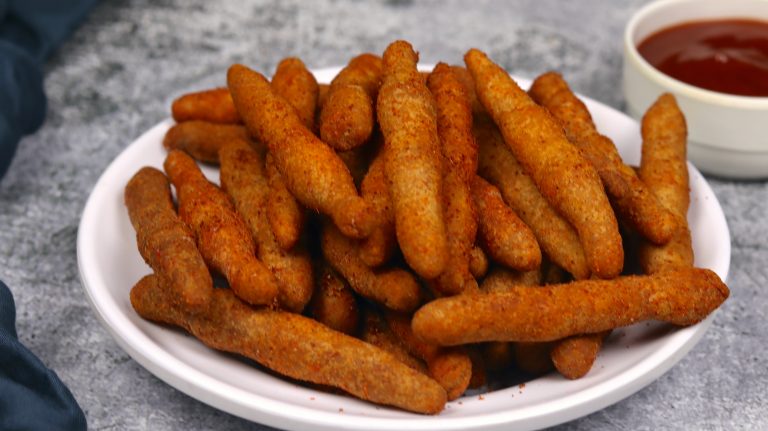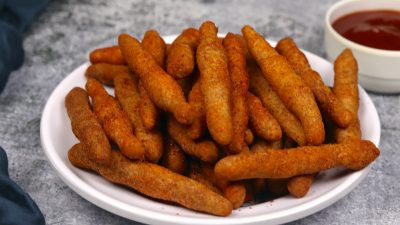 Rice Flour Sticks or Murukku is a crunchy & savoury snack recipe. It is a tasty & filling finger food to have at tea time
---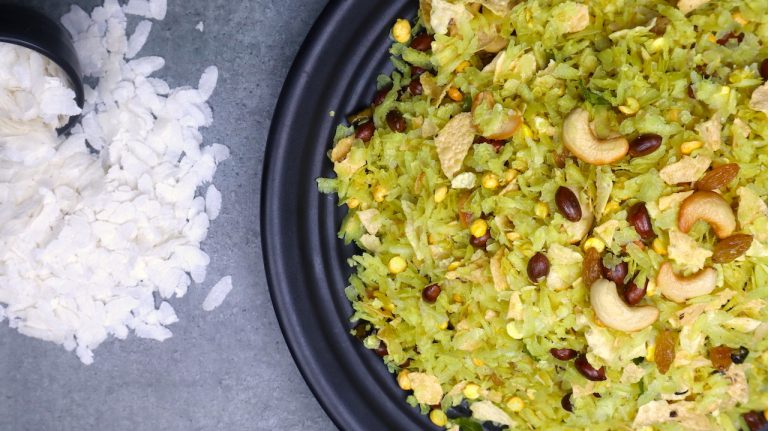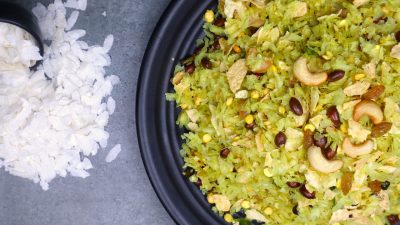 Poha Papad Chivda is a unique snack of flaked rice and papad, along with spices. It is a popular snack among Gujarati people.
---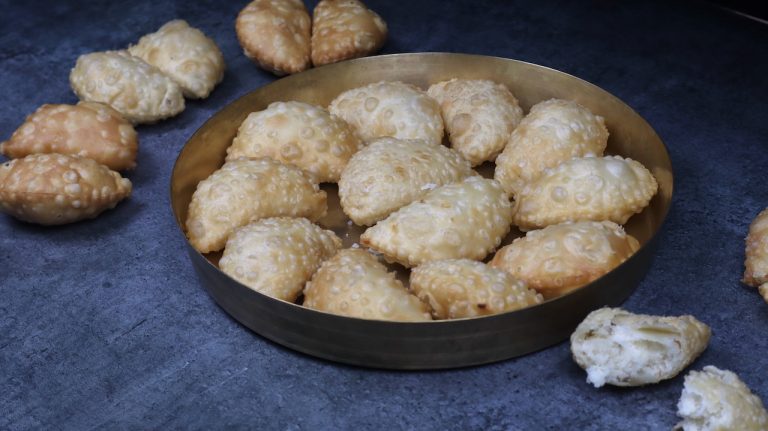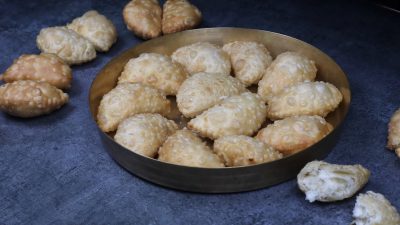 Rava Ghughra is an innovative version of traditional mawa ghughra. Another name for ghughra is gujiya. For special occasions,Diwali or Holi.
---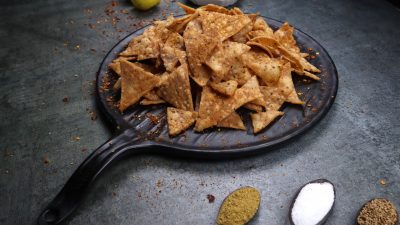 Rice Flour Nachos are our version of Mexican Nachos. Here, rice flour is a core ingredient instead of cornflour. They are tasty and crisp.
---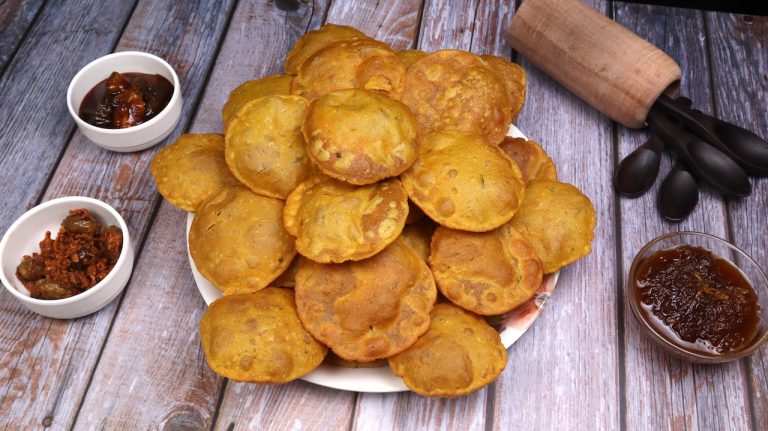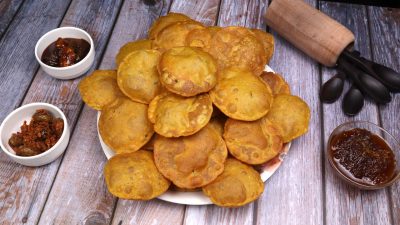 Aloo Puri is an extremely delicious Indian deep-fried flatbread snack.  This is a Punjabi snack that we make with potato, flour and spices.
---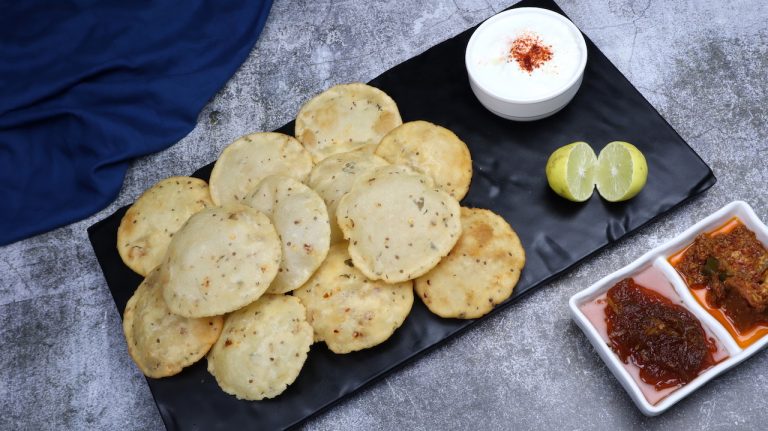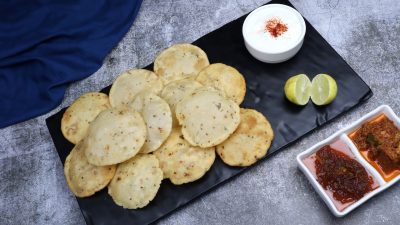 Suji Puri is a traditional puffed Indian fried bread that is made of all-purpose flour or wheat flour. Other names for it is Puri or Luchi.
---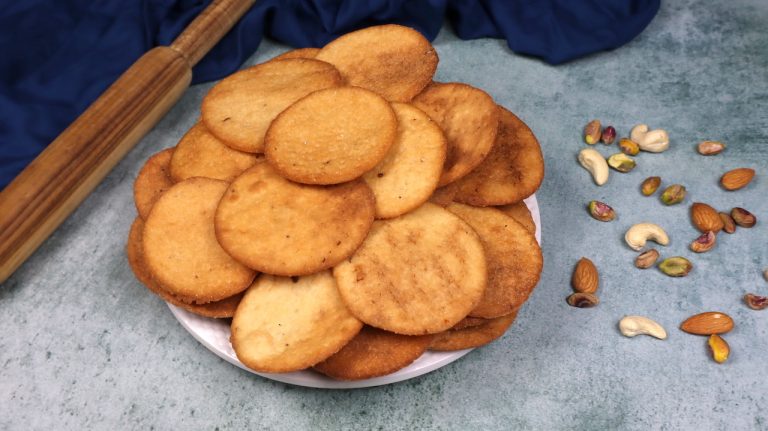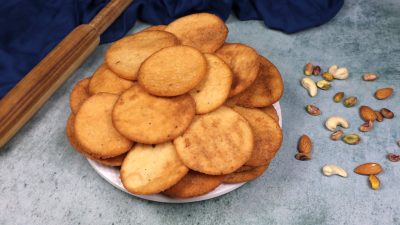 Rava Maida Puri is a traditional recipe that is crispy. People consume this snack during festivals like Diwali or Navratri.  
---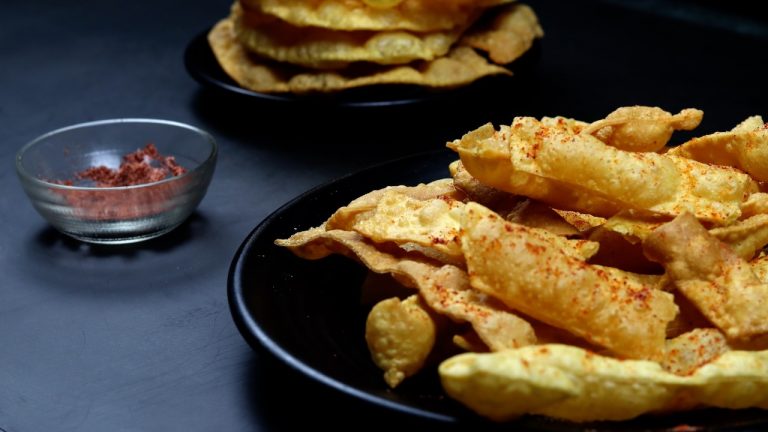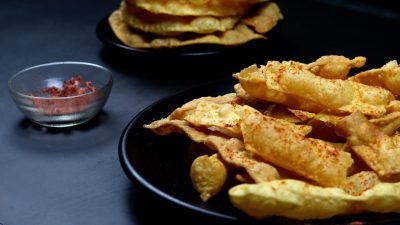 Chorafali is an interesting deep-fried, flaky snack. This is a traditional Diwali snack that Gujaratis love to make. It is less fussy snack.
---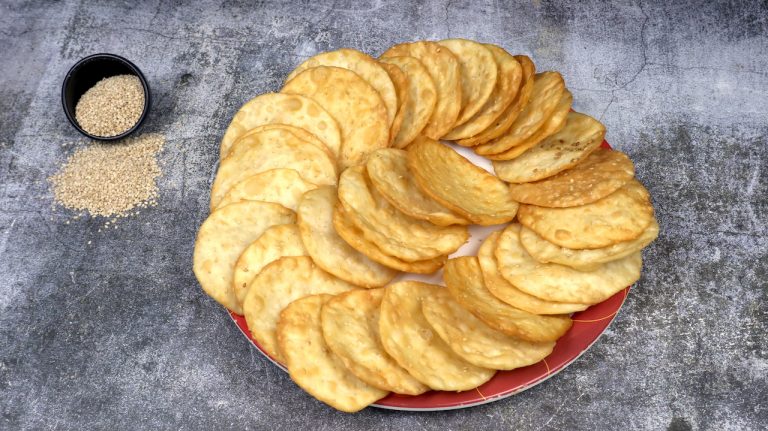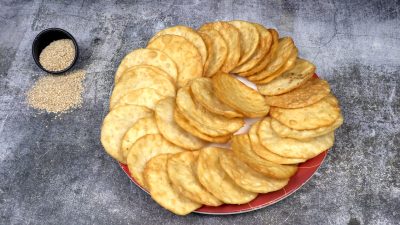 Suvali Puri is a crispy and delicious deep-fried traditional Indian flat-bread. It is a specialty of Gujarat and is very similar to crackers.
---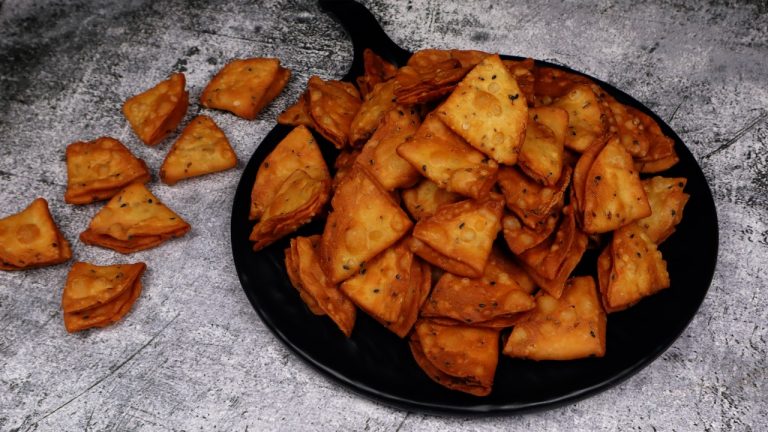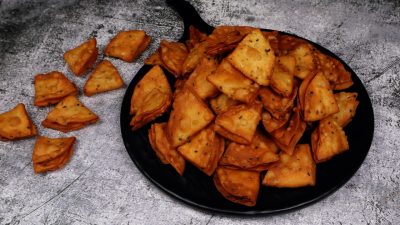 Samosa Puri is a crispy, crunchy, and savory snack. It is very similar to Namak Pare and looks like a miniature samosa. It is popular in Gujarat.
---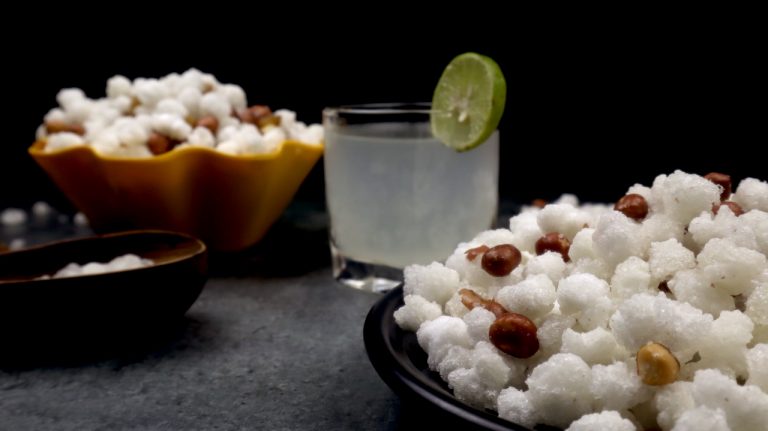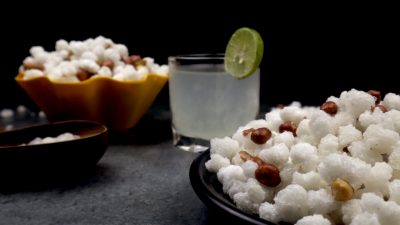 Sabudana Namkeen is a crispy & delicious snack of tapioca pearls. This recipe is prepared at festivals like Navratri during fastings.
---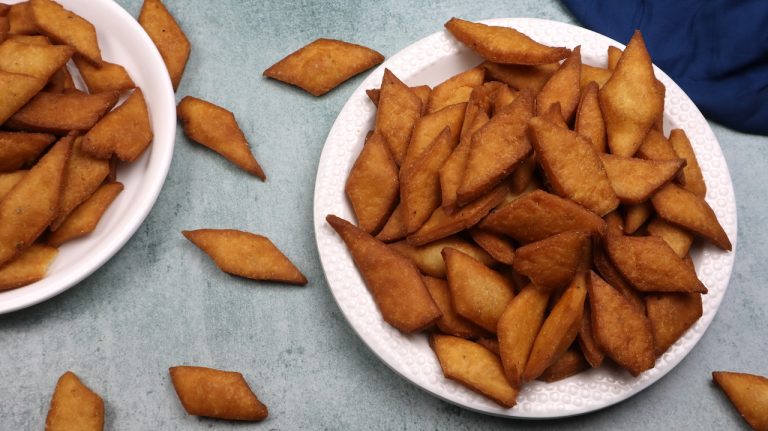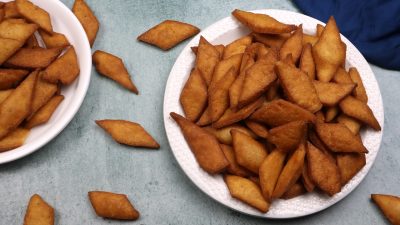 Shakkar Para is a crispy, flaky, deep-fried snacks. They are a sweet counterpart of Namak Pare and are similar to cookies.
---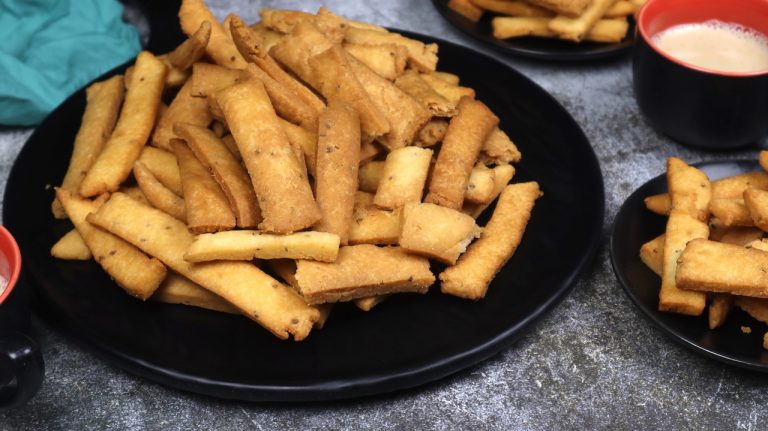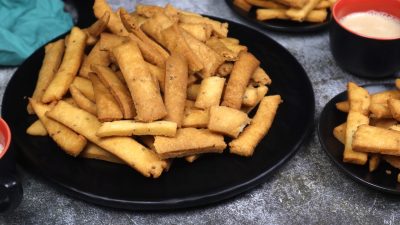 Namak Pare is a crispy & savory deep-fried snack. They are popular in Gujarat and as mathri in some parts Punjab and U.P.
---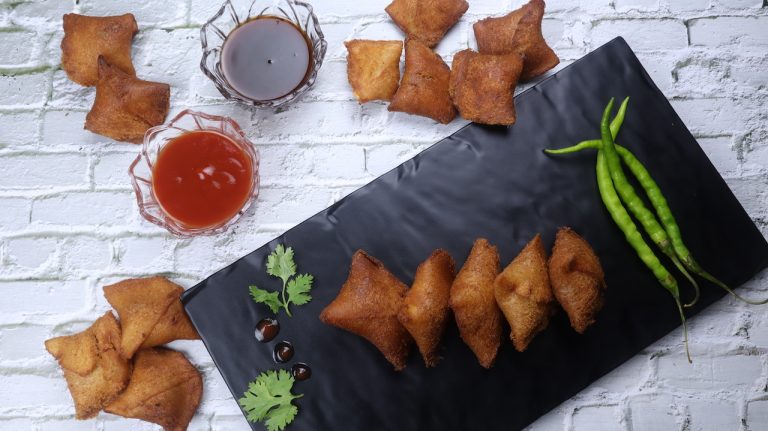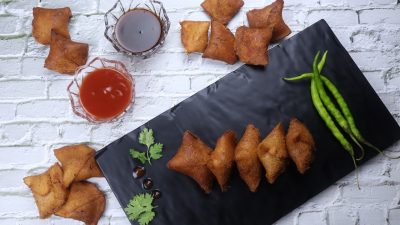 Bread Samosa is an innovative snack recipe for regular samosa where bread slices are used to make samosas instead of dough strips or sheets.
---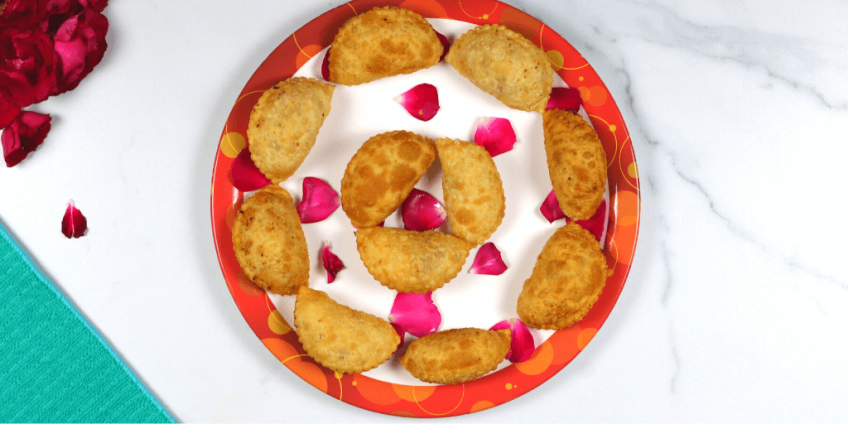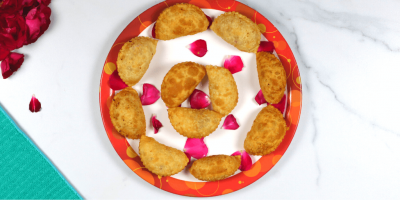 Mawa Ghughra is a traditional sweet, deep fried and shaped in a half moon.It is a crisp layer of all purpose flour, milk solids, sugar, coconut &nuts.
---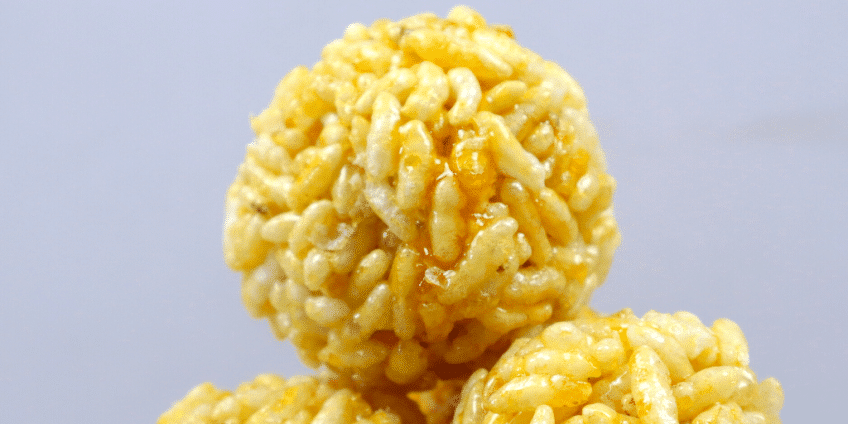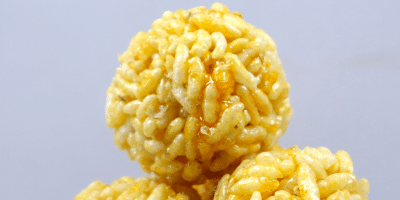 Murmura Laddu is a traditional Indian sweet that's made with melted jaggery and puffed rice. It is an ideal sweet for winter, especially for Uttarayan.
---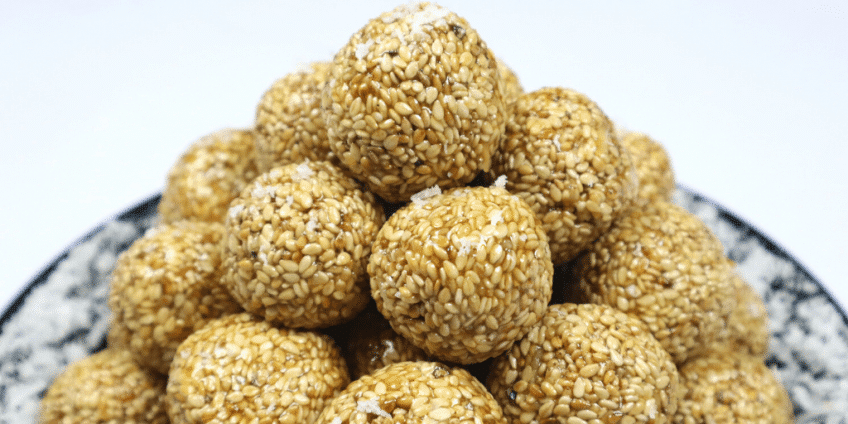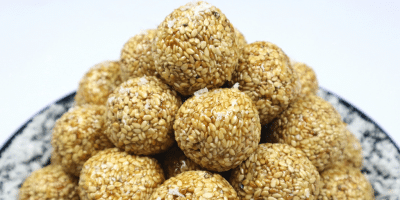 Til Gud Ladoo is a sweet snack of Indian cuisine. It is a winter snack in India, especially made on the festival of Makarsankranti.
---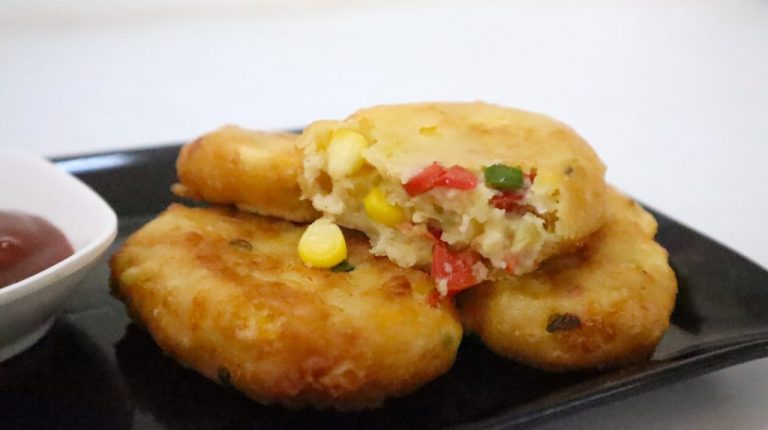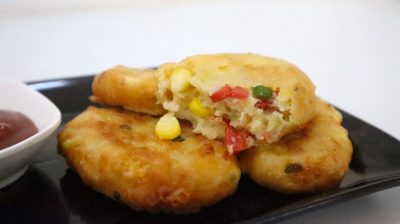 Corn Cutlet or Sweet Corn Cutlet is a mouth-watering and yummy veg appetizer made with simple ingredients and gets ready in less than 20 minutes.
---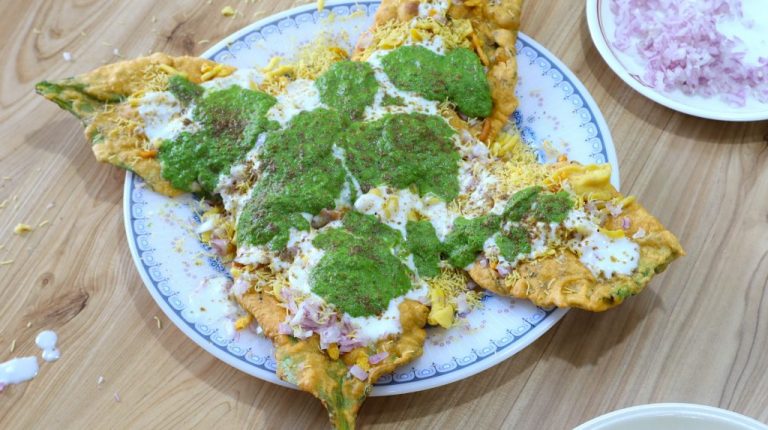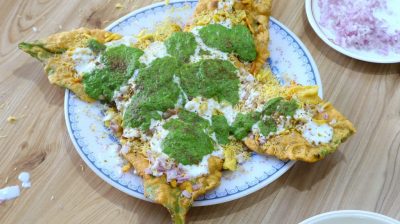 Palak Bhajiya Chaat is a sweet, sour & tangy fusion chaat recipe. Crispy spinach fritters coated with besan & garnished with crunchy farsan, chutney & curd.
---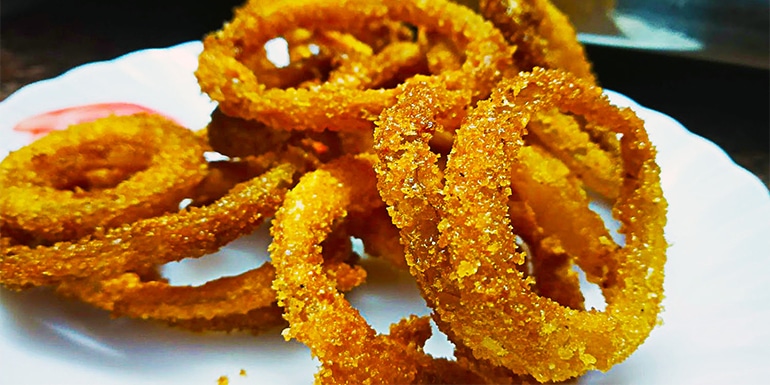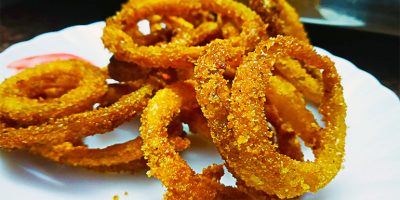 Crispy Onion Rings are a type of appetizer or side dish from British & American cuisine. These are also known as French Fried Onion Rings.
---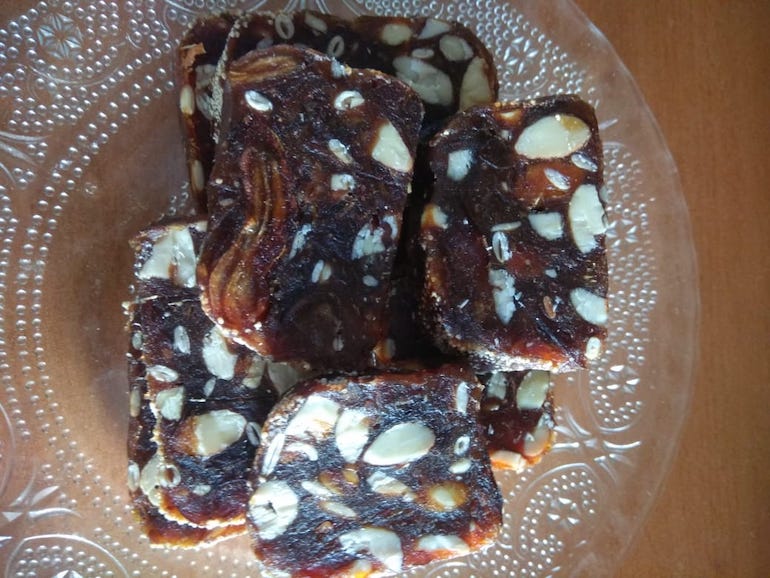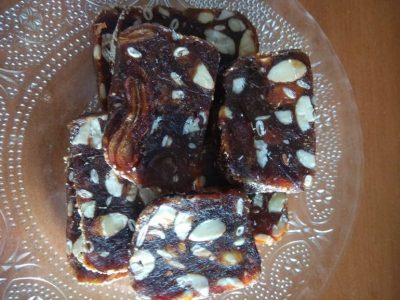 Khajur Pak is a winter special recipe which you should try at home. It has almost every nutritional ingredients like almonds, cashew nuts & dates.
---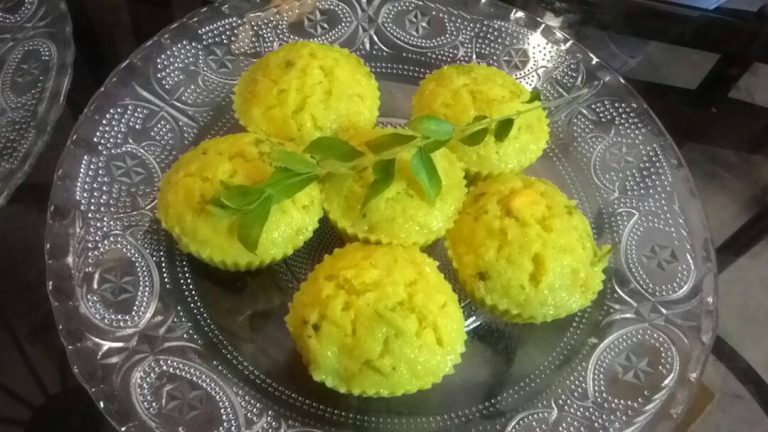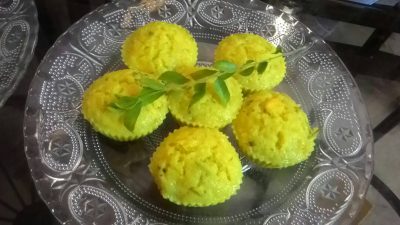 When we hear the word muffins, sweet feelings come to our mind. But these Spicy Muffins recipe will now make you ask this question "sweet or spicy?".
---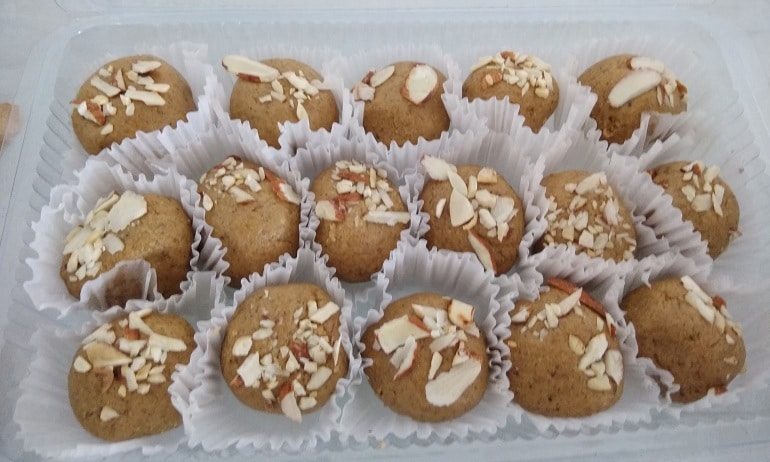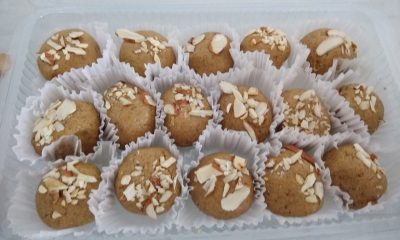 Besan Ladoo is very popular Gujarati traditi0nal sweet made with gram flour, ghee, almonds, and spices. Imagine the balls just melting into your mouth.
---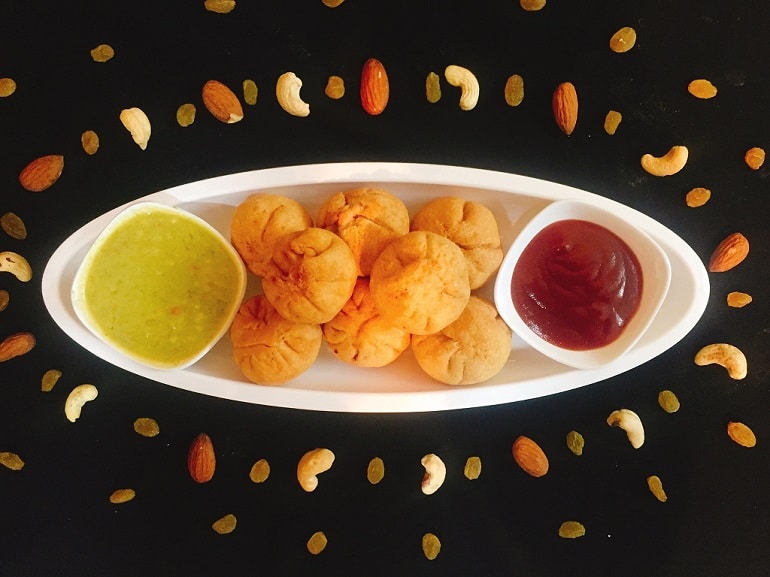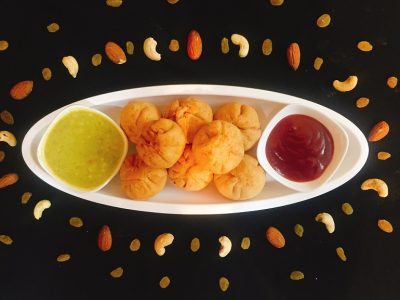 Dry fruit Kachoris are small balls of maida stuffed with a grounded moong dal, dry fruits, and Indian spices. Sweet & sour inside and a crunchy outside.
---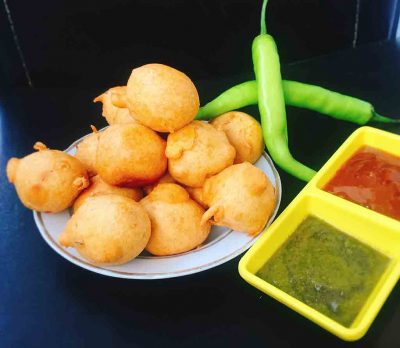 Bataka Vada is an authentic Indian Gujarati Fast Food, a favorite snack of all Indians. Simple, quick and easy snack recipe, made with ingredients that are easily available at home. You just need potatoes, salt sugar, turmeric and some additional spices. That's it. Tastes awesome when served with Tamarind/Mint Chutney.
---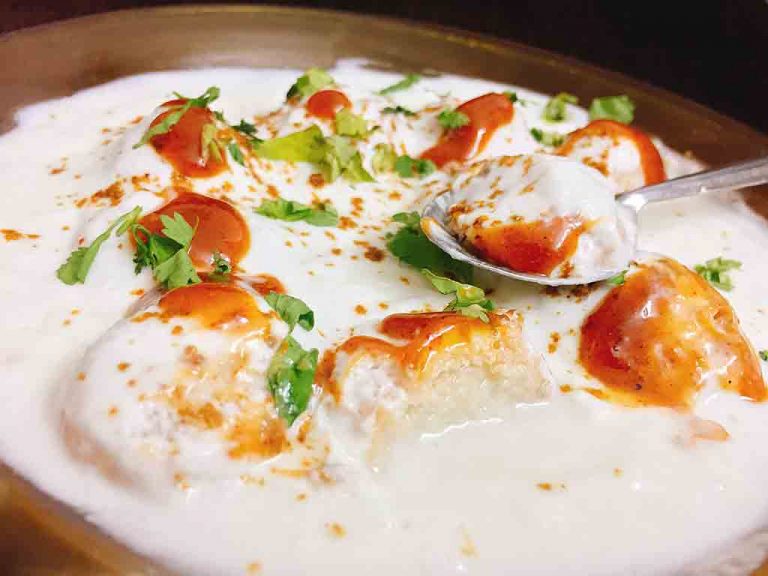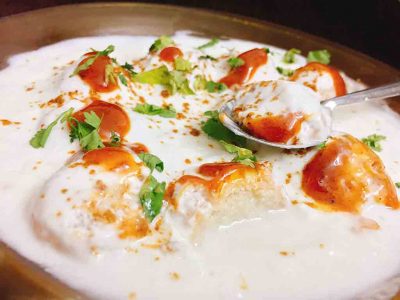 Dahi vada is a lip-smacking Indian delicacy, prepared by soaking lentil dumplings in thick sweetened yogurt. These fried dumplings are priorly soaked in water and then added to sweetened yogurt. Then topped with variety of chutney and spices. Dahi vada is a classic and seldom needs any introduction.
---
Main Course Recipes To Make This Diwali
Well, main course recipes are not always thought to be included in Diwali recipes. And that is understandable as there are so many other things on the menu, enough to fill your tummy with. But again, there are no such norms that we cannot do so. Down below are some recipes suggestions for the same.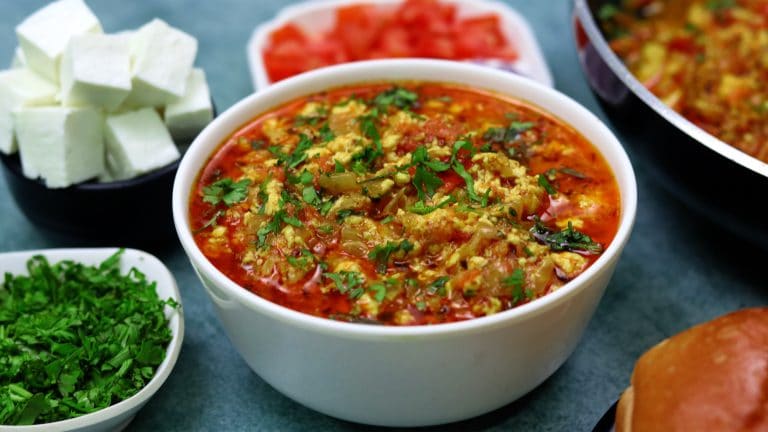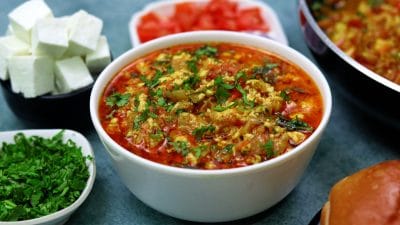 Paneer Bhurji Gravy is the customised avatar of the popular Punjabi dish the paneer bhurji. Watch the recipe video to learn how to make it.
---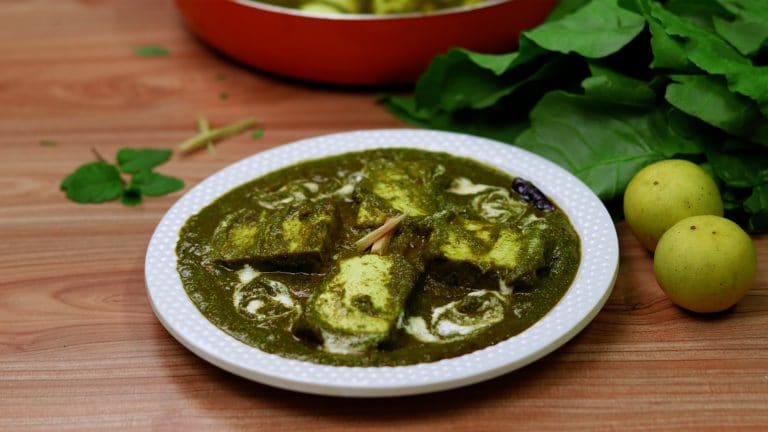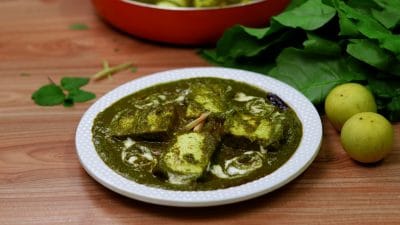 This recipe is an ultimate guide to cook exactly restaurant-style palak paneer. Click to watch the recipe video. Read detailed recipe steps.
---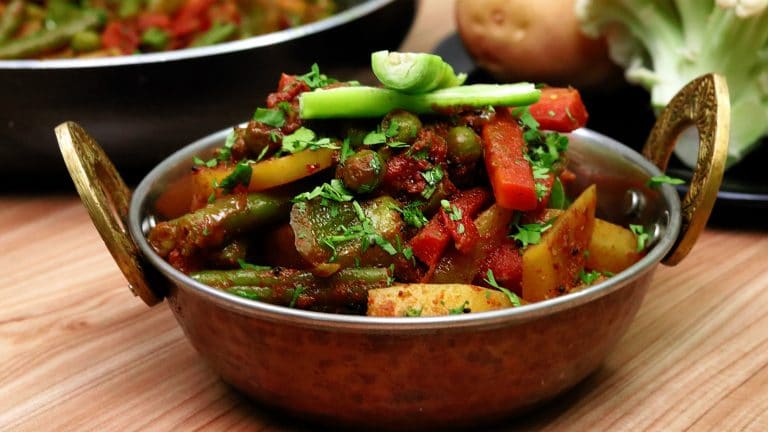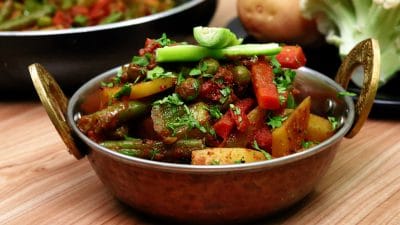 Veg Kolhapuri is a vegetable dish from Maharashtra. This dish is nutritious, spicy, delicious, and high on spices. 
---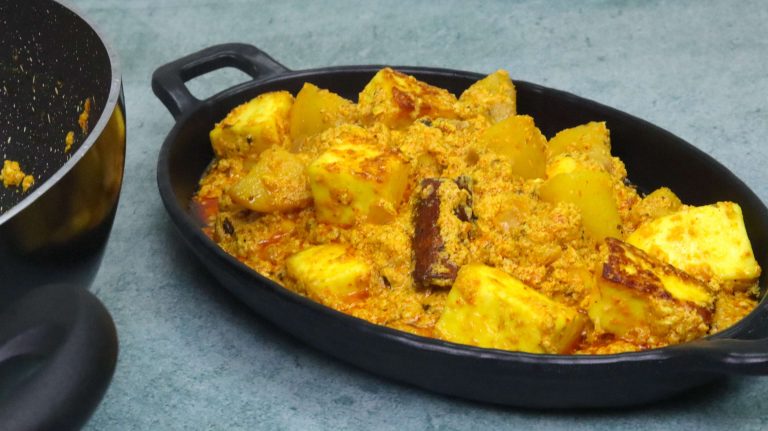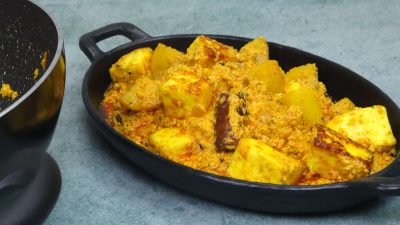 Aloo paneer can be made in both golden yellow & red gravy. Watch recipe video to make golden gravy. Click to read how to make in red gravy.
---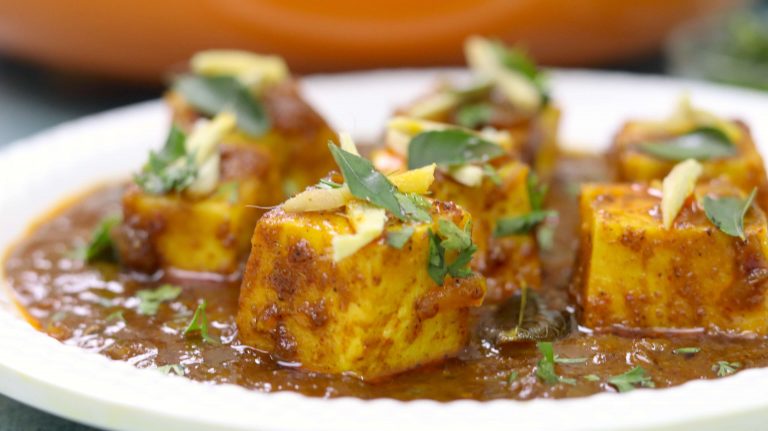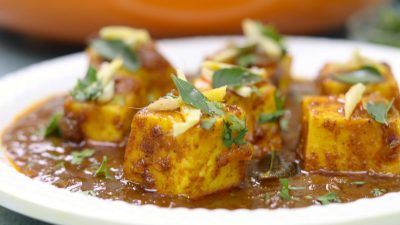 Paneer ghee roast is an atom bomb of a variety of flavors. This recipe is khatti, meethi & spicy. Your family members will love it for sure.
---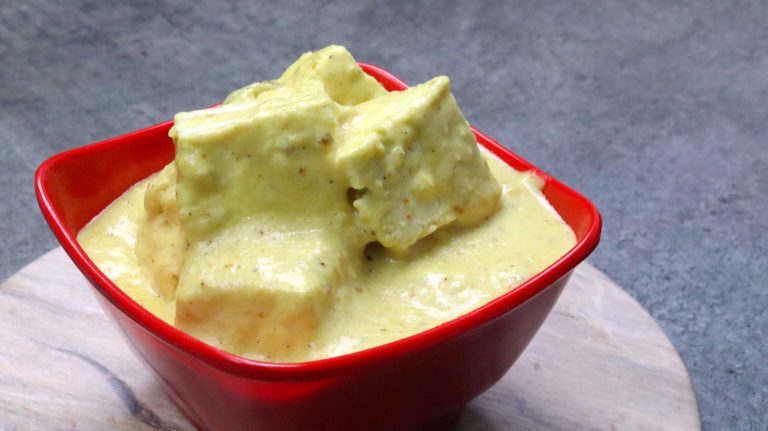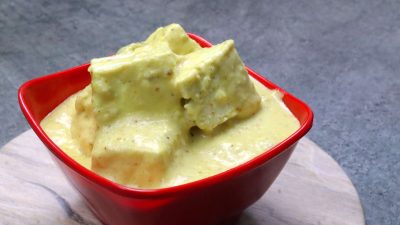 Shahi Paneer is a popular paneer-based dish, consisting of creamy gravy. The dish is rich, heavy, & full of fats. It is tasty & like a treat.
---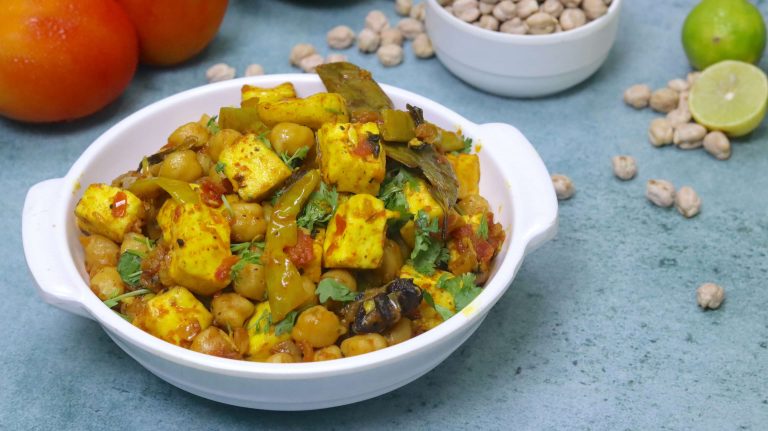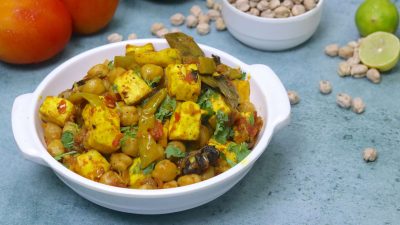 Make the nation's most loved chole paneer recipe in authentic punjabi style. Watch the recipe video. Read the cooking steps. Try it today!
---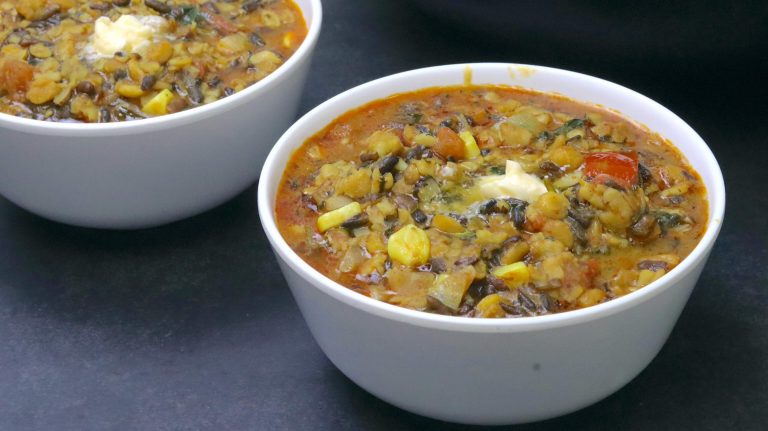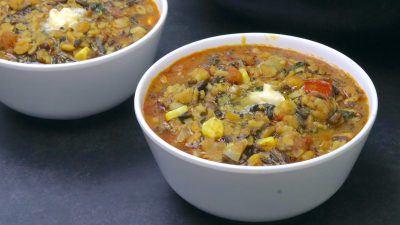 Maa ki dal aka kaali dal is a typical buttery soft & smooth tadka dal recipe. It's easy & requires less time to cook. Watch the recipe video.
---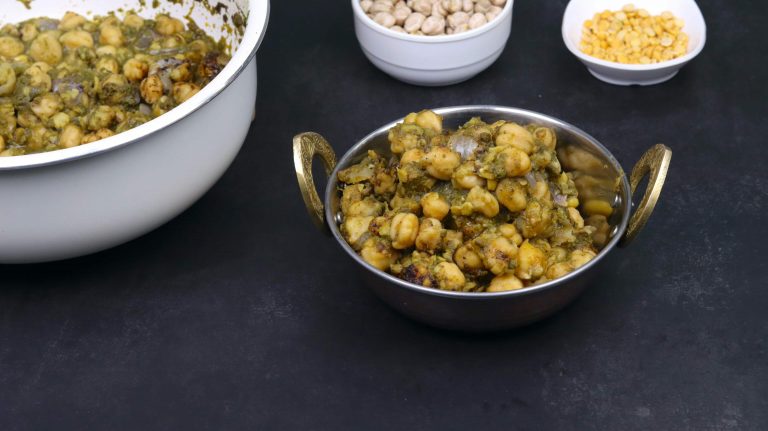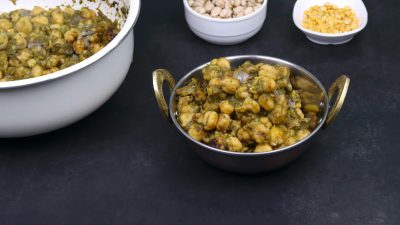 Dhaniya Chole Masala is chickpeas coated in dry spices tempered in ghee twice. This is exactly how restaurants make chole dishes. Try now.
---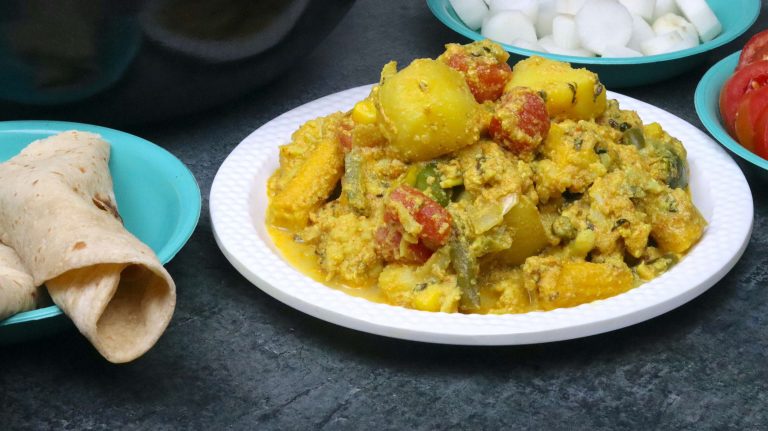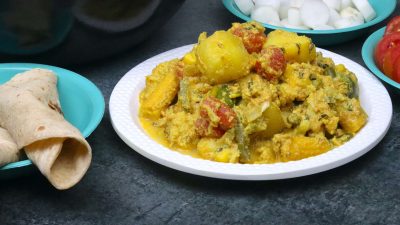 Subz Panchmel means a sabji cooked using spice, masala, herbs & 5 types of vegetables. Learn to cook this authentic Rajasthani dish today.
---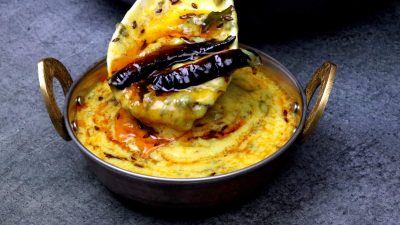 Palak kadhi is a spinach curd curry. Once the recipe is ready pour hot ghee tadka over it & cover. Allow it to rest for sometime & then serve.
---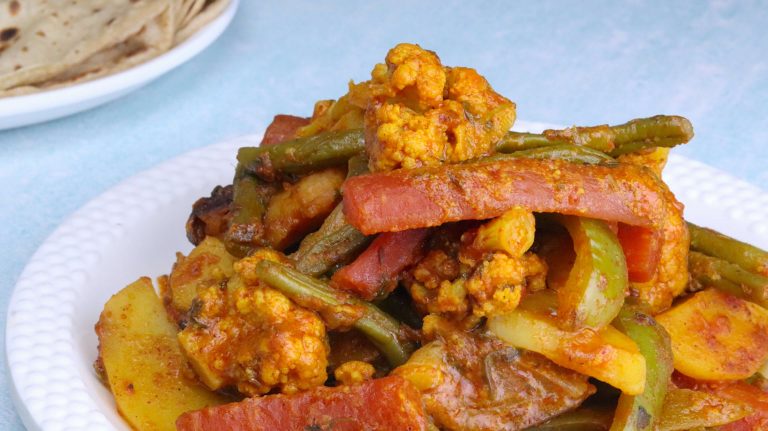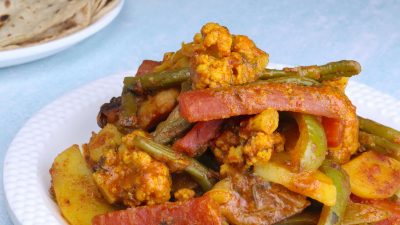 Veg jalfrezi has lots of vegetables, spices, Indian masala powder & cheese. Yes. Watch the recipe video to see why there's cheese in it.
---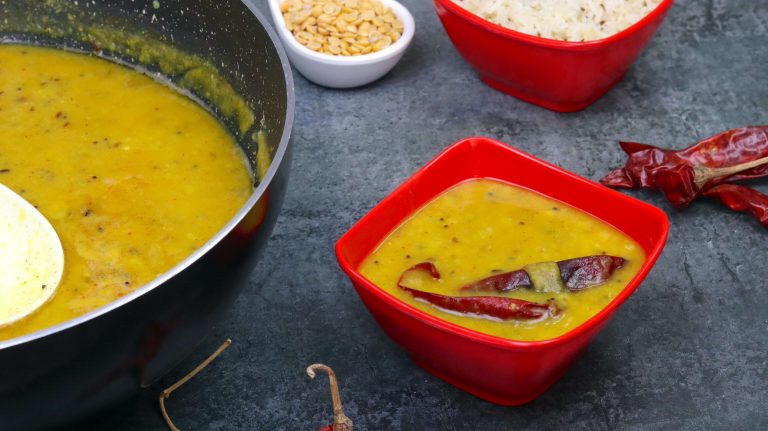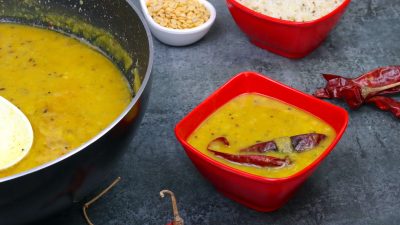 Dal tadka is a common Indian dish. Learn how to make it in chef style. It's smooth, spicy & buttery. Watch the recipe video and make.
---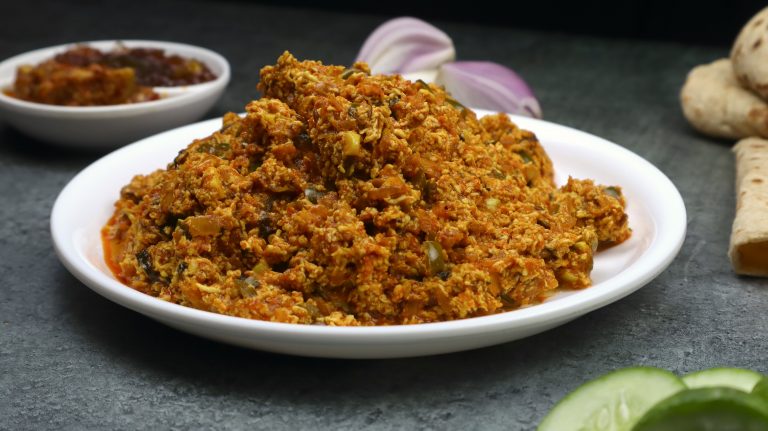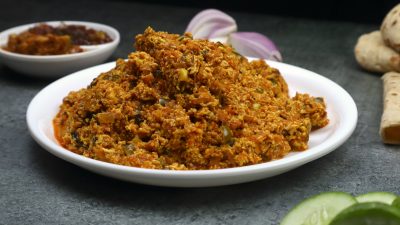 Paneer Bhurji is a delicious North Indian recipe. It consists of grated paneer and is spicy in taste. The dish is quick to make & less fussy.
---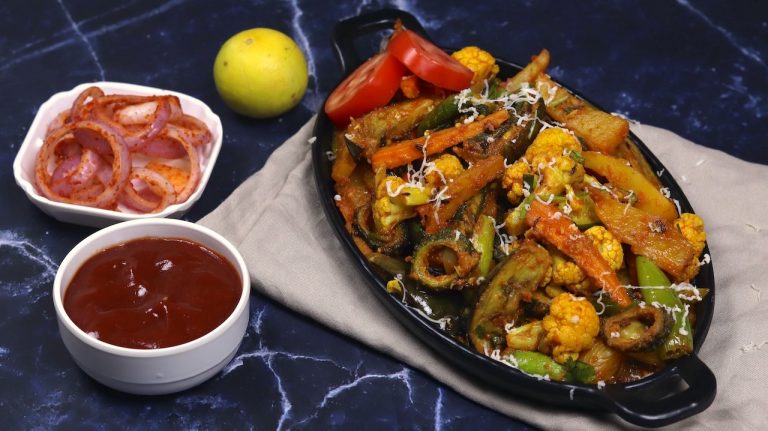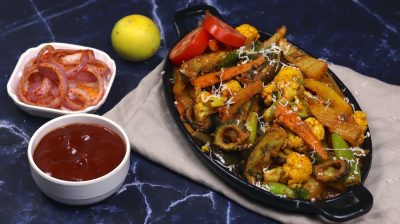 Veg Tawa is a popular variation of a typical mix vegetable. It is popular as a street food & also as a main course, especially in buffets.
---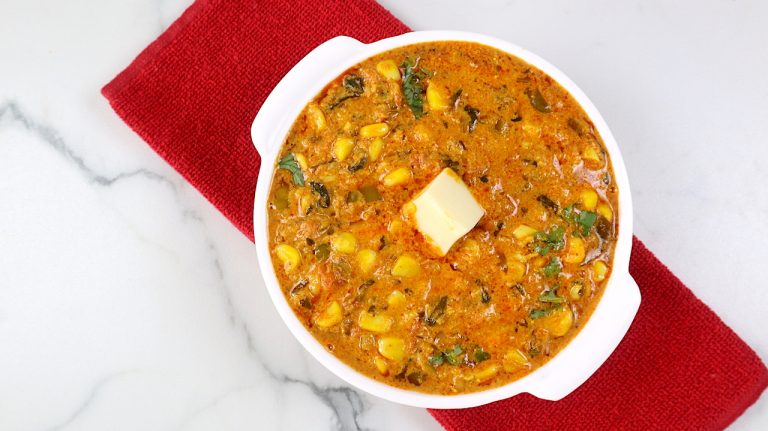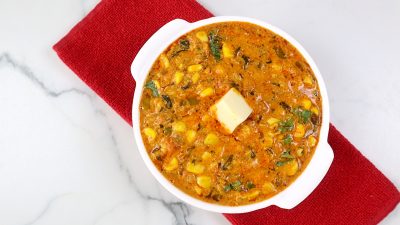 Corn Cheese Curry is a simple and easy corn gravy recipe. The recipe is very delicious and flavorful. The cheese just melts in your mouth.
---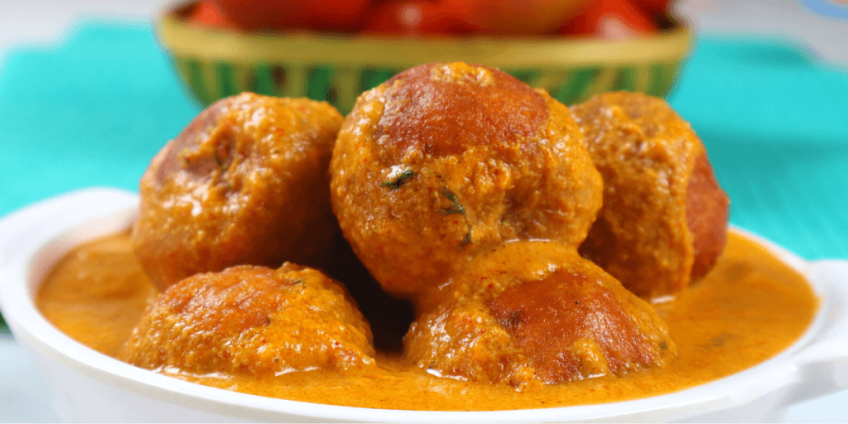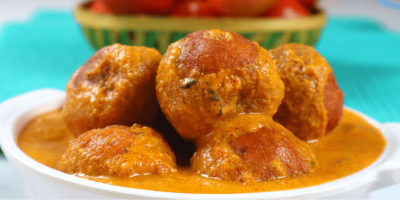 Paneer Malai Kofta is a popular vegetarian Indian dish. It consists of fried paneer dumplings and creamy rich curry and is extremely delightful.  
---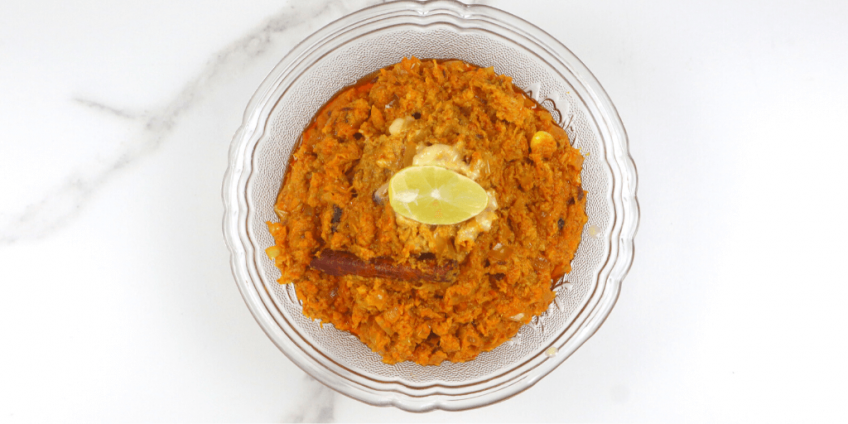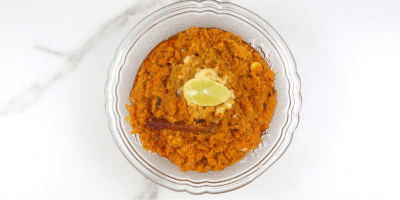 Veg Soya Keema is a popular and a great substitute for the vegetarians in place of meat keema, with soya being it's main ingredient.
---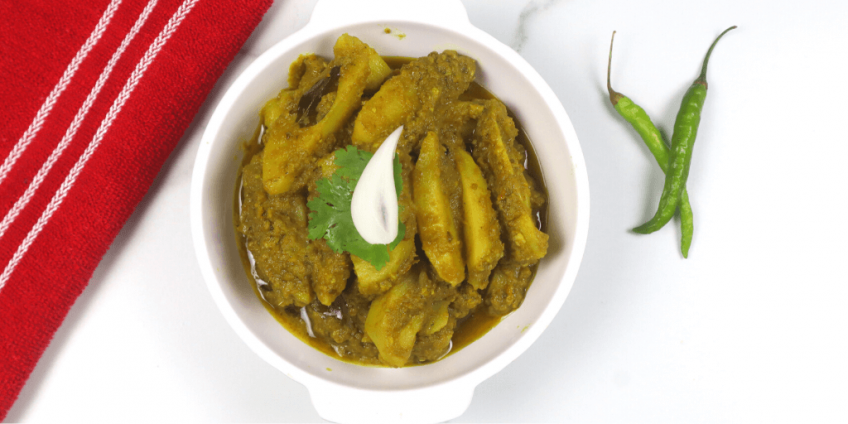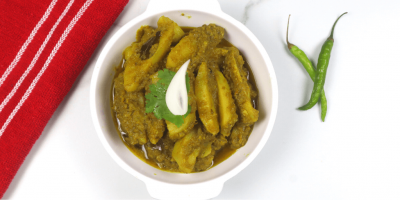 Spicy potato sabzi is unique and easy to make delicious recipes.It is unique and gives delicious flavors to the otherwise bland potatoes.
---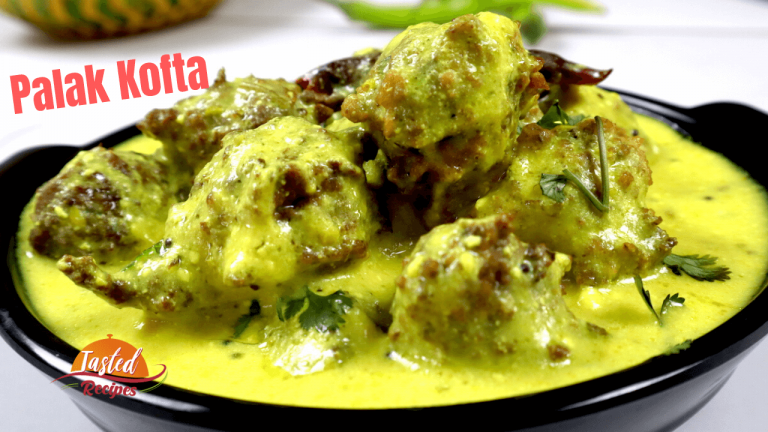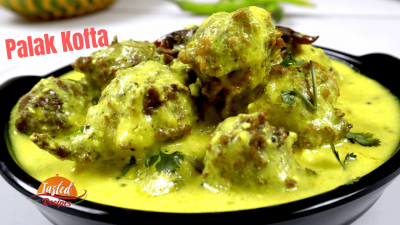 Palak Kofta is a healthy Indian curry recipe with rich taste. It's made of spinach dumplings and other Indian masalas. The buttermilk flavoured is nice.
---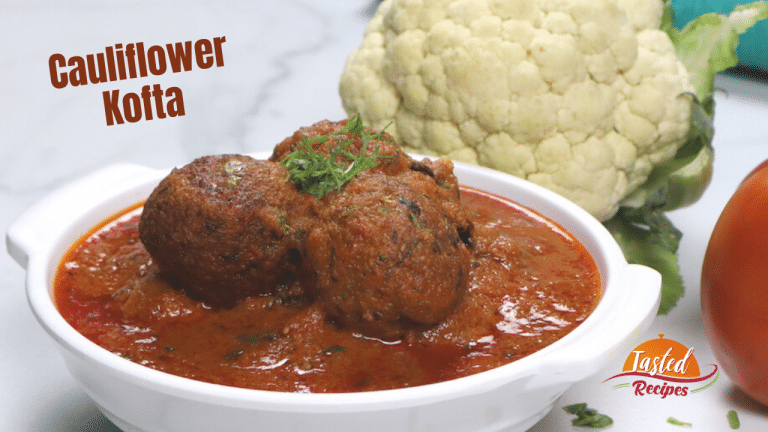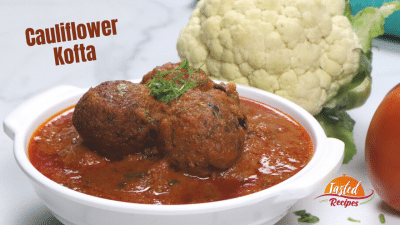 Cauliflower Kofta is a delicious Indian cuisine recipe to enjoy in dinner. The kofta balls are made of gram flour, onion, coriander, red & green chili.
---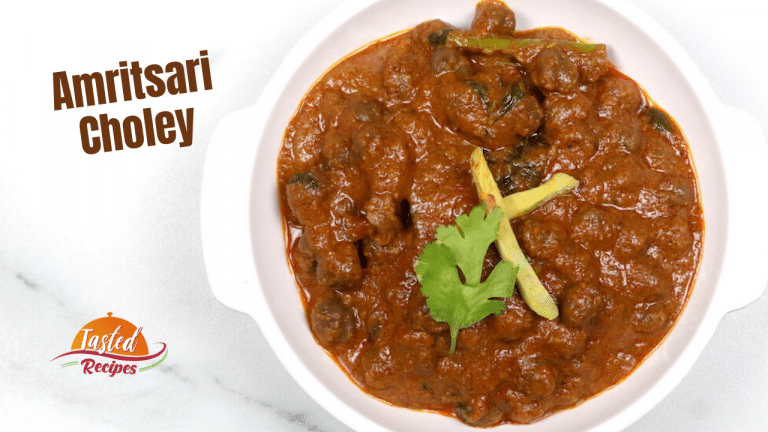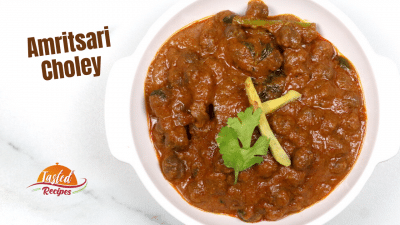 Amritsari Chole is a traditional & authentic dish from the Punjab region. It tastes tangy, spicy, & full of masala flavors.
---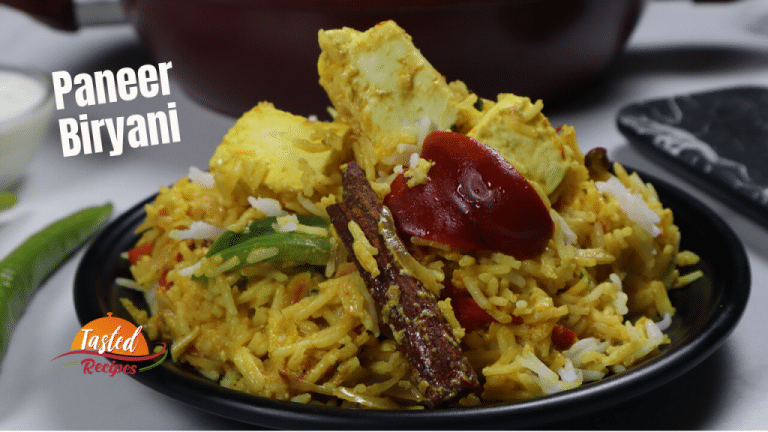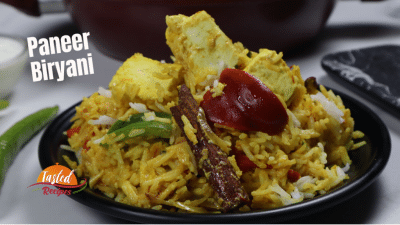 Paneer Biryani is scrumptious and tasty Indian rice recipe. It's spicy and has an amazing aroma. Also, the best option for vegetarians.
---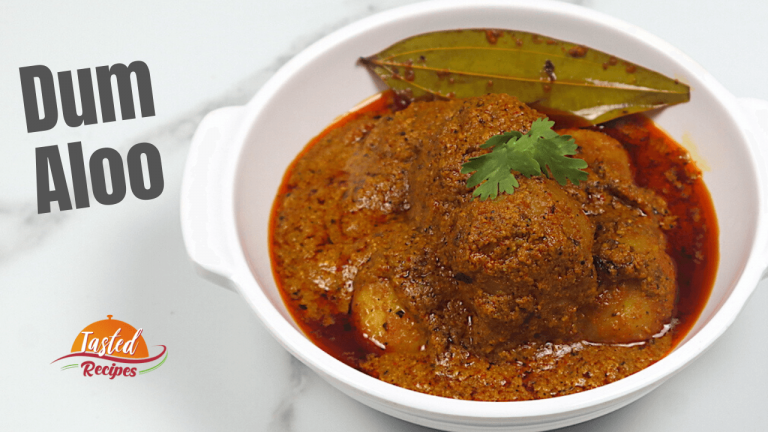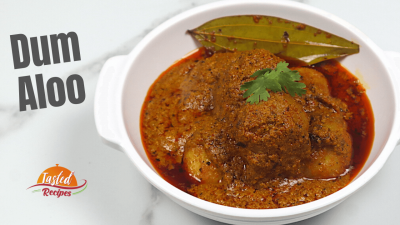 Dum Aloo or Aloo Dum is a potato-based Indian cuisine originally from Kashmir. It has a bit tangy, sour and spicy flavors and is easy to make.
---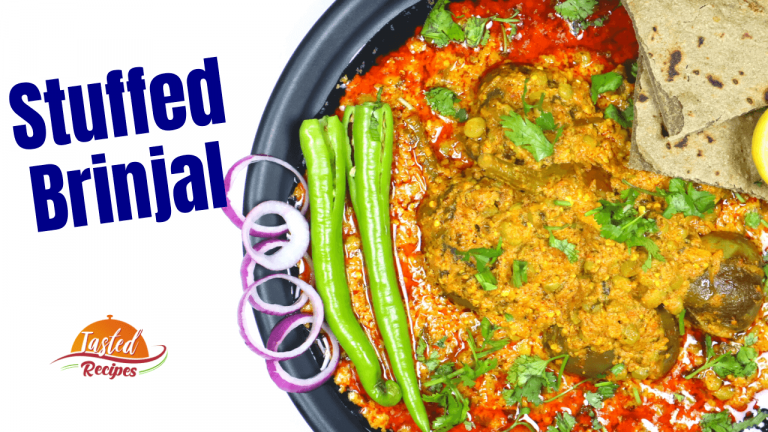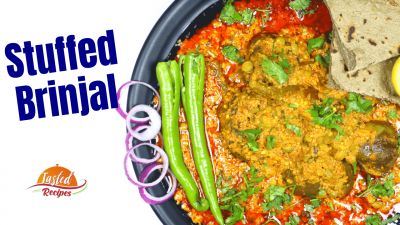 Stuffed Brinjal or bharwa baingan is a delicious, quick Indian recipe. The baby eggplants are filled with peanut and spices stuffing before cooking.
---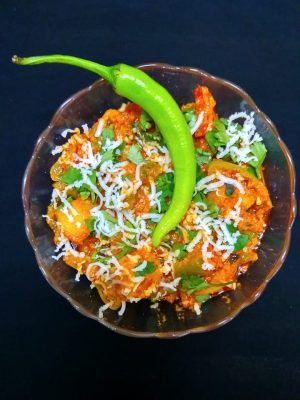 Veg Makhanwala recipe is a popular north Indian dish made with mixed vegetables. It is a sweet, creamy, rich buttery dish.
---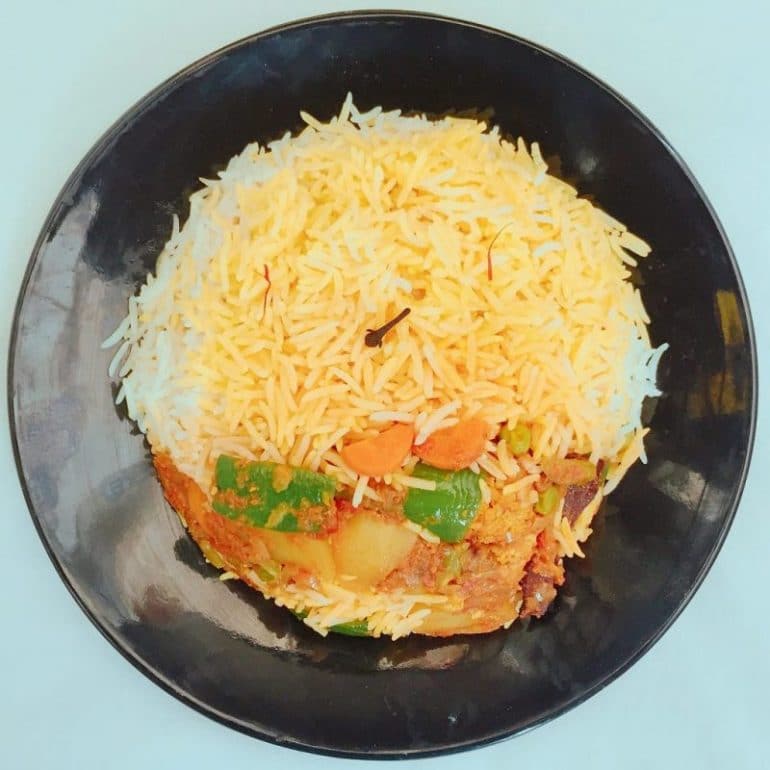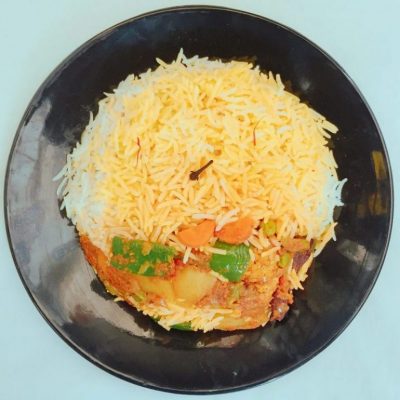 Veg Dum Biryani is a delicious rice delicacy made with fresh veggies blended in Indian spices, yogurt, and basmati rice. Just fall in love with.
---
Delightful Dessert Recipes for Diwali
No festivities are complete without sweets. Especially in India, you will find many sweet recipes from multiple cuisines. There is no end to the variety of sweets during Diwali.
Therefore, here's a collection of dessert recipes, including both traditional and non-traditional Diwali sweets, you can make.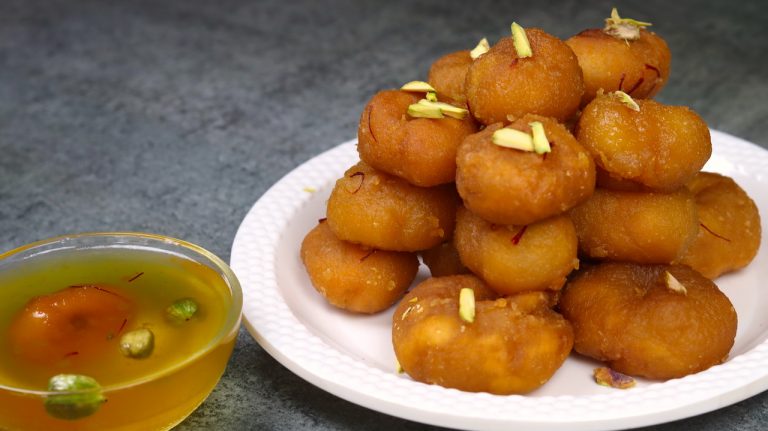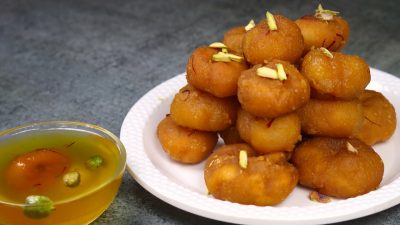 Balushahi is a traditional sweet originating from India. It resembles very much like doughnuts in terms of ingredients and looks.
---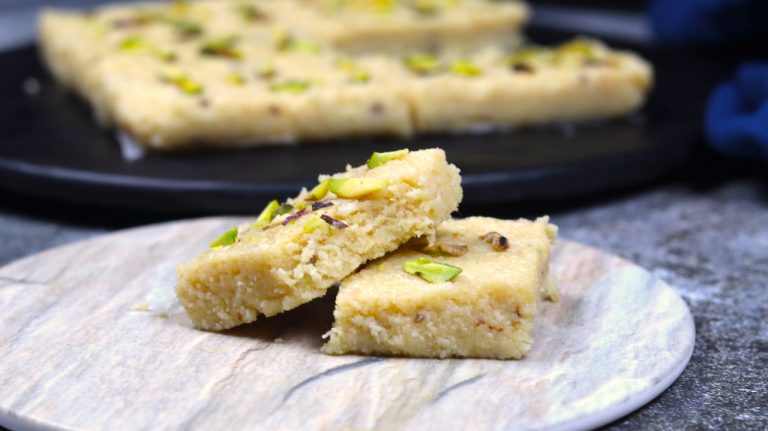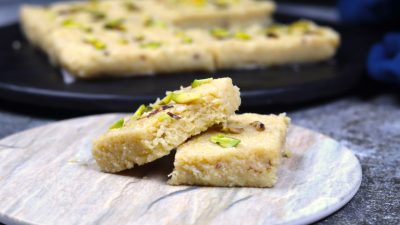 Paneer Mawa Cake is an Indian sweet dish consisting of paneer and mawa. This is similar to a creamy fudge. Is easy-to-make and quick recipe.
---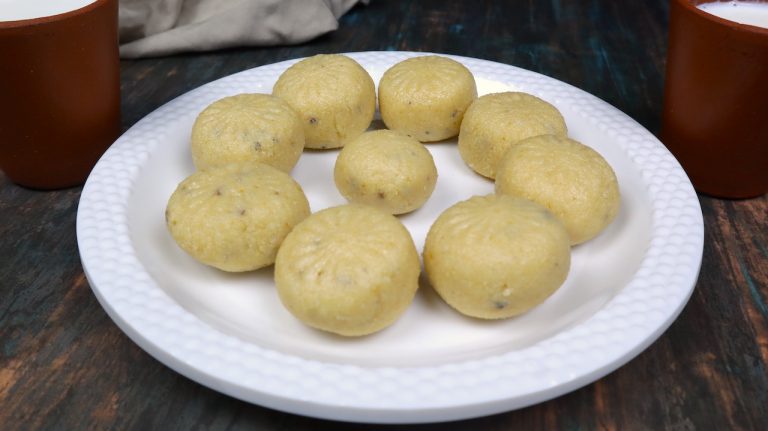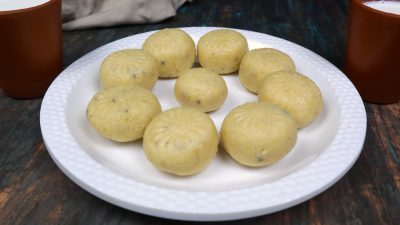 Milk Peda is a traditional sweet dish that has mawa as the main ingredient. It's popular enough for you to find it in almost every sweet shop.
---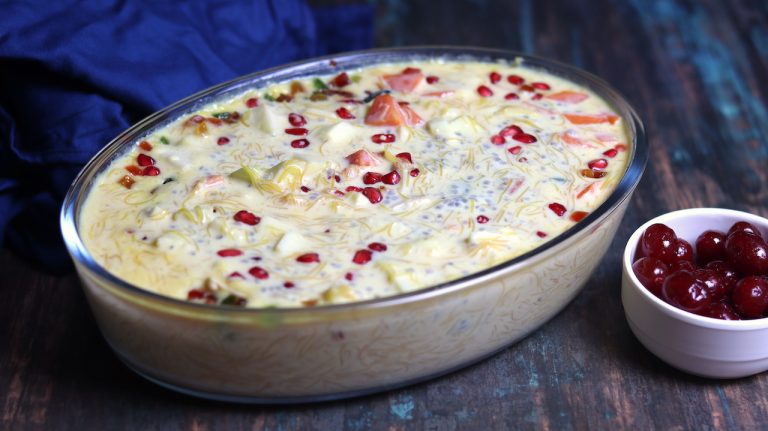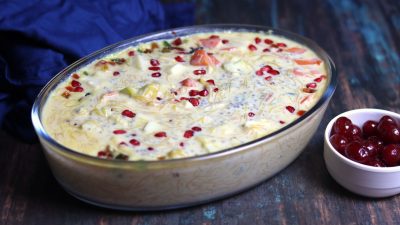 Vermicelli Custard is a fusion dessert recipe of seviya & custard. It is the combination of a vermicelli kheer and fruit custard.
---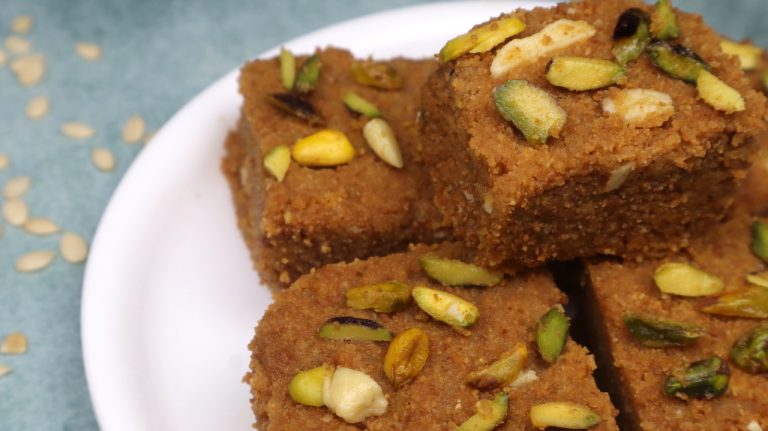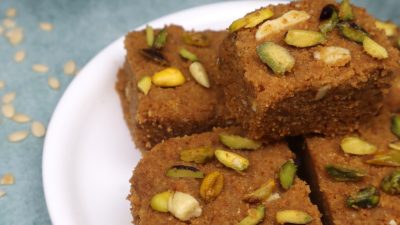 Mohanthal is a traditional sweet dish that consists of besan, ghee, and sugar. It is popular in Gujarat and is also made in Rajasthan.
---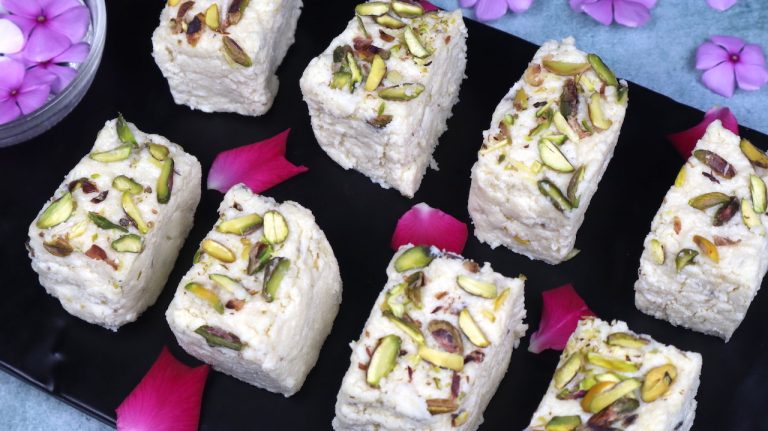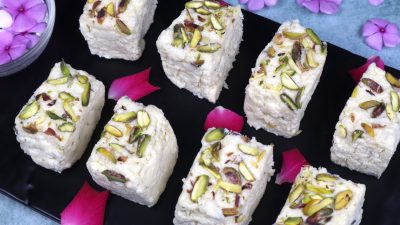 Paneer Kalakand is an Indian sweet dish with paneer as its major ingredient. It is a quick and easy Indian milk cake.
---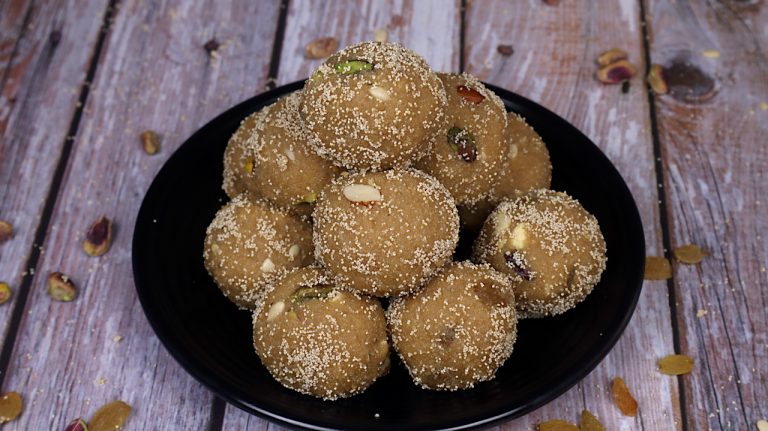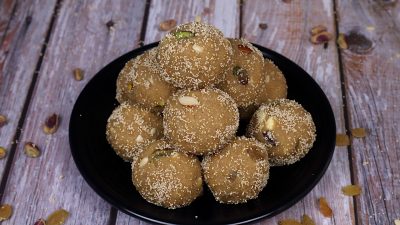 Churma Ladoo is a famous festive sweet recipe of Gujarati cuisine. This recipe is also a traditional sweet delight of Rajasthani cuisine.
---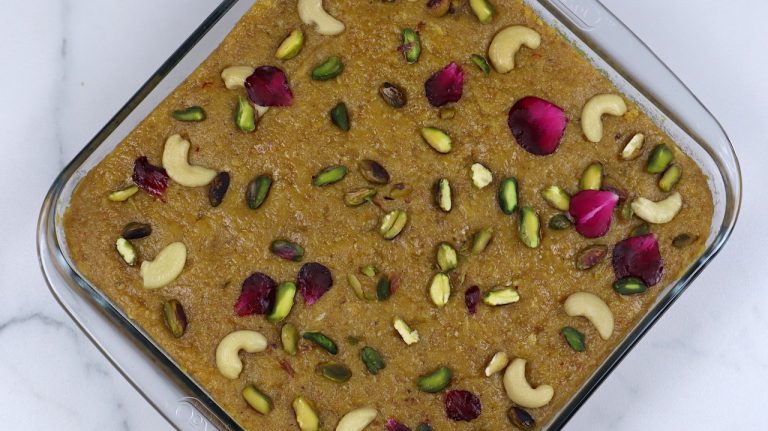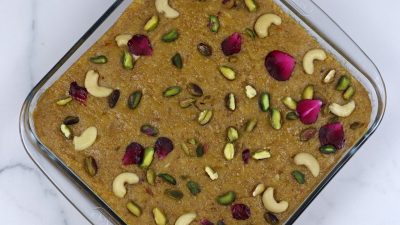 Chana Dal Barfi is a extremely tasty sweet delicacy in India. The dessert is consisting of roasted chana dal, sugar, and milk.
---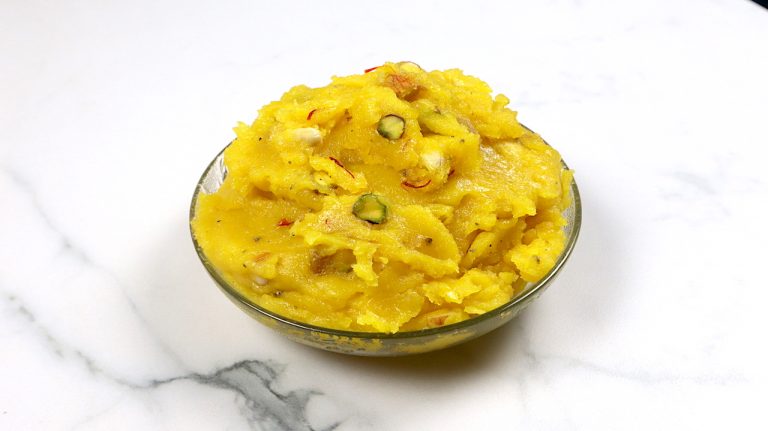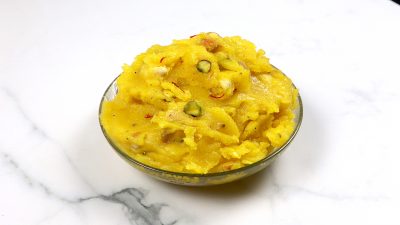 Moong Dal Halwa is a sweet and delightful dessert that is made with moong lentils and ghee. This halwa is more popular in the North India.
---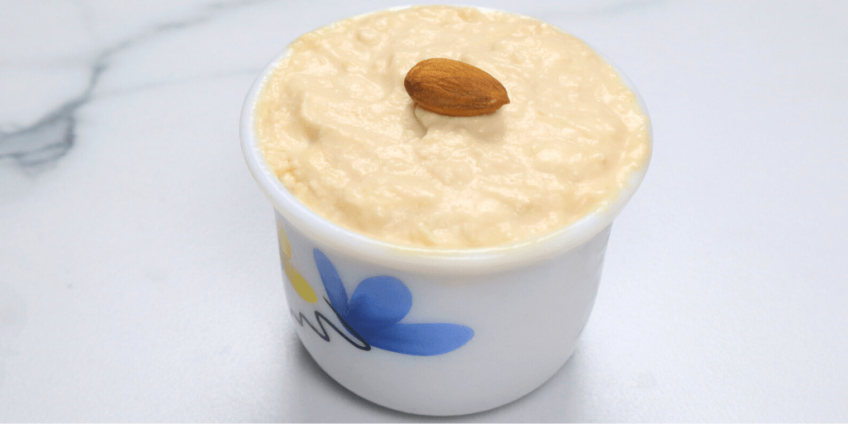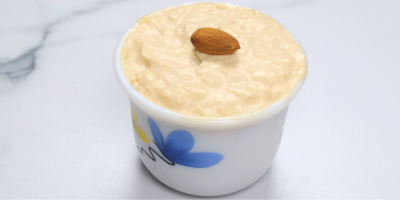 Mishti Doi is a sweet yogurt fermented from milk. It is originally from the Bogra District of Bangladesh. It is our own version of flavored yogurt.
---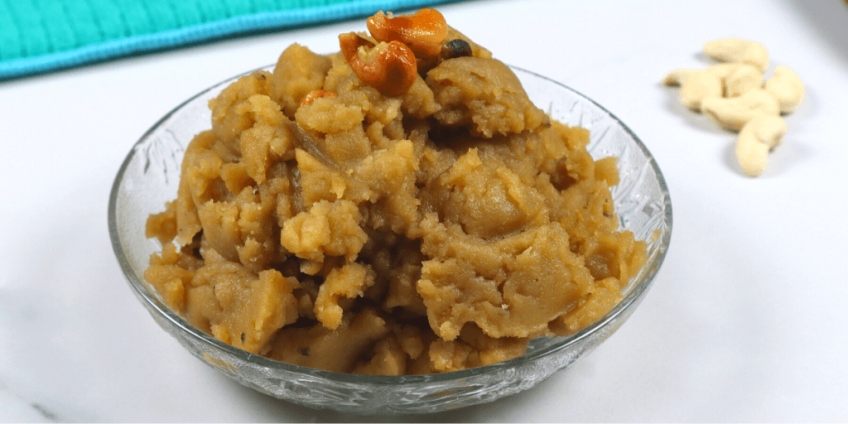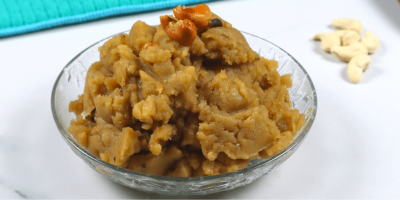 Wheat Halwa is a sweet dish made with wheat flour and jaggery. This halwa is soft, smooth, and somewhat moist in texture.
---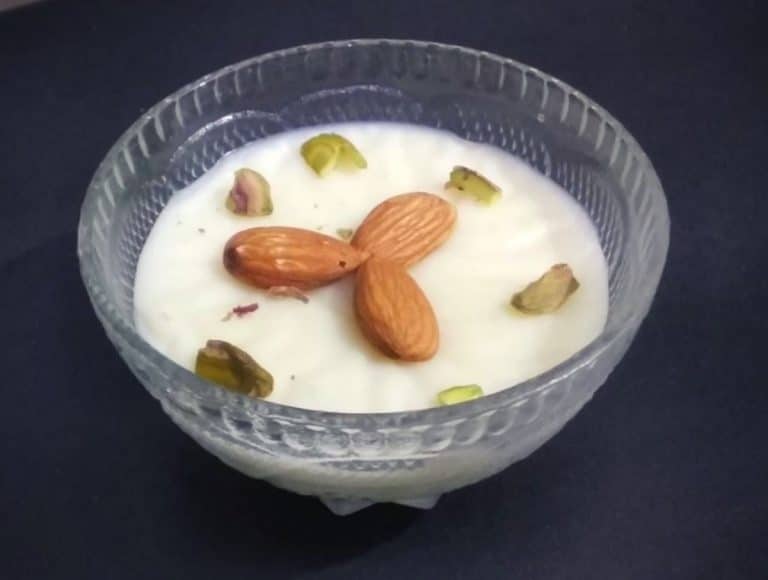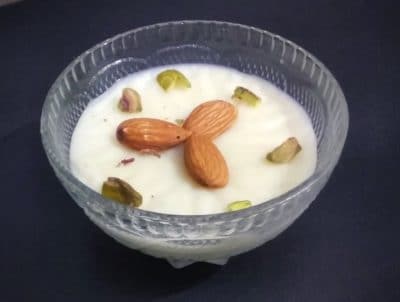 Rice Phirni is an easy & quick to make creamy dessert . In North India this dessert is a must on every festivals like Diwali or Karwa Chauth.
---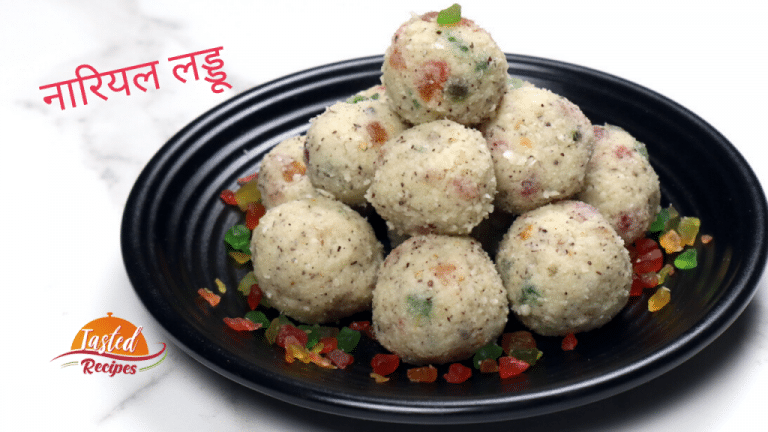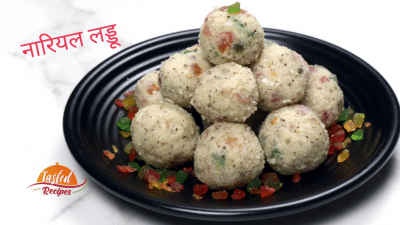 Coconut. Laddu is dessert balls full of flavors and crunchiness. These laddus are made with coconut, sugar, cardamom powder, tutti frutti, & milk.
---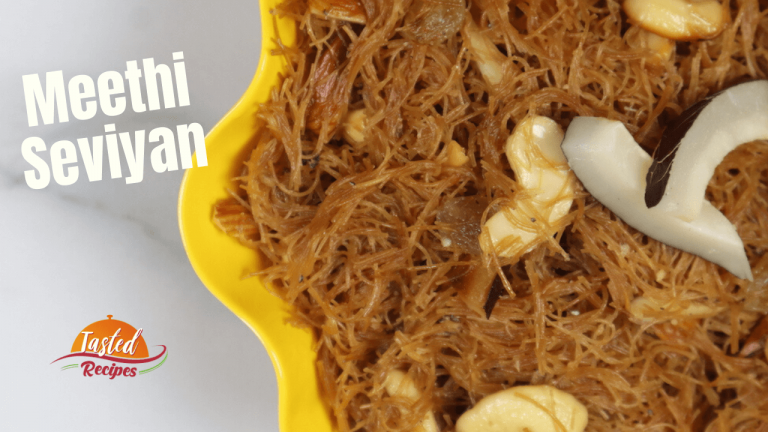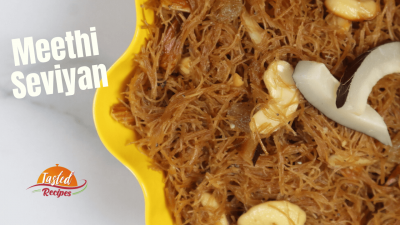 Meethi Seviyan is a quick and easy to make dessert recipe. This recipe is made with condensed milk, khoya, sugar, ghee, and vermicelli.
---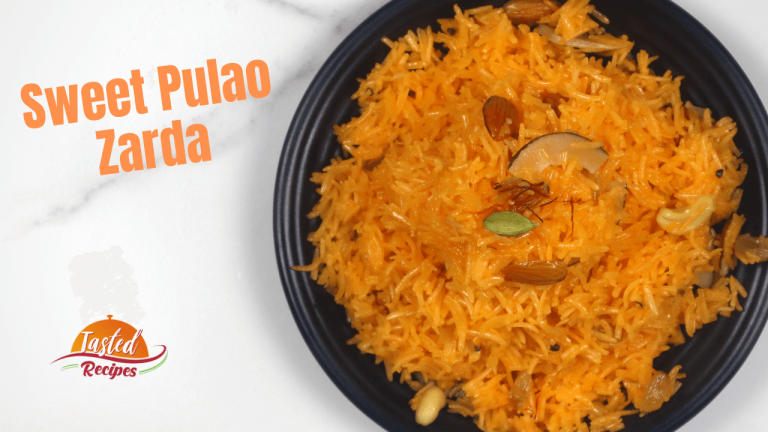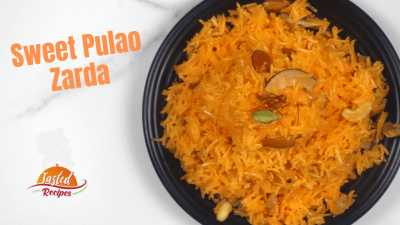 Sweet pulav is a simple and really easy-to-make rice dish. Cooked rice is tossed in ghee and sweetened along with dry fruits.
---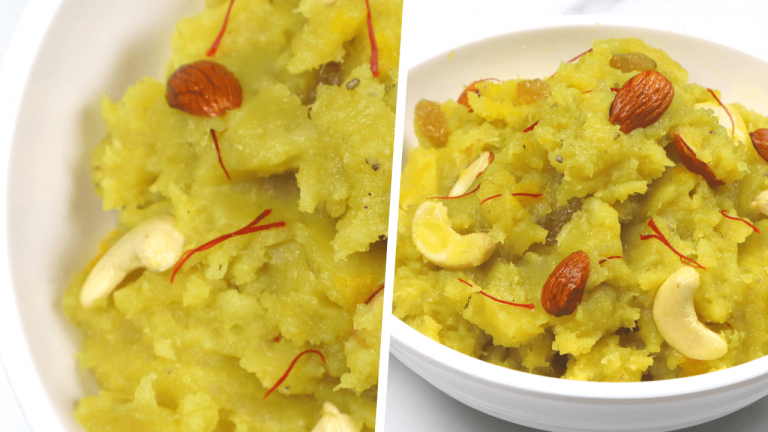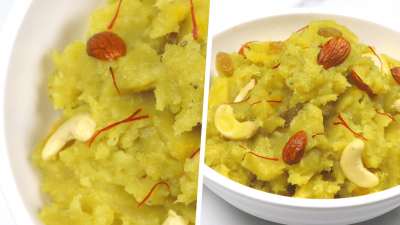 Shakarkandi Halwa or sweet potato is a delicious and healthy sweet delicacy. It is made from softened sweet potato added with crunchy dry fruits.
---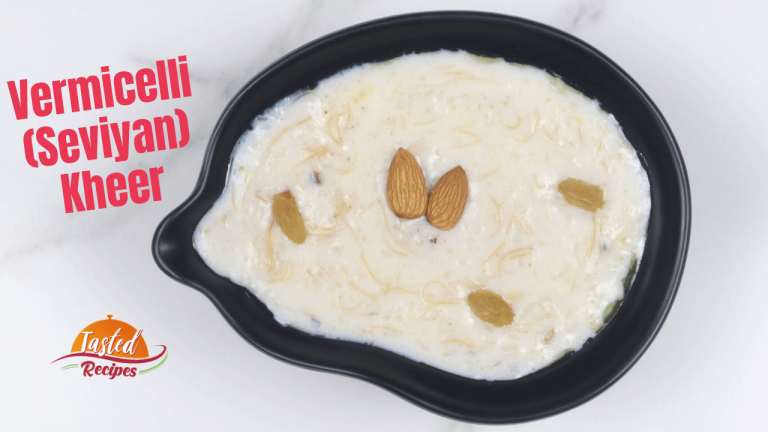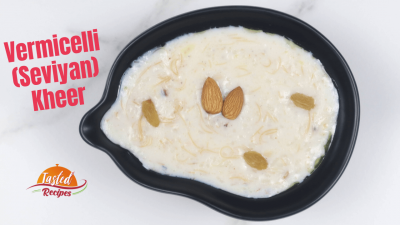 Vermicelli Kheer is a rich sweet and delightful Indian recipe. A popular recipe Indians make with whole wheat vermicelli roasted in ghee.  
---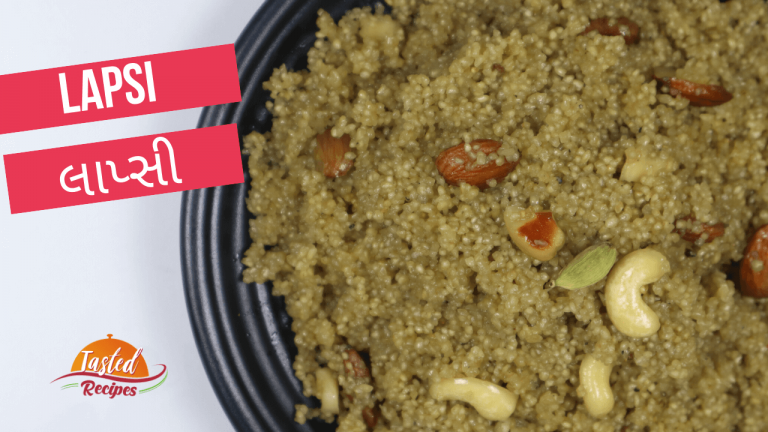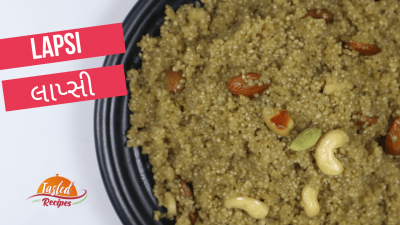 Lapsi is a Gujarati dessert that is made up of broken wheat also known as dalia. It is an easy and quick dish requiring lesser ingredients to make.
---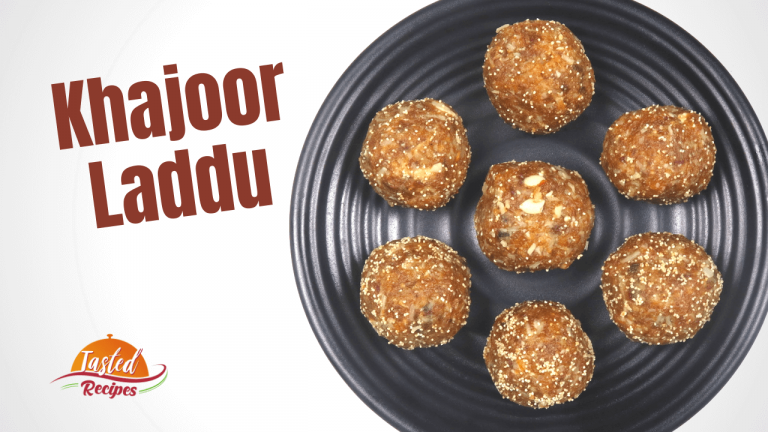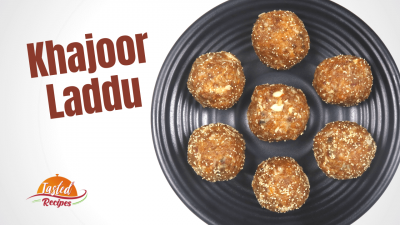 Dates Laddu or Khajoor Laddu is a very healthy sweet Indian snack recipe. A whole lot of dry fruits is included to prepare this dish.
---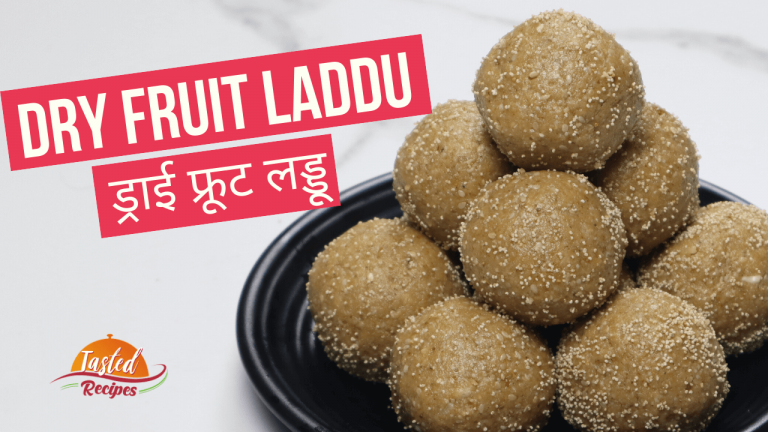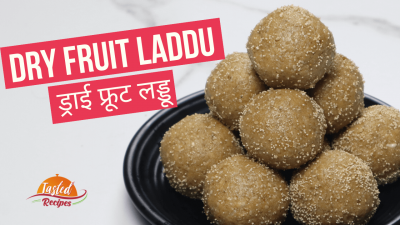 Dry Fruit Laddu is a winter special recipe. These laddus are a mini powerhouse of nutrients. You can eat it anytime anywhere.
---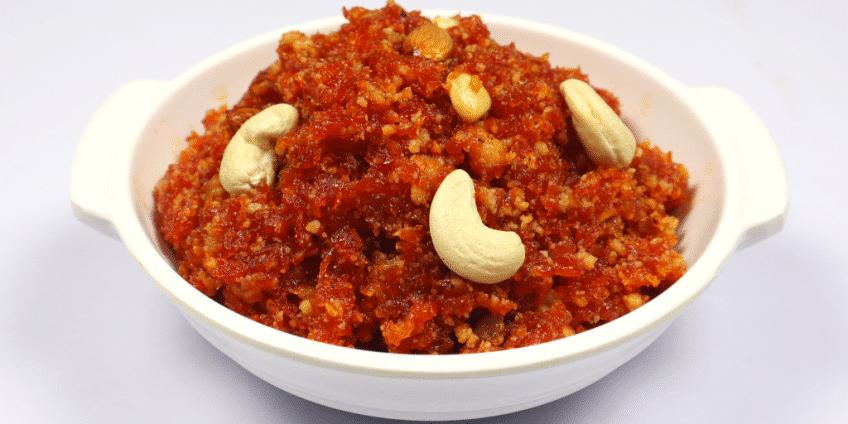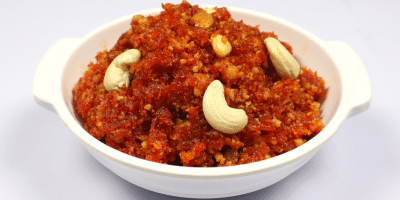 Gajar Ka Halwa is a carrot-based traditional sweet dish. With just four items you can make a creamy halwa. Click to watch the recipe video.
---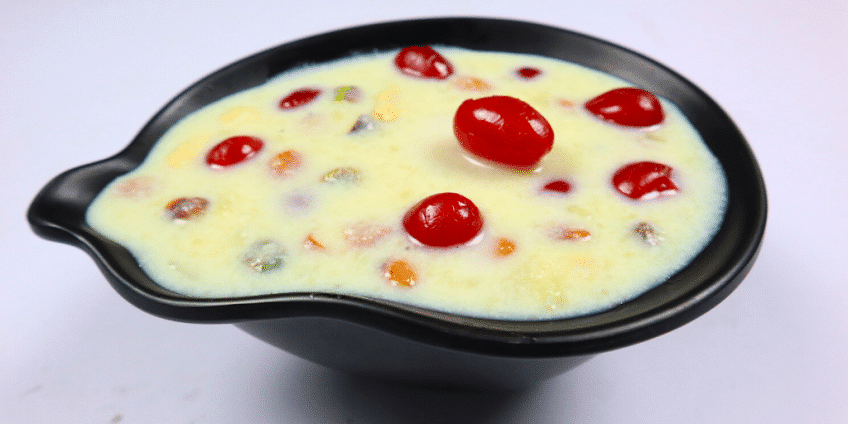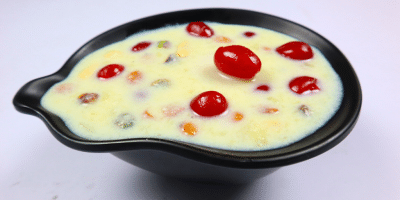 Shakarkandi Kheer or Sweet Potato Kheer is a sweet dish of India. Shakarkand or Sweet Potato kheer can be consumed during fast.
---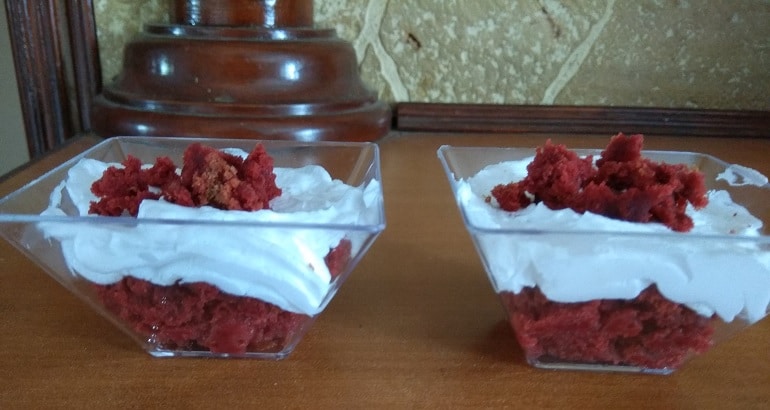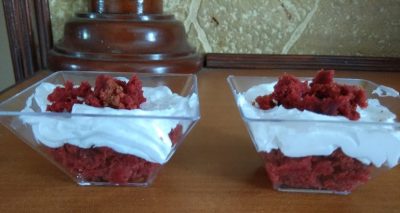 Red Velvet Trifle is a simple dessert recipe made with red velvet cake and cream. Very simple to make. You can refrigerate it and use as and when required.
---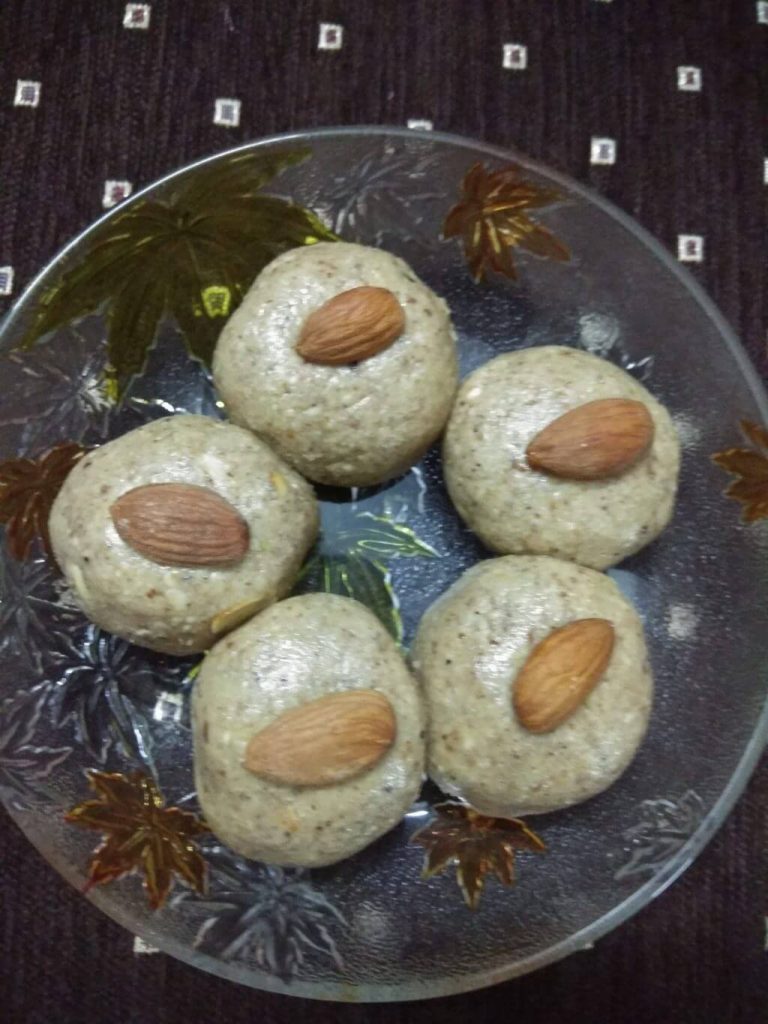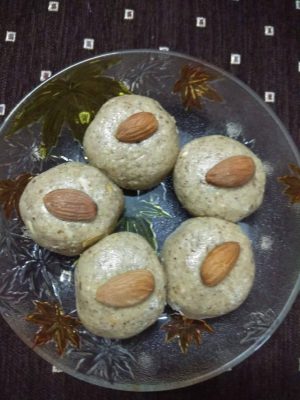 Peanut Almond Ladoos are popular Indian sweets. It has the health quotient. Good healthy sweet option this Diwali Celebration. Crunchy & sweet ladoos.
---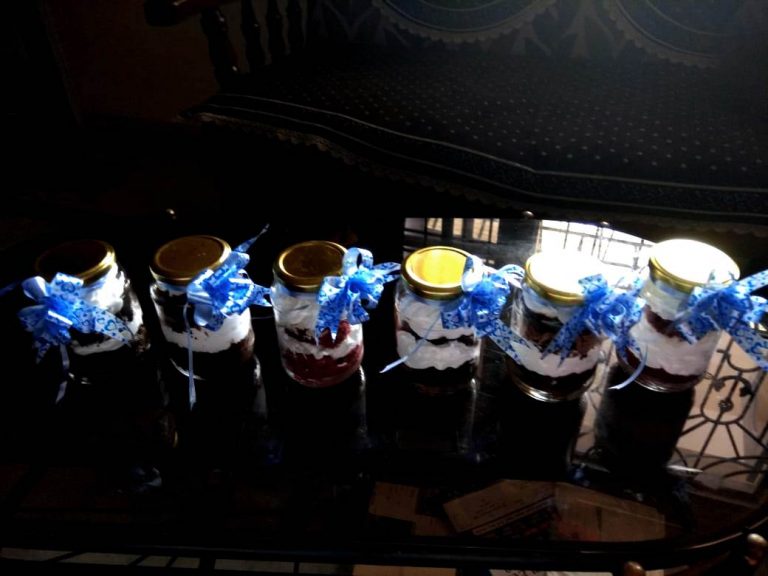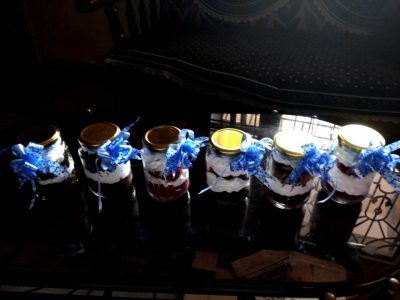 The jar dessert is chocolate flavored & can be consumed by all ages members in the family. Best for special occasions, gifiting purpose or valentines day.
---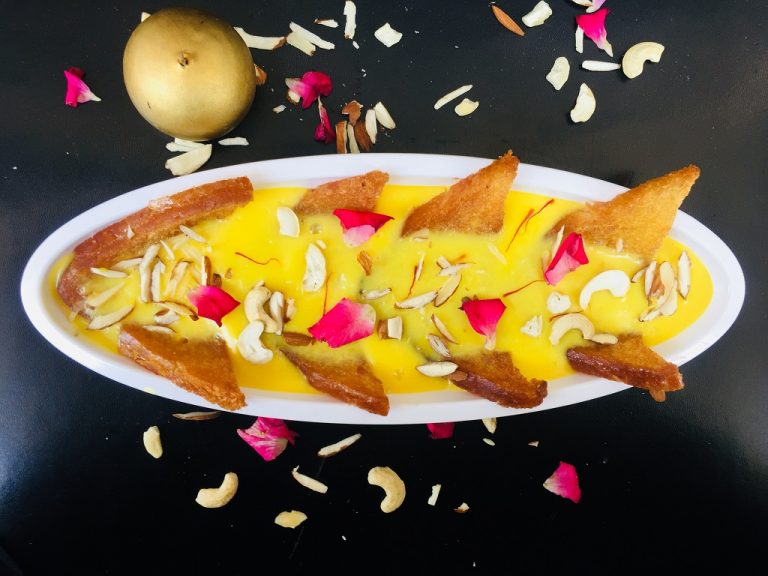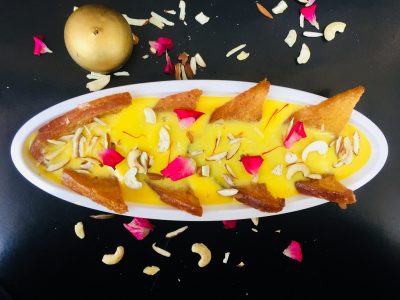 Shahi tukra is a traditional Mughlai dessert made with fried bread coated with sugar syrup and thickened milk garnished with dry fruits and rose petals.
---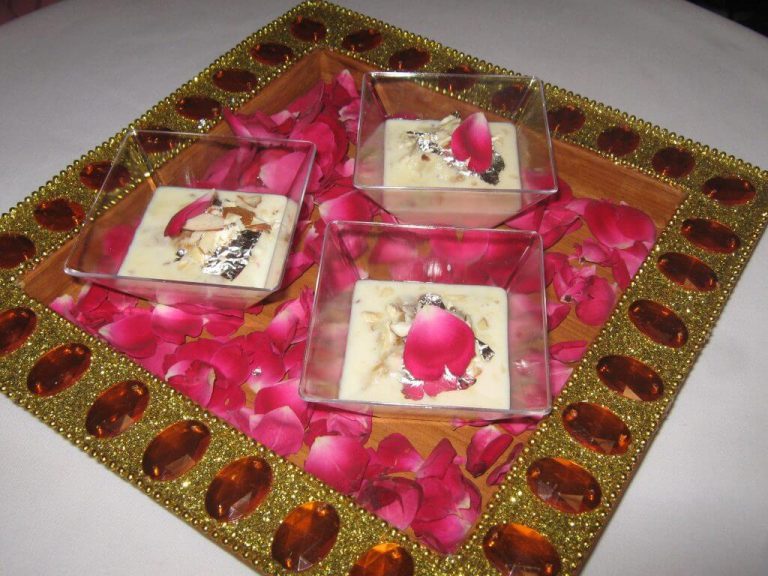 Anjeer & Gulkand delight is delectable dessert made with rich dry fruits like Anjeer & garnished with Gulkand. It's no sugar dessert made for special event.
---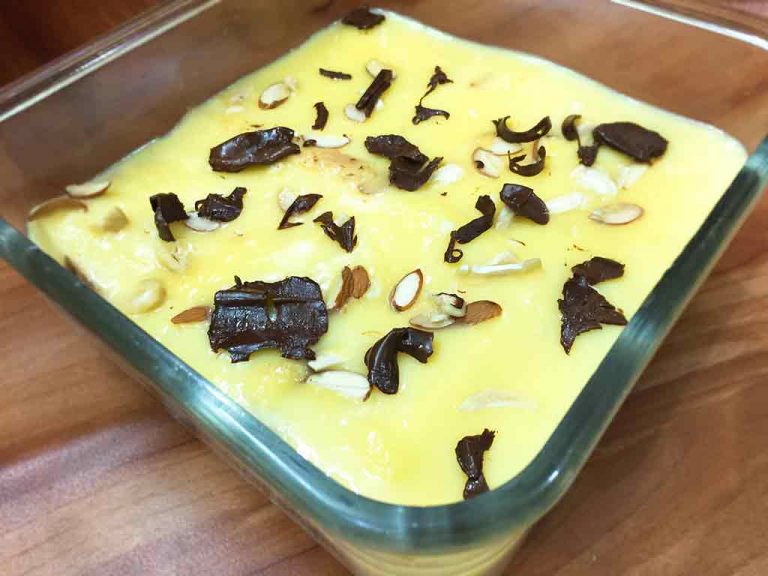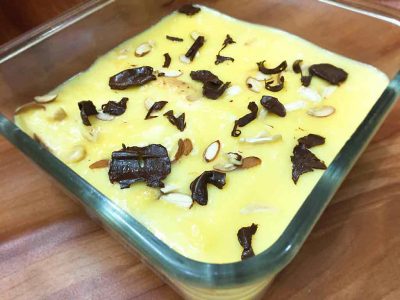 No-Bake Bread Custard Pudding is an easy-to-make delicious dessert recipe made with bread, milk, sugar, custard powder and fresh cream.
---