Kaju Gulkand Lassi is a yoghurt-based Indian drink equivalent to a smoothie. This drink is tasty, refreshing, and popular among Indians.
This drink comes in variations everywhere. The version we are making is an extension of the classic lassi. Similarly, a salted version of this drink is also available.
The drink is straightforward to make and can be ready in just five minutes. It is an excellent drink to add to your list of summer drinks along with Aam Panna, raw mango juice, cucumber lemonade, Nimbu Pani, etc.
It will be an excellent substitute for soft drinks, even for your party. Moreover, this drink is filling enough for you to treat it as a snack.
Why Kaju Gulkand Lassi?
Kaju means cashews, and gulkand is a sweet preserve made from rose petals. Initially using Damask rose for the preserve, presently other counterparts are also in use.
As we know, Kaju Gulkand Lassi is a yoghurt-based drink. So obviously, we will need yoghurt or beaten curd to make this. So please pay attention to its quality, or it can ruin your lassi.
Sugar is commonly used to sweeten lassi. However, we are using gulkand here, which is plenty sweet already. Hence, be careful adding sugar to the drink. If the gulkand you are adding to the lassi adds enough sweetness for your liking, then you can skip the sugar entirely. Or substitute the sugar with honey or soaked seedless dates.
Cashews are another additional ingredient. Soak them for a few minutes for them to blend well. Or you can use cashew powder as well. If you want, add soaked and peeled almonds to it. Raisins, pistachio, or figs are also options to add. If you add more than two dry fruits, it will be dry fruit gulkand lassi.
Taste & Texture Of Lassi
The texture of this lassi will be smooth, just like a smoothie. If you blend or churn it for longer, then froth will also appear on the surface.
But too much of it can separate the fat and make the lassi thin or watery. So be careful about it.
Generally, it has to be thick, thicker than a milkshake. But the consistency is still up to you. However, you will also experience the chunks of cashews and gulkand in your mouth.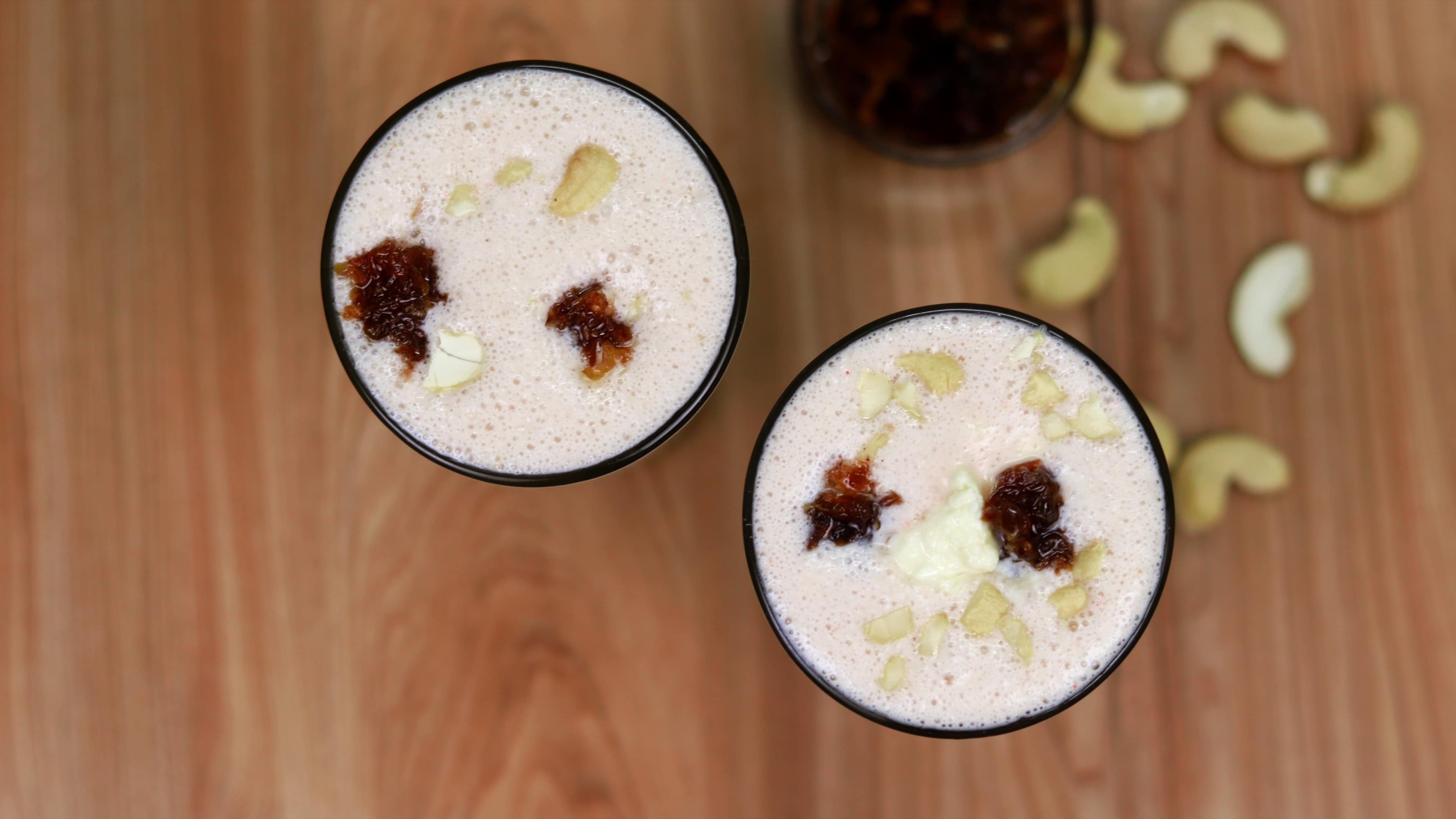 And for the taste, it will be, without a doubt, sweet. The sweetness is adjustable. You can sweeten it without the sugar.
Some recipe includes rabdi to the lassi. It will be good to use and provide a unique sweet flavour. Or condensed milk is good as well. A few creative souls add the sweet mawa or peda to the lassi for the same purpose.
Frequently Asked Questions?
What to do when I don't have gulkand?
Sometimes it can be hard to find gulkand in the market. In that case, you can use store-bought rose syrup, roohafza, or rose essence. The flavour differs slightly, and the texture will also be different, but the rose syrup is an excellent alternative.
Why do we feel sleepy after drinking lassi?
We have often experienced sleepiness after drinking lassi. The reason behind this is the calcium in it. The calcium content found in dairy products can help the brain use tryptophan, producing sleep-inducing chemicals that make us sleepy. Therefore, we generally consume a dairy product- mostly milk, before sleeping.
Does lassi affect our weight?
Lassi can affect your weight. The nutrients in it are extremely helpful in maintaining the balance of electrolytes in our bodies. If we are using low-fat curd, it can help cut the fat gathered in our system and is also an excellent immunity booster.