Urad dal (उरद दाल) is black lentils or black gram in English. Further, we have split black lentils (काली उरद दाल) which means whole black grams are broken or split into two parts. This is why it is called split black lentils. It is important to know that whole black gram and split black gram are two completely different items. Refer to the image below.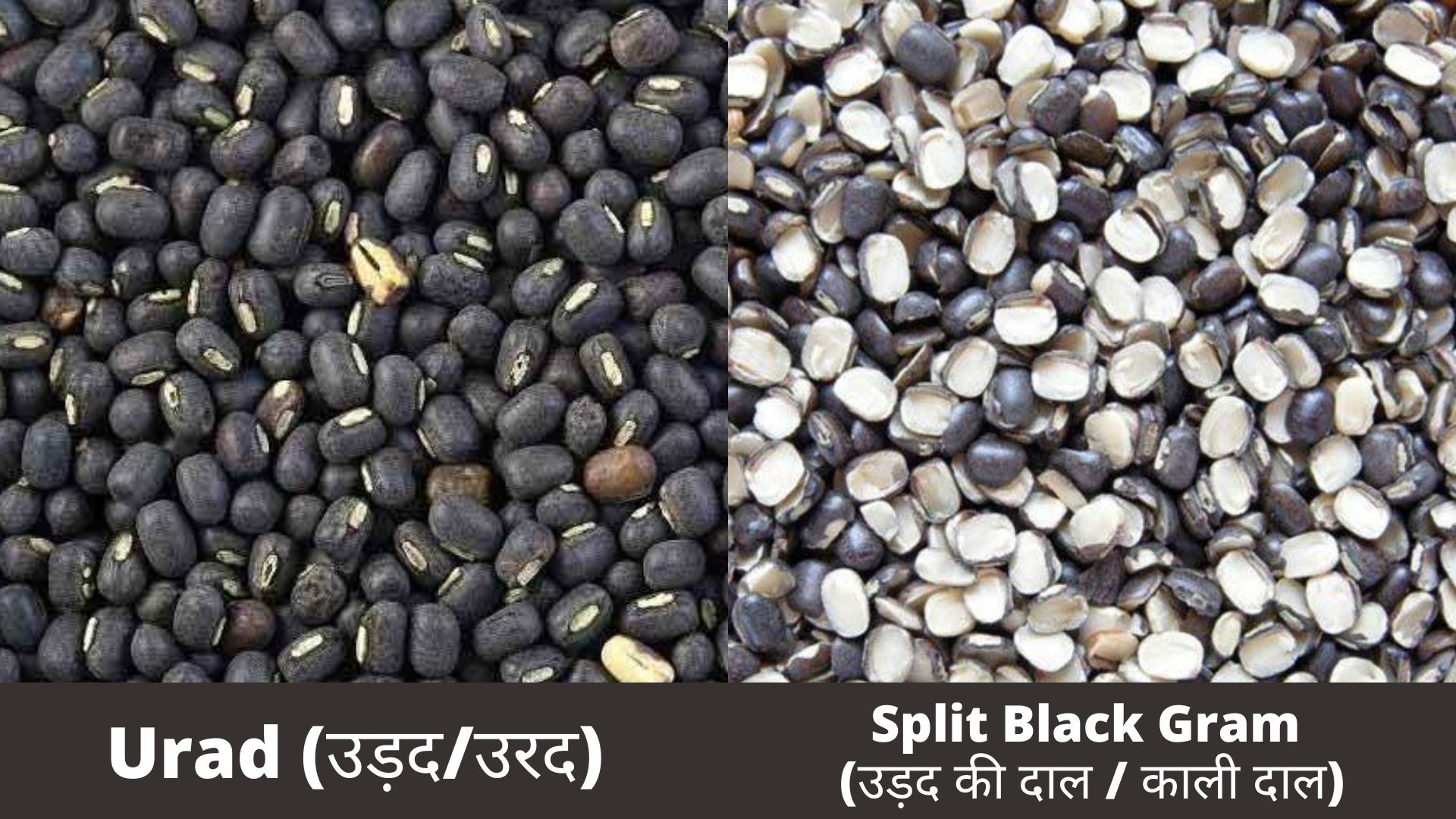 Today we are going to make split black gram aka उड़द की दाल/काली दाल. Therefore let's get with the basic details. Here they are.
Boiling Urad Dal (Lentils)
The recipe starts with boiling the urad dal. I have used a non-stick kadhai. However, you can use any utensil of your choice. I guess a pressure cooker will be an ideal solution to boil the lentils.
All you will need is water, salt and crushed ginger apart from urad dal. Let's not make boiling the lentils a complex thing. It is similar to boiling chana dal, moong dal or even toor dal.
Why Soaking Urad Dal is necessary before Boiling?
Before boiling soak the lentils for atleast 2-3 hours. Doing this is necessary because soaking will make the lentils tender. If your lentils aren't soaked properly then allow some more time. I would suggest not to hurry up the soaking process. Unsoaked lentils take a little more time to boil.
One more thing, you don't have to add anything other than fresh water to soak the lentils. Yeah, just water and urad dal. Nothing else.
Curd Paste
After boiling it's time to make the curd paste. In other words, we are making one of my favourite dahi wali urad ki dal. Therefore, we need the curd paste.
This particular curd paste is slightly different compared to those in the Punjabi recipes. Here we will use 3 basic powdered masalas like garam masala, turmeric and coriander powder. Additionally, we will also use green chilli paste. This process reminds me of Gujarati Kadhi because the ingredients are more or less similar.
Finally, beat the curd with everything else and your curd paste is ready. We will keep it aside as of now to use later in the recipe.
Cooking Urad Dal
There are two ingredients viz garlic and green chilli to flavour the tadka of urad dal. Along with them we also have curry and asafoetida for sweet and pungent taste.
Further, we will add chopped onions and tomato and cook until they become soft and mushy. All in all, our urad dal tadka contains a variety of flavours. We are still in the tempering stage.
Once your onion and tomatoes are cooked thoroughly add the curd paste. Now here there are 2 facts about curd paste that we need to address. Here they are.
2 Important Facts About the Curd Paste
First, the curd paste is uncooked. I mean the milky taste and aroma along with powdered masala are still in the paste. Hence, we need to cook the dahi paste properly.
Second, whether or not the curd will curdle? The answer is NO. The curd will not curdle. Since we have powdered masala and we have already beaten the curd to smooth consistency it won't curdle. If you add curd directly it will curdle when exposed to intense heat. Hence, pay attention to this tip.
Okay now back to the urad dal recipe. When the curd paste is mixed thoroughly cook until oil separates. Doing this will remove raw flavours and aroma from the curd. Moreover, it will also cook the powdered masala.
In the end, pour boiled urad dal and water to adjust the consistency. Your urad dal is ready.
Don't Overcook Urad Dal
If you look closely each and every ingredient is thoroughly cooked including the curd paste. Additionally, we have boiled the lentils too. In short, there's nothing left to cook. Our only job here is to assemble everything and simmer for 7-10 minutes on low flame. Yes, only simmer, don't cook on high heat.
Cooking further on the intense flame will destroy the flavour and burn the urad dal. Not only this but the vibrant green texture will turn darker. Therefore, don't overcook. Just simmer the mixture.
Extra Shots for Urad Dal
Use split black gram (छिलके वाली उरद की दाल) not the whole black gram.
Soaking and then boiling lentils is an important process. Don't skip it.
To make curd paste use mildly sweet or plain curd. Avoid sour curd.
If you have sour curd then add sugar to reduce the sour taste.
You can swap chopped ginger and garlic with ginger-garlic paste.
Whole green chilli can be substituted with green chilli paste.
Urad Dal FAQs
Should I soak urad dal overnight?
It highly depends on the quality of the dal (lentils) that you are using. However, urad dal seldom takes overnight time to soak.
What type of curd do we need to use?
We need semi-sweet curd which is otherwise known as Punjabi dahi. You can also use Amul's Masti dahi. It is less sweet and ideal for cooking. I have the same in this recipe.
Why did my curd paste curdle?
There are absolutely no chances that your curd paste will curdle. You have added the curd separately without beating it if it has curdled. Make sure you beat the curd properly.
Can I add onion and tomato in puree form?
Yes, you can make a puree of onion and tomatoes and then add. The puree will cook rapidly and reduce your overall cooking time. It is completely fine if you chop them and not make a puree. Both of them are good enough.
Can we make the tadka in ghee?
Of course, you can make the tadka in ghee. Either use dairy ghee or homemade ghee. I prefer using homemade ghee over packaged ghee. Above all, if I have jamkhambhaliya ghee then I prefer using the same.
How to cook urad dal without soaking?
Use a pressure cooker to boil unsoaked lentils. It will take 4-5 whistles to boil your urad dal. If not then boil for a couple of whistles more. Make sure there's enough water in the cooker or else it will burn at the bottom.