The Paneer Do Pyaza recipe (दो-प्याज़ा) that I am going to share today has a fascinating history. This recipe is a fusion of 2 different cultures viz India & Persia. Allow me to explain to you why I am telling you this.
Dopiaza is a Persian word that means two onions. The term is typically used for meat-based recipes that contain onions as the main ingredient. In short, dopiaza (2 onions) means adding onions at two stages of cooking. For instance, you can add onions to marinate & make the gravy. This way, adding onions two times makes dopiaza.
On the other hand, as per recipe demands, you can use onions to garnish and do topping, like a pickle or crisp fry.
The bottom line is the number of onions will always be double. And all those recipes having double onions are termed dopiaza. For example, in this recipe, paneer do pyaza.
Now we know the word meaning of dopiaza. The same concept applies here in paneer do pyaza.
We will be using onions two times. First as the main ingredient alongside paneer. Second, in the form of puree to make the gravy base.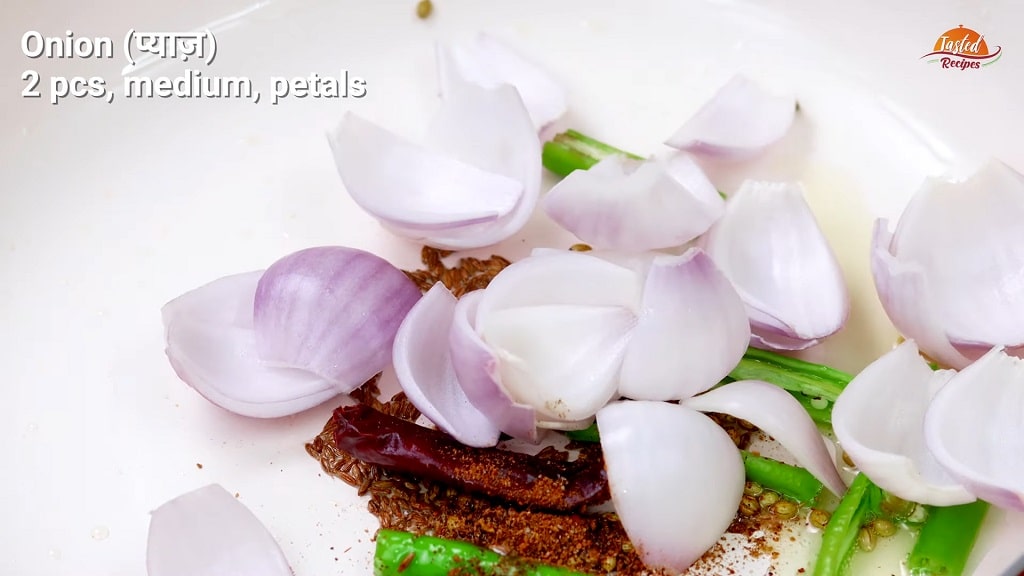 That's the reason why it is called Paneer Do Pyaza. Let's proceed with the recipe details.
How's the Taste?
There are a variety of flavours in the final dish. The one that I made was a bit tangy, spicy, mildly hot & creamy as well. The khatta taste is all due to the curd mixture. At the same time, the creamy taste & texture is due to onions. Surprisingly, onions can give a creamy texture.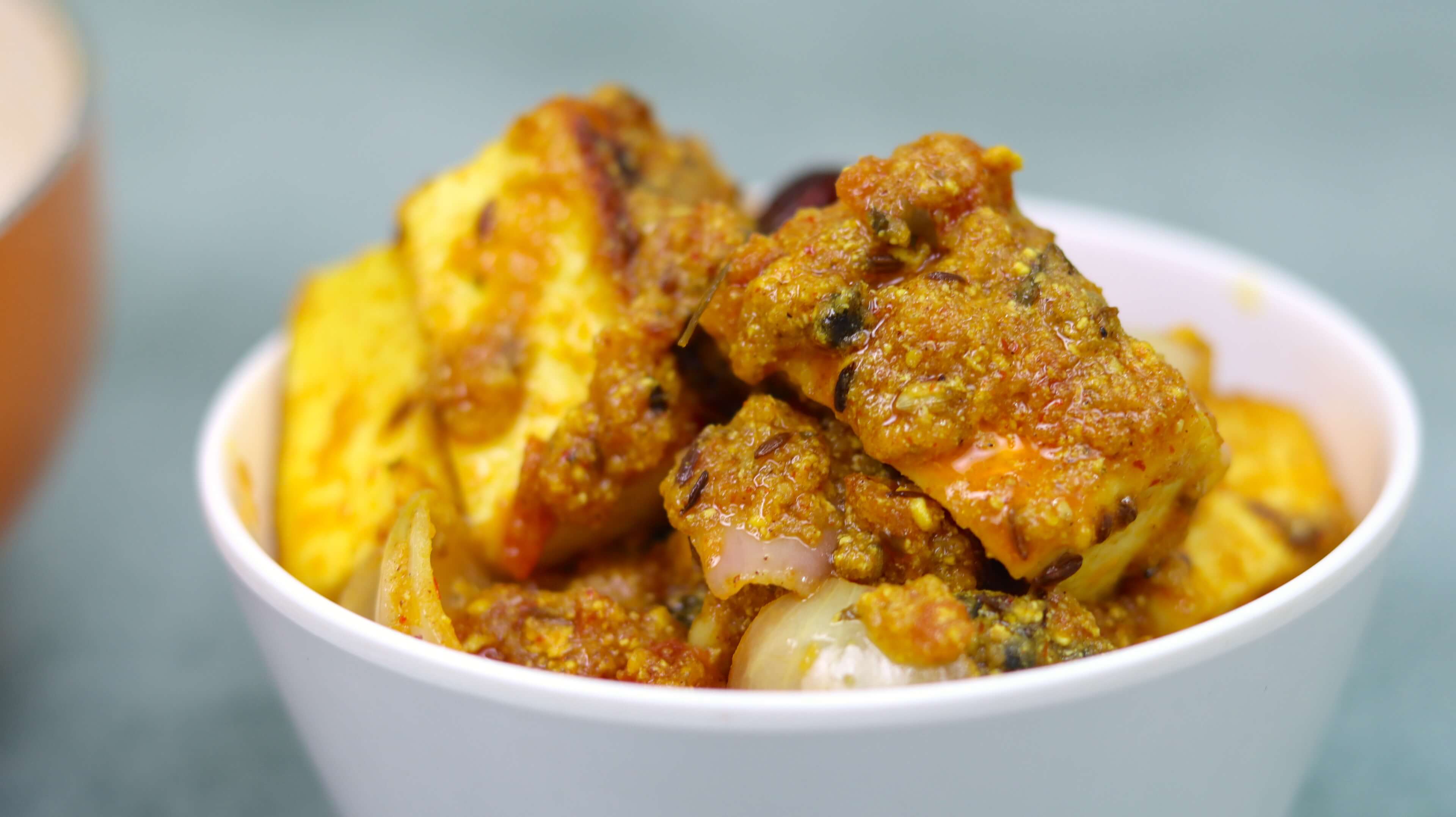 Shallow Frying Paneer
The recipe requires a series of processes to make the final dish. The first two steps are pre-preparations. Out of which shallow frying paneer is one of them. Paneer becomes crispy when shallow fried. Moreover, it integrates a smokey taste & aroma. Try doing it. You will love it for sure.
To fry paneer, we will need regular cooking oil & paneer. That's it. Even butter or desi ghee is a substitute for oil. However, I haven't used butter or ghee because it makes the dish too heavy to digest.
Saute Onions for Do Pyaza
After shallow frying panner, it's time to saute the onions. The sauteed onions will later go into the gravy. For this, we need ghee, cumin & coriander seeds, green chilli, dry red chilli, garam masala & onion petals.
Cut onions into 1/4 part. Peel large petals & keep aside the smaller ones. Remember, never chop onions. We need large onion petals visible in the final dish.
The Paneer Do Pyaza Gravy
Making the paneer do pyaza gravy is the fourth process. However, after the gravy is ready,aining items. Therefore, we need seven  after the gravy is readywhole spices. They are cumin, bay leaf, cinnamon, black cardamom, clove, black pepper & green cardamom.
To saute our spices & masalas, we will use both ghee & cooking oil. You can use either of them. Further, we require two powdered masalas viz turmeric & garam masala powder and salt & asafoetida. A little Kasuri methi will add a potent flavour. Hence, please don't skip it.
For thick & flavourful gravy, we will add onion puree & chopped tomatoes. The onion puree will further tenderize the gravy spices & masala. Since we are adding onion, we will also need ginger-garlic paste.
Indian curries are incomplete without tomato, onion, ginger & garlic. Thus, don't skip them.
Beaten Curd as Gravy Base
We will use curd as the base of our curry: mix coriander & red chilli powder with curd. Use the tikhi red chilli powder because we won't be adding it the second time. The other red chilli powder we will be using is the colour.
Mix the powdered masala & beat the curd well. Keep aside to use later in the gravy.
TR's Extra Shots for Paneer Do Pyaza
Onion Petals – We need large onions so that the petals are visible. Small petals will quickly melt & mingle into the gravy.
Fresh Green Chili – Either slit vertically or chop in circular shapes. It works well both ways. Use तिखीवाली green chilli, the smaller ones.
Frying Onions – Swap ghee with cooking oil or olive oil if ghee hurts your calories count goals. Do not over-fry onions. A minute is enough.
Dry Roast – Add cumin & coriander seeds with dry red chilli before adding ghee while frying onions. Dry roast them until aromatic. It will include a nutty flavour.
Curd – Don't use hung curd because that's too dry. Above all, we will need water in the gravy; hence curd with a bit of water will do the task.
Beat the Curd – Either use a fork or a hand beater to beat the curd. Break large chunks & make the curd smooth.
Cardamom – We use both green & black cardamom in the gravy. Crush the black one before adding.
Paneer Do Pyaza FAQs
Here are answers to some common questions. Find yours. If your query is not listed below, write it in the comment section, and we will try to answer them for you and add them to this section.
Can I make paneer do pyaza in butter?
Yes, you can replace ghee & oil with butter. However, use unsalted butter. Salted butter will add a potent salty taste to the final dish.
Can I replace cooking oil with ghee?
Yes, you can make the entire recipe in butter, ghee or cooking oil. There's no issue with either of them at all.
Is it compulsory to fry paneer before adding them to the gravy?
Not at all. You can add panner even without frying. But if you fry & then add panner, it will give a rich taste & texture.
Is it necessary to fry onions like paneer?
Yes, it is necessary. Raw onions will smell & alter the taste. Fried onions will integrate a spicy & nutty flavour into the final dish. Above all, the paneer do pyaza recipe needs fried onions.
Can I use hung curd for the curd mixture?
No, because hung curd has almost no water or negligible water content. On the other hand, we need a little watery curd mixture. Hence, don't use hung curd. If you insist on using hung curd, then add some water.
How many people can eat if I use 200 gms of Paneer?
The measurements in this recipe are 200 gms of paneer, which is for 3 to 4 people. So for a family of 5 to 7 people, you will approx 400-500 grams of paneer.
What is the final yield with all your items and 200gms of paneer?
The final yield will be approx 600 grams with masala gravy and veggies. It might weigh somewhere between 400-500 grams if it is dry.