Paneer Angara is a next level lunch & dinner item. I am a big fan of Punjabi recipes, especially paneer items. Out of which, some of them are close to my heart, for instance, dahiwala paneer, nawabi panner, paneer ghee roast & garlic paneer gravy. All these recipes are unique in their way.
Now, why am I telling paneer Angara next level is reasonable. The first thing the name itself is amusing as well as unique. The word meaning of Angara is hot red charcoal.
It means the final dish is given smoke at the end before serving. Doing this will integrate a smokey flavour & aroma into the recipe. Watch the recipe video to see how it is done.
The cooking process includes two steps. The first step is to make the tomato-cashew paste & then the gravy. For your convenience, I have bifurcated the ingredients into two parts. Here you go.
Spices and Masala in the Tomato-Cashew Paste
The spices and masala we use in the tomato cashew paste are:
Whole Spices – 7 whole spices are needed to flavour the paste. They are cumin, cardamom, cinnamon, clove, black pepper, red chilli & bay leaf. Each one is readily available; therefore, do not skip anything.
Hara Masala – Ginger & green chillies are our hara masalas, wet ingredients. There's no garlic here. We will add whole ginger & green chilli because, in the end, we will grind it.
Tomato & Cashews – To make the base of the paste, use ripe & juicy tomatoes and cashews. Don't use tomato puree.
Spices and Masala in the Gravy
The spices and masala we use in the gravy are:
Whole Spice – We will use cumin to prepare the tadka. Allow cumin seeds to splutter in hot oil to release their flavour & aroma.
Masala Powder – To flavour the gravy, we need masala powders like turmeric powder, coriander powder, red chilli powder & Kasuri methi.
The Way We Use Paneer
The recipe is a paneer recipe and so we have to understand how and where we will be using the Paneer.
Paneer will go twice in the gravy. One 200 gms as pieces & second 1/2 cup grated. The pieces that we have chosen are a little bigger in size and it is kept that way so that the dish can be garnished in a way that paneer pops out.
And you can see the same in here: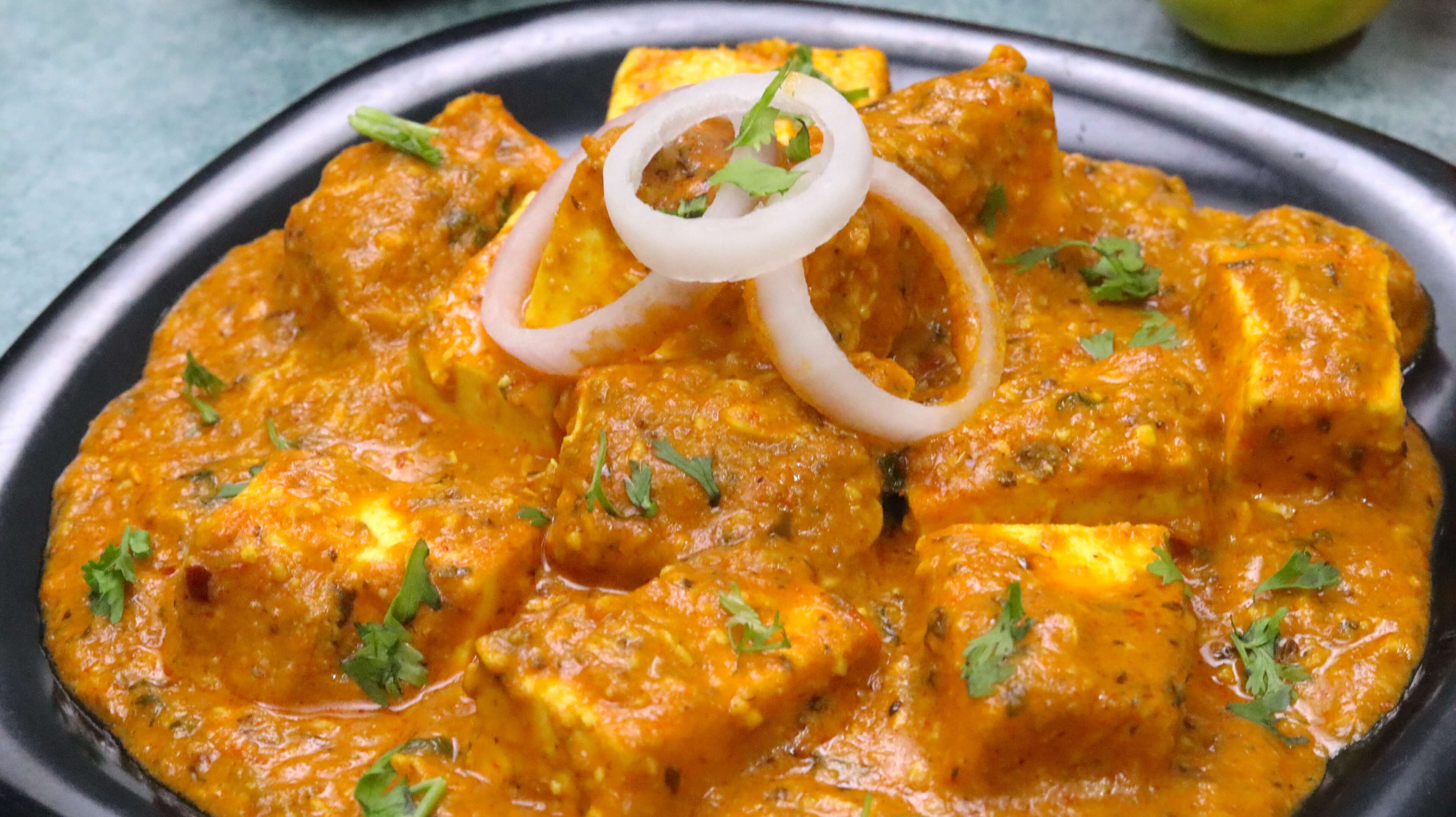 And the grated paneer gets into the gravy because it will give the thickness to the gravy as well as the taste of the gravy will have a paneer flavour.
Adding Smokey Flavour
Giving smoke to the final dish is the best part of this recipe. I do this in paneer tikka recipes too. For this, you need the following items.
Asafoetida – Instead of adding hing in the tadka, we will add it while giving smoke. You will love the spicy fragrance.
Ghee will give the paneer Angara a soothing aroma when poured on hot charcoal. The white smoke will relish your nostrils.
Finally, the paneer Angara ingredient list ends here. Now let's proceed to the next section.
TR's Extra Shots for Paneer Angara
Here's a bunch of helpful tips. Follow them to get better results. Also, if you have suggestions about this recipe, post them in the comment section. It will be a great help to others.
Butter – Add 1-2 tbsp unsalted butter while making the gravy. It will add a smooth taste to the overall recipe.
Paste – Saute everything well before grinding ingredients to make a thick paste. Doing this will eliminate the raw taste & smell.
Paneer – If time permits, shallow fry the paneer before adding it to the gravy. Frying will add a crispy taste.
Asafoetida – You can skip asafoetida while giving smoke & add the same while making gravy instead. Either of them is fine.
Paneer Angara FAQs
The following questions will help you better understand the details of the recipe. Please read them carefully & then begin the cooking. You can reach us out via the comment section if there's an unresolved query.
Is paneer Angara spicy?
Yes, this recipe is spicy, but the hotness level is low. In short, the paneer angara is masaledar but not teekha.
How's the taste of paneer Angara?
Your paneer Angara will be medium spicy & mildly hot in taste if you precisely follow the ingredients. For extra spicy flavours, you will have to adjust the number of whole spices & masala powder.
Can I add onions to the paste?
You can add onions, but it is not mandatory. You will have to saute them just like tomatoes & cashews. Please do not add them straight away. Sauteeing will reduce the raw taste & smell.
How long should I cook the gravy?
When oil separates, it means your gravy items are thoroughly cooked. In short, the gravy is ready for the other process when you see oil separated. However, cooking it further will change the colour & taste. Hence, be careful.
How much time will the panner take to become soft?
It usually takes 5-10 minutes in hot gravy for the paneer to become tender. If you soak paneer in warm water before adding, it will cook faster, taking less time.
Did you fry paneer before adding it to the gravy?
No, I didn't. However, if you want to fry the paneer, then go ahead. Both fried & plain paneer works well. It depends on your taste whether or not to fry.
Should I soak cashews before adding them to make a paste?
Soaking cashews is not mandatory. However, if you do so, it will be an added advantage. However, adding cashews without soaking is fine. But if you insist on doing so, then go ahead.
Why my gravy is dry?
Little to no water will make your gravy dry. Hence, add water gradually to eliminate the dryness. One more thing, do not continue cooking dry gravy as it will burn.
So, that was our paneer Angara or, say, smokey paneer dish. Let me know how you gave smoke to your dish. See you in the following recipe.