Appetizers are the highlight of a party. No matter how blasting fun you are having at the party, it will be incomplete without something for the consumption of your stomach.
It just doesn't feel good without having delicious appetizers to munch. And not just for a party but on any given occasion. Whether it is a reunion, get-together, Sunday bowl, poker night, or just a visit, there must be something to eat.
Appetizers are finger foods that are served before the main course. But in my honest opinion, I don't think main course dishes should always follow them. I like to eat only appetizers.
They can fill your tummy to the brim, and you won't feel hungry later. In addition, you get something completely new and delicious to eat than your regular main course dishes.
So following is a list of all the fun and mouth-watering easy appetizer dishes. It consists of chaats and snacks from multiple cuisines, both veg and non-veg. You are just going to love it!
Download our Free Recipe Cookbook
---
Easy Paneer Appetizers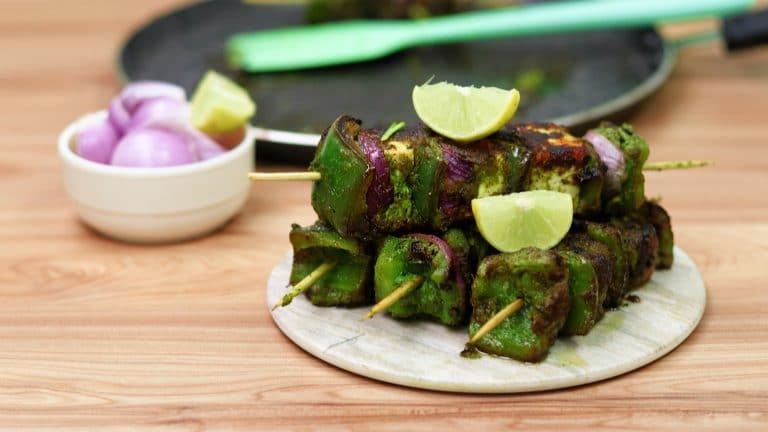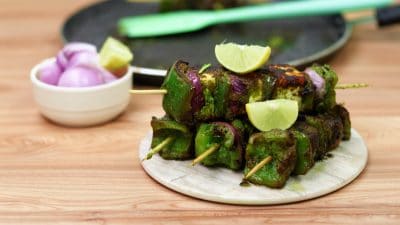 Hariyali Paneer Tikka is Indian cottage cheese coated in green paste and then grilled along with onion petals & capsicum. Watch the video.
---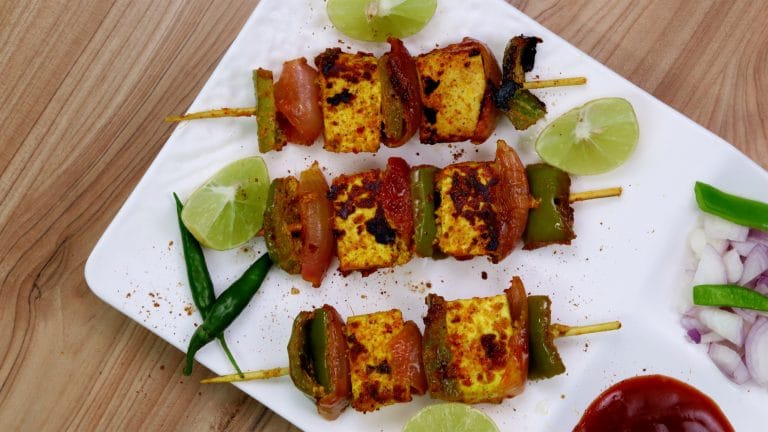 Achari Paneer Tikka is the khatta and masaledar dry avatar of achari paneer gravy. This starter won't let you eat the main course. Try now.
---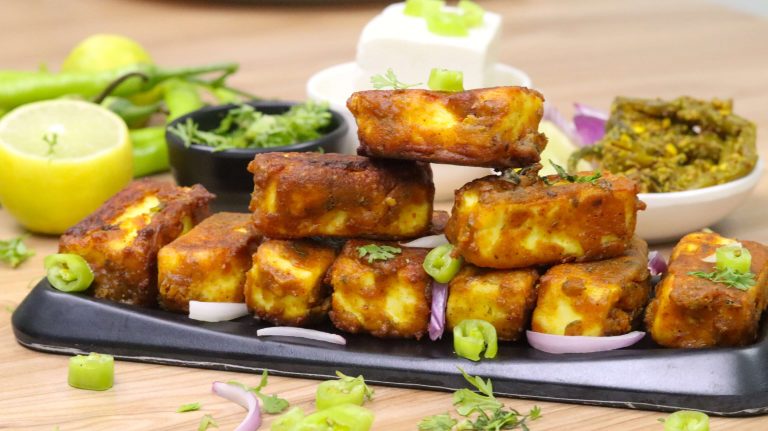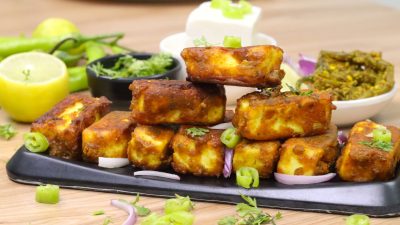 Amritsari ajwaini paneer tikka is a quick starter with carom seeds flavor. It's easy to make without any complex cooking processes. Try it.
---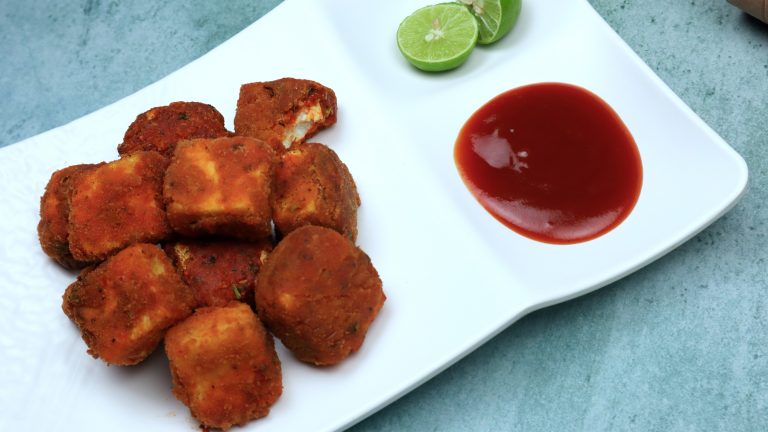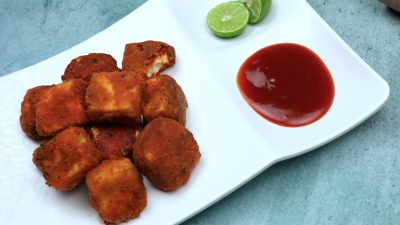 Paneer Nuggets is a snack with paneer as its core ingredient. Watch the recipe video or download the recipe card.
---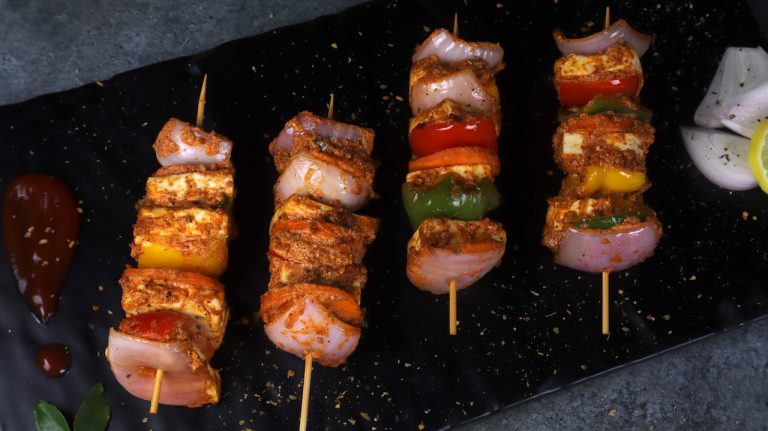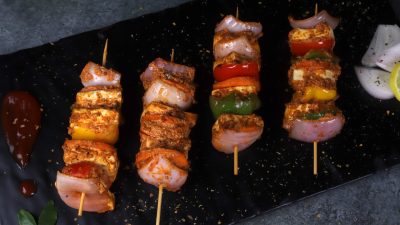 Paneer Tikka is a famous North Indian tandoor food. Here paneer is marinated in yoghurt & grilled thereafter. Click to watch the recipe video.
---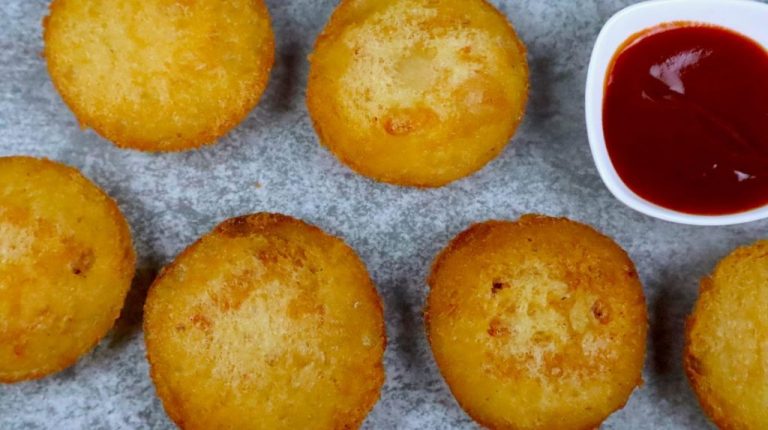 Spicy & delicious Tandoori Paneer Pakodas is a ginger food created with some twist. Paneer coated with tandoori masala sealed in bread & then fried.
---
Easy Veg Appetizers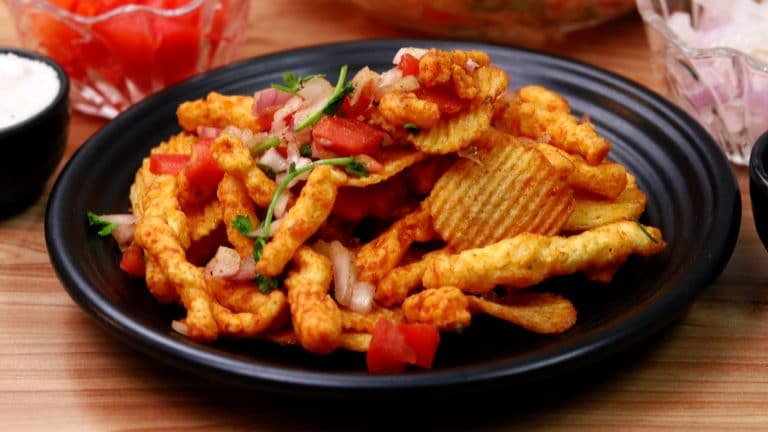 The Lays Kurkure Chaat is a jhatpat and fatafat chaat recipes amongst all. Click to read what you can add to enrich the taste of this chaat.
---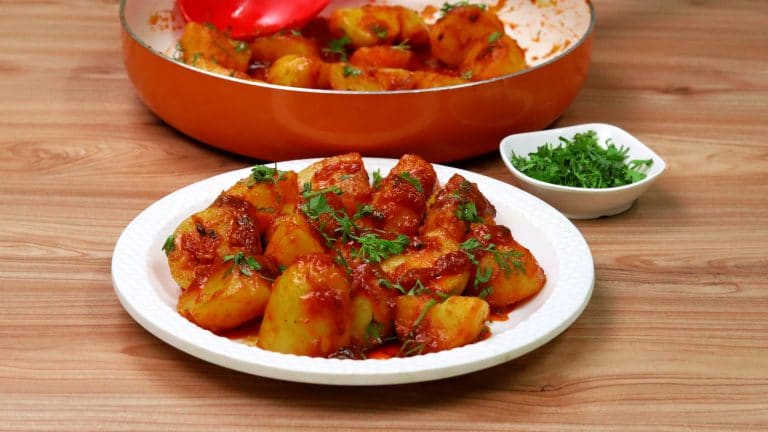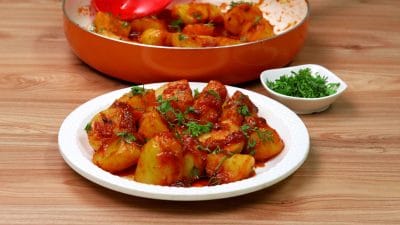 Khatte Meethe Memoni Aloo is a delightful snack all the way from the Kathiawar region. Click the link to watch the recipe video.
---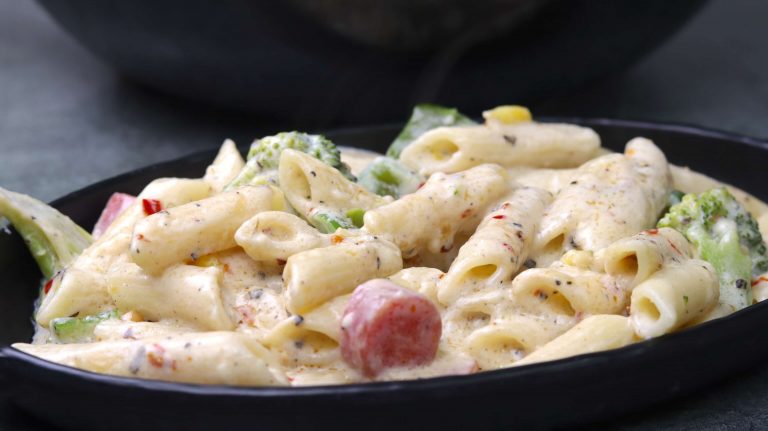 White Sauce Pasta is an Italian meal recipe that we can also have as a snack. This is a light & digestible dish even if having a heavy sauce.
---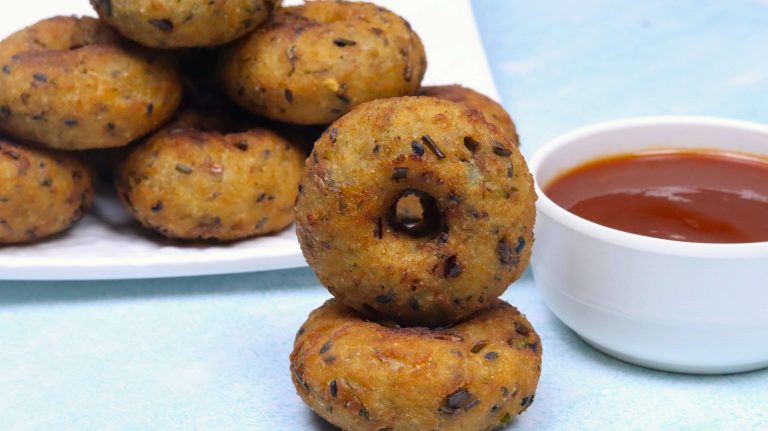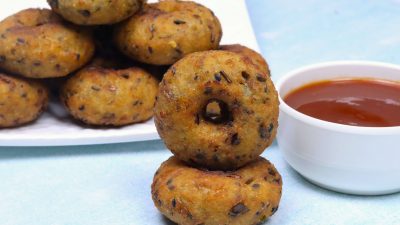 Poha Rava Vada is a fusion & modified version of simple vada. It is inclusive of two ingredients rava+poha, both acting as main ingredients. 
---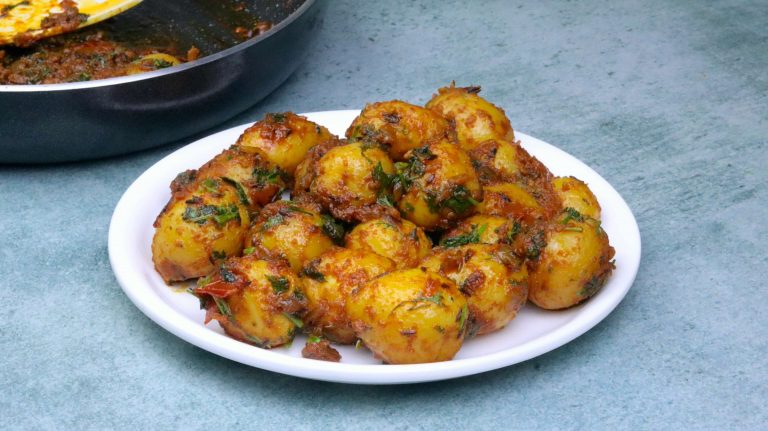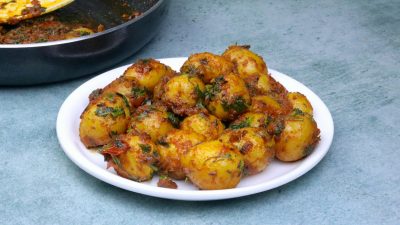 Tawa jeera aloo recipe is the answer to a universal problem of housewives called आज खाने में क्या बनाऊ? Watch the recipe video with steps.
---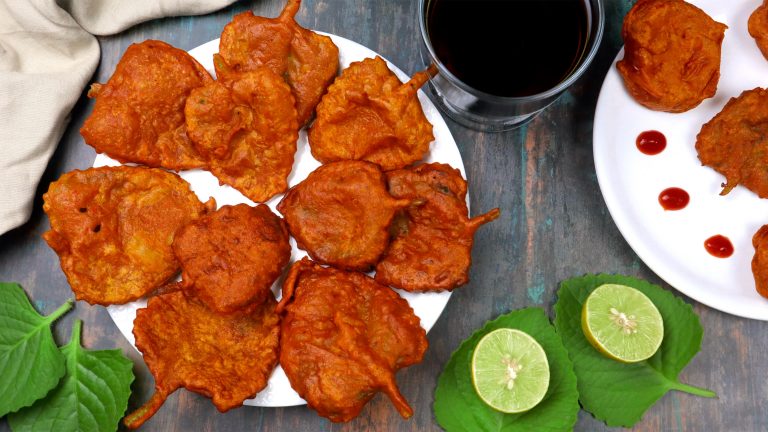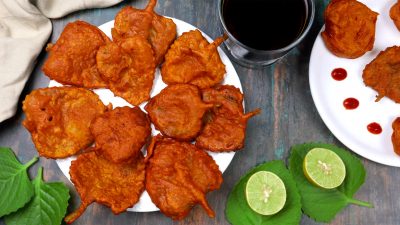 Ajwain Leaves Pakora is a crispy and tasty fritters recipe. This is an easy and quick-to-make fritter that is easily digestible.
---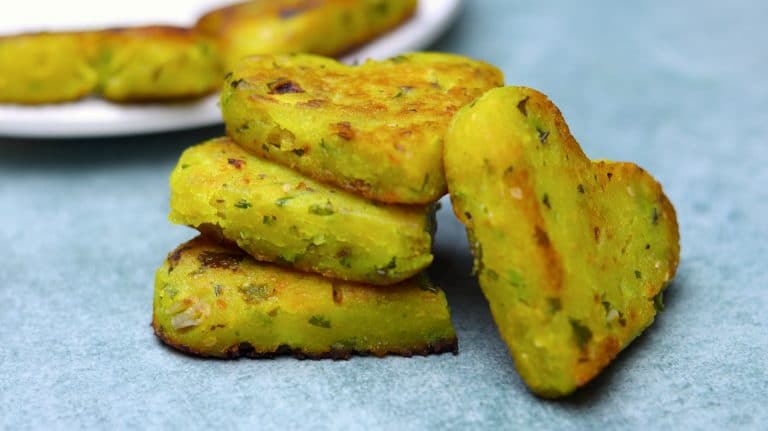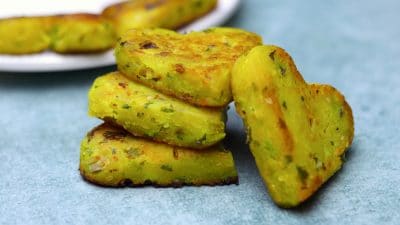 Poha Cutlet is a non-traditional snack made using rice flakes & mashed potatoes. It is spicy with a crispy layer. Watch the recipe video.
---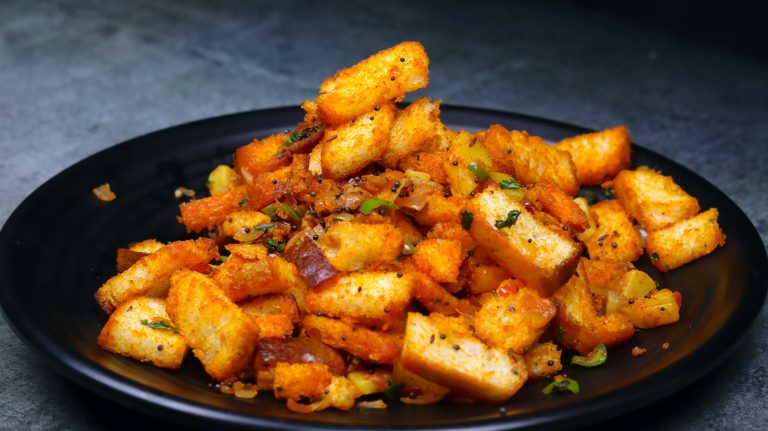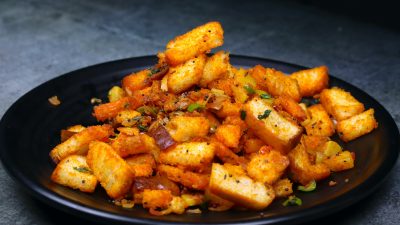 Bread Upma is easy to make breakfast recipe. It is a counterpart dish of the semolina upma and preferred tiffin recipe in South India
---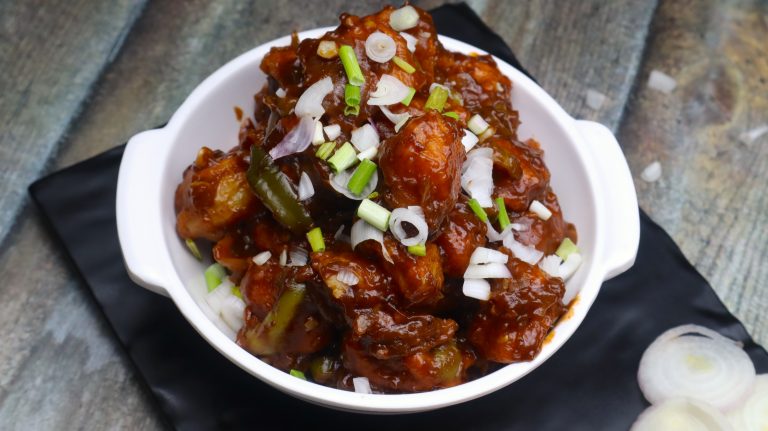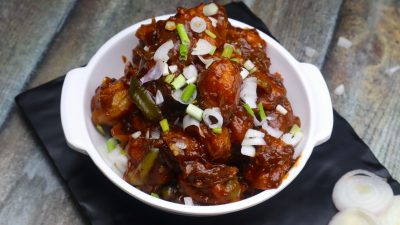 Aloo Manchurian is an interesting Indo-Chinese version of the regular Manchurian. It is an easy & much quicker recipe than the classic one.
---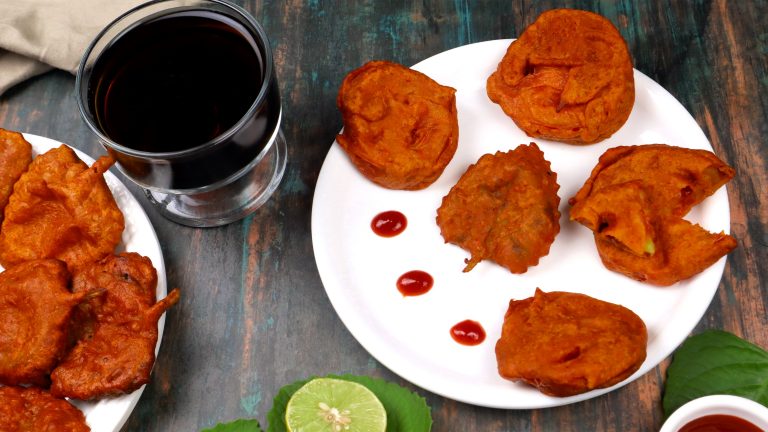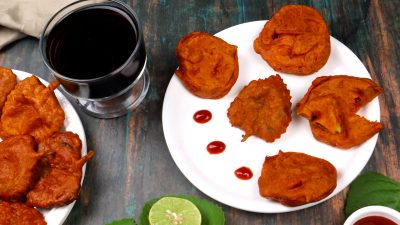 Tomato & Carom Leave Bhajiya is a tasty & deep-fried snack. It is a tasty & easy Gujarati snack recipe mainly from Surat.
---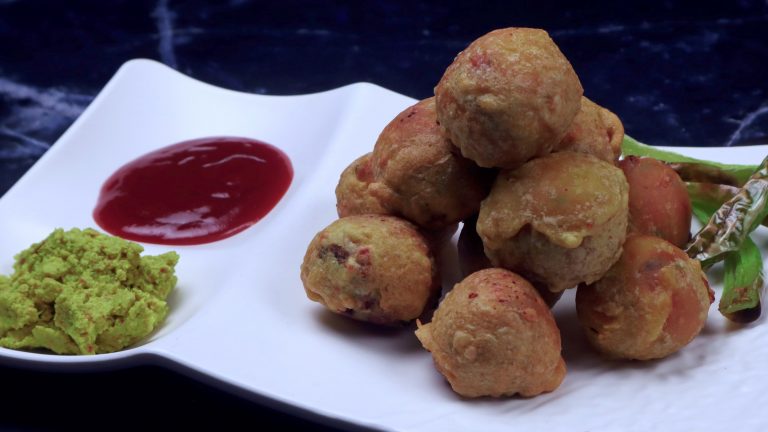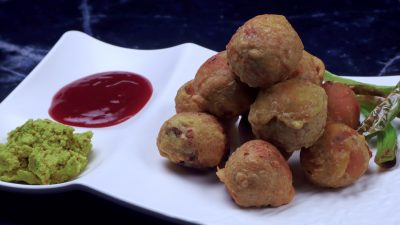 Cheese Pakoda is a delicious and cheesy variation of our typical pakodas. Watch the recipe video or download the recipe card
---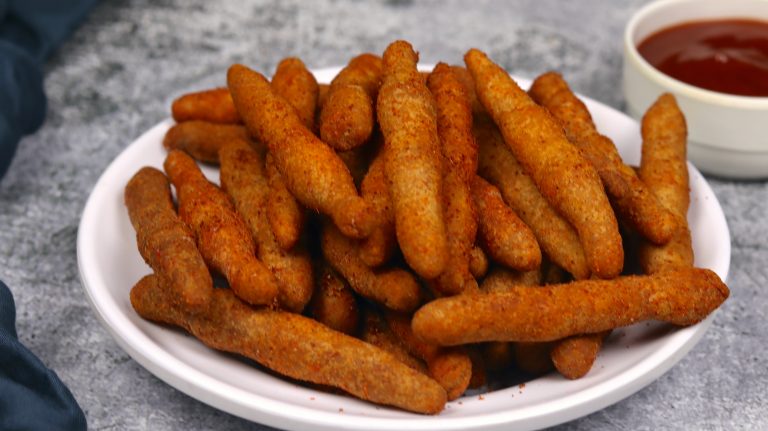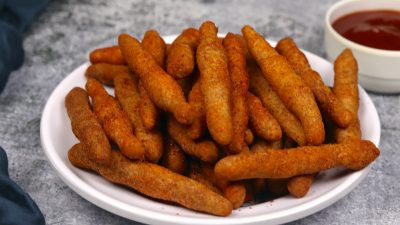 Rice Flour Sticks or Murukku is a crunchy & savoury snack recipe. It is a tasty & filling finger food to have at tea time
---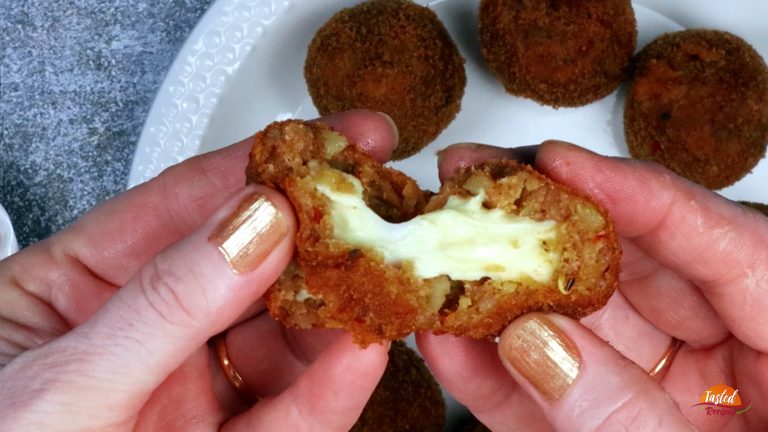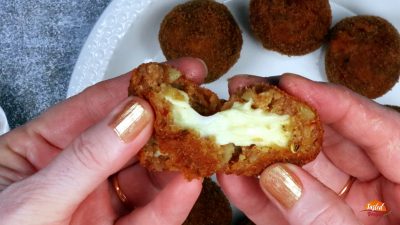 Filled with cheesy goodness, potato cheese balls are an easy-to-make snack. They are a quick & fuss-free starter recipe & extremely delicious.
---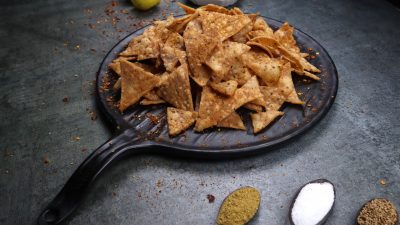 Rice Flour Nachos are our version of Mexican Nachos. Here, rice flour is a core ingredient instead of cornflour. They are tasty and crisp.
---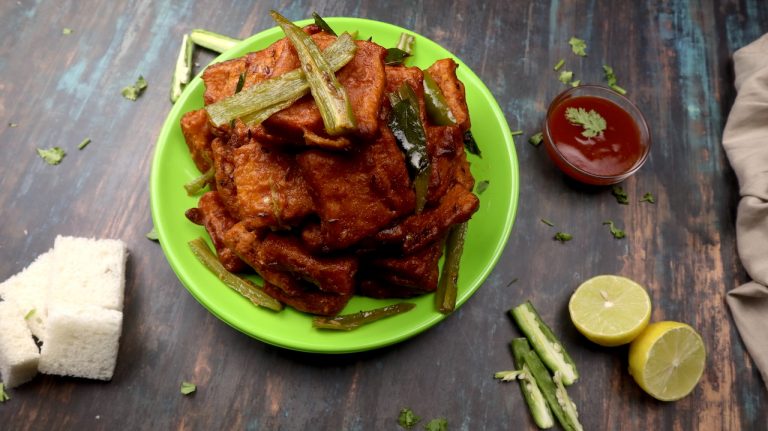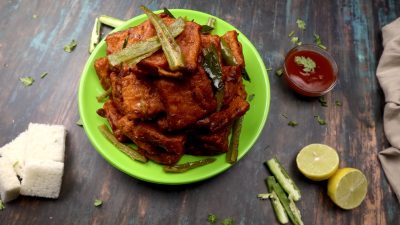 Bread 65 is an extremely delicious, quick, and easy-to-make snack recipe. Typically, paneer or gobi is used to make this, instead of bread.
---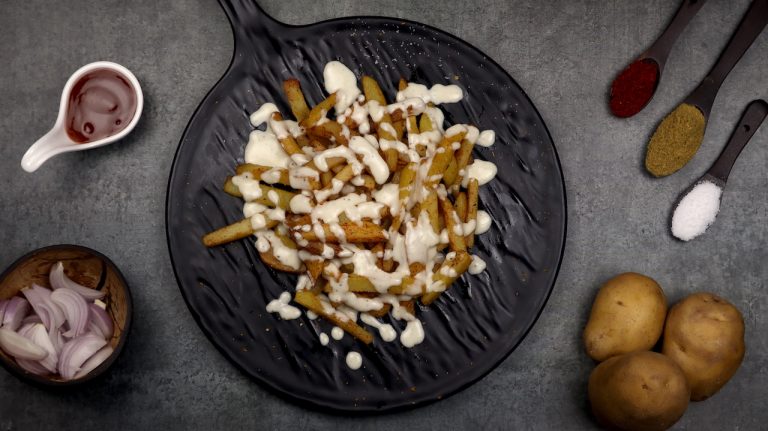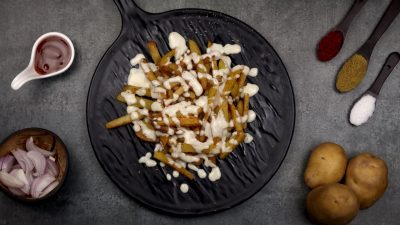 Fried Potatoes is a snack that is stick-like and deep-fried. Fried Potatoes With White Sauce is a deliciously cheesy and crispy fried snack.
---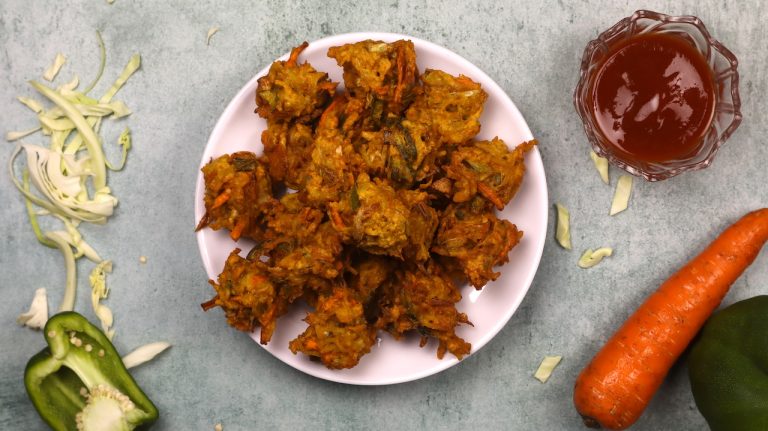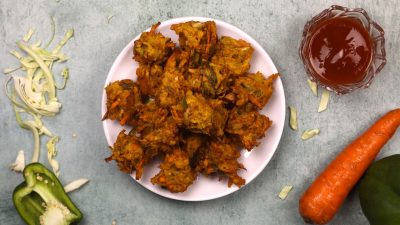 Maggi Bhajiya is a tasty and innovative version of Maggi noodles. It is a delicious, new, and interesting way to make noodles. 
---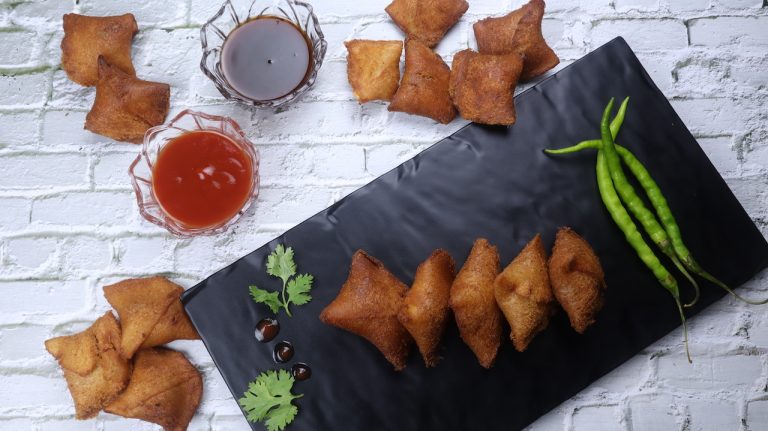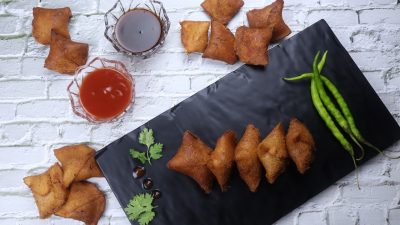 Bread Samosa is an innovative snack recipe for regular samosa where bread slices are used to make samosas instead of dough strips or sheets.
---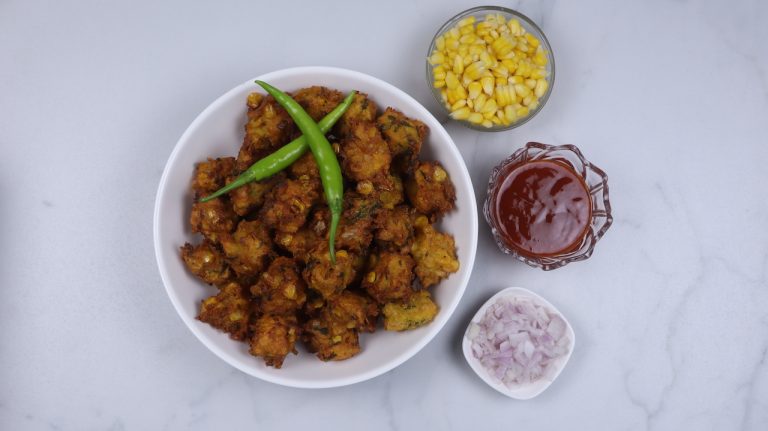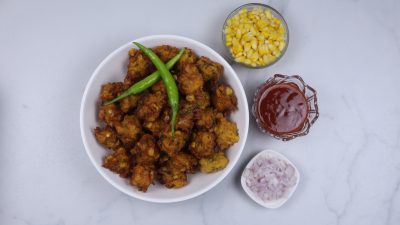 Corn vada is a deep-fried Indian snack recipe prepare with sweet corn. It's a lovely monsoon snack with spices and herbs.
---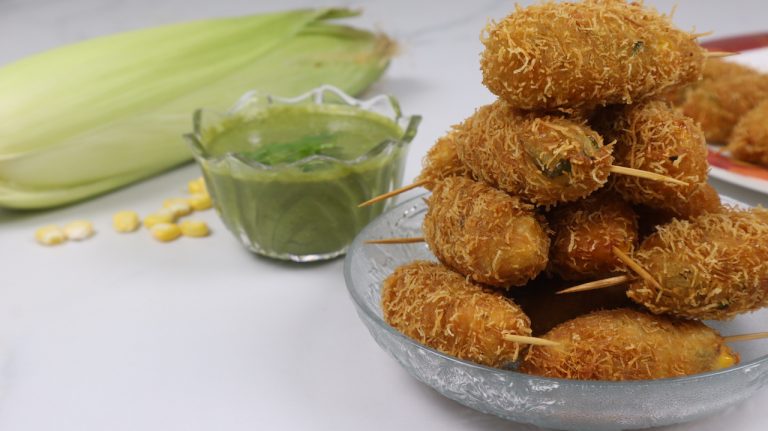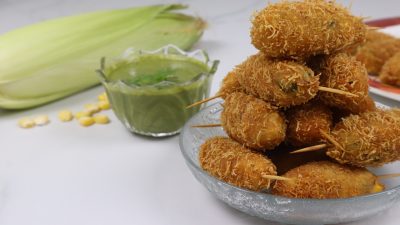 Corn Kabab is a crispy,  deep-fried, and tasty appetizer. It's a snack recipe, easy to prepare, and with home ingredients.
---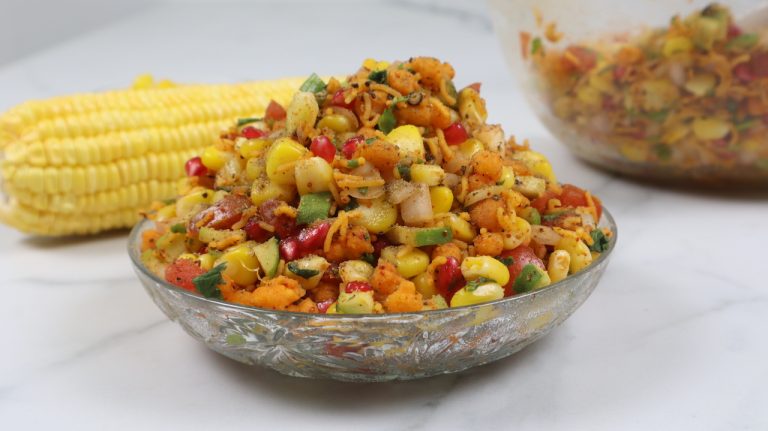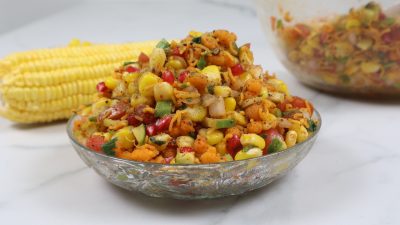 Sweet Corn Bhel is an excellent no-cook snack version of the classic bhelpuri variety. It is easy, delightful and requires less ingredients.
---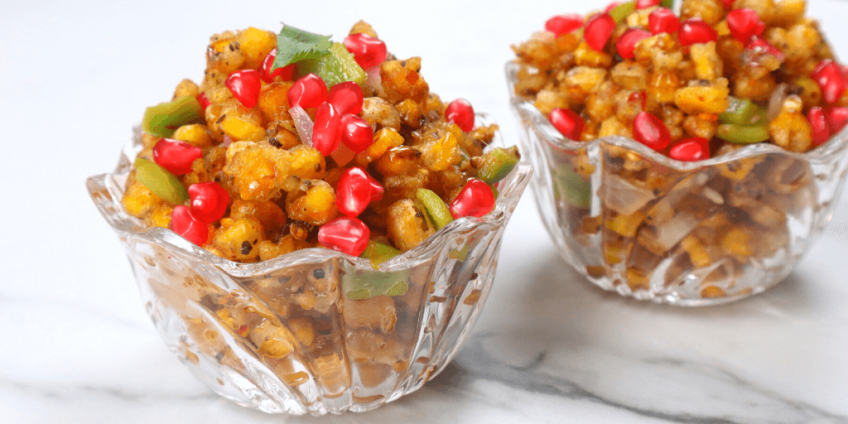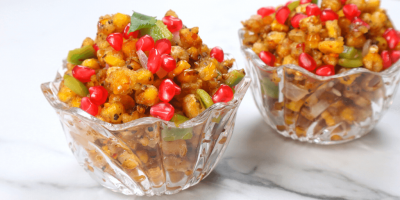 Tamarind Corn Chaat is a very unique and mouth-watering chaat recipe. It has a crunchy texture and is sweet, tangy, fiery, and spicy in taste. 
---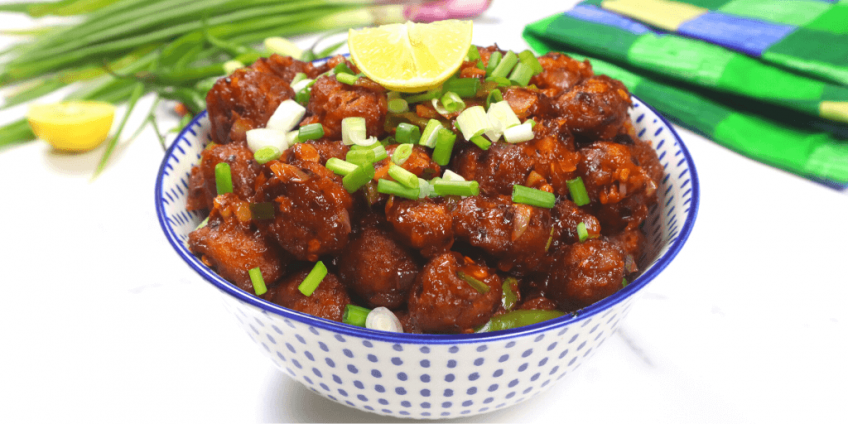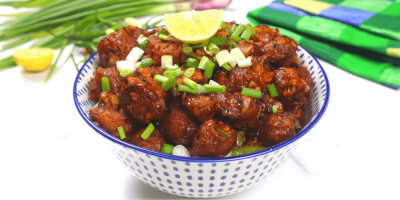 Soya Chunks Manchurian is the desi style of making authentic Chinese Manchurian. Click now to watch the recipe video or follow the steps.
---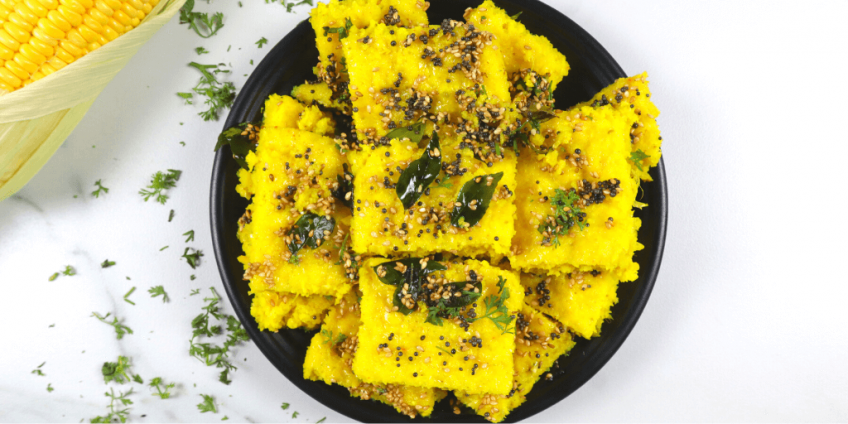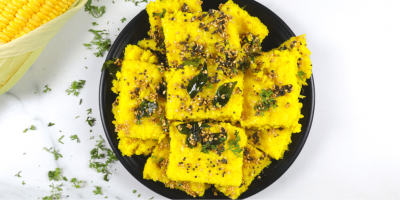 Makai Dhokla originally is a Gujarati dish that is itself prepared from maize flour. And corn kernel is ground and added in this dish.
---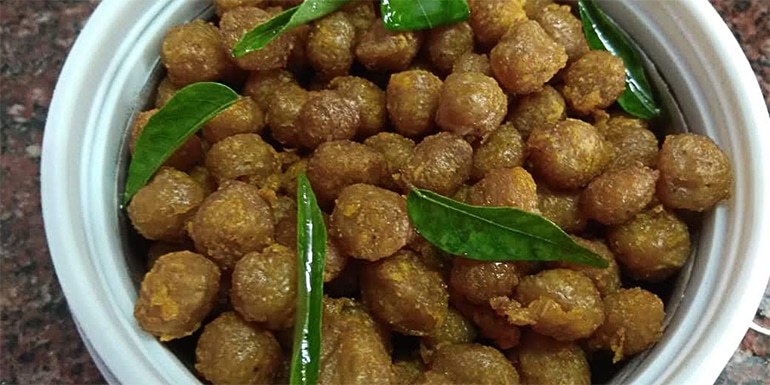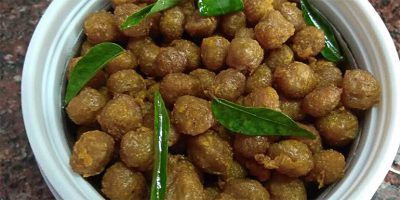 Soya chunks are a crispy and protein-rich snack. It's little spicy and completely changing the definition of healthy snack option.
---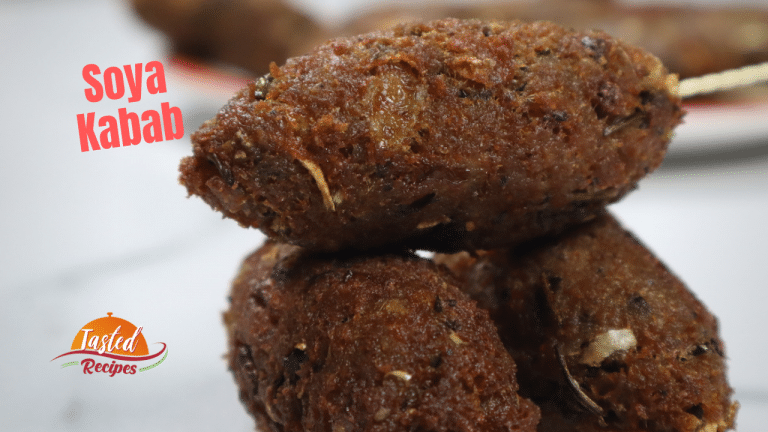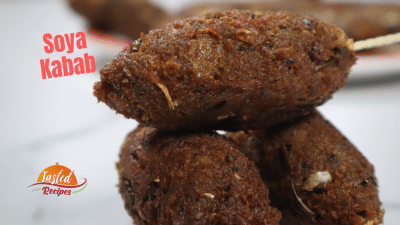 Soya Kabab is a vegetarian snack recipe made with soya chunks and seasoning. It's veg kabab that tasty and delicious. Enjoy with tomato sauce.
---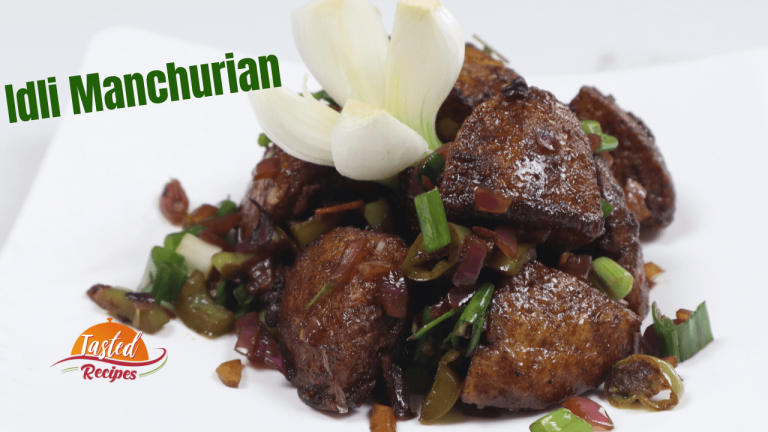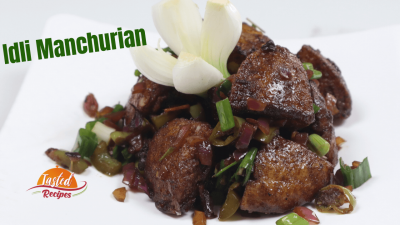 Manchurian Idli is the fusion of Chinese and South Indian cooking. Idlis are made into dumplings and simmered with Chinese sauce and sauteed vegetables. 
---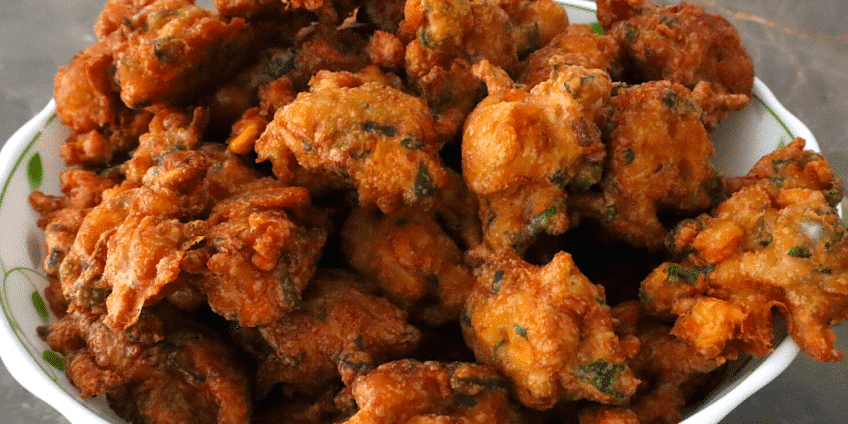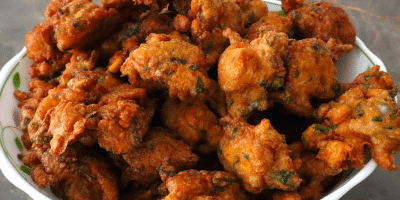 Corn Fritters are amazing snack items made of corn. It's crispy, deep-fried and tasty. A perfect savory fritters - quick and easy to make.
---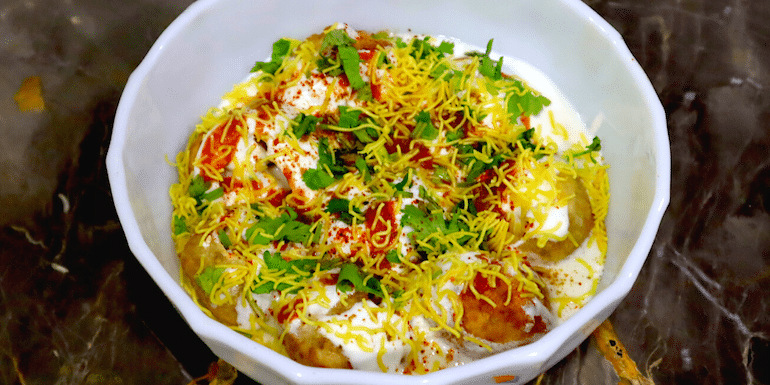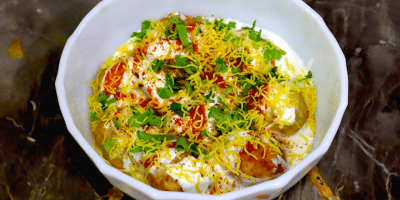 Dahi Batata Puri Chaat is a scrumptious snack recipe every Indian loves. It's a delicious chaat recipe that you will lick your fingers.
---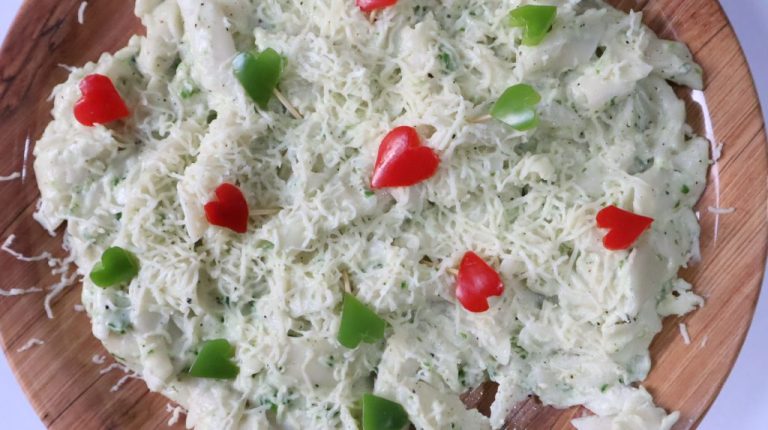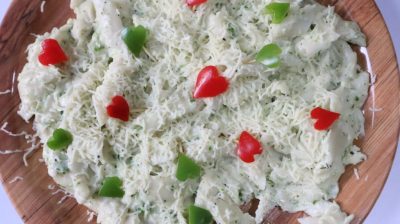 Spinach Alfredo Macaroni is a delicious and hearty dinner idea to make your loved one flooded with extra cheesy flavor.
---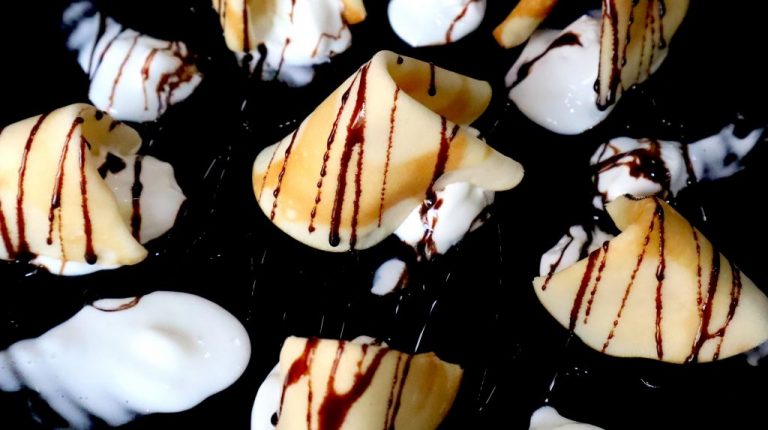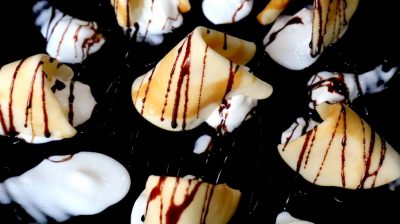 Fortune Cookies, an easy dessert made with home ingredients. Fill it with your personal messages and serve it with Vanilla ice cream and chocolate sauce.
---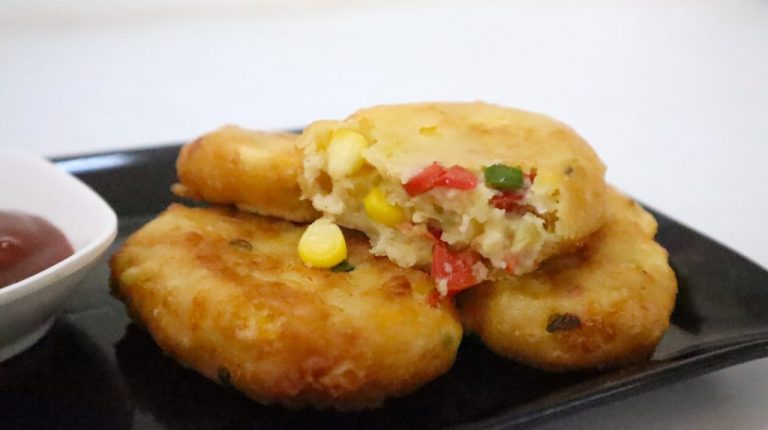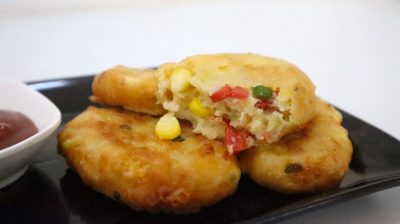 Corn Cutlet or Sweet Corn Cutlet is a mouth-watering and yummy veg appetizer made with simple ingredients and gets ready in less than 20 minutes.
---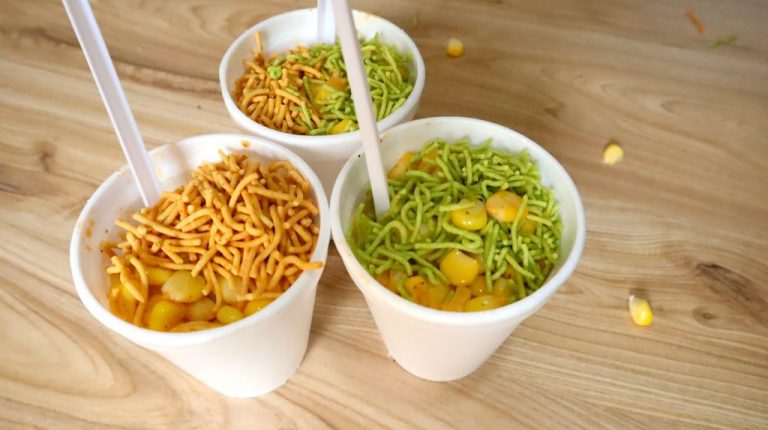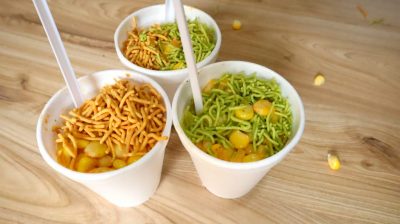 Chatpata Corn Chaat is a popular street food which you can find almost in every city of India. A kid pleaser and youngsters will surely love it.
---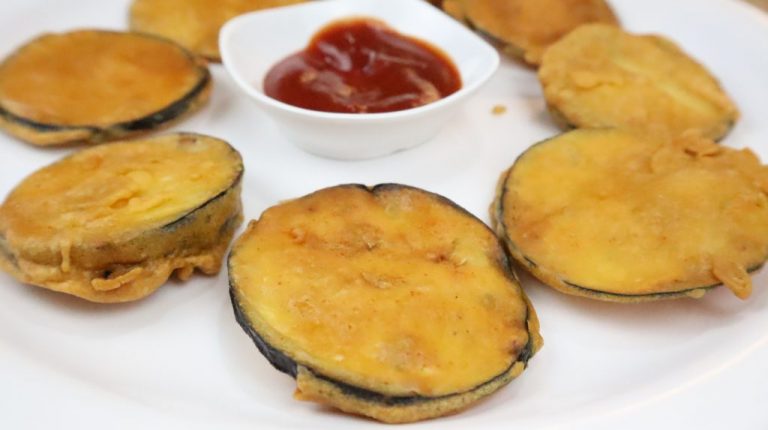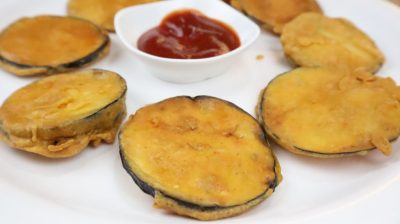 Brinjal fritters are an amazing snack recipe which crispy outside & soft inside. It tastes delicious and perfect for your evening snack time.
---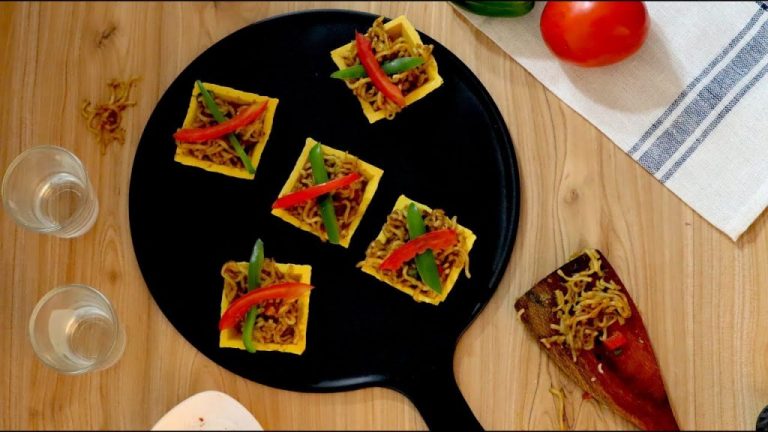 Maggi canapes are a new-age dish for kids & teens. It's crunchy, sizzling, soupy food that you can enjoy in your home or for a party.
---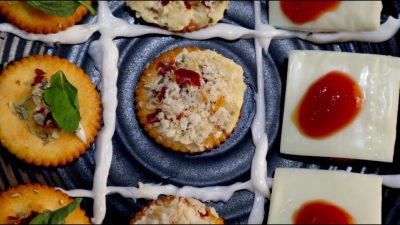 Monaco biscuit canapes are no-cook recipes for your snack ideas. These are small and usually decorative finger food.
---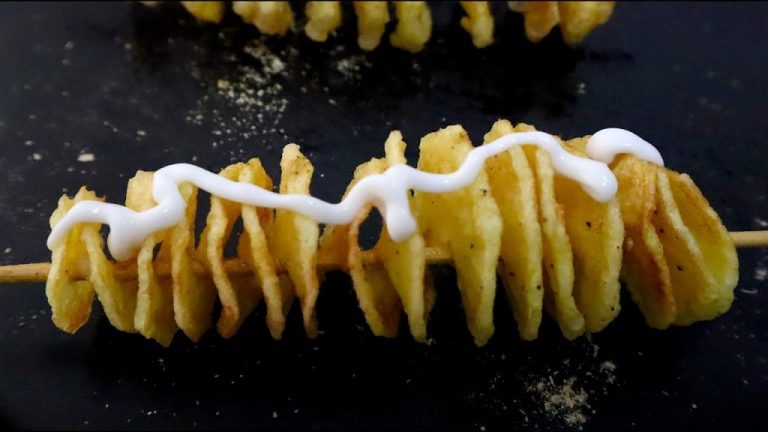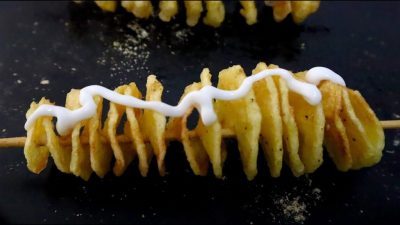 Potato Spiral has all kinds of masala taste and crunchiness. It is a famous street food recipe, especially for kids & teens. 
---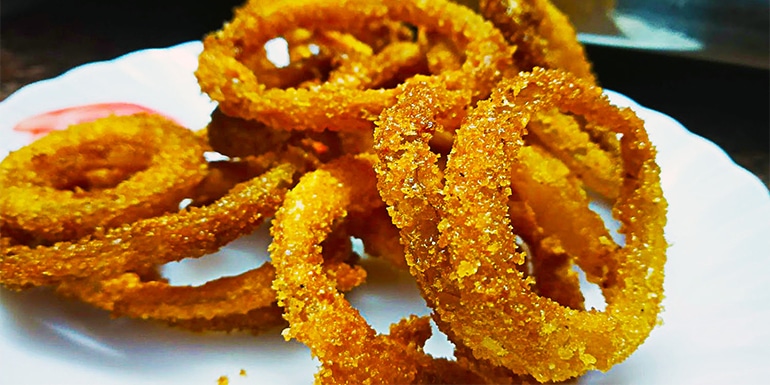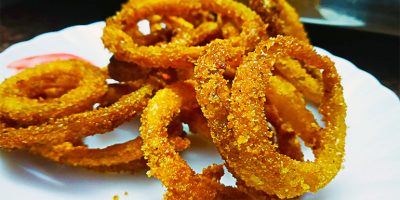 Crispy Onion Rings are a type of appetizer or side dish from British & American cuisine. These are also known as French Fried Onion Rings.
---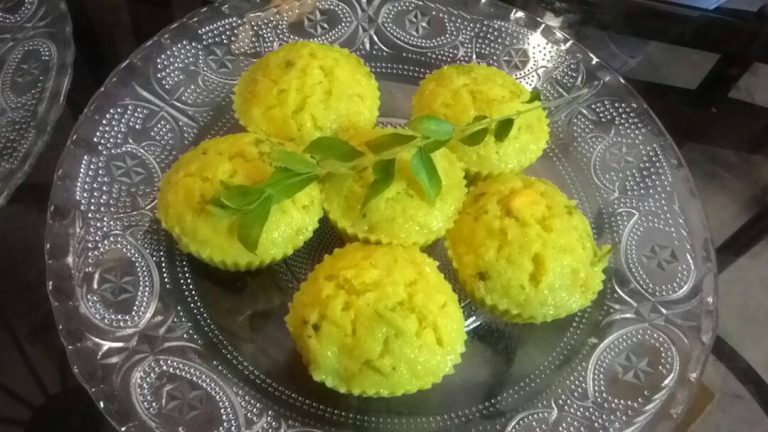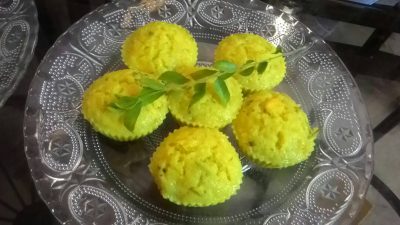 When we hear the word muffins, sweet feelings come to our mind. But these Spicy Muffins recipe will now make you ask this question "sweet or spicy?".
---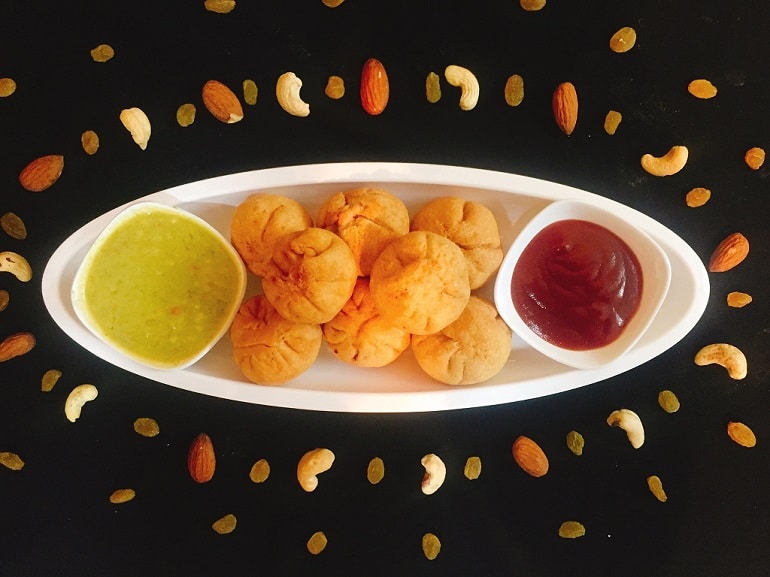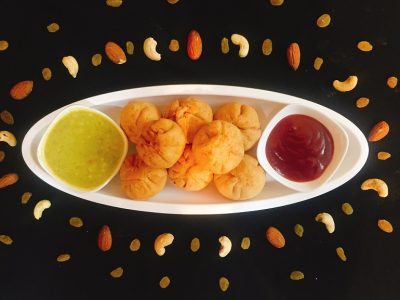 Dry fruit Kachoris are small balls of maida stuffed with a grounded moong dal, dry fruits, and Indian spices. Sweet & sour inside and a crunchy outside.
---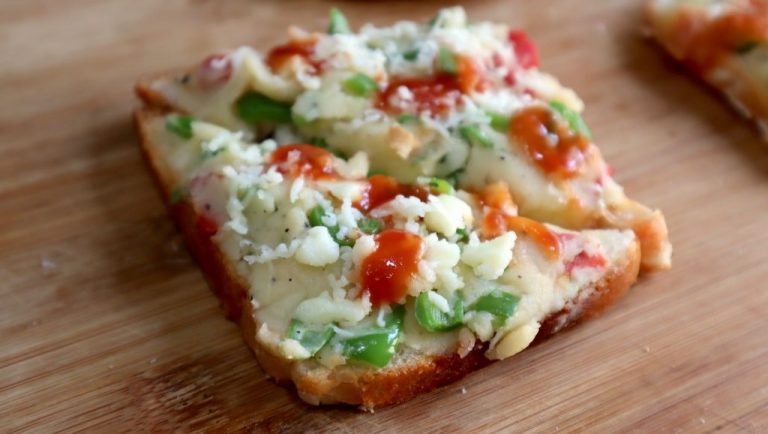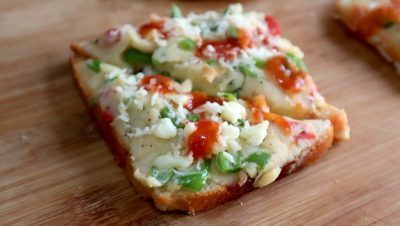 If you don't have time to prepare the pizza dough and want to make some delicious food in no time Veg Bread Pizza is a great choice for you.
---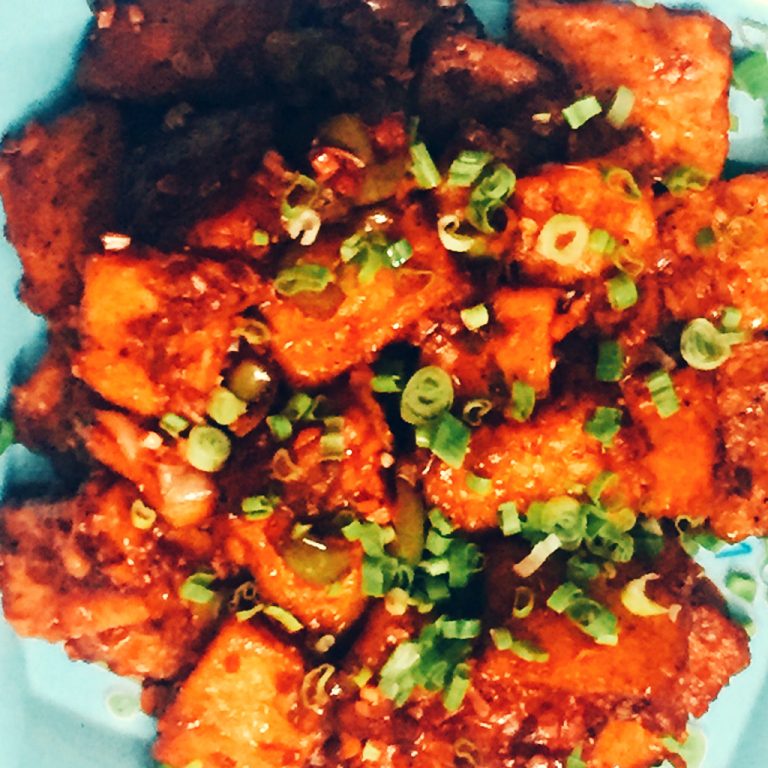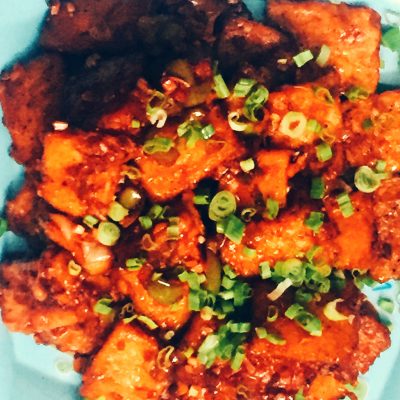 Bread Manchurian is a super easy, innovative and tempting snack recipe for tea time or munching at any time. It can be made with simple at home ingredients.
---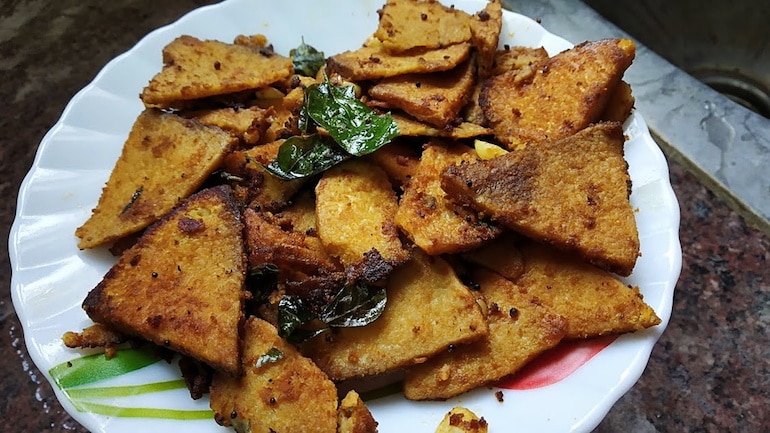 This Elephant foot yam recipe is simple & easy to make. This goes well with curd rice & Rasam (like tamarind soup). If you like, try deep fry method also.
---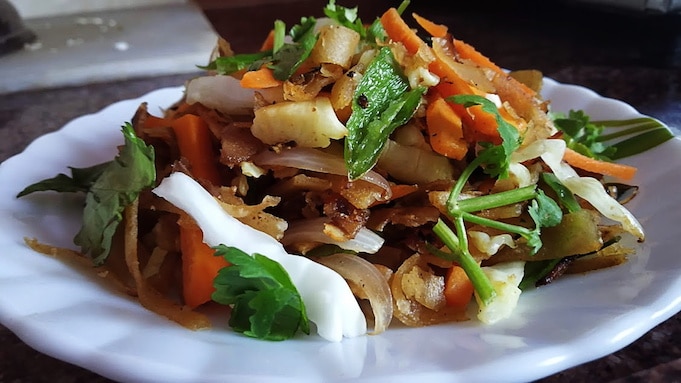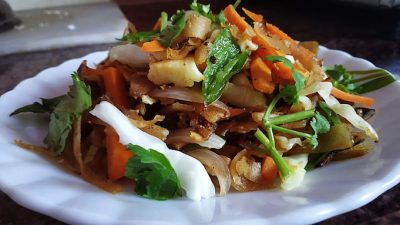 Chapati Ribbon Noodles Recipe is a simple and healthy eye attracting quick recipe. It's a great idea to reuse your leftover chapati.
---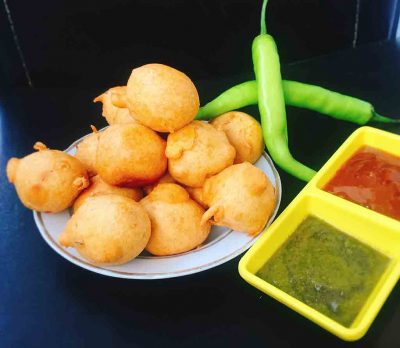 Bataka Vada is an authentic Indian Gujarati Fast Food, a favorite snack of all Indians. Simple, quick and easy snack recipe, made with ingredients that are easily available at home. You just need potatoes, salt sugar, turmeric and some additional spices. That's it. Tastes awesome when served with Tamarind/Mint Chutney.
---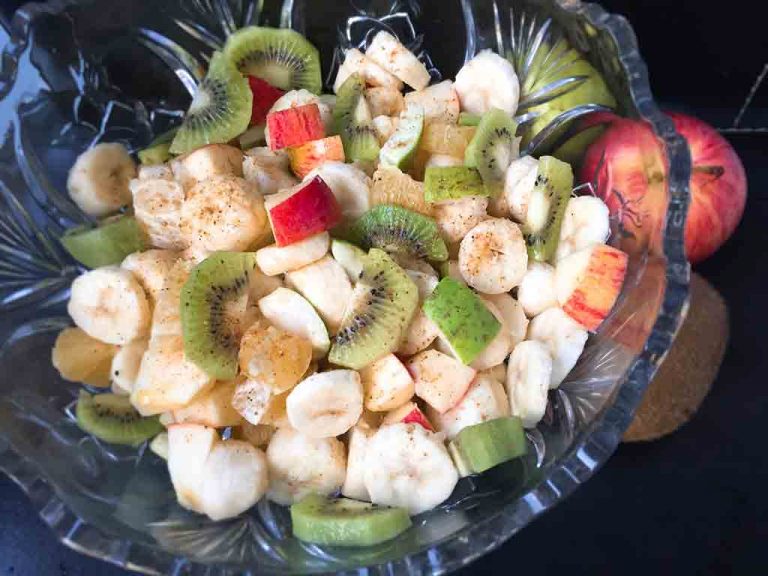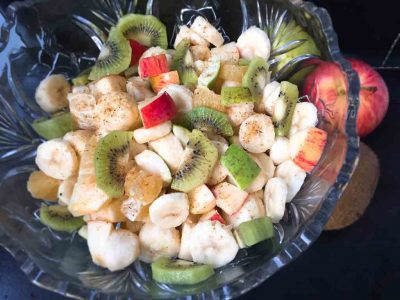 Fruit chaat is a delicious and refreshing salad and iftar fruit dish, made by combining juicy fruits with Salt, Honey, Chaat masala and Black Pepper. It is the perfect summer delight and must-have dish on iftar table. It will brighten up any meal and can be eaten at any time of the day.
---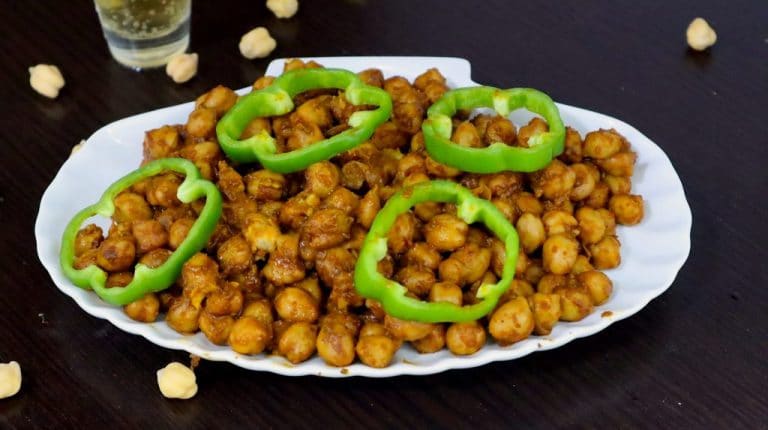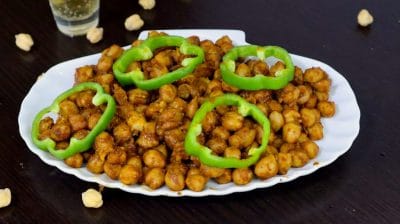 Spicy Memoni Cholay is a very traditional Ramadan recipe prepared for iftar at every Memon's house. Simple ingredients and easy to make.
---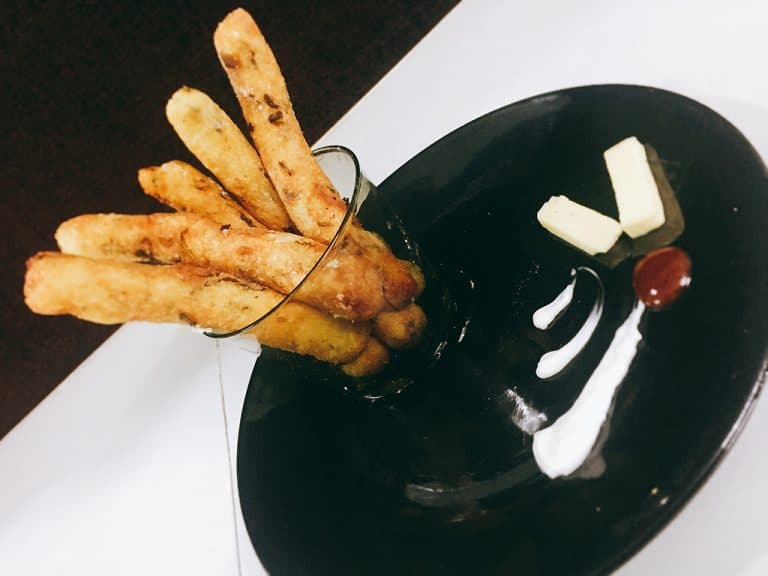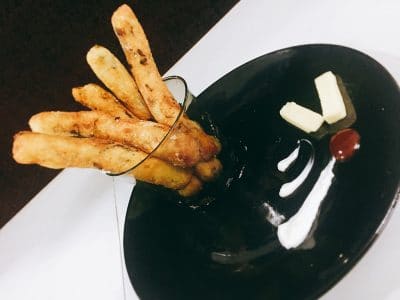 Crispy Potato Fingers is an easy-to-make veg cuisine made with potato, suji, and coriander leaves. Crunchy outside and tender inside
---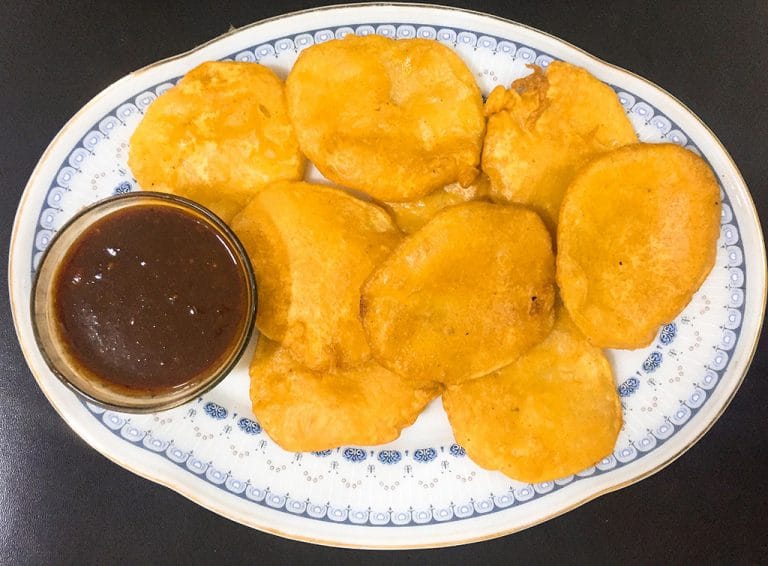 Surti Bataka Puri is all time favourite snack option for people of Surat. It is usually served as a tea snack & a special snack in the monsoon.
---
Easy Non-Veg Appetizers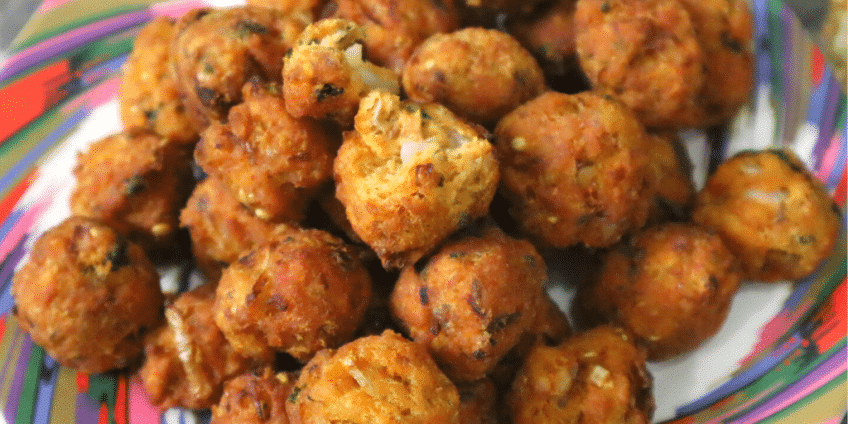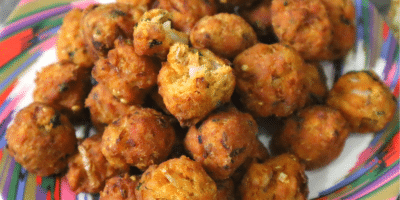 Fish Kabab is an amazing recipe and best for seafood freaks. Crispy, spicy and soft inside to impress your loved ones. Serve with green chutney and salad.
---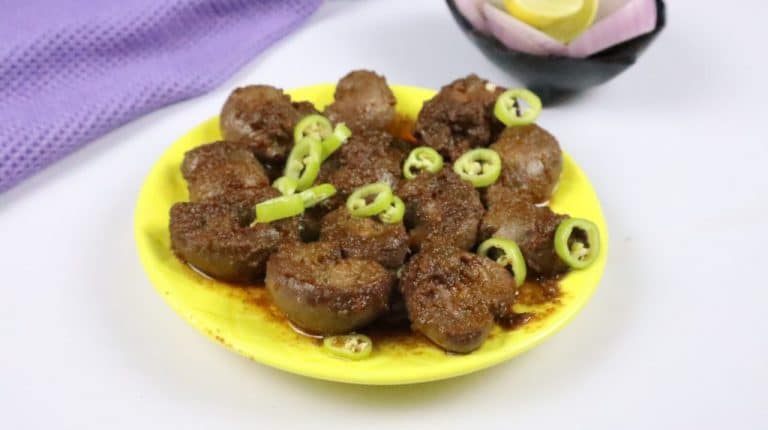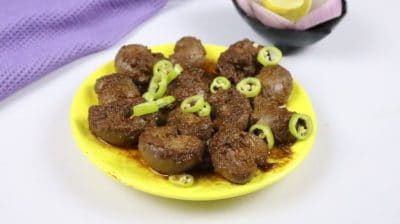 Tawa Gurda Masala is a simple and flavoursome mutton recipe. It's a mouth-watering dish served during special occasions, especially Eid.
---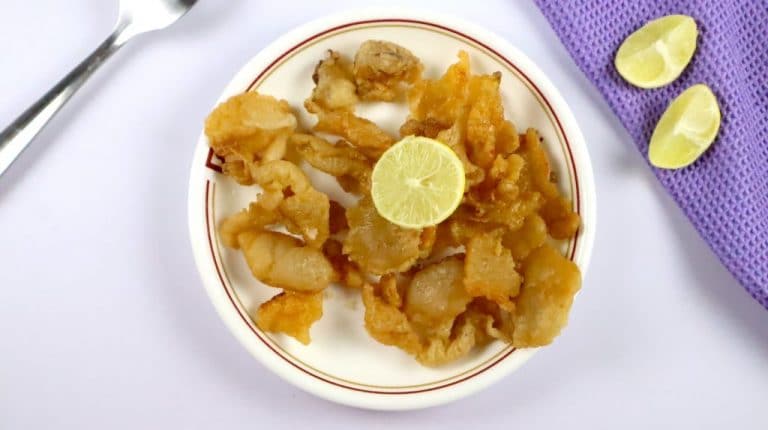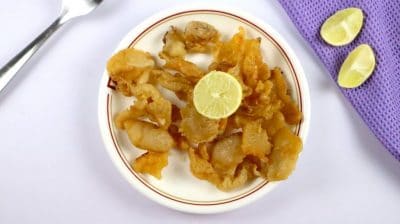 Goat fat fry is one of the healthiest forms of mutton recipes. It is ready in quick time and appreciated by a lot of mutton lovers.
---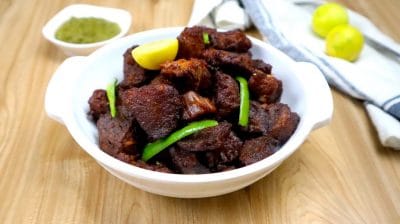 Mutton 65 is a delectable Indian side dish prepared at home with easily available ingredients. The mutton 65 batter is the charm of this recipe.
---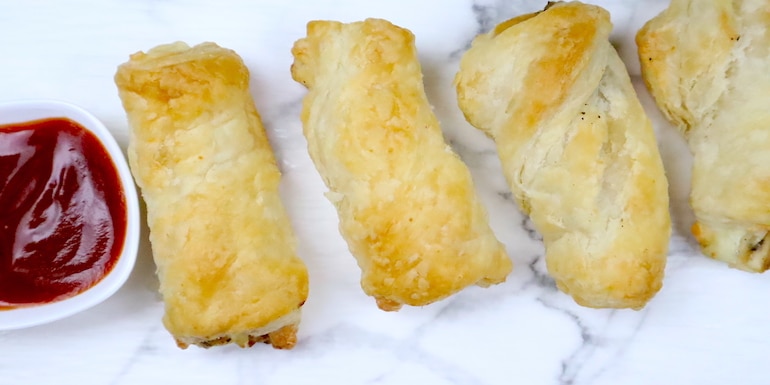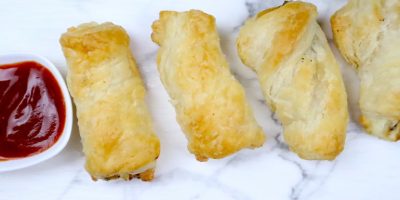 Twisted puff pastry filled with cheese and chicken with herbs makes it an elegant appetizer. Make a new appetizer this Ramazan.
---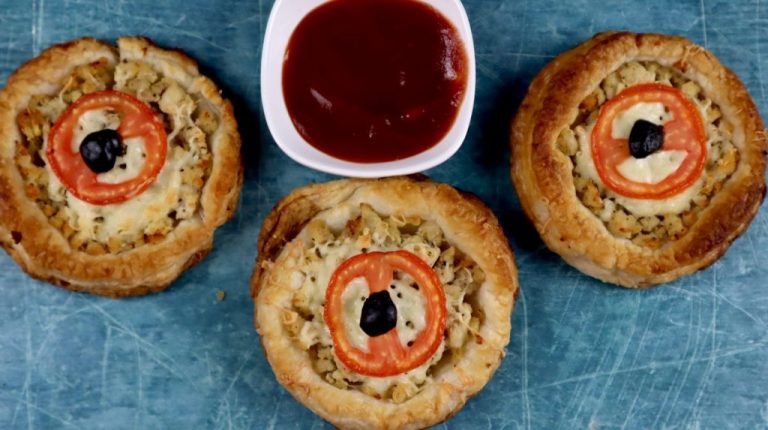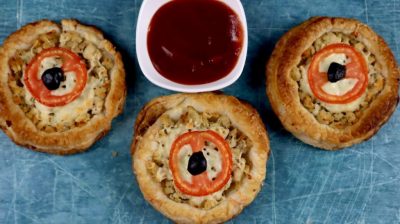 Mini chicken puff pizza is a quick & easy appetizer for Ramazan. Ready in 30 minutes, it's great for iftar, tea-time snacks & parties.
---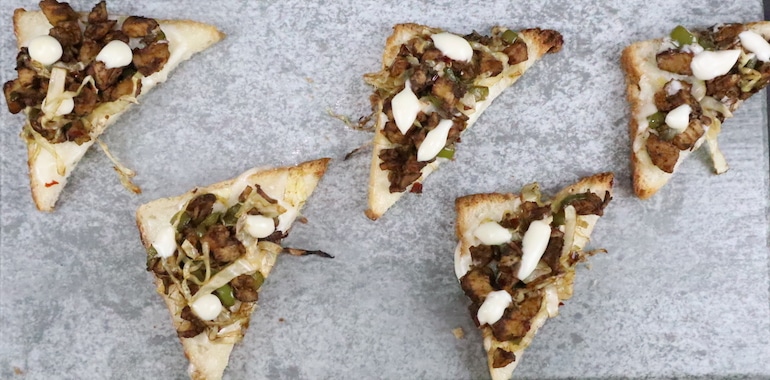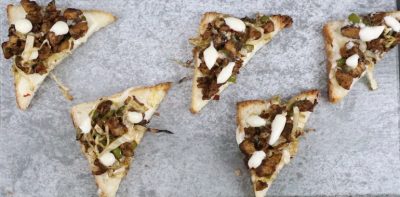 Chili chicken open toast is amazing Chinese flavour toast which loved by all ages. It has a unique sweet & sour taste served on open toast. It is best for evening munching and some served in parties.
---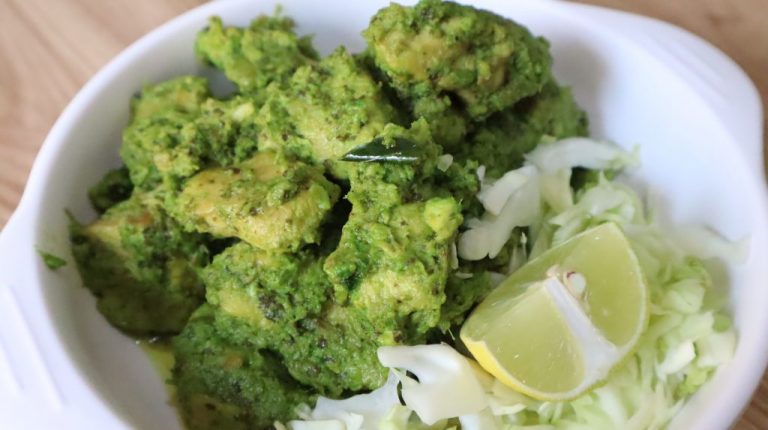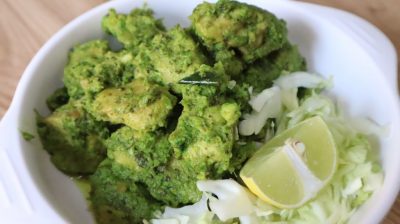 Hara bhara chicken tikka is a mouth-watering appetizer to serve. It is an exotic dish with spices & tanginess of coriander, mint & lemon.
---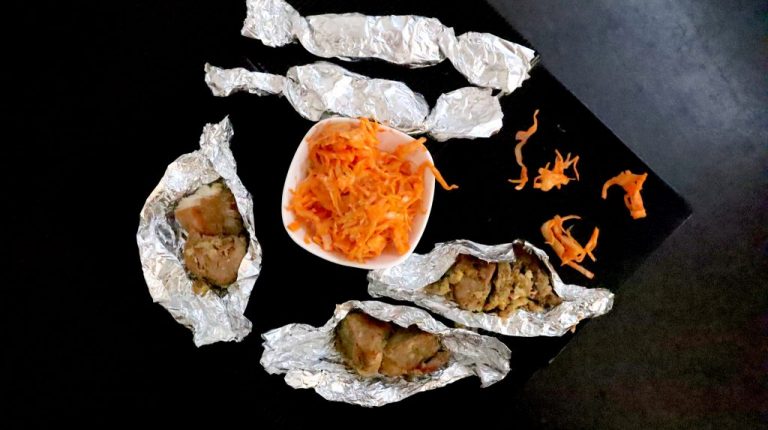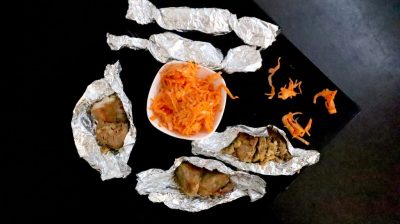 Chocolate chicken tikka is a very succulent dish with a unique fusion of soya sauce, red Chili sauce & cashew powder. The taste is tender & juicy.
---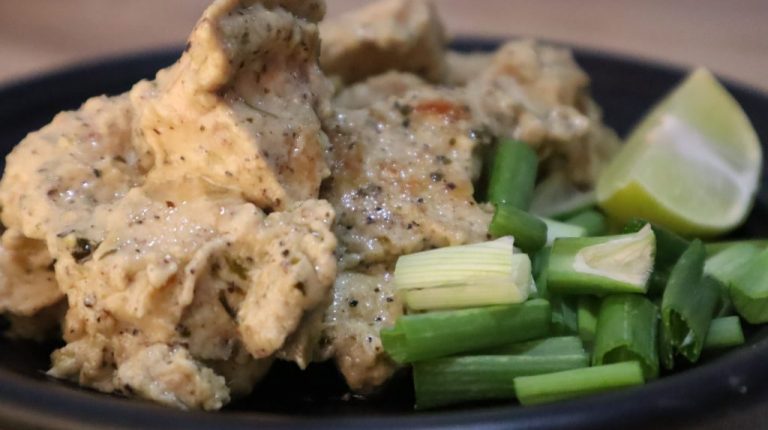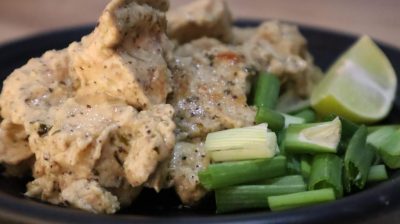 Malai chicken tikka is a creamy appetizer for your hungry stomach. The malai plays a major role as it is made of cashew powder, curry leaves & curd.
---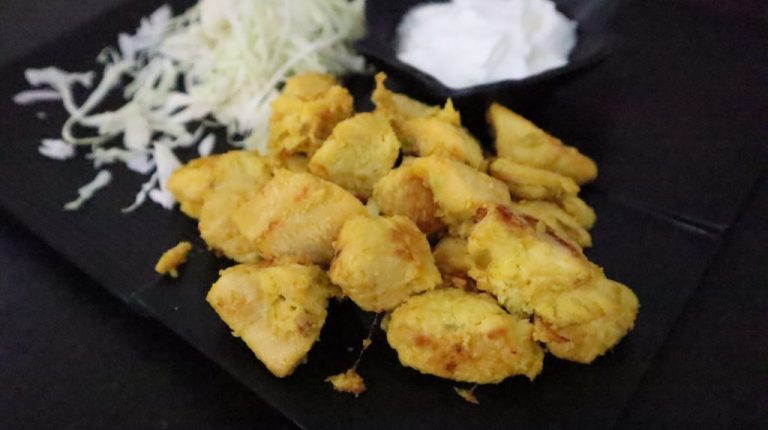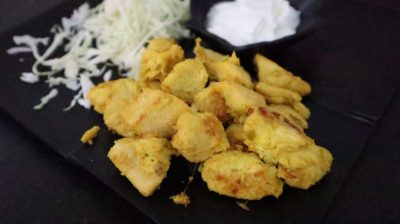 Saffron chicken tikka is a unique recipe in taste. The tikkas are just so perfect & tender cooked in soaked saffron. It is easy on the stomach.
---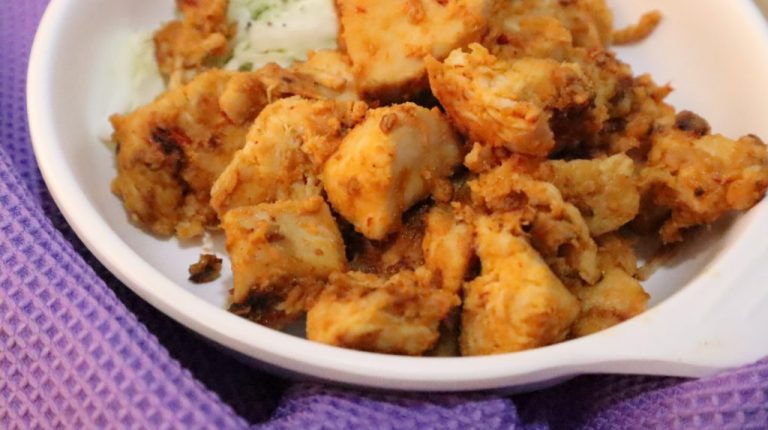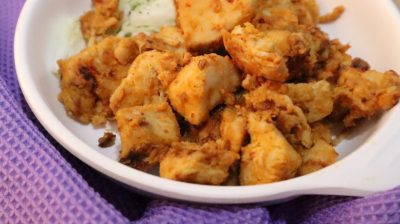 Schezwan chicken tikka is a spicy and flavoured dish, easy to make at home. An amazing modern age millennial appetizer going to win teens & kids' heart.
---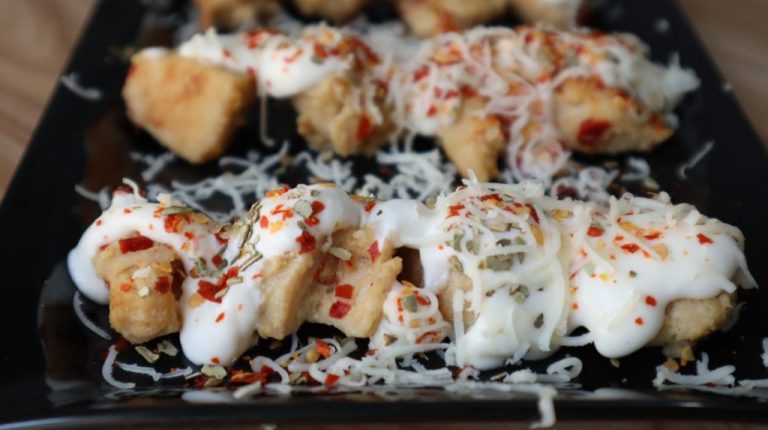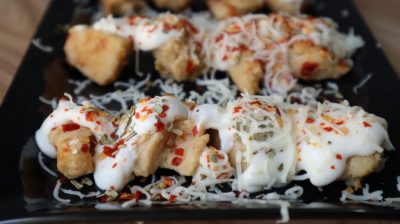 Cheesy chicken tikka is a party appetizer which just melts in the mouth. The taste is incredibly cheesy and yummy. The texture is creamy and tender.
---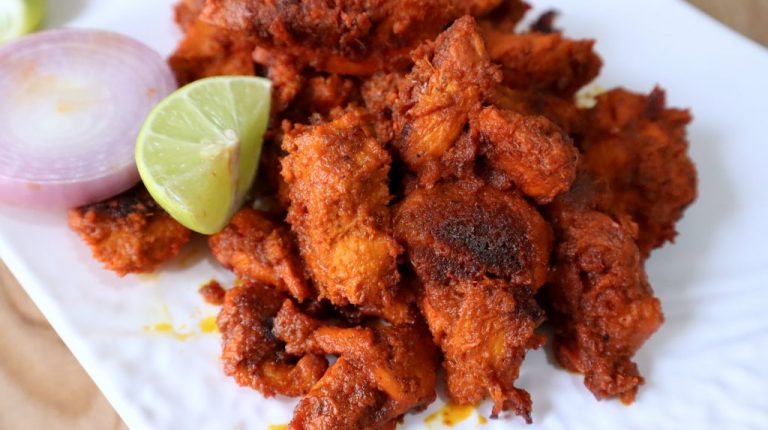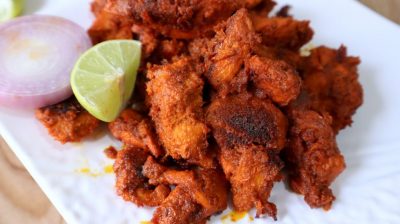 Tandoori Chicken Tikka is a delectable appetizer or starter dish. It has gained most love from all ages in Indian cuisine. It is spicy & has tangy taste.
---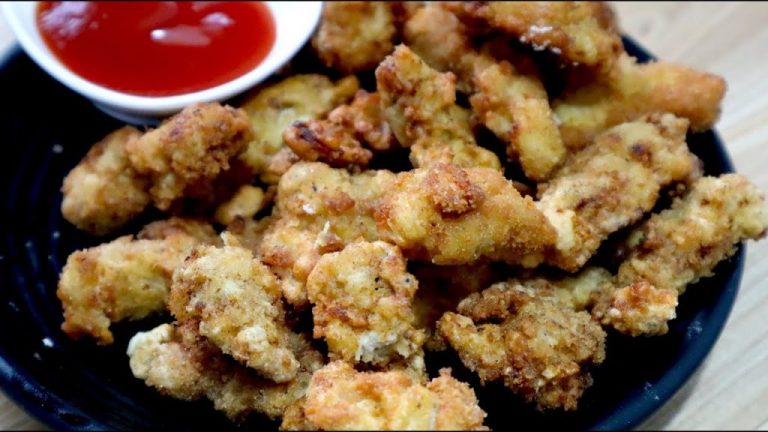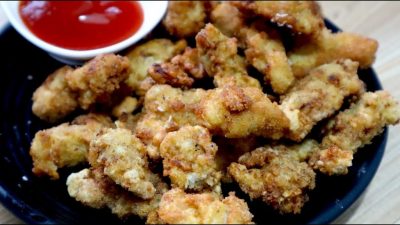 Crispy Chicken Fingers is a perfect party appetizer and a tummy filler. Tender from inside and crispy from outside. These pieces will melt in your mouth.
---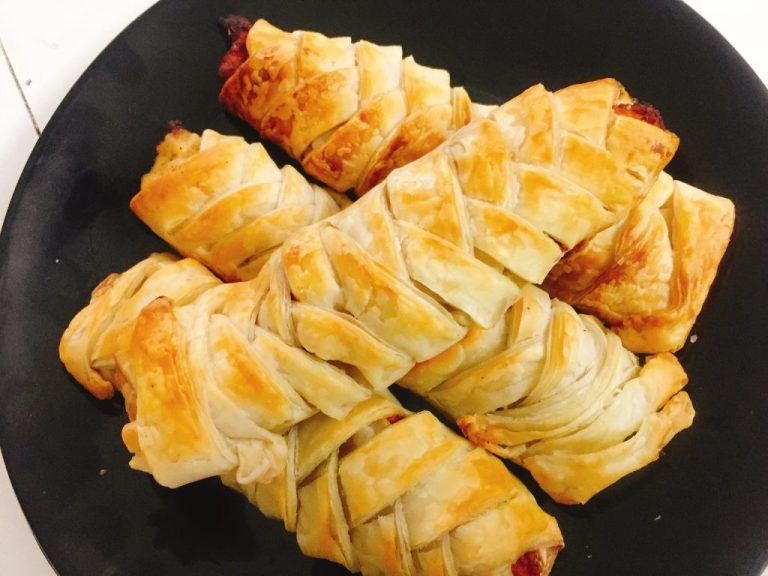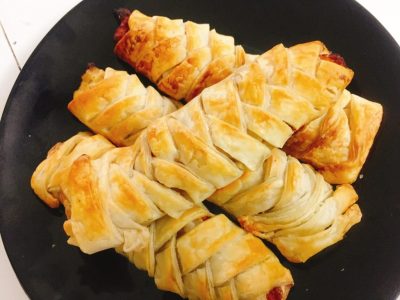 Chicken Pastry Roll is an appetiser made with ready puff pastry sheets and stuffed with cooked boneless chicken.
---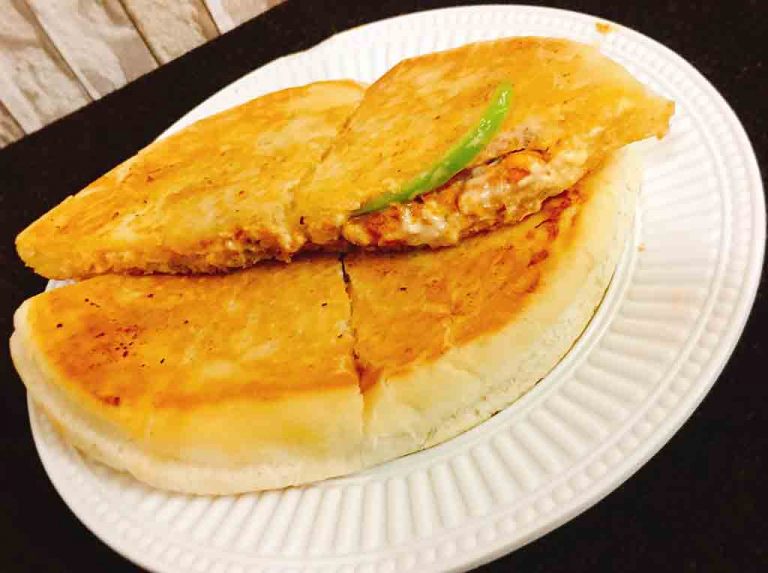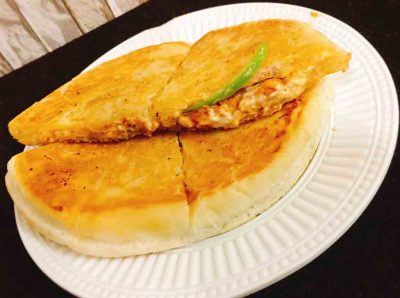 Pocket Pizza is an easy snack recipe made with readily available pizza base and filled with your favorite veg or non-veg filling with mayonnaise and sauces.
---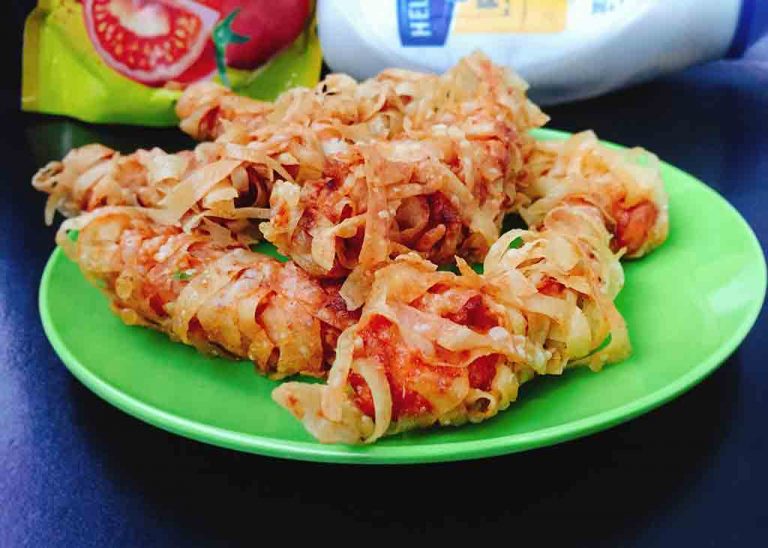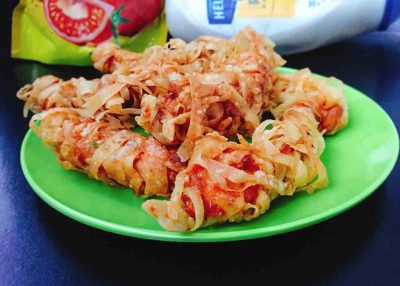 Crispy Thread Chicken is crispy and juicy chicken with a delicious taste, Chicken rolled in strips of samosa wraps. An easy-to-make Chicken starter dish.
---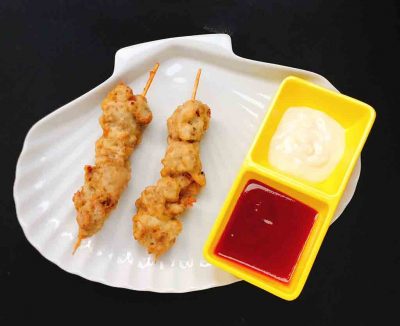 Crispy Chicken Sticks are yet another variety of kebabs with a mild, creamy taste that will surely blow your mind. Made with boneless chicken, fresh cream, cashew powder, ginger garlic paste, greek yogurt, lemon, breadcrums and eggs. In Ramadan, we need a variety of different starters and dinner food ideas for iftar.
---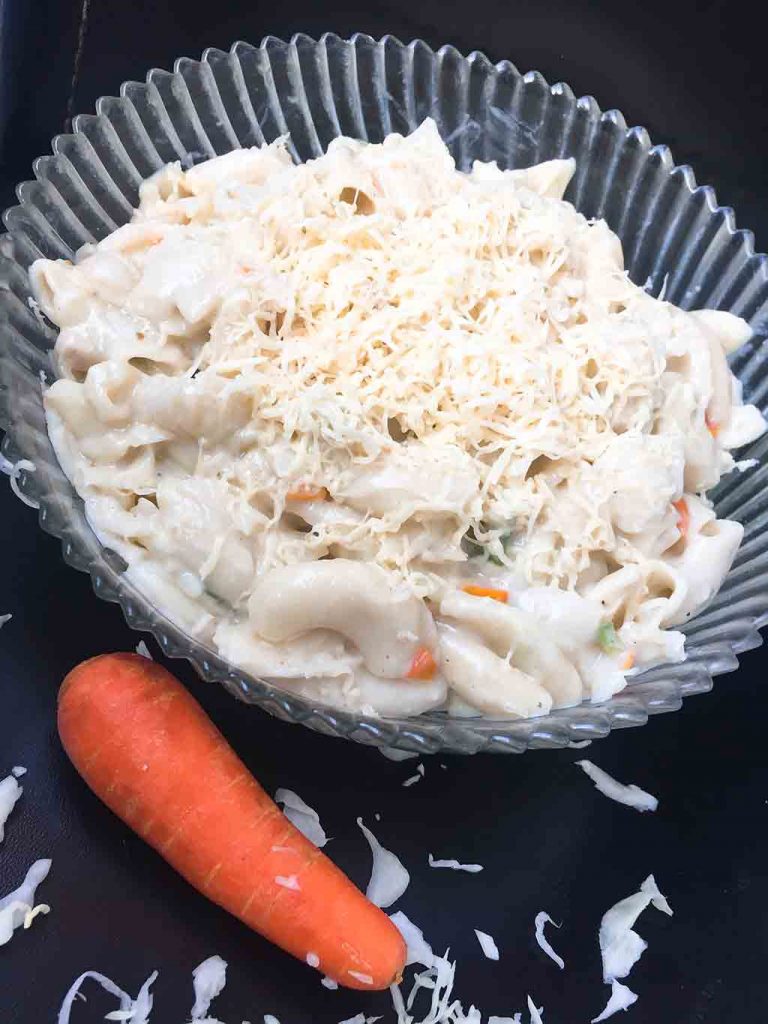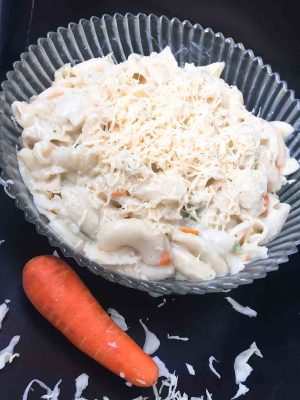 Chicken Alfredo Macaroni or Alfredo Pasta is a creamy and cheesy Italian recipe that will surely blow your mind. This Macaroni is very simple, no-fuss and easy recipe that you can make at home with very little ingredients. You just need plain macaroni, butter, maida (all purpose flour), some veggies, milk, and cheese.
---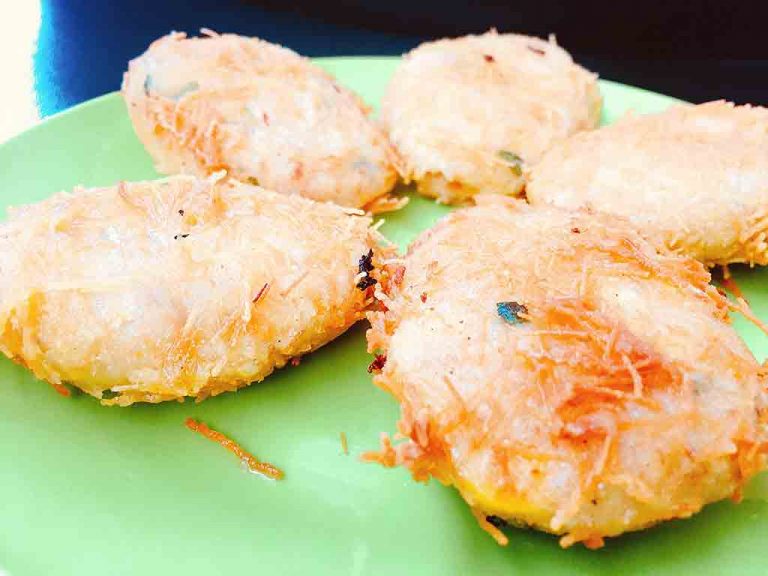 Chicken Corn Cutlet is a healthy, nutritious and delicious snack and appetizer that is really easy to prepare and mild on the stomach. Made with boneless chicken, boiled sweet corn, milk, maida (all purpose flour) and other at home ingredients. Mouthwatering, yummy snack loved by all, especially children.
---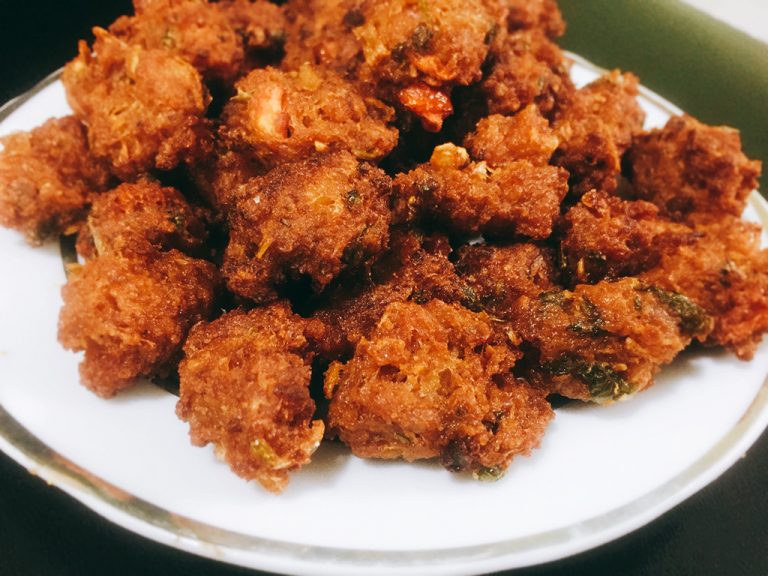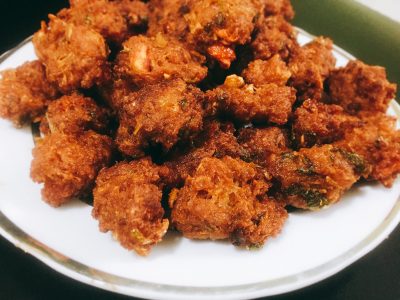 Memoni Kabab is a famous memoni starter recipe enjoyed with mint chutney, tamarind chutney, yogurt or ketchup. Here is the recipe for memoni kababs.
---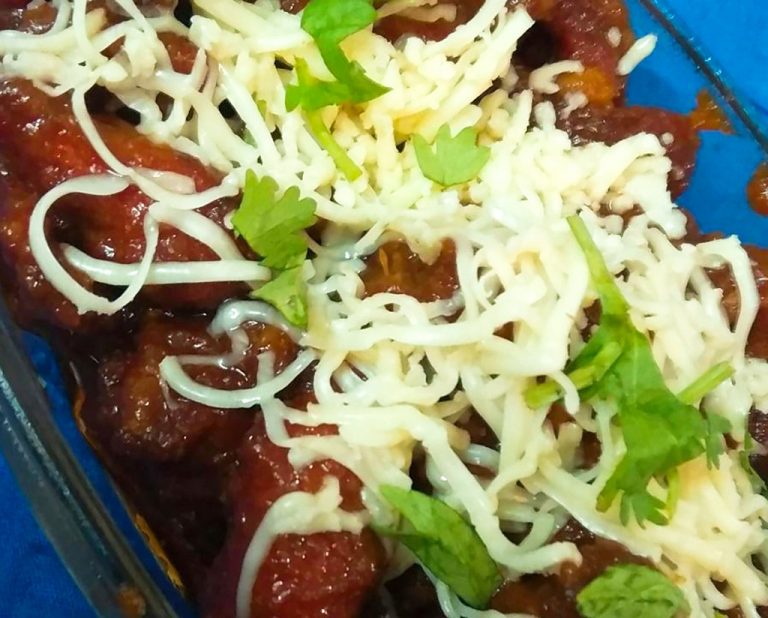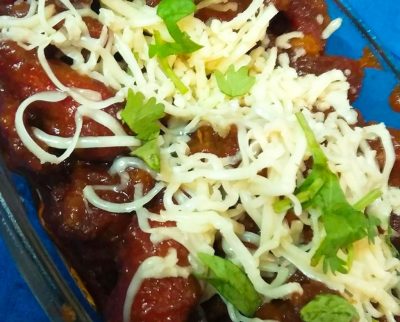 Appetizing Kurkure Chicken is a saucy and crispy starter that makes your taste buds crave for it again and again. It is made with boneless chicken, maida and chinese sauces. The tangy taste of this recipe will make you fall for it.
---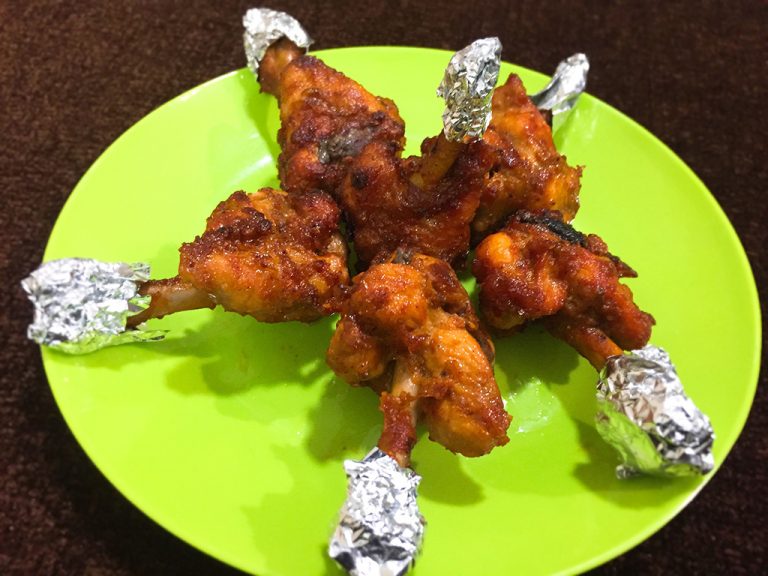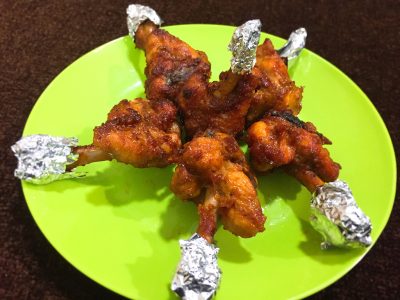 Chicken Lollipop is a popular Indo-Chinese starter recipe. It is a type of Hors D'oeuvres and is available on the streets and in restaurants.
---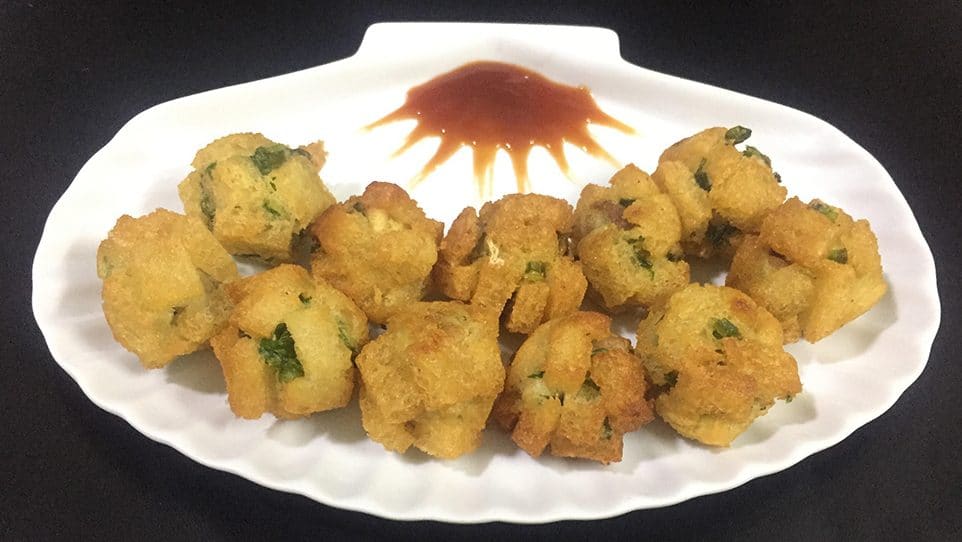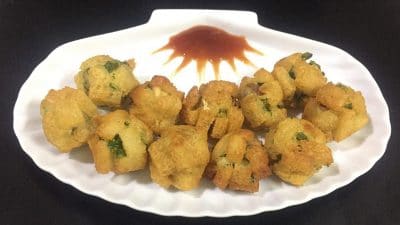 Cheesy Football Chicken is an Indian starter with a french taste. Loved by people of all ages, especially children as it is cheesy.
---