Poha Rava Vada is a fusion and modified version of simple vada. Rava (semolina) and poha (rice flakes) are two primary ingredients in this recipe. You can tell this poha rava vada is a South Indian snack because of the shape and the cavity in the middle. A typical South-style vada has a hole in the middle, and we will do the same with our poha rava vada.
Traditionally, in South Indian cuisine, medu vada is prepared with urad dal.
Further, one can have a rava vada and poha vada separately. We have just combined them both in this fusion recipe. It will be crispier and tastier. Additionally, one more fusion recipe is made using rice flakes, aka poha, and that is the poha cutlet. So rice flakes are a significant ingredient in this recipe too.
Let's see how poha cutlet and this vada differ.
Poha Rava Vada v/s Poha Cutlet
Here's the list of the fundamental differences between vada and Poha cutlet.
Items Required
As I said, rice flakes are a common ingredient in both recipes. But we also have a wide variety of spices and masala too.
For instance, there's onion and capsicum in the cutlet, whereas we will add green garlic, black sesame seeds, and Kasuri methi in the vada. Moreover, desiccated coconut in the vada will add a nutty and smooth flavour.
There's one more item we will use in the vada. It is the milk to prepare the batter. Milk will provide the much-needed moisture and will integrate smoothness. All in all, both the items are more or less different in terms of items.
Shape
Food in different shapes and serving styles attracts us, and the same applies here. When it comes to shaping, both our cutlet and vada are winners. Let me explain it to you. Looking at the images, you will know the vada is circular with a hole in the middle. It resembles a big ring and looks quite attractive.
On the other hand, the cutlet has a heart shape. Since I already had a heart shape mould, I made my cutlets likewise. Vada are typically round, whereas cutlets can be square with round corners. Shapes make these foods look and taste more delicious.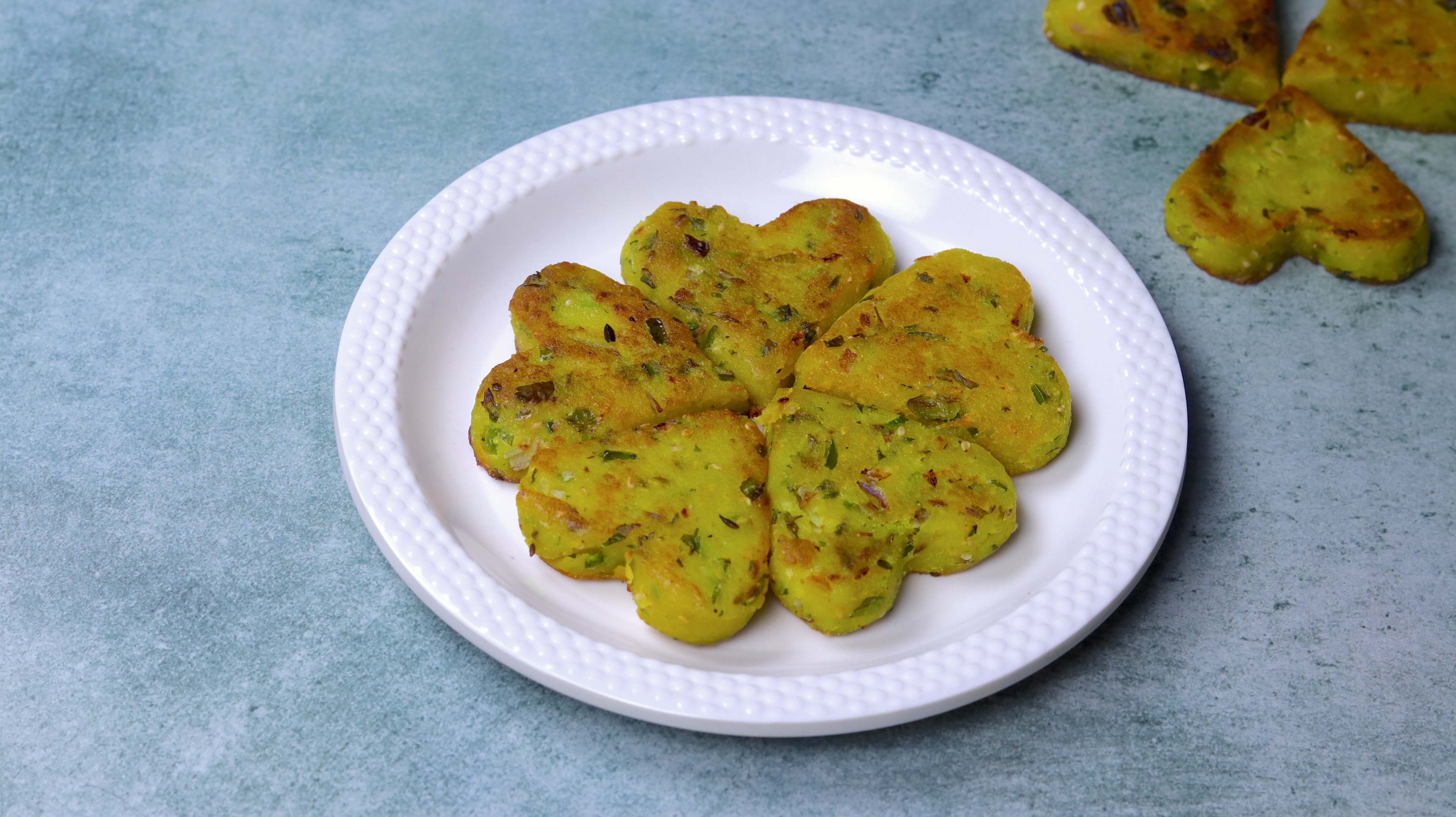 Frying
Cutlets are shallowly fried, and the vada is deep-fried in cooking oil. In other words, both are quick and easy snacks to make at home.
How to make your poha rava vada look like a doughnut?
It's easy than it sounds. There are two ways you can do this. First, use a mould to get a perfect round shape or use your palm and fingers to shape your vada. If you are a beginner, a mould is a better option. On the other hand, a seasoned or home chef can easily give a perfect shape to the vada using their bare hands.
A hole in the middle of the vada is a traditional symbol, and because of this particular shape, the vada is quite famous. You can use a spoon, a pencil or a finger to make a cavity. But, first, make sure it is see-through. It must have a perfect hole, just like you see in a doughnut. Without a cavity in the middle will make your vada look like a giant pattice or cutlet.
Tap gently once the vada is in the desired shape and remove extra dough. Take care that the dough is not loose. If it is, the vada will not hold the circular shape and quickly scatter in hot oil.
Poha Rava Vada Extra Shots
Add a pinch of soda to make vada fluffy and spongy.
Add a teaspoon of sugar if you like the combination.
The thickness of the mixture should be in check. Too much thick will make the vada hard.
Make sure there are no lumps in the mixture. Break them, if any.
Cook them on medium flame and maintain the temperature throughout.
Poha Rava Vada FAQs
Along with tips, here are some frequent queries, and I hope they will help you get better results. Please read them.
What is the difference between regular and poha vada?
Regular vadas have potato filling. In short, they are made using aloo, whereas our poha rava vada contains rice flakes, aka poha. Moreover, there are basic spices and masala in regular vada. I am pretty sure street vendors don't use green garlic or black sesame seeds in their batata vada.
Why do we need to use black sesame seeds?
Black sesame seeds are nutty and contain natural oil. Moreover, the tempting black colour will give a nice look to the vada. Tiny black dots on white spongy vada will look striking and tempt you to eat more. Hence, don't skip them.
What if green garlic is not available?
Green garlic is a seasonal herb that won't be available in summer. If that's the case, skip green garlic altogether or use chopped coriander. Green and freshly chopped coriander also taste better. Try it.
Will Kasuri methi make vada bitter?
Kasuri methi will not make your vada bitter because the quantity is only one tablespoon. The vada will taste bitter only if there's more of it. So a single spoon won't make a massive difference in the overall taste. On the contrary, it will enhance the flavour.
Can we use corn flour or rice flour?
No, you can't use corn or rice flour in this recipe. There's absolutely no need for either of them. We already have all-purpose flour and semolina, aka rava. Both will give the desired shape to your vada and will not shatter while deep frying in hot oil. 
Hot milk or cold milk. Which one to use?
We need regular room temperature milk. It should not be hot or even lukewarm, and the dough will become loose. If that happens, toss the dough into the fridge for an hour. Cover the dough with a cloth or food-grade plastic wrap before putting it into the refrigerator.
Is it necessary to make a hole in the middle?
Typical south-style vadas have holes in the middle. A vada without a cavity in the middle will look like a huge cutlet or pattice. If you are okay with it, go ahead without making a depression in the centre. Making a small cavity in the middle is easier than you think.
Where can I buy a mould to make South Indian style vada?
Mould are now available for almost any kind of fast food or snacks that you want to make. Check at local groceries or supermarkets. You can also check online for readymade moulds. However, I haven't used the mould to make my vada.
Now that we know a lot about poha rava vada, let's take a quick look at other vada recipes. Here's a list of a variety of vada recipes that you can try at home. Browse them individually for recipe videos, making steps, tips and faqs.
List of vada recipes to try at home
Dahi vada is one of my favourite vada among the list above. Let me know which one is yours. Reply in the comment section.
Also Read:
Rava Chilla is an easy-to-make Indian vegan breakfast recipe. It is a savoury food and requires less effort in making. Watch the recipe video.