Here is a list of traditional and famous Gujarati summer recipes. All these recipes are made in the old cooking style of elders. They are all vegetarian and easy to cook.
A traditional and authentic Gujarati food consists of dal, roti, rice, vegetables, salad, buttermilk, raita, and some sweet dishes. Most of the Gujaratis are vegetarians and their meals are quite simple and easy to digest. One of the healthiest meals that every Gujarati family enjoys. Some best Gujarati treasure recipes like raitas, dudhi ka halwa, and gundiya recipes are the main attractions from the Gujarati summer recipes collection.
The whole recipe collection divided into five parts:
So let's begin.
Also Read:
Here is 40 Winter Gujarati Recipes to make this winter season. Starting with breakfast to tea to lunch box to snacks. Famous Gujarati cuisine recipes.
Gujarati Main Course Summer Recipes
These are Gujarati main course summer recipes to include in your lunch or dinner for a scrumptious experience.
Aloo sabji is a tangy recipe that your family will enjoy the most.
Also, you can prepare this dish in 10 minutes and serve with hot roti, thepla or even eat it as raw.
Garnish with fresh coriander leaves and enjoy the aroma. This Aloo sabji is an all-time favorite Gujarati summer recipe with less cooking efforts.
---
Kathiawadi Dhokli Shaak is a Gujarati summer recipe. It tastes tangy and a little spicy.
Made of gram flour, buttermilk, veggies, and other Indian spices.
Moreover, the preparation is quite easy and one of the healthy shaak in summer.
---
Aloo Bhindi Sabji is an afternoon meal Gujarati summer recipe. The gravy is prepared using besan gives a new kind of taste.
Also, it's easy to make and every Gujarati loves Bhindi. Mix the veggies along with potatoes and enjoy the sabji with desi ghee roti.
---
Tamatar Pyaz Ki Sabji is a delicious, spicy and tangy Gujarati summer recipe to enjoy with family. It's delicious sabji that goes well with roti and some salad. It's easy to make, loved by kids and even bachelors can also make it. Cook this amazing sabji at home during summer vacation for kids & enjoy.
---
Aloo Gobi Sabji is a Gujarati famous summer recipe. It's simple, flavor pack, & healthy recipe.
Serve this delicious sabji in weeknight dinner along with Gujarati Kadhi or serve this with hot phulka with desi ghee.
Also, it's a scrumptious sabji with all home available Indian spices.
---
Desi Moong Dal recipe is a tasty, tangy, and gets ready in some minutes. Usually, Gujarati people enjoy moong dal at home.
So, prepare this lovely colorful sabji and serve your family with love.
Made with moong dal, onion, tomato and other Indian spices like ginger cumin paste, red chili powder, and green chilies.
---
Chana Dal Lauki is a healthy traditional Gujarati Summer recipe. Bottle gourd and Bengal gram both are good for health.
Moreover, Pulses are a good source of protein, fibers, vitamins, and minerals. Include this in your family's diet and stay like a healthy family.
---
Source: www.vegetariantastebuds.com
Sev Tamatar ki Sabji is a popular sabji prepared in every Gujarati family.
Also, it's a yummy tomato puree type recipe with sev and fresh coriander leaves on the top.
One can garnish with spicy gathiya too to make it a more crispy layer when eating.
---
Source: www.binjalsvegkitchen.com
Choli Bateka Shaak is Gujarati style curry and easy to make. Made of chawli beans and potatoes with Indian spices.
Also, it's a basic and modern Gujarati summer recipe to enjoy for family get together.
---
Source: www.tarladalal.com
Gunda Nu Shaak is a seasonal recipe and Gujarati families specially prepare this sabji during the summer season.
Moreover, the Gujaratis go gaga over this sabji. It's an aromatic dish and magic bowl of spices mixed with Gundiya fruit.
---
Gujarati Sweets
Taste the richness of some Gujarati sweets. These are authentic and traditional sweets recipes cooked in many Gujarati Families.
Dudhi Ka Halwa is a traditional Indian sweet recipe. Made with Dudhi and homemade desi ghee tastes scrumptious.
Also, it's easy to make dessert recipes to enjoy with your everyday weeknight dinner.
---
Source: www.vegetariantastebuds.com
Sukhdi is a Gujarati sweet recipe best for summer. It's a snack that is loved by all Gujarati families.
Also, it's easy to make, and a 3-ingredient recipe. Made of wheat flour, desi homemade ghee, and grated jaggery.
Moreover, Sukhdi is used as prasad in temples.
---
Source: www.cubesnjuliennes.com
Aam Ras is a delicious mango pulp served during summer days. The pulp is extracted from mango and you can serve it with roti.
Besides, add cumin powder, salt, and cardamom powder and saffron. The taste will be outstanding and your family can enjoy aam ras.
Tip: Garnish with grated dry fruits and even mango or vanilla ice cream uplift the taste.
---
Source: www.vegetariantastebuds.com
Kesar Elaichi Shrikhand is a quick to make and a hassle-free dessert recipe. It's thick, sweet, tangy and rich taste.
Also, this is a traditional Gujarati summer recipe and loved by all families. Made from hung curd, sugar, cardamom powder, and a pinch of saffron in milk.
---
Source: www.werecipes.com
Puran Puri is a Gujarati sweet recipe. Made of toor dal, sugar, and wheat. It's yummy, fluffy, sweet and best served with desi ghee.
Moreover, every Gujarati family make this at home and enjoy during lunch or dinner. It's also called as sweet bread and one can add flavors to it like cardamom and nutmeg.
---
Gujarati Snacks recipes
Enjoy the crispy, yummy Gujarati snack recipes. All are kid-friendly and even elder's favorite.
Surti Sev Khamni is a Gujarati snack recipe and famous in Surat, Gujarat. Made from chana dal, & other home ingredients like ginger, garlic, and green chilies, and sugar.
Also, this recipe is best to serve for an evening snack. Enjoy with friends and family.
Moreover, it's quick to make and garnish with pomegranate for a fresh approach.
---
Surti Batak Puri is an amazing fritter recipe to enjoy with family at home. These are deep-fried, crispy fritters best serve with tomato sauce.
Also, it's authentic food from Surat and people enjoy it with a small picnic at the beach.
---
Dahi Batata Puri Chaat is a Gujarati snack recipe to enjoy during the evening get-togethers. It's tangy, spicy and savory chaat item one will enjoy the most.
Moreover, a yummy dish overloaded with curd, Indian spices, and deep-fried puri. Loved by all ages and best Gujarati recipe to eat in summer.
---
Corn Cutlet is easy to make, scrumptious and amazing Gujarati snack recipe. Also, kids and adults in the house can enjoy these cutlets together with tangy tomato ketchup.
Also, it is served as an appetizer during dinner time.
Made from corn, bread crumbs, cornflour and other Indian spices like ginger garlic paste, green chili, and black pepper. For some crunch, one can use vegetables like capsicum too.
---
Onion Fritter also called onion pakoda is a crispy snack recipe to enjoy at home.
During summer vacation, such savory recipes will be at your need because it's easy to make and gets ready in a quick time.
Made of corn flour, besan, chaat masala, red chili powder, green chili paste, and chopped onion.
---
Brinjal Fritters is an amazing snack recipe, crispy outside and soft inside. It's delicious and perfect for an evening snack.
Moreover, these fritters are perfect Gujarati snack recipes to serve your guests or even enjoy during long drives. Serve with tomato ketchup or schezwan sauce.
---
Date Fritters are easy and delectable fritter recipe best to eat in summer. These are nutritious and deep-fried fritters and also a healthy option.
Also, this is a Gujarati fusion recipe and best for kids' growth.
---
Mirchi Fritter is a refreshing and mood-boosting Gujarati summer recipe. It is filled with tangy and spicy chaat masala.
Moreover, the texture is crispy, juicy and best fit for women. Try this recipe with your loved ones and enjoy the chatpati talks together.
---
Palak Fritters have a different taste and healthy option to fit in Gujarati summer recipes.
Made of gram flour, and Indian spices. Serve it with tomato ketchup and enjoy the movie show at home with these deep-fried fritters.
---
Cold Pani Puri is one of the traditional chaat recipes of India. It's every season food and especially in summer, this recipe will be a perfect fit.
Also, Pani Puri is the most loved food in India. From kids to adults to middle age, all are enjoying this street food.
Moreover, you can make this recipe at home during vacation time and do Pani Puri competition too for fun.
---
Gujarati Summer Drinks
Cool, refreshing drinks are here to make your day electric. Activate yourself with these summer drinks recipes.
Lemon Mint drink is a refreshing, cool. Perfect for summer parties.
Blend lemon with fresh mint leaves, add some sparkled water and sugar for a tangy and sweet taste.
Moreover, this is a perfect Gujarati drink recipe to enjoy with friends during vacation.
---
Gur Ka Sharbat is a perfect summer drink recipe and a traditional sharbat in Gujarati families.  It's so tasty that even kids love it.
Gur means jaggery and it's fun to drink. Also, it is a natural way to take vitamins and minerals. Enjoy this drink with your loved ones.
---
Fennel Seeds Sharbat is a popular summer drink of Gujarat. It's only a 3-ingredients recipe.
Made from fennel seeds, water, and sugar syrup. Afternoons are hot in summer and sometimes for work you need to go out.
So a sip of fennel seeds drink will save you from dehydration.
---
Source: www.sailusfood.com
Shikanji is the most popular Gujarati summer drink recipe. People love drinking Shinkaji to stay hydrated on hot days.
Also, the taste is tangy and sweet at the same time. Also, it's simple to drink with lemon, water, cumin powder, black pepper powder, ginger, ice, and sabja seeds.
---
Mango Milkshake is tempting and best for summer drinks. It's smooth in texture and garnished with ripe Mango pieces on the top.
Moreover, there are around 20 different types of Indian mango and each will give you a different taste for Mango milkshake.
---
Raw Mango Juice is an electrifying and soothing drink recipe for summer. It cools your body and makes you feel relax during hot summer days.
Also, it's a perfect drink for body dehydration. Also, this drink will regulate your body and save you from heatstroke. The taste is outstanding due to black salt.
---
Milk Soda is a fusion drink mix with milk and soda together. It's an unusual drink of Gujarat and the taste is very unique.
Made with sweetened soda, milk, basil seeds, and ice cubes. The combination is amazing and the youth will enjoy this drink most.
---
Gulkand Milkshake is a lovely drink recipe for summer. Here, Gulkand is prepared with rose and sugar.
Also, it's an energy booster and prevents you from sunburn in summer. Moreover, it's cool and relaxes your body.
---
Guava Juice is a healthy and delicious summer drink recipe. It's thick in texture and tangy.
Moreover, Guava is a superfood because it contains Vitamin A, C, E, and other antioxidants.
Also, it improves blood pressure, heart health and helps you fight constipation.
---
Kaju Anjeer Milkshake is a creamy and nutritional milkshake. It tastes scrumptious and tummy-filling.
Also, the thickness is the real goodness of this milkshake. A perfect summer drink recipe and best for elders in the house.
---
Gujarati Raitas Recipes
Gujarati raita recipes are all-time favorite recipes and sure to inlcude in your lunch meals. Enjoy the tangy and little spicy raitas with your food.
Source: www.www.thegheespot.net
Boondi Raita is the best way to treat your lunchtime.
Also, it's an amazing summer raita recipe famous in Gujarat. It's tangy, crunchy and little spicy with using red chili powder.
---
Source: www.whiskaffair.com
Carrot Raita is a side dish to compliment your lunch. It's a zesty and amazing summer Gujarati recipe to cool down yourself.
Moreover, it has a soft and smooth texture. Made with grated carrot, green chili, chaat masala, sugar, black salt, coriander leaves, and cumin powder.
---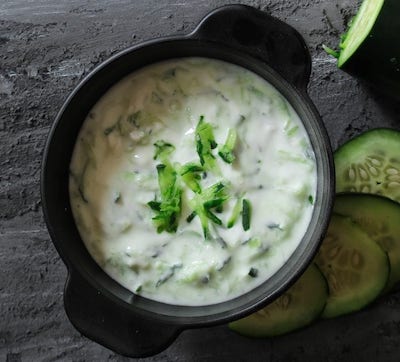 Source: www.thegheespot.net
Cucumber Raita is the best summer raita recipe every Gujarati family enjoys. It's a fresh, cool, and perfect addition to Gujarati summer recipes.
Moreover, you can use this raita as a spread on a lot of things like roti rolls, toast bread, or as a dip too.
---
Source: www.greenbowl2soul.com
Aloo Ka Raita is a delicious and scrumptious dish. Made with yogurt, potatoes, and tempered with few spices.
Also, this is one of the best raita recipes to eat during the summer. It's the best dish for your hunger pangs in summer.
---
Mago Raita is a delicious curd base that goes well in hot afternoons. Ripe mango with mint makes this dish extraordinary.
Moreover, Curd is important to include in day to day meals.
So, enjoy various flavors with curd and this will surely add fun to your meals. Made with mango puree, diced mango, curd, salt, sugar, cumin, and fresh mint leaves.
---
Gujarat is a land of amazing foods and each recipe is tasty, scrumptious, and mouth-watering. From the different texture of rotis to scrumptious sabji recipes – every Gujarati recipes are worth eating once in a lifetime.