Peda lassi, with the sweetness of peda and refreshment of lassi, will surely win your heart. The texture, taste, and overall company of the peda will make your experience delightful. Lassi is already a famous refreshing beverage, and we all know peda as sweet of pleasant news. With this lassi, make it a sweet and refreshing beverage!
Since peda is already sweet, it will take your lassi's sweetness to a new level. So, the amount of sugar varies from different types of peda.
Ways to Add Peda to Lassi:
Whole peda: The simplest way to add peda is to put the whole peda in the glass and then add lassi. The peda at the bottom of the glass will soak the lassi. At the end of the glass, when you eat the peda, you will enjoy the taste of peda with the refreshing taste of lassi.
Break peda into small pieces: After making the lassi, break the peda into small pieces. And add the peda as a topping on your lassi. This way, you will be able to enjoy the taste of peda separately. You can also add the pieces before mixing to integrate the taste of peda with lassi.
Make a paste in Water: Take 4-5 pedas in a pot and smash them. Gradually add water and keep mixing the peda in it. Separate the thicker part of the paste from the watery one. Use the watery one in the curd and the thicker one as a topping to the glass of lassi.
What more can I add?
Rose water: Rose water or Gulab Jal is will give a pleasant aroma. You can even add a few rose petals if you want, but I would suggest you use rose water to integrate the taste better way in your lassi. However, make sure you are not overpowering the taste or else it will be more of a Rose Lassi.
Kesar Jal / Milk: Another excellent add-on is Kesar Milk or Kesar Water. However, if you are using kesar-flavoured peda, don't overdo kesar.
Rooh Afza: We all tried this refreshing drink in our childhood. And using it in lassi is an excellent idea.
Butter: You can even top lassi with butter for an extra rich texture and layer. The taste of peda and butter will complement each other quite well.
You can make different combinations by adding more than one ingredient mentioned above. For example, you can mix rose water and Rooh Afza as well.
Famous Peda Lassi Shops
Places where Peda lassi is really mesmerising.
Giani Punjabi lassi: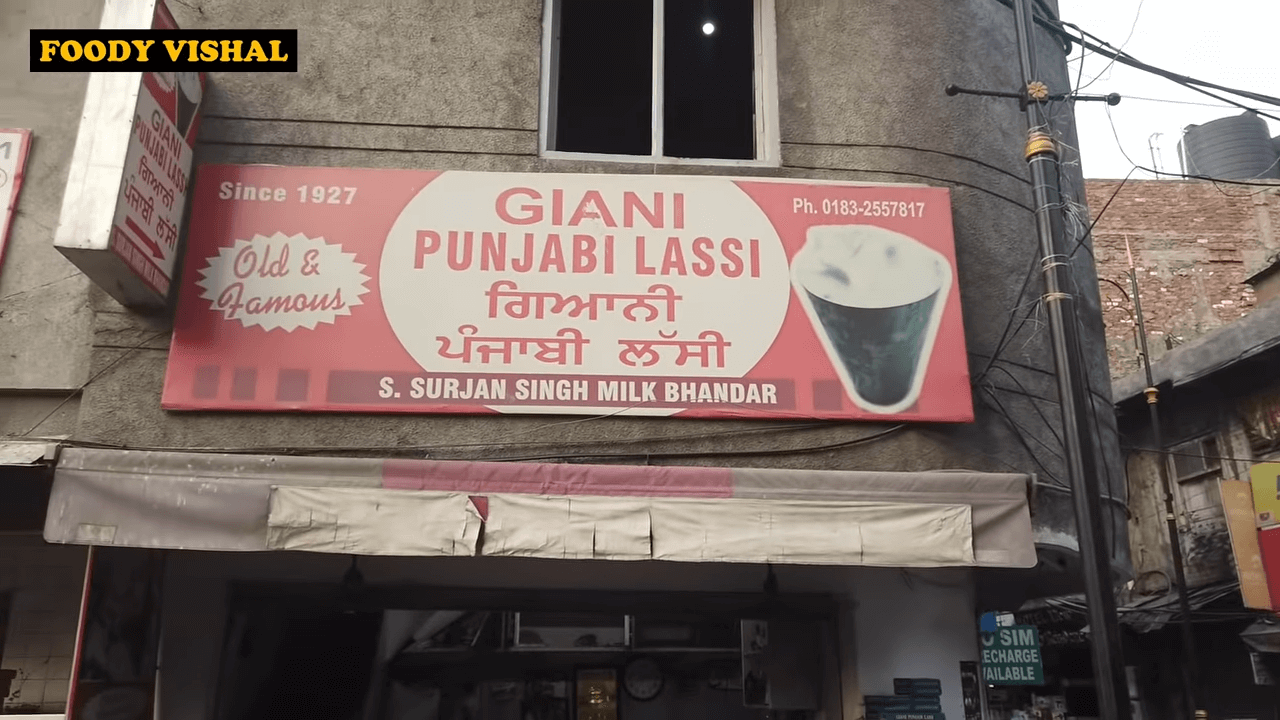 (Image courtesy: Foody Vishal Youtube)
Giani Punjabi Lassi is one of the few lassi sellers in Amritsar since 1927! People from all over India come to try their pede wali lassi. They still make lassi in brass pots without depending much on machines. Gianiji uses malai in their lassi, which they keep on big chunks of ice! They also use Gulab Jal in their peda lassi for taste and aroma.
Yadav Doodh Wale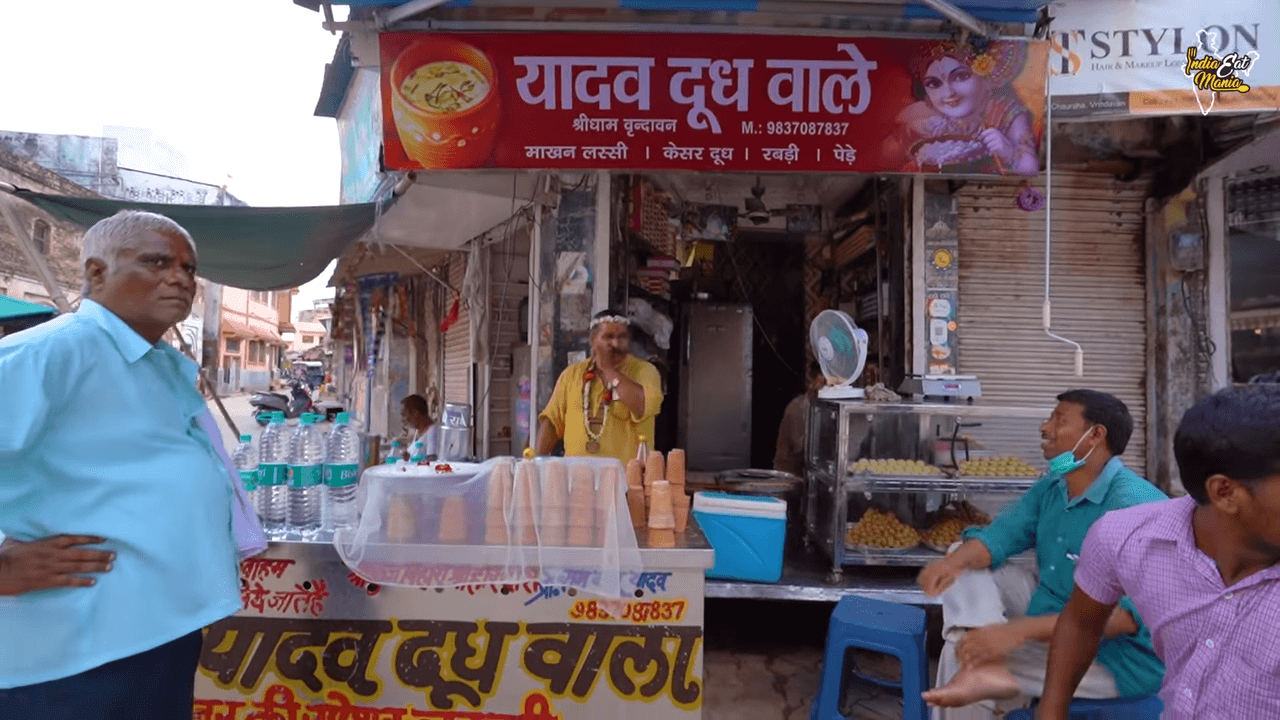 (Image courtesy: India eat mania Youtube)
Yadav Ji ki lassi is a street-side lassi shop in Vrindavan. He uses Malai, Gulab Jal, and Kesar Jal in his lassi, which makes it extraordinary and refreshing! Apart from the delicious taste, Yadav Ji is also known for his style and way of serving lassi! He performs some dance moves while making the lassi. Apart from that, Yadav Ji recites some engaging rhymes while making Lassi.
Feeka ki lassi: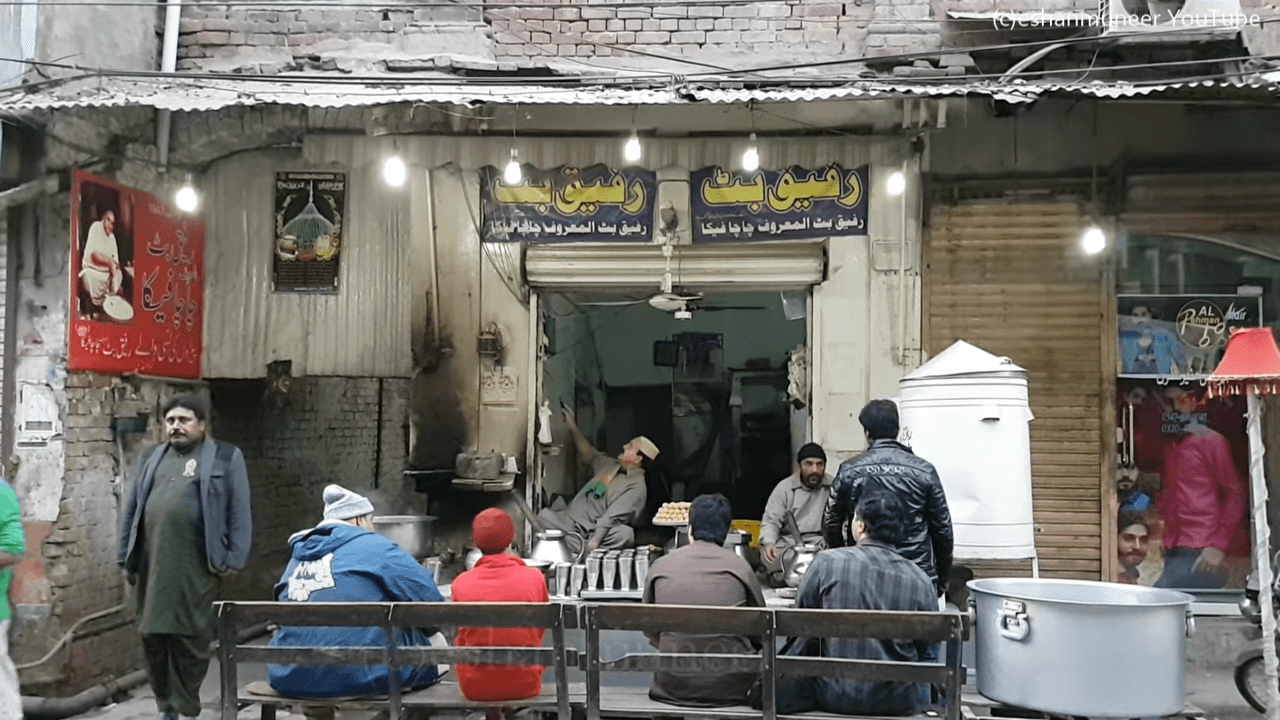 (Image courtesy: Eshan Muneer Youtube)
Feekay ki lassi (or Fiqay ki lassi) is a famous lassi store in Lahore, Pakistan. Since lassi is an extremely popular beverage in the whole Punjab region, the streets of Lahore are filled with lassi lovers! Feekay ki lassi is in Gawal mandi, Lahore. They have been selling lassi since 1947. Along with peda, they also use mawa in their lassi. They also depend significantly less on machines, just like Giani.