Lassi is generally considered a north Indian beverage. But with coconut lassi, you will feel the touch of south India's taste.
The creamy and chewy texture of coconut will make lassi a different experience altogether. The tender pulp of coconut compliments the lassi pretty good. Coconut malai and water will make it extra special.
Coconut lassi is more famous in the coastal areas of Maharashtra and South India. However, not just on the western coast, but on the eastern coast, in the city of Berhampur in Orissa, coconut lassi is considered one of the best beverages of all time. The list of famous food and beverage in Berhampur is incomplete without it.
Topping to Add to Coconut Lassi
Lassi is always better, but here are some more items you can consider adding to your coconut lassi.
Shredded coconut: Coconut lassi can have a topping of shredded coconut. That will add a more authentic taste to your lassi.
Kaju: Kaju, or cashew nut, is a great companion one can add to coconut lassi. You can add small pieces of Kaju to the lassi or even use them as a topping.
Rose water: Sprinkle rose water for the aroma as it will help in both taste and aroma of the lassi. However, not everyone will like the taste and so make sure you serve to those who want it.
Cardamom and pepper: You can use cardamom and pepper to give the lassi a refreshing taste.
Coconut milk: Since we are making coconut-flavoured lassi, coconut milk is a great add-on. It will enhance and intensify the flavour of the coconut in your lassi.
Honey: Honey is a natural sweetener. Honey is an excellent substitute if you do not want to use sugar. However, you can sprinkle honey at the top as well.
Cherry: Cherries have always been the favourite toppings. In lassi, too, you can use one or two cherries as toppings, and it will serve lassi good in all aspects, such as refreshment, taste, and texture.
Coconut chips: Want to go all out with coconut as a theme? Serve coconut chips along with lassi.
Serve in Tender Coconut
Any glass is fine, but generally, lassi is best served in earthen pots. Brass glass is also a preferred choice, but for coconut lassi, the best option has to be in the tender coconut.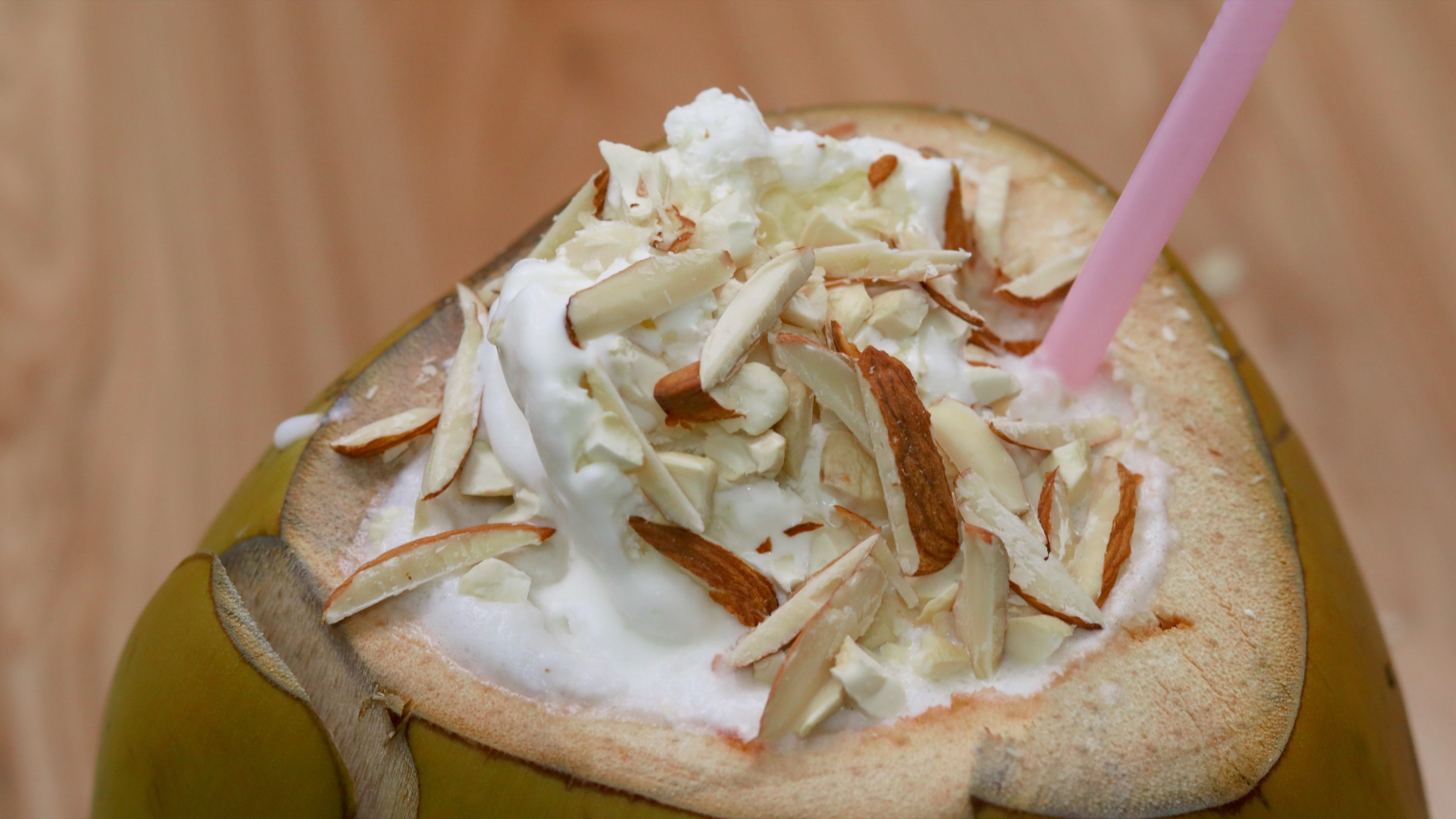 It is a unique way and is gaining popularity in modern times. People use tender coconut and its shell to make natural drinking juices or snacks. It is an eco-friendly way to serve, and it will be fun to have coconut lassi in the tender coconut.
Coconut Lassi Vs Coconut Milkshake
Coconut lassi and Coconut Milkshake are very similar beverages and equally refreshing. But there are a few aspects which set them two apart.
Lassi is curd based beverage, whereas milkshake is a milk-based beverage.
In milkshakes, you can use various syrups to give extra flavour. Generally, syrups are not used in lassi, and people prefer it as a curd-based drink.
In our coconut milkshake, we also used vanilla ice cream, but not in lassi.