To cheer up on festival days, here are Uttarayan recipes to enjoy with family and friends. The whole recipe collection is hand-curated recipes from sweets, cookies, halwa to savory dishes like paratha, sandwiches, and namkeens.
So, this kite festival makes the most out of it and cook some delicious, quirky, and cool dishes to entice your guests and kids.
I know cooking during the festival is a hectic job. Therefore, I have taken such recipes that will take less time and can be prepared quickly.
Let's cook these yummy dishes and make your festival unforgettable.
Download our Free Recipe Cookbook
---
Source: www.theveggieindian.com
Til Mawa Ke Laddoo is simple to make a recipe for kite flying sessions. The balls are very soft and crumbly which just melts in the mouth.
On the brighter side, sesame is a good source of calcium, copper, and magnesium. It keeps you warm and the best choice to eat during the winter season.
---
Source: www.herbivorecucina.blogspot.com
Til Chikki is a crispy Indian cuisine dish made of jaggery and sesame seeds. It tastes sweet and prepared in advance before Uttrayan day.
Eating Til Chikki during the kite-flying session feels fantastic.
Above all, the best food to share with family and friends and get near to your loved ones.
---
Source: www.herbivorecucina.blogspot.com
Oats and Dry Fruit Chikki is a special chikki made for Makar Sankranti. Also, it is a powerhouse of nutrition. Prepared with oats, dry fruits, and natural honey.
The texture is mind-boggling, and it tastes sweet and yummy. A perfect Uttarayan recipe, especially for kids.
---
Source: www.needmorenoms.blogspot.com
Vanilla Jam Muffins is a super cute crispy muffin for the kite festival. One can make it with vanilla flavor and nutmeg powder as a special ingredient.
Garnishing the top with cinnamon and sugar gives it an excellent look. A must-try unique recipe for this kite festive.
---
Source: www.easyfoodsmith.com
Roh Di Kheer is a sweet delicacy prepared during kite-flying day. A classic dessert made from Sugarcane juice. It's famous in Bihar and loved by all Indian families.
This Kheer is made with aromatic cardamom and a wee bit of richness by adding nuts. Make this unique Kheer at home this Uttarayan and make your guest say wow!
---
Source: www.whenabongcooks.com
Chaler Patishaptha is a delectable sweet pancake made with rice paste, grated coconut, and jaggery.
It's a unique presentation for the first time, and we can't get over it. A fluffy and wholesome sweet recipe to try this Uttarayan for kids.
---
Source: www.whenabongcooks.com
Gokul Pitha is a Bengali delicacy in Makar Sankranti. It is stuffed with the date palm, jaggery, and infused coconut. A unique dessert to welcome your guests at home during festive days.
---
Source: nishamadhulika.com
Patishaptha Pithey is a sweet roll filled with coconut and cream. One can enjoy it during festivals as well as in the winter season. It's an Indian crepe dish and will make kids go crazy this Uttarayan.
---
Source: www.firsttimercook.com
Puran Poli is a blissful sweet Indian flatbread. Stuff with a mixture of mashed chana dal, jaggery, and coconut flavored with cardamom or nutmeg.
You can even serve this polis in breakfast or as a post-meal dessert.
---
Source: www.asmallbite.com
Pongal Kootu is a vegetable dish that the whole family can eat for dinner during festival days. You can eat this with bread or roti.
It's a wholesome food that will give you joy in every bite. A bit spicy and tangy due to pumpkin.
---
Source: www.easyfoodsmith.com
Gur Ka Parantha is a tasty dish with butter on the top. Made with jaggery, turmeric, fennel seeds, cardamom, coconut, and almonds. A delicious flatbread is great for any festival season, including this Uttarayan.
---
Source: www.chitrasfoodbook.com
Ellu Bella is a five-ingredient mix recipe of sesame seeds, jaggery, dried coconut pieces, roasted peanuts, and fried gram dal. It is a homemade recipe, and everyone loves it.
---
Source: www.indiaphile.info
Puffed rice brittle is a chikki made of puff rice, jaggery, and butter. It's very crispy chikki, and delicious.
You can store this for a week as well. It is a typical snack made for Makar Sankranti.
---
Shahi Tukra is a Mughlai dessert made of fried bread coated with sugar syrup and thickened milk garnished with dry fruits and rose petals.
A creamy, delicious, and soothing dessert for the festival.
---
Source: www.greatsecretoflife.com
Sattur Kara Sev is a crispy and little spicy that is best for the evening time. Made of gram flor, rice flour, and garlic paste.
The best-fried evening snack along with a kite flying session with friends and family.
---
Bread Manchurian is a super easy and innovative dish. Made of bread and Chinese sauce. A fantastic option for munching time and most suitable for kids.
It gets ready in less than 20 minutes. Enjoy this snack recipe this Uttarayan with friends and family.
---
No-cook kite sandwich is a simple to make, tasty, and crunchy recipe. The shape of the sandwich shows the enthusiasm to celebrate the kite festival.
One can make this sandwich with few ingredients like schezwan chutney, veggies, green chutney, and mayonnaise.
---
Monaco biscuits canapes is a without fire recipe that even kids can make it. Each Monaco is presented with different garnishing. Looks attractive and cheesy enough to melt in your mouth.
It's crispy, yummy, and gets ready in a few minutes. So, make this kite festival go crunchy with minimal beauties.
---
Source: www.cookwithrenu.com
Whole Wheat Namkeen Mathri is a popular Indian snack. It's a flaky biscuit best for tea-time snacks. Generally prepared during festivals for munching with loved ones.
Preparing with whole wheat, one can either make it in an air fryer or deep fry it.
---
Source: www.vidhyascooking.com
Undhiyu is a famous Gujarati dish made with veggies, goes well with roti, and even one can eat it raw. It's a winter special recipe that you can enjoy during the festival as well.
Taste is a little spicy, crunchy, and little tangy that every family will fall in love with.
---
Source: www.curryandvanilla.com
Nankhatai is shortbread or a cookie that tastes sweet, crunchy inside, and soft outside.
Usually, Gujarati families enjoy these cookies during snack time in the evening with tea or coffee. So it can be served as one of the best recipes this Uttarayan.
---
Source: www.asmallbite.com
Jackfruit Appam is a flavorful recipe made with jackfruit, grounded rice, and jaggery.
Moreover, it's a recipe from Kerela, but one can enjoy this recipe during the festival time, as well.
---
Source: www.shravskitchen.com
Bread Medu Vada is a popular Indian snack and this time with a little twist.
Crispy outside and soft inside. This Medu Vada reis made from bread slices, wheat flour, and sugar as the main ingredient.
Sweet in taste and goes well with tea or coffee.
---
Dahi Batata Puri Chaat is a scrumptious snack every Indian loves. It's a delicious chaat recipe that everyone will lick their fingers. One can prepare it on the roof within minutes for kids when they are busy kite fighting.
Tangy, crispy, and a little spicy – this surely goes in your festive menu.
---
Corn Fritters is a fantastic snack. It is deep-fry and tastes appetizing. Serving fritters during festivals is the best thing to do to entice your guests.
Serve these hot corn fritters with raw onion tomato chutney for a tangy taste.
---
Source: www.kitchensanctuary.com
Baked Churros with White Chocolate and Coconut is a pleasing festival snack. It is a kid's favorite recipe and serves with white chocolate. These churros are crispy and sweet.
The crushed coconut adds an extra flavor to it and dipped in white chocolate gives an unbelievable taste.
---
Chatpata Corn Chaat is an utterly butterly tasty chaat recipe. You can enjoy it during the evening snack.
It is straightforward to make and gets ready in less than 20 minutes.
---
Strawberry Drink is a soothing, non-alcoholic, and sweet drink. It's a women's favorite drink, and all the ladies in the house can enjoy it together on the terrace.
The drink gives vibrant taste in the mouth, and the color of the drink is the main attraction anybody will fall in love with.
---
Source: www.paaka-shaale.com
Boondi Laddu is a sweet treat for any type of occasion in India. These laddus are sweet and tasteful. The whole family can enjoy this treat together during festivals.
---
Source: www.werecipes.com
Sabudana Khichdi is a different variation of Khichdi that is fluffy and tastes a little spicy in the mouth.
It's a popular Gujarati recipe with a special ingredient – Sabudana. Garnish with coriander leaves for a fresh aroma.
---
Mirchi Fritters is a refreshing and mood-boosting recipe.
Fill Mirchi with tangy chaat masala and lemon juice. Try these Mirchi fritters with family during festivals.
---
Crispy Onion Rings is a snackable recipe best for instant munching.
Dip rings in batter and deep-fry it, gives a crispy taste. A perfect solution to all your cravings this Uttarayan.
---
Source: www.lathiskitchen.com
Sweet Potato Fries are the healthiest fries one can make in the air fryer too. Instead of potatoes, sweet potatoes are a rich source of fiber and vitamins.
Enjoy these fries because it's guilt-free, and one can keep on eating on festival days.
---
Chivda is a snackable recipe one can make. Prepare this with corn flakes, some regular spices, and salt.
This Chivda is perfect with tea or coffee and very light on the stomach. You can prepare with minimal oil usage and make it healthy.
It's a Gujarati special snack item families can enjoy in the festival and on regular days as well.
---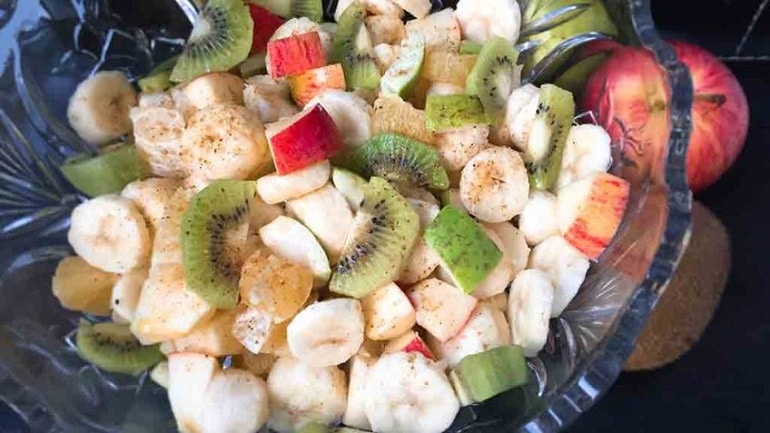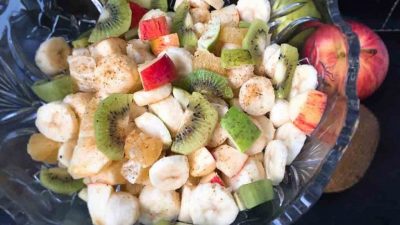 Fruit Chaat is a simple fruit mix recipe by adding some chaat masala, salt, and honey.
It's a refreshing snack item that will be best for kids in the house. One can use various types of fruits like banana, apple, kiwi, sweet lime, and Guava.
---
Surti Bataka Puri is a deep-fried snack recipe to enjoy with family members. Coat the potato in the batter and deep-fry it, gives you a wholesome snack.
Serve this recipe with tomato sauce and Green Chillies for amazing taste this Uttarayan.
---
Source: www.herbivorecucina.blogspot.com
Paatra is a famous Gujarati recipe that you can prepare with colocasia leaves and roll with a spicy mixture of gram flour and Indian spices.
It's tasteful, flavorsome, and gives you a yummy filling inside your mouth.
---
Spicy Memoni Choley is a tangy and snackable recipe made of chickpeas. It's a simple to make, tangy and crispy recipe.
You can enjoy this as an evening snack with cold drinks. It's a traditional recipe in India and a little spicy.
---
Lemon Mint drink is a refreshing, tangy, and healthy drink. During the kite-flying sessions, if one needs the power to fly kites all day long, this drink is best suitable.
Make this coolant drink with mint and lemon juice. These two ingredients create magic altogether.
---
Tandoori Paneer Pakodas is a spicy, delicious Paneer recipe that comes with a twist. Coat the Paneer with tandoori masala and then sealed in bread and deep-fried.
You can prepare these Pakodas in less than 20 minutes. A perfect snack recipe to entice your guest.
---
In conclusion, all these Uttarayan recipes are fantastic ideas to give a new food trend for this festival. And If you are on Pinterest, let others know you found an excellent recipe to try this Uttarayan.