Almond Cookies (badam biscuits) are rich in taste. Although my almond biscuits have a crunchy texture & beautiful heart design. We usually eat biscuits that are round, square or rectangle in shape. However, today we will bake heart-shaped cookies. I love the heart shape.
So far, we have baked 7 biscuits in OTG including eggless almond cupcakes. The almond cookies are the eighth one in the edition. Hence, let's discuss how to make these elite almond biscuits. We will start with the basics. Here you go.
Why do we call them "Almond" cookies?
Trust me these cookies are real-time almond flavoured tea time biscuits. Since I mentioned tea biscuits I want to share homemade salted biscuits that I baked earlier. Click the link for more info. Okay, back to the recipe.
Almond cookies are called likewise because they're made using almond flour. Let me tell you that almond flour is not similar to our traditional wheat or all-purpose flour. Instead of using smooth or soft almond flour, I decided to use coarsely grounded almonds.
I will tell you why I did & why you should also be doing the same.
If you look closely, the grounded coarse almonds have a brown texture. Moreover, small pieces of almonds will give a rough texture to the cookie. But, above all, you will experience the almond flavour in every bite—a chewy.
Trust me, and it's a heavenly treat. Not only kids but everyone in your family will want more & more. Similar to almond biscuits we can bake another variety of biscuits using dry fruit. Yup, it's none other than my favourite Kaju pista cookies. You can also mix & match cashew & almond to bake Kaju-badam biscuits.
What you'll need to make them?
Just 4 items. That's it. These biscuits are a no-fuss baking delight. All you need is butter, sugar powder, almonds (coarse almond powder) & all-purpose flour.
In other words, this recipe doesn't require almond essence or extracts. All in all, there's no artificial colouring or flavouring. These four items are enough to tingle your taste buds.
Surprisingly, almond biscuits are not only easy to make, but they require fewer items & lesser time to cook on the whole. This reminds me of eggless Karachi bakery biscuits. The combination of custard powder, tutti-frutti & the aroma of elaichi is god level. Browse the link & take a look at the pics.
Okay, now my mouth is watering & my taste buds are craving these crunchy munchy biscuits. So let's make & bake.
How to make buttery & crunchy Almond Cookies?
Do you know making almond cookies is easy than you think? Check out the steps below & you'll make super delicious badam ki biscuits. One more thing, scroll at the bottom to get detailed recipe steps with measurements.
Preheat OTG for 10 mins at 180°C.
Mix butter & sugar powder in a mixing bowl.
Add almond powder & all-purpose flour.
Knead the mixture & make dough out of it.
Now roll the dough, make it flat & cut using a mould.
Align the biscuits in a baking tray. Bake for 12 mins at 160°C
Cool them down & store them in a glass container.
Also Read:
Kaju pista cookies when baked with rose water gives a unique fragrance to the biscuits. Learn a secret trick to bake cookies without burning.
Almond Cookies Using Wheat Flour (गेहूं का आंटा)
Yes, we can definitely bake badam flavoured biscuits in wheat flour. I had a pretty good experience baking homemade digestive biscuits from wheat atta. Despite the fact that wheat flour is healthy it could be tricky to bake wheat flour items.
Surprisingly, wheat & all-purpose flour have different baking times due to their distinguished properties. For instance, my Bajaj OTG takes 12-14 minutes to bake all-purpose flour biscuits. On the contrary, wheat flour biscuits take no less than 15-18 minutes in the same OTG.
On top of it, you need to monitor wheat biscuits when they are baking. A few seconds more can burn them. You could end up destroying the whole batch. I don't mean to scare you but a few unsuccessful attempts will help you bake the finest wheat cookies.
Storing Almond Cookies
Cookies tend to attract moisture rapidly compared to other food items. Specifically, bakery items are vulnerable if exposed to room temperature for a longer time.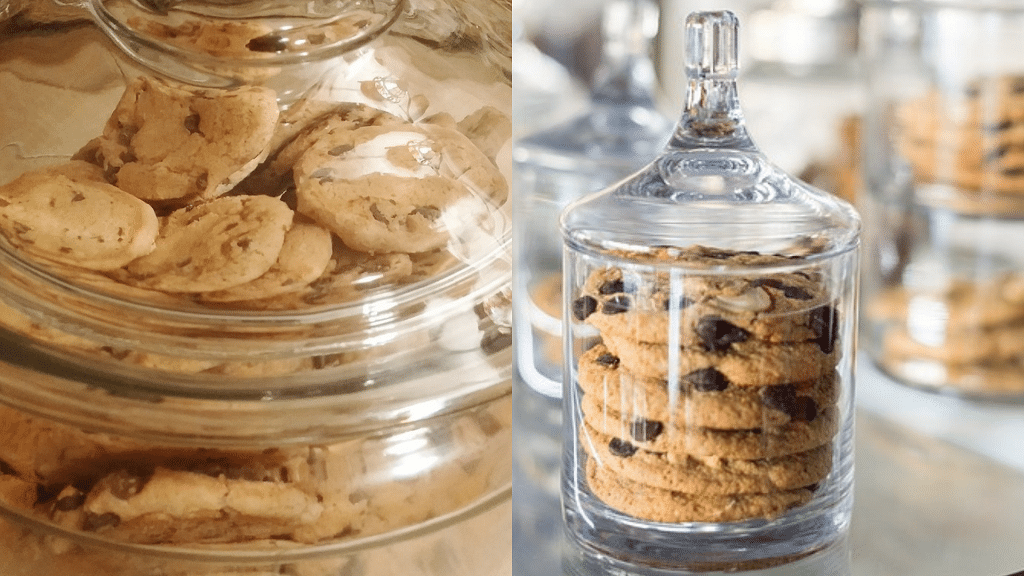 Therefore it is advisable to store cookies in glass containers. Avoid plastic containers if possible. There's one more solution to the storage problem if any. Make small batches, like 1 or 2 trays. This way, you will always be eating freshly baked biscuits every time.
Like I said above, we have a tasty collection of OTG baked biscuits, aka cookies. Here's the list for you. Follow the link, watch the recipe video & go through the steps. Then, let me know in the comment section which one did you make.