Valentine Day has a great significance. A day to express your love to those whom you care about. Nothing would be better than a Valentine Cake.
You could buy ready cakes from a outside, but the ones that you make at home are different. They have a special ingredient called Love in it. This ingredient makes it look more beautiful and sweet.
We have gathered 3 simple and easy Valentine Cake recipes that can be made at home in very short time.
I have heard my Grandma always saying this to my mom when I was a kid that the if the husband's heart connected to his stomach and good food is the key to win your husband's heart.
3 Easy To Make At Home Recipes for Valentine Cake
Surprise your husband this Valentine Day by making these 3 easy to make at home Valentine cake recipes.
Love Muffins
Choco Vanilla Gift Cake
Dual Heart Cake For You And Me
All these recipes are very simple and can be made in no more than an hour. The ingredient used in these recipes are readily available and thus they are damn easy. Women's are always smart and tend to go for smart options.
We all are known to Monginis, the cakes shop and they have their shops in every city. Most bases used in these recipes are bought from Monginis. Whipped cream, cake fondant etc are easily available at bakeries or small cake shops.
Love muffins are the easiest ones among these three. Just 5 easy step to follow and your beautiful Love Muffins are ready. We have used the ready Monginis Fruit Muffins to make this treat.
See image below: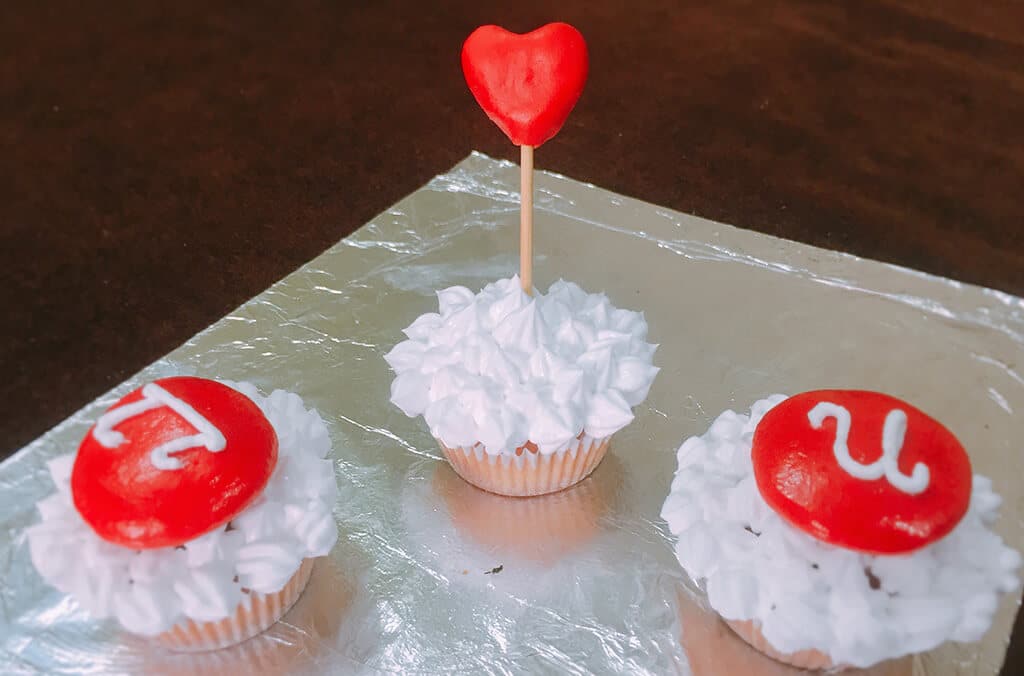 Click on the link below to know the ingredients and the recipe to make them:
Love Muffins Recipe for Valentine's Day
Sitting in the lap of your husband wearing a lovely red dress and enjoying these Love Muffins. What a great feeling. Just Imagine.
Choco Vanilla Gift Cake is another simple recipe to be made at home. Ready Monginis Dessert Cake is used to make this Cake. It just takes no more than 30 minutes to make this lovely treat.
Give your husband a loving treat this Valentine with Choco Vanilla Gift Cake. You can hide some gifts inside the cake. Be careful it doesn't break your husband's teeth. This love treat might turn into a hell. Just humor.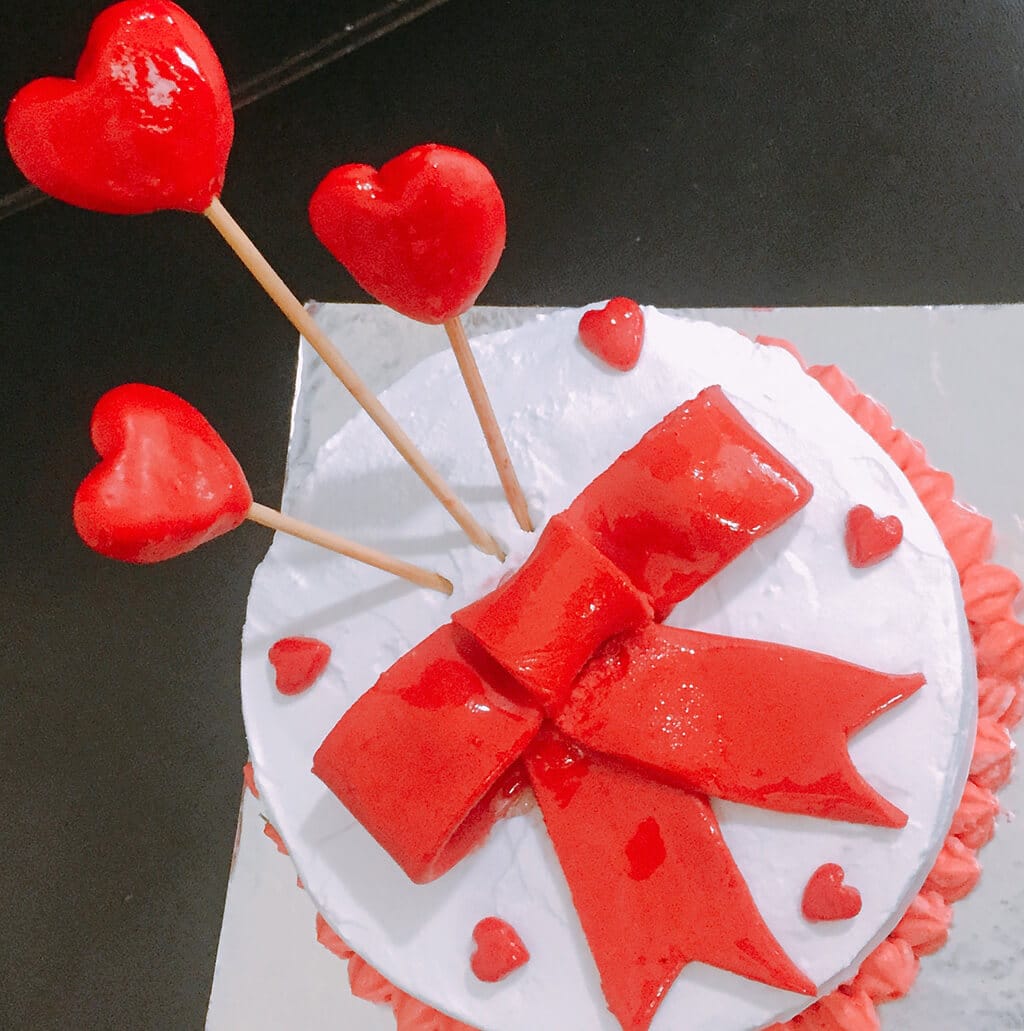 As said earlier, love is the main ingredient in such recipes. Food is symbolic of love when words are inadequate.
Click on the link below to know the ingredients and the recipe to make this:
Choco Vanilla Gift Cake Recipe For Valentine
Imagine yourself in white long-dress with a lovely red belt over the waist and having a candlelight dinner along with the Choco Vanilla Gift Cake.
Dual Heart Cake For You And Me is a very exotic and fantastic cake recipe for couples. The looks are so mesmerizing that people fall in love with the maker instantly.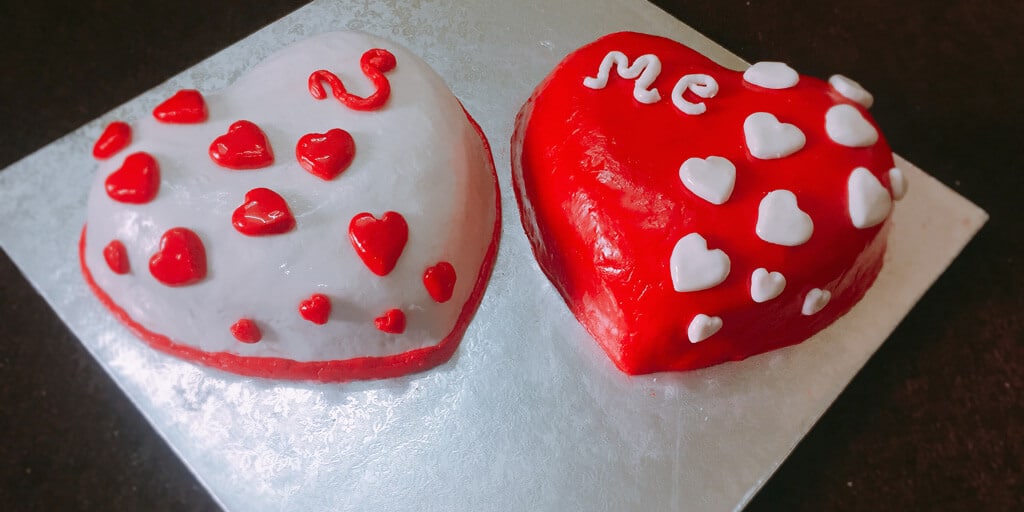 This recipe also uses the Monginis Dessert Cakes. The main ingredient in this recipe is the cake fondant. Earlier it was difficult to find fondant readily available but now they are.
The major part of this recipe is the creating and decorating the cakes with the fondant. It takes around 45 minutes which is longer than the previous ones, but worth the time.
Click on the link below to know the ingredients and the recipe to make this:
Valentine's Dual Heart Cake Recipe For You And Me
Share your Valentine's Day experiences with us in the comments section. If you like these recipes share it with your friend and families because "Sharing is Caring".
Have a Wonderful Valentine Day.