When We hear the word Chinese Dishes, recipes like schezwan rice, Manchurian, soups, chop suey, etc start popping into our minds. These Indo-Chinese dishes have now taken place in our meals.
Since we were kids, we have given so much love to Chinese dishes. In that also, Ind0-Chinese dishes are the best and tastiest.
To show our gratitude towards India's desi Chinese dishes and we are sharing a collection of 15 Chinese dishes that we Indians love to eat since our childhood.
Indian's love hot & spicy. Though it is red chili, green chili or even chili flakes. Each recipe has a little bit of a tadka of spice.
I remember some fun memories with my bestie. In our school vacation, we used to make Manchow soup every alternative evening with great spice inside and enjoy every spoon with heart.
My favorite cuisine is Chinese. Not only me, but even Kareena Kapoor also loves Chinese. Wow! we have so much in common!
Every day on television you see a minimum one ad that has to go with Chinese cuisine. It's so famous more than Bahubali.
You can also try 10 Great Sandwich Ideas For Quick Breakfast.
Click images for the full recipe. 
Chilli Paneer is a starter recipe and is actually an amazing spicy start up with your dinner. It's the tastiest appetizer dish in Chinese cuisine.
Source: www.yummytummyaarthi.com
Spring roll is again a starter dish and you must have been ordering in restaurants for ages. It will give you three bursting in your mouth- veggies, chicken & sauces. Go now!
Two purposes solve with this dish. If you want to eat Manchurian and noodles too. Mix it and your Chinese Bhel is ready. It's best made with Indo-Chinese taste. An extra delicious taste!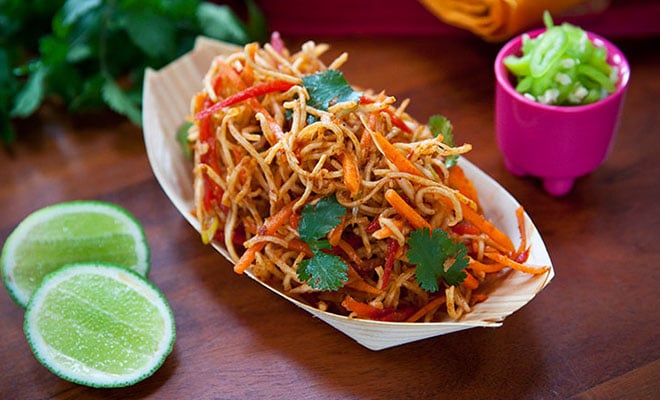 Source: www.monishgujral.com
It's super easy and innovative combination than a normal Manchurian recipe.  A must try the recipe to give you new Chinese taste all over again.
Your favorite lunch or dinner is not yet booked then book this dish. Grains of Rice perfectly mixed up with Schezwan sauce & added some veggies and masala for the flavor.
Source: www.cookwithmanali.com
You eat this dish and find the perfect balance of sweet, sour, salty & spicy. A famous appetizer in India across all restaurants and street stalls too.
These crispy wontons are the best appetizer for lunchtime. It's so crunchy that you won't just stop enjoy eating it. Dip it with tomato sauce or any other you like and relax with your taste.
Source: www.vegetariangestronomy.com
This dish is ready under 30 minutes no extra ingredients that you won't be able to find at home. Just some ingredients and fry it in Chinese sauce and Mutton Botis are ready.
A salad presented in a wrap style with chicken & sausages. The best on the go food ever. Add mayo in it & your cheesy taste affair is already starting.
Source: www.carlsbadcravings.com
The most available soup even if you are in the forest. It's kids and adult most favorite soup then vegetable soup. Adding crushed chicken in the soup is an extra layer of tastiness.
My mother cooks fried rice from leftover rice because I love that. I can eat it any time given in a whole day. I never go outside for eating fried rice. This truly amazing fit to stomach food is what you need in your lazy days.
Source: www.cafedelites.com
A vegan made American Chop suey is a delicious affair for two. Serve it for your dinner date to your loved one and some mocktails. Your date will fall in love with the taste so as you.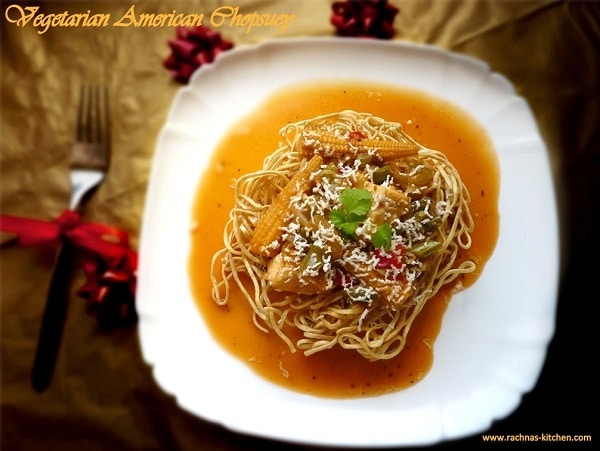 Source: www.rachnas-kitchen.com
This Hakka noodle recipe turns any grownup adult into a kid. A food for vacation, food for friends, food for free days.
Munchy crunchy Chinese rice dish with some spices made in Indian Style.
The chicken rose garden is Indian cuisine dish made with a Chinese flavor. This is the best dish that youngster go gaga on it.
Check those recipes that you want to make this weekend & enjoy the real Indo-Chinese taste ever. All the recipes are suitable for kids, adults or parents.
No more waits. Go for Desi Chinese!
For any queries or recommendations for recipes, comment below and watch out for the next great recipes.