Bread usability is quite huge among youth and working professionals, especially those who are single. We need to rush to work and need some easy things that we can make. Here are 40 innovative recipes made out of bread slices.
When you think of some easy and fast lunch or breakfast, anything made from bread slices is the first to come in our mind. Making 'boring' recipes out of bread is an old thing.
We can use many types of dippers and chutneys to use as a base on the bread to make recipes uniquely.
Even kids, teens, and bachelor boys can make these delicious bread slice recipes.
The best compilation of veg and non-veg recipes made out of bread slices to suit everyone plus some of the recipes include desserts too.
I am sure you will love these bunch of innovative recipes made out of bread slices.
But before we move forward, let us know what makes a sandwich a good sandwich.
Download our Free Recipe Cookbook
---
What Are The Three Elements Of A Good Sandwich?
The bread- has to be soft and delicate in shape.
The spread – choose the likable spreads available in the market according to the type of sandwich.
The main ingredient – keep your main ingredient of the sandwich in highlights like chicken, egg, any vegetable, or fruit.
Veg And Non-Veg Indian Recipes Made Out of Bread Slices
These recipes collection consists of 2 different categories; Veg recipes made out of bread slices and Non-veg recipes made out of bread slices.
Just to make sure we don't leave out any of our readers. If you are a vegetarian or a non-vegetarian, you have ample choices to make from.
All these recipes you can enjoy in breakfast, lunch, snack, or dinner. Easy to cook & amazingly tasteful.
So let's begin the bread show.
Also Read:
From the top sandwich makers in India, we apply the criteria of operation, plate types, oil drain to conclude the best sandwich maker to use
20 Veg Indian Recipes Made Out of Bread Slices
Yummylicious Veg recipes all with a different twist. A unique makeover to your regular veg sandwiches.
How much do you love cheese that defines your love for this veg bread pizza? It is a new take over your regular pizza. It is made out of bread slice and applied with a special sauce – Alfredo sauce. You heard it right! Try this cheesy pizza today.
---
We know how much you love street food. So here it is. Bombay veg sandwich for the people who need something cheesy at the same time easy to make. Veg bread pizza is a dish for the people who are a little lazy to cook. It is a recipe for a few ingredients & more taste.
---
Bread Custard Pudding is a straightforward recipe that can be ready in less time. An excellent choice for Ramadan iftar desserts, parties, or gatherings. A perfect dessert to suffice your cravings for sweets.
---
Shahi Tukra is a traditional Mughlai dessert made with fried bread coated with sugar syrup and thickened milk garnished with dry fruits and rose petals. The name itself is shahi, which means royal—a royal treat for your special one.
---

Bread Manchurian is a natural, innovative, and tempting dish that you will ever have. It makes your munching time tasteful and full of fun. Instead of other Chinese recipes, why don't you try this lip-smacking recipe today?
---
Kite sandwich is a kid go crazy for a recipe made especially for Uttarayan. People like to do some crazy and fun foods on the festival days, so what can be more exciting than this. Surprise your friends with your sandwich skills.
---
Bread Jamun is the new gulab jamun. Easy and delicious recipe one can make at home. It is a delightful and easy on-the-spot dessert made up of breadcrumbs. Take your apron & make this delicious recipe for your kids & family.
---
Tandoori Paneer Pakodas is a spicy and delicious finger food created with some twist. Paneer coated with tandoori masala sealed in bread and then fried. If you have less time and guests are there, then this can be the best option.
---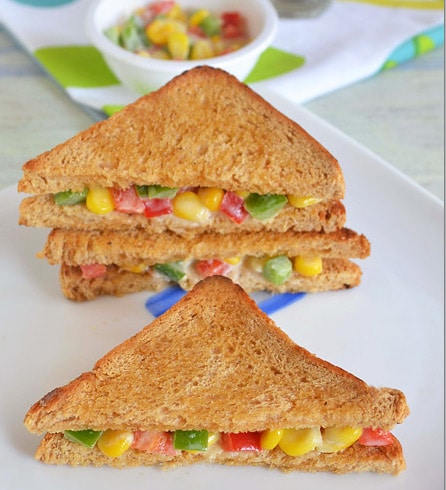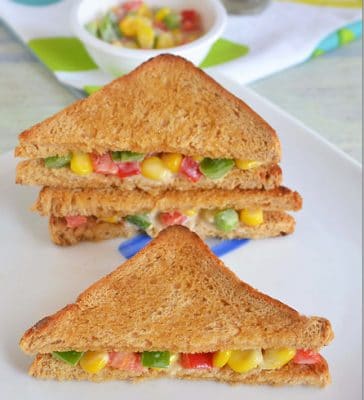 Source: www.sharmispassions.com
If you are googling a perfect and tasty sandwich recipe, then here you go. It is a partial no-cook sandwich version for your breakfast. With the same base, you can also add other veggies like carrot or onion. Make a delicious sandwich at your home.
---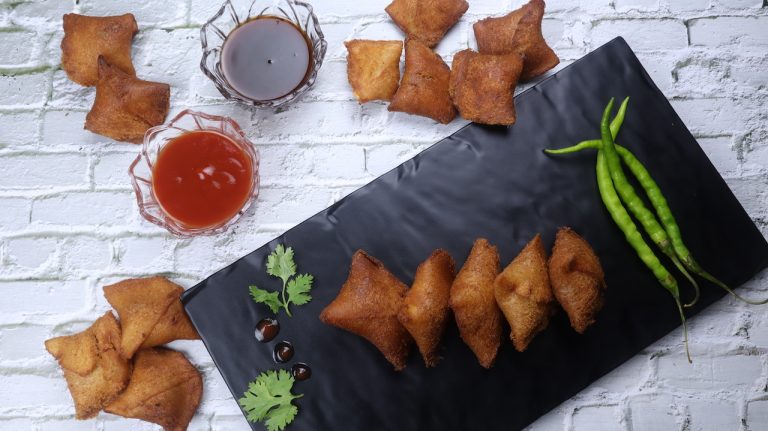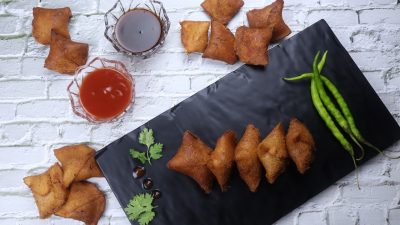 Bread Samosa is a super crispy, tasty, and flavorful recipe made using bread slices as the outer covering instead of plain flour. It is a go-to recipe for the women who like to make something innovative and different in snacks. You can serve this with Tamarind chutney and tomato sauce for two different tastes at the same time.
---
Source: www.happyandharried.com
Caramel bread pudding is smooth and delicate, coated with a delicious caramel sauce. It is a stunning dessert made with bread slices, eggs, milk, and sugar. The pudding can either be steamed or baked.
---
Source: www.mintsrecipe.com
Bread Idli is a modern-day breakfast staple food. It is so soft and has a fantastic Indian touch on it. Entertain your whims with this instant bread idli. It is made with innovative bread crumbs batter, and it tastes so fluffy in mouth.
---
Source: www.youtoocancook.net
If you have leftover bread at home? Do you want to cook something interesting out of it? Try this bread 65. They are so delicious, flavorsome, and tasty. It is appetizing and takes nearly no time to cook. No one has ever tried such an addictive snack. Your kids in the house will go crazy having a hatke bite.
---
Source: www.cookingandme.com
Bread Potato Roll is a unique and tasty snack recipe made using bread slices and spicy potato filling. You can customize the spicy taste according to your needs. Looks appetizing and creates a fun environment in your house. Make some rolls and rock.
---
Source: www.yummytummyaarthi.com
Bread Halwa is as good as any other halwa in the world. It is an essential and simple recipe. If you are a newcomer to make your debut in making desserts, then this recipe will be your game changer. Enjoy this warm and delicious treat at your home in this monsoon season.
---
Source: www.hebbarskitchen.com
Imagin making cake out of bread slices? Bread cake is an entirely new take on. If you ever thought of eating something sweet, don't forget to make this cake out of your slices. Just some slices and whipped cream make a cherry cake for you.
---
Source: www.shriandsam.com
How to make your Maggi more appealing? Simple. Make a Maggi sandwich. This combination is truly kid-friendly. It's a perfect pack for snacks items. Make your child's evening extra special.
---
Source: www.bakingwithblondie.blogspot.com
Cucumber tea sandwiches are hearty bread slices that will make you fall in love with it. It is unique, looks super cool, and tastes outstanding. Try today at your home because we are going to try it today.
---
Source: www.oliversfordinner.com
Onion soup sandwich is deeply caramelized onions have a unique dark sweetness to them. It is nicely balanced, and melted vegan cheese inside makes it a super tasty sandwich. The mixture of onion and cheese creates magic in the sandwich.
---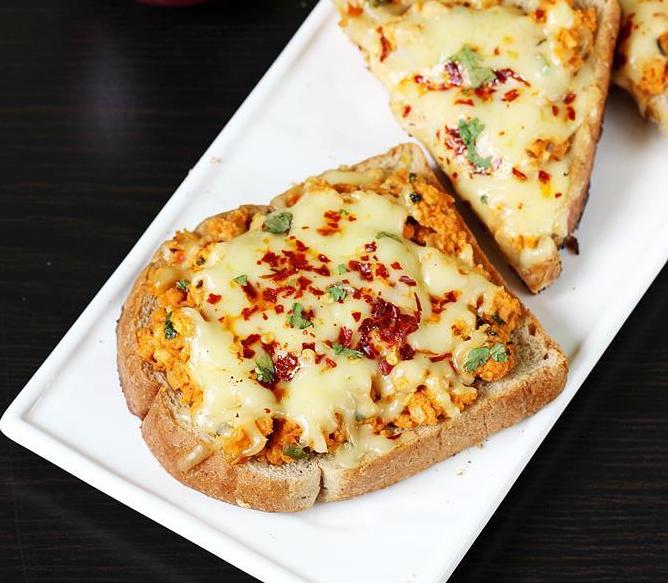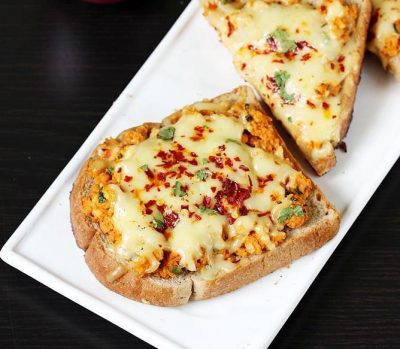 Source: www.indianhealthyrecipes.com
Paneer cheese toast is a spicy, cheesy, and crispy toast sandwich that you will not stop eating. It is a fantastic appetizer to enjoy with tea time. It doesn't need any sauce or chutney. You can just enjoy the top ingredients with it.
---
20 Non-Veg Recipes Made From Bread Slice
Imagine bread slices topped with yummy sauces and toppings of chicken, egg, or mutton. It's just mouth-watering. Check out these 20 Non-Veg Recipes made from bread slices.
Grated Boiled Egg Sandwich is a quick, easy, super yummy, and super healthy breakfast recipe. A protein-rich recipe for your kid's lunch box. It gets ready in just a few minutes. You and especially your kids are going to fall in love with it.
---
Chilli chicken open toast is a fantastic Chinese flavor toast which loved by all ages. It has a unique sweet & sour taste served on open toast. It is best for evening munching, and some served in parties.
---
Chicken alfredo open toast is yummy tummy-filling toast, which is made with chicken and alfredo sauce layering on a bread toast. It gets ready in less than 30 minutes. The toast is crunchy and creamy at the same time.
---
Chicken tandoori open toast is a fabulous toast recipe for the people who love spiciness and crunchiness. I love this toast for two reasons: it is incredible during your lunchtime & it fulfills your urge to eat spicy things.
---
Chicken teriyaki open toast is Japanese style open toast. It's sweet, juicy & crispy. It's tempting & best in the category of starters. Make your dinner date special with loved ones by feeding them something sweet in chicken.
---
Chicken greek open toast is colorful and pungent toast recipe. It is layered with cherry tomato, creamy paneer & chicken cubes topped with refreshing yogurt sauce. It is a classic breakfast toast.
---
Chicken French open toast is new in the market. The toast is layered with scrambled eggs, crispy fried chicken pieces & tomayo sauce. The taste is so unique, creamy, and loved by kids. The color of the toast is heart winning.
---
Chicken Mayonnaise open toast is a creamy and yummy toast. You feel like heaven while eating. It is melting in your mouth and a fantastic picture-worthy snack toast. It is made with minimum ingredients available at home.
---
Egg Stumbler is the most comfortable breakfast, snack, and lunch box recipe that you must try. Just a new makeover to your regular scrambled egg. If you are an egg lover, this can be a tasty treat to your taste buds.
---
Chicken Bread Pockets are easy-to-make and straightforward starters. They are an excellent snack and a great appetizer.
---
Sunday mornings and Egg in a hole confirmed. Is so much amazing feeling seeing this? Have you ever tried semi-cooked yolk running down the bread? OMG! It's amazing!
---
Source: www.sujiscooking.com
Coriander chutney toast has a rich flavor, and it is easy to prepare. It is mild spicy & pleasing. It is made by dipping the bread slices into coriander flavor batter and then shallow fry it. A complete savory version of having your bread toast.
---
Chicken Club Sandwich is an American sandwich recipe with an Indian taste. Ingredients of Chicken Club sandwich consist of high contents of Mayo. Thus, it is mostly loved by children. It is an excellent choice for an evening snack.
---
Egg salad sandwich is a super versatile and straightforward sandwich served between two slices of toasted bread. It is stuffed with small tomatoes slices or in a lettuce cup for a low carb breakfast. It is smooth and tastes fantastic in the mouth. The duo is so good will be excellent for working people.
---
Source: www.deliciousmagazine.co.uk
Coronation chicken sandwich has a wondrous filling inside. It is loaded with mayonnaise, curd, curry powder and chutney to swirl the deal. This sandwich is totally for the one who likes a different sandwich for breakfast.
---
Source: www.thespruceeats.com
Shrimp salad sandwich is good served stuffed into tomatoes shines its brightest on toasted buns with shredded lettuce. You can even keep it for one or two days in a fridge and enjoy this fantastic taste of the sandwich.
---
Source: www.yummyindiankitchen.com
Bread omelet sandwich is a quick Indian breakfast recipe made in easy steps. It tastes delicious and an idol breakfast for egg lovers. It can be served with tomato sauce or Tomayo sauce. You can even make it with brown bread for a health bonus point.
---
Source: www.madhurarecipe.com
Egg fry sandwich is a new approach to eating eggs with bread. Instead of cooking egg separately, it is cooked with bread to make it an innovative and tasty recipe. This egg sandwich is best for breakfast or a light dinner recipe.
---
Source: www.archanaskitchen.com
Cheesy grilled sandwich with smoked chicken is a masaledaar continental Indian cuisine fusion food. The sandwich has melt-in-mouth cheesy filling makes your day. It is crispy outside, and crunchy chicken inside makes it mouth-watering. Pair it with a nice Indian salad and enjoy it with hot tea.
---
Source: www.thespruceeats.com
Chicken Waldorf sandwich consists of Waldorf salad. It is made of apples, celery, walnuts in a mayonnaise dressing and can be served as a side dish. You can use shredded chicken breast as well. Flavor this recipe with whatever you like.
Here it is flavored with honey mustard, but you can do with yogurt too. The texture of the sandwich is too crunchy and delicious.
---
Make these delicious veg and non-veg sandwiches for your daily breakfast, lunch, and dinner. You can even serve some sandwiches with tea and some for your small gatherings and parties.
Refresh your days with these 40 Indian recipes made out of bread slices.
For any queries, post your comments/questions in the comment section. We will be more than happy to reply.