Today we will be making (homemade) Paneer out of full-fat milk. The ingredients we need are fewer, but the process is lengthy.
Okay, let me tell you we are making flavoured Paneer. I mean black pepper paneer. So what is the difference between homemade & dairy Paneer? Let's take a look.
Normal vs Black Pepper Paneer
The only difference is the flavour, the black pepper. Rest everything is pretty much the same. However, I have made slight adjustments to bring out soft & flavourful Paneer.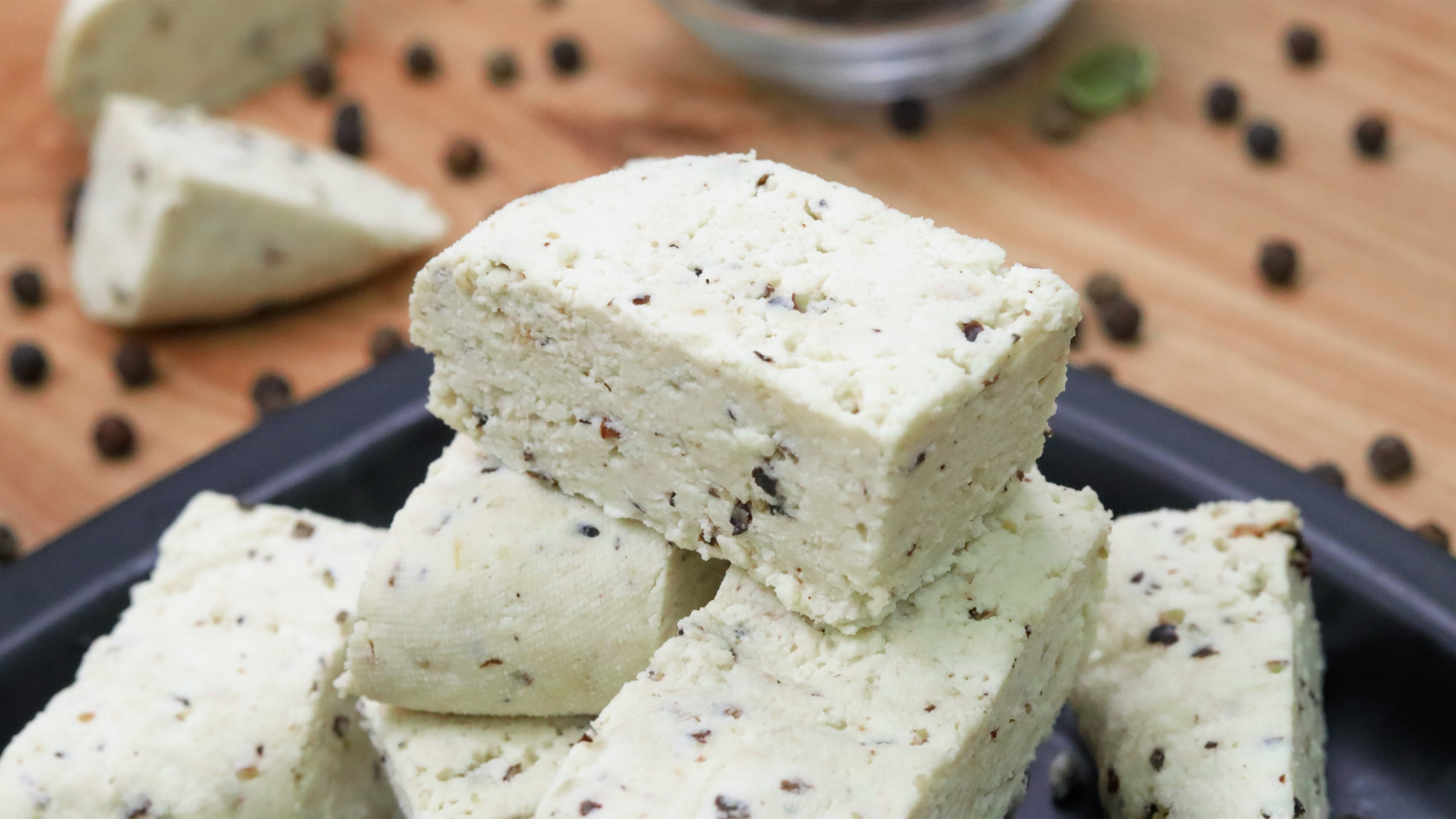 The Paneer you buy from local dairy or superstores is white & has no taste. Additionally, there's no aroma in it. It is manufactured that way commercially.
The homemade black pepper paneer is naturally flavoured. It has a mild aroma & it's soft as well. See, I don't mean to say that readymade paneer is not soft. Panner is soft and immaterial whether homemade or bought from the store.
However, adding one spoon of Ghee in the making process makes the Paneer extra soft.
What Will You Need To Make Black Pepper Paneer?
As I said above, we need only five items to get a soft Paneer. Here they are.
Milk – Always use full-fat milk because it gives maximum yield. For instance, I used 1.5-litre milk & I got approx 400 grams of Paneer. However, cow milk is not advisable. It is thin & the final yield is way less than full-fat milk.
Black Pepper – Crushed black pepper is for flavour. Since we are making homemade Paneer, black pepper is the main ingredient here. Don't make a fine powder. We need coarsely crushed powder to make it look visibly attractive.
Asafoetida – There's a specific purpose behind adding asafoetida. It reduces the raw milky aroma & taste of the milk. So your Paneer won't be smelly.
Ghee – Just one tablespoon of Ghee is enough for 1.5-litre milk. Adding Ghee will give you moist & smooth Paneer. Don't skip this item.
Lemon Juice – To curdle the hot milk, we will use lemon juice. Besides, vinegar is also an excellent substitute for lemon juice. Squeeze two lemons & add 2-3 tbsp water. Make a dilute solution & add it gradually.
The ingredient list ends here, but there's still something I need you to know. Apart from the above items, we need other things. Below is the list of all those items.
List of Other Items
A large bowl (to collect the whey water)
Sieve (the one having minute fishnet structure)
Muslin cloth (preferably white)
Tray (to set the Paneer)
Weight (to give a flat shape to the Paneer)
Both muslin cloth & sieve are necessary to collect the curdled milk solids. Bowl is to collect the whey water that you can use later on in cooking. Keep these items ready once you gather the ingredients.
TR's Extra Shot for Homemade Black Pepper Paneer
Boiling Milk – The milk doesn't need to be boiled for long. Instead, add lemon juice or vinegar just after the first boil.
Vinegar – As per my experience, vinegar gives more yield than lemon juice. Moreover, your Paneer won't have a tarty taste.
Mould – If available, use a mould to set your Paneer. Doing this will give a perfect shape & it will be easy to cut & use further.
Culinary Use of Homemade Paneer
We all know how & in what ways Paneer is used in Indian recipes. If I were to say it in one word, it would be infinite. There are unimaginable culinary uses of Paneer.
Not only the main course, but Paneer is also a dessert ingredient. Yes, you can make sweets from homemade cottage cheese. I have listed some of my tried & tested paneer recipes below. Take a look.
Paneer Breakfast, Snacks & Starters
Paneer Bhurji, Paneer Masala Idli, Paneer Burger Patty, Paneer Pakoda, Palak Paneer Cheese Dosa, Paneer Nuggets, Paneer Tikka.
Main Course Paneer Recipes
Matar Paneer, Chole Paneer, Paneer Ghotala, Shahi Paneer, Paneer Lababdar, Achari Paneer, Paneer Makhanwala, Hariyali Paneer Masala, Malai Methi Paneer, Paneer Butter Masala (without onion & garlic).
Paneer Desserts
Paneer Kheer (one of my favourites), Paneer Halwa, Paneer Mawa Cake (this one too), and Paneer Kalakand.
Homemade Black Pepper Paneer FAQs
Go through the below-mentioned faqs before you begin making Paneer.
Can I replace black pepper with white pepper?
You can, but it is not recommended. Black pepper forms a nice dotted texture on white Paneer. White pepper will vanish in Paneer. The taste will be the same, but then the look will differ.
Can I make Paneer using cow milk?
Yes, you can make Paneer out of cow milk too. However, the quantity aka yield will be less compared to full-fat milk. If you are okay with it, then go ahead.
Can I skip asafoetida?
Asafoetida, aka hing, is to decrease the raw smell of milk. However, if you are not okay with adding hing, then skip.
Can I use white vinegar instead of lemon juice?
You can do that. Moreover, vinegar gives more yield than lemon juice. The curdling process is also faster comparatively.
Can I use apple cider vinegar?
No. Use plain white vinegar. Apple cider vinegar, aka cider vinegar, is made using fermented apple juice. Hence, it has an apple flavour in it. Using flavoured vinegar may hinder the process & spoil the taste of your Paneer.
Can I add curd or yoghurt instead of lemon juice?
Yes, you can use yoghurt, curd or even citric acid instead of lemon juice. But use them only if lemon juice is unavailable. It's natural & fresh.
Hence, the making of paneer at home concludes here. I hope you liked it. Give your suggestion in the comment box. See you in the following recipe.