I am in love with this खट्टी, मसालेदार & ruby red paneer achari gravy. Period. Take a look at the image below.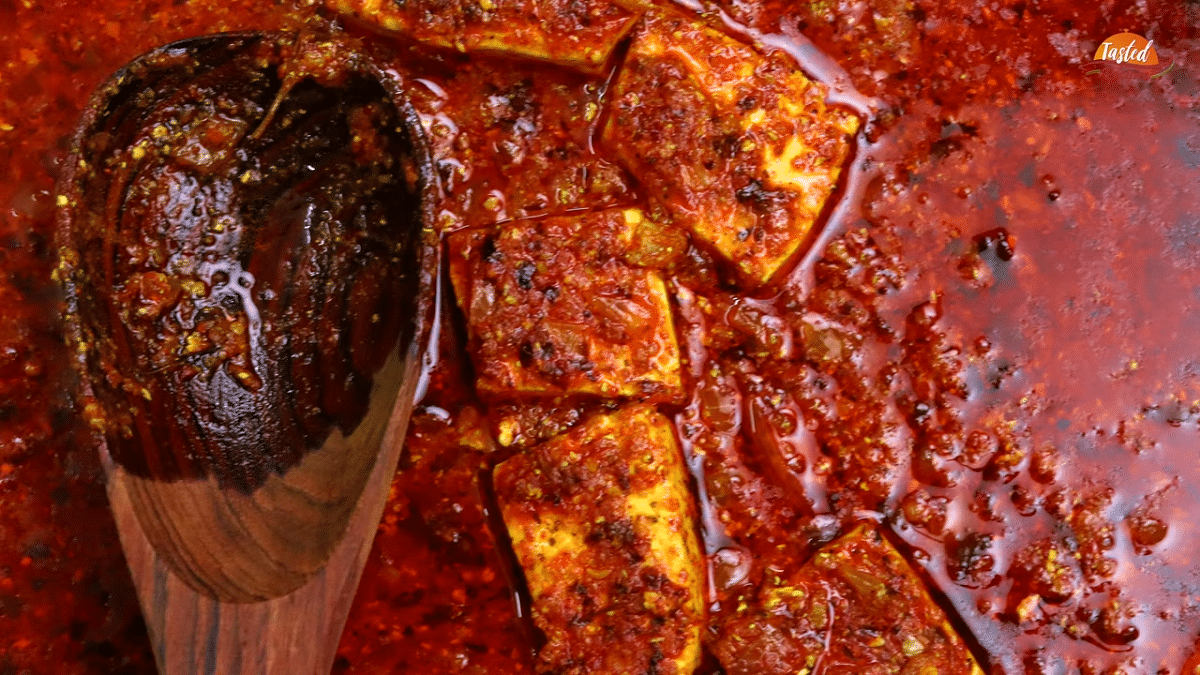 This Punjabi gravy sabji can be appreciated either lunch or dinner with paratha, kulcha, naan or plain roti.
Now let's start with today's recipe.
Why the Name achari?
The name पनीर अचारी ग्रेवी itself suggests that the result will be rich in taste & texture. The Indian cottage cheese is wrapped in whole spice & masala mixed with creamy & red gravy.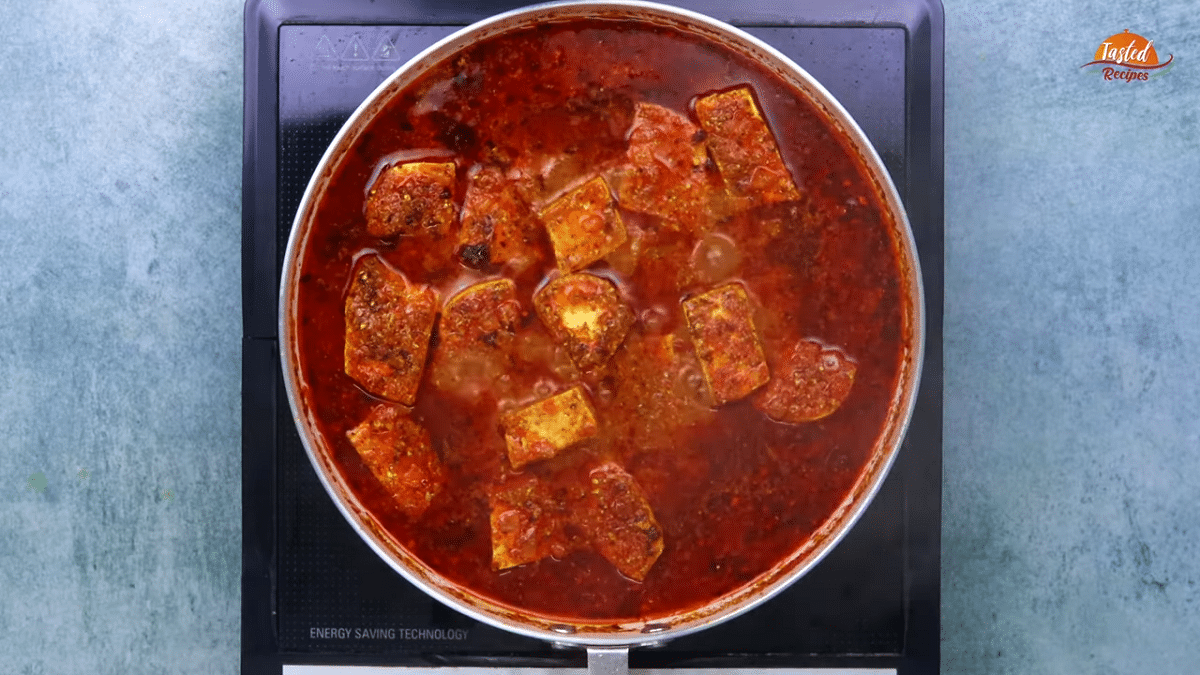 The word achari is from the term Achar which means pickle in the Hindi language. So now, any recipe using Indian pickle spices is achari. There are many such achari recipes like achari paneer tikka.
What we are making today contains achari masala & that's why it is achari paneer. Hence, let's get started.
The taste of Paneer Achari Gravy
Suppose I were to say that in just one word, it is mind-blowing. This particular dish is a gourmet of a variety of flavours. The correct balance of whole spices & masala powders will tempt your taste buds.
In short, we have the khatta taste because of mango powder. Then we have teekha taste because of achari masala & mango pickle masala. Additionally, we also have curd for a creamy taste.
Okay, now, let's address an obvious question. Since we put a lot of masalas, does that make this dish uneatable? Let's counter this query. Here you go.
Will spices make paneer achari teekha?
NOPE. Your recipe will be masaledar & not teekha. There's a vast difference between masala wali & teekhi achari paneer. On the other hand, putting in a lot of spice & masala powder won't make this dish unbearable.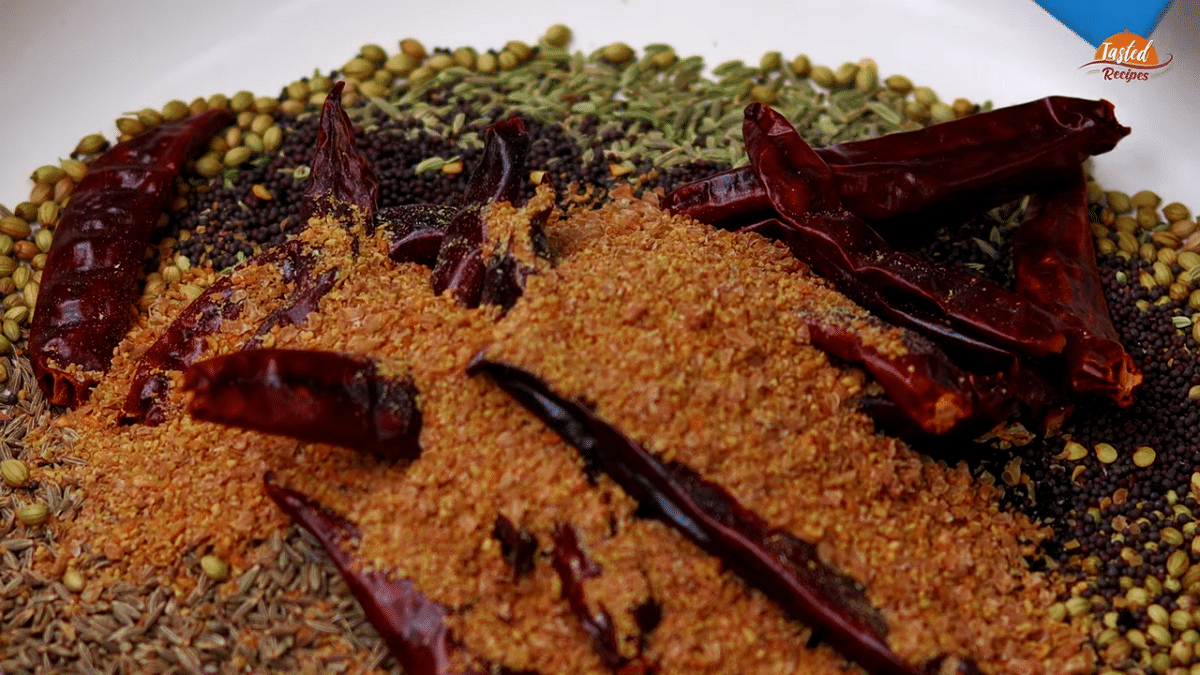 We have other items to neutralize the taste—for example, curd. A step further, we have the paneer to balance the extra hotness there.
Therefore, relax & put in all the items I have mentioned. Don't skip anything. You will love making & eating this gravy achari.
TR's Extra Shots
The following tips are add-ons. Let me tell you, they aren't mandatory. But if you follow them, you will get better results. Hence, here they are.
Achari Masala – Store achari masala to use later in other recipes. Use a glass container. Avoid plastic containers as much as possible. This homemade achari masala will serve the purpose of garam masala. Proper storage will keep the aroma & flavours intact.
Paneer – Defreeze paneer before cooking if kept in the refrigerator. Ensure the store-bought paneer is fresh, not hard, not yellow & doesn't stink. It must be soft.
Tomatoes – Use ripe, red & juicy tomatoes with a sweet taste. Avoid using green desi tomatoes. You can either make puree or add chopped ones depending on your suitability. If you want a smooth puree, then strain crushed tomatoes. Doing this will remove the tomato skin & seeds.
Cooking oil – You can replace cooking oil with butter or ghee. The taste will differ depending on the quality of butter & ghee. You can even swap it with other healthy cooking oils.
Curd – I prefer using Punjabi dahi from dairy because it has a mild sweet taste. You can use the same or swap it with yoghurt or even Amul Masti. Another critical point is to beat the curd before adding. If not, large chunks of curd will visibly float in the gravy.
The gravy – Cook gravy until oil separates. Doing this will allow whole spice & masala to release individual flavours. Do not hurry up while making gravy. It is the base of our recipe.
Red colour – The roasted brown achari masala, tomatoes & Kashmiri red chilli powder gives the dish a deep red colour. The mango pickle masala further adds to the overall texture. Avoid artificial food colours.
After helpful tips, let's proceed to common queries. Here they are.
Paneer Achari FAQs
Here's a collection of common questions. I hope the list below contains satisfactory answers to your queries.
1. Can I use almonds instead of cashews?
Yes, you can replace almonds with cashews. You use both by blending them into a thick paste for the gravy.
2. I have 500 grams of paneer. What should be my measurements?
The ingredient measurements in this recipe fit 200-250 gm paneer. Hence, if you have 500 grams of paneer, double the measurements. Take only 1/2 portion of items if you have paneer 100 gms or less.
3. Can I skip cashews?
Yes, you can skip cashews entirely or replace them with almonds. One can also make the gravy with tomatoes, Onions, or both.
4. Shall I use curd or yoghurt?
You can use either of them readily available to you. This recipe contains dairy curd, popularly known as Punjabi dahi. Even Amul Masti dahi is an excellent choice.
5. Is achari paneer overpowering due to lots of spices?
No. The masala and spice mix combination is appropriate. In other words, this achari paneer is well spiced and not overpowering.
6. Can I make the achari paneer gravy in advance & refrigerate it for later use?
Yes, you can cook the gravy & refrigerate it but not for more than two days. The gravy beyond two days won't be a healthy option to eat. Defrost the gravy first. After that, add cream & water while reheating. On the contrary, doing this ain't recommended.
7. Why my achari paneer has a bitter taste?
We have fenugreek seeds (methi dana) & dry fenugreek leaves (Kasuri methi). If you increase their quantity or add more than the required amount, your gravy will taste bitter. Hence, monitor the quantity. There's one more reason. Even if you keep mustard seeds for a long time, they will turn bitter.
Add beaten curd or cream to reduce & balance the bitterness in the gravy.
8. How to improve the bitter taste of the achari gravy?
Add beaten curd or cream to reduce & balance the bitterness in the gravy. I recommend adding curd gradually. Too much curd will ruin the overall taste & texture of the final dish.
9. I saw a Youtube video where they used kalonji. Is it necessary?
Not at all. Just skip it if you don't have kalonji (nigella seeds). There's no urgency in using it. Without kalonji also, your outcome will be perfect.
10. Can I make this recipe without curd?
Nope. You won't get a creamy taste or texture if you skip curd. Furthermore, the gravy won't be thick. However, you can replace curd with yoghurt, heavy cream, cashew paste or almond paste.
11. What should I add, tomato puree or chopped tomatoes?
Either one will serve the purpose. I prefer puree because it reduces the cooking time. On the other hand, chopped tomatoes take longer to melt, elevating the time & effort.
12. Can I add malai instead of readymade cream?
Yes, but beat the malai before adding, or it will curdle if time permits. Next, blend malai in a mixer grinder or use a hand beater. Doing this will make malai thick & smooth.
13. Which is better for Paneer Achari – Readymade mango pickle masala with or without oil?
Both of them are good to go with. Mango pickle masala is readily available at grocery stores. The one that we use to make pickles. If you already have a pickle home, take out 2 tbsp masala with oil.
14. Can I use masala from readymade pickles like Nilon or Mother's?
Yes, for sure. Take care that you don't accidentally add pieces from the pickle.
15. Can I add garam masala?
Add 1/4 tsp of garam masala if you need it. However, there's no need because we have achari masala & which itself is equivalent to the garam masala.
16. How do I rectify the sour taste in my achari paneer gravy?
To balance sour or salty taste, use sugar or tomato ketchup. You can also add cream, beaten malai or sweet yoghurt. All these items are capable of neutralizing solid flavours.
17. Some YouTube videos suggest adding sugar to achari paneer. Can I skip sugar?
Sugar balances the extra hotness & spiciness. However, it is not mandatory to use sugar. If you don't like adding it, then skip it. The result won't differ. (We have not used sugar in our recipe)
18. I like the khatta taste. Is it okay to add a bit more amchur powder?
Yes, as per taste, you can add amchur, aka dry mango powder. But make sure you don't overdo it.
19. Can I replace the paneer with vegetables?
Paneer is the main item. Replacing it will change the entire recipe. For example, if you add vegetables instead of paneer, it will become veg achari. A step further, you will have to alter some ingredients too.
20. Should I fry the paneer or add it plain?
Frying paneer is recommendable. Although putting plain paneer will also give you the taste & texture, make sure you finally cook until paneer is soft.
The above tips & faqs will help you. Therefore, read & follow them. It seems like a lot of detailing, but they can yield excellent results. Do let us know how did you make this lip-smacking dish. If you have any suggestions, write them in the comment section.
We also have paneer gravy recipes like paneer lababdar, shahi paneer & paneer malai kofta, and paneer tikka & paneer nuggets for starters. Further, we have fusion paneer recipes like surti paneer ghotala & paneer masala idli cooked in regional style while keeping the taste intact.