Do you want to purchase a mixer grinder but aren't sure what to look for in a mixer grinder? Let us help you choose the best mixer grinder based on blade type, safety lock, and the number of jars.
Without much ado, let us get started with the buying guide to help you choose that perfect mixer grinder for your kitchen.
Buying Guide in a Snapshot
Click on the brand name to read the complete product review.
How To Decide The Best Mixer Grinder
Before you buy any mixer grinder you must consider these factors:
1. Wattage
Wattage is the basic unit of energy consumed against each volt. The more the wattage of the unit the more it consumes electricity. Hence, the smaller the wattage, the lesser the energy unit consumption. The ideal watt while purchasing a mixer grinder is 500-750W.
2. Speed (RPM)
Speed is a factor we need to consider the most in the mixer grinder. It is revolutions per minute or number of complete rotation a motor does in one minute.
Hence, the bigger the RPM of a mixer it is better. Ideal for mixer grinder for household use is between 18,000-23,000 RPM.
3. Number of Jars & Size
Many mixer grinders are available with 1 jar, 2 jars, 3 jars, and 5 Jars. The best combination we can find in the market is with 3 or 5 jars.
These 3 jars include 1 liquidizing, 1 for wet or dry grindings, and 1 for the chutneys. Mixer grinder with 5 has an additional 1 jar and other for atta kneading. The size of the jars ranges between a minimum of 0.4L to 1.5L.
4. Blade Types
There are various blade types in a mixer grinder for the better grinding outcome. There is a juicer blade, dry grinding blade, chutney grinding blade, and wet grinding blade.
5. Speed Control & Setting
Speed control is measured in RPM (rotation per minute) of a mixer grinder motor. It ranges from 10,000 to 23,000 RPM. The motor speed comes with a control setting knob in the mixer. Usually, all the mixer grinder comes with a 3-speed control knob.
6. Safety Lock
The safety lock is another important factor. When using a mixer grinder at home, the anti-lock system of the lid with the jar is important. It ensures total safety and avoids accidents. Sometimes the spillage can happen and the mixer can come out wildly. It can harm you.
7. Extra Accessories
Accessories like spatula can come with the mixer grinder. It can be plastic or wood quality. Also, sometimes hand blender can also be included with a mixer grinder as the best package buy offer.
8. Slip Proof feet
Slip-proof feet maintain the balance of the appliance in the kitchen. Sometimes during the process, it can slip off if the surface has liquid spillage. During that time, having rubber proof feet is an important factor.
9. Warranty Period
Warranty is we always look ahead in every electronic product. The higher the better. Electronic Rice cookers have about 5 years warranty period.
But in mixer and grinder, 2 years is ideal and 3 years is very often provided. As the usage is always high compared to other kitchen appliances. Ideal for buying a mixer grinder in India, it is either 1 Year or 2 Years.
On the basis of these above factors, we have made a list of 10 Best Mixer Grinders under Rs. 3000 in India of 2019.
Common FAQ's About Mixer Grinders
Let's answer very common questions about Mixer Grinders.
The Best Mixer Grinder in Review
Now from the best selling mixer grinders in India, we will choose the best Mixer Grinder.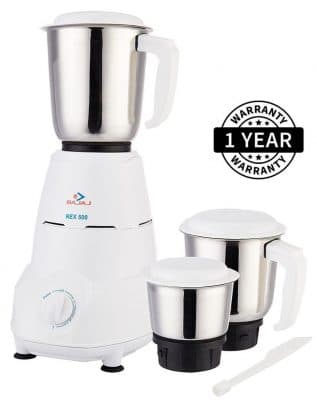 Product Highlight:
Bajaj is one of the top trusted brands and is the best selling on Amazon. Bajaj Rex Mixer Grinder has an elegant design, it's sturdy and easy to grip handles.
It has a 500W powerful motor and comes with 3 jars. The jar sizes are as follows a 1.2 L liquidizing jar, a 0.8 L dry grinding jar, and a 0.3 L chutney jar.
Moreover, the jar material is stainless steel and blades are also stainless steel. Therefore, it's rust free and has vacuum feet for easy operations. The speed control knob has 3-speed control with incher for momentary operation and the mixing RPM of this mixer grinder is 20,000 which is quite fast and good.
You can easily grind or blend ingredients varying textures effortlessly and quickly. It has a sturdy body that is premium quality ABS plastic will not corrode with time.
Moreover, it has a shiny design that will look elegant in your kitchen. Also, it comes with a 1 year warranty period for any manufacturing defect occurs.
Best Customer Experience
I am writing this review after 3+ years of use. This has traveled with me to foreign shores and been used frequently to make chutneys, Idli batter, grind spices, and myriad uses. The product is doing well, is durable. It has been packed into travel cases etc, with ease, it is definitely not delicate. It is reasonable easy to clean and the plastic has thankfully not turned yellow or colorful as some of them tend to.
Worst Customer Experience
Worst quality. The multi-purpose jar caught rust in just 3 months. The chutney jar lid flips open while grinding even after applying enough pressure on the lid and on the 1 power mode.
Pros and cons:
---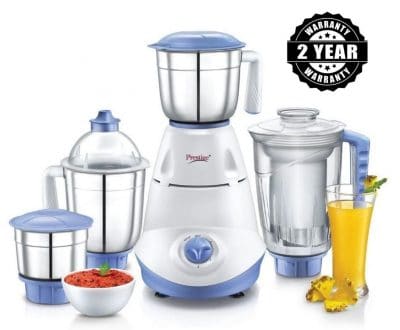 Product Highlight:
Prestige is one of the best selling brands on Amazon. It has a wide range of kitchen appliances lines and offers a great deal of mixer grinder on Amazon.
Prestige Iris Mixer Grinder is your most versatile partner in the kitchen. It has 3 stainless steel jars and a transparent juicer jar to grind and juicing.
It's 750 watts heavy-duty motor designed to make the task easy and fast. The mixing speed is 20,000 RPM.
It has 4 jars: Wet grinding jar (1.5L), Juicer Jar(1.5), Dry grinding jar (1 L), Chutney Jar (300ml). The jar material is stainless steel and also has Juice Jar that has Polycarbonate material. The speed meter comes with a 3-speed button.
The blade is made from premium quality stainless steel. The multi-function blade system makes the method of mixing and grinding of food much easier for you.
The power chord material is copper. And it has a sturdy handle made up of durable plastic. It perfectly fits into your grip.
Moreover, the grinder features an overload protection switch that cuts off the power supply to the mixer to prevent the motor from overheating. It has perfect jar safety lock to have safe usage.
Overall, it has an alluring transparent design of this mixer that enables you to see the entire grinding and blending process. It comes with 2 years of warranty.
Best Customer Experience
Very nice and powerful mixture for daily use. In my house, it particularly uses for grinding rice for some ceremonies like 'Pithe' in Bengali. But after using 9-10 times it works well but I agree with the fact that material quality is average and even not too good but if someone Handel with the care it works good and lasts long life.
Worst Customer Experience
I had bought this machine in Aug 2019. Within one month, we had a visit from the Prestige technician as the machine stopped working completely. As I write this review the machine is again not working and had to lodge a second complaint. Are Indian manufacturers like Prestige serious about quality!! I think not!! Last but not the least, this is an entry-level 750-watt machine, strongly recommends a buy against any Prestige product, especially in which they do not have core competence. They traditionally have been in pressure cookers and cookware, that is what they are fine with. Mixers/ grinders, chimneys, coffee makers, blenders, etc is not Thier competence, a definite avoid for Prestige as a brand in these areas
Pros and cons:
---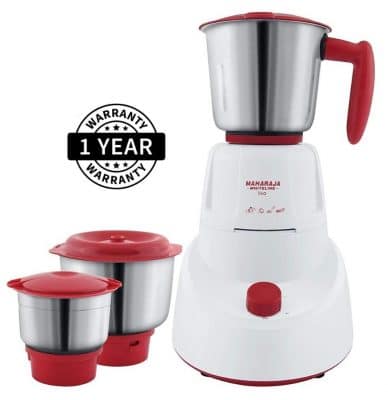 Product Highlight:
Maharaja Whiteline MG Livo Mixer Grinder is for everyday mixing and grinding in the kitchen. It makes grinding chutneys, spices, and other preparatory ingredients easier.
The motor is of 500W with 20000 RPM speed delivers quick and efficient performance that makes an efficient machine and easy to use.
There are amazing features like overload protection, and speed regulation and pulse.
It comes with 3 stainless steel jars – 1.5L mixer grinder Jar, 700ml dry grinding jar for Indian masalas, and 400ml chutney and puree grinding jar.
Maharaja Livo Mixer Grinder ensures longer operations and less overheating due to its air ventilation system. It ensures 30 minutes of continuous grinding.
Moreover, it has mix & grinds SS 304 blades that are sharp enough to cut through even the hard food ingredients.
It comes with high-quality nylon 66 coupler (a rubber stand) that adds to the durability. Moreover, there is a 5-in-1 chutney blades which are stainless steel. Needless to say, it comes with 1 year Warranty.
Best Customer Experience
The product is very nice Very light weight and can be carried easily while shifting for plugs. The best part is the lid which is of plastic. The plastic lid for 3 jars is superb. We can use these jars for grinding anything.
Worst Customer Experience
Bought this mixer a few months ago while going abroad, after reaching here when I started using this, I have no legs to stand on. Here problems are:

Too much noise, too much disturbance.
Will not grind anything, even this will not grind fruits. Such a shame.
Jars made with very cheap quality material and covers will not fit the jar, the liquid will come out.
Jars blades are not sharp, also jar will only grind the top bits, where bottom bits will remain as solid/hard.
Takes a lot of time, even after that will not get what we expect from the mixer.
In short its a bad, poorly made mixer. I will not do basic functionalities of a basic mixer, I bought by believing the Maharaja brand, but now I realized not to buy any product from this brand again.

I will suggest, Not to buy this mixer. There is no point buying cheaper or even for free it doesn't perform basic, so forget about the price.

My advice is please avoid.
Pros and cons:
---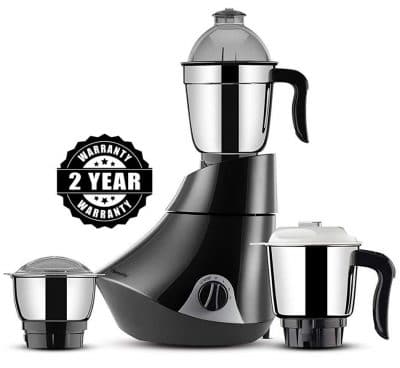 Product Highlight:
Butterfly Smart Mixer Grinder is a Smart 750-Watt with 18,500 mixing speed RPM. This mixer grinder comes with stainless steel jars and has a sleek finish design and strong durability.
It's rust-free and energy-efficient machine. It has 4 Jars. The sizes are as follow: 1.5 litre juicer jar, 1.5 litre stainless steel jar, 0.75 litre stainless steel jar and 0.4 litre chutney jar. The material of jar is stainless steel. The juicer jar comes with Polycarbonate material juicer.
Moreover, it comes with a 3-speed control knob. Also, it as LED light to indicate power ON status. It comes with special rubber shoes for extra firm grip on the surface.
And it has automatic overload cut off facility which is quite for saftey at home.
The razor-sharp rotator blades chop all your food items precisely. It reduces of grinding the time of black pepper and cardamom.
The transparent Polycarbonate lid ensures that you clearly see your ingredients and monitor the grinding process. The lids are heat-proof and shatter-resistant.
It has efficient and easy-to-use pusher to help extract more amount of juice. This pusher also acts as an enveloping ensuring zero wastage of juice.
The motor and the products comes with 2 years of warranty.
Best Customer Experience
Mixie is very nice.

Being 750 Watt it starts with a thud. One must have a very tight grip on the jar which is being used.

It's comfortable to have a tight grip on small jars while it's difficult to have a tight grip on the bigger jars. I think a butterfly should provide bigger jars with the external locking system. Like 3 clipping locks on the cover of the jar so that it can be locked.

Otherwise, it's working well till now. Been a week I am using. No complaint at all. Design is very eye-catching.
Worst Customer Experience
Very bad quality product. Cheap quality plastic. Jar Not fitting in nicely very loose. Motor quality seems low smells something melting when started motor. It does not have led light to indicate when power is turned on. For 3600 rs it really bad quality product. I had returned it. And purchases prestige mixer for 3800rs in local stores which is an excellent product. On must go for prestige…
Pros and cons:
---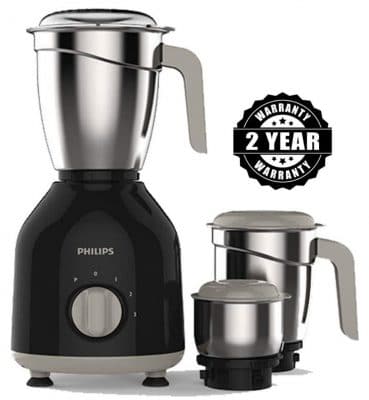 Product Highlight:
Phillips HL7756/00 is a 750 Watt turbo motor mixer grinder and the best selling on Amazon. It comes with 3 jars as follows: wet jar (1.5 Litres), multipurpose jar (1 Litre), chutney jar (0.3 Litres). The jar material is of stainless steel and the body material is ABS plastic.
It gives you superior juicing mixing and grinding performance with convenience. It has a bigger round chute that allows you to spend less time peeling and chopping.
Moreover, the blade material is also of stainless steel and comes with a 3-speed control. It has a powerful 750W turbo motor with advanced air ventilation & sturdy coupler that allows 25 minutes continuous grinding.
It has specialized blades to grind the toughest ingredients like masalas, chutneys, shakes, and purees. Also, this appliance comes with leakproof, food-grade stainless steel jars with a semi-transparent lid.
Moreover, the advanced air ventilation system provides faster cooling of the appliance which ensures longer life of the motor. The motor comes with a 5 years warranty and the product comes with a 2 years warranty period.
Also, the coupler is made of tougher plastic material for firm engagement between the jars. The body which ensures continuous grinding performance.
The high-quality food-grade stainless steel jars help you grinding batters, purees, milkshakes, and lassis in the same jar. Also, the semi-dome transparent lid allows you to see the ingredients for perfect consistency to suit your way of cooking.
There are leak-proof jars designed with rubber gaskets that guarantee a tight fit, smooth and secure locking.
Overall, this mixer grinder has a unique triangular compact shaped body with fewer grooves for easy cleaning. It comes with 5 years of motor warranty and 2 years of product warranty.
Best Customer Experience
It is a good little mixer grinder. The design of this thing is amazing, it looks awesome in black and it's sleek curves make it easy to clean the mixer. It has a two-pin plug to connect to power. It also has vents to push out the heat while it's grinding. The knob on the front looks great and I like the fact that it has the pulse feature built in the knob itself (NO separate button). It comes with three jars, a 0.3l, a 1l, and a 1.5l.

I do think the smallest jar could have been made a little bigger (say 500ml). All the three jars have fixed blades, this will be a problem if your blades become blunt ( I don't know how you'd replace them). The largest jar has a transparent lid, while the other two have opaque ones. The medium-sized jar has no rubber gasket on the inside of the lid, so it doesn't close as tightly as the other two lids do. I don't know why Philips didn't include a gasket. Overall It's nice and the black color makes it blend well with my kitchen slab.
Worst Customer Experience
Philips is a durable brand, trust it. But have to mention a few cons:

There is no gasket for the dry jar as per this model, it would have been nice if it came with the package. You have to buy separately.
I purchased the product on 10th Dec with a price tag of 3044 but now the price is reduced to 2964k. Why there is a price difference within one day.
Build quality seems OK but there is a motor warranty up to 5yrs to compromise on it.
Pros and cons:
---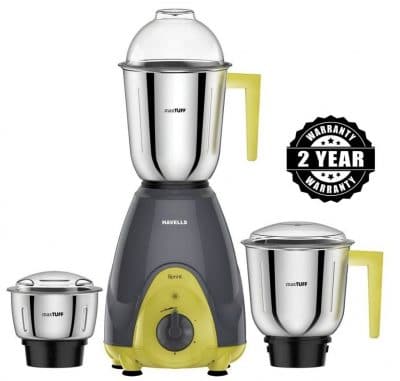 Product Highlight:
Havells Sprint Mixer Grinder has a 500-watts power motor to help you make preparations for cooking your favorite meal in an effortless way.
It comes with 3 stainless steel jars which are as follows: chutney jar 500ml dry/wet, grinding jar 1.2l, and liquidizing jar 1.5 L. They are sturdy and corrosion-resistant. It has SS-304 grade stainless steel blades that give super fine mixing and grinding results.
Moreover, it gives 18000 RPM mixing speed. The jars in this Havells set have lids that keep the mixture inside from spreading outside and also protect it from external pollutants.
For convenience, the jars in this set come with ergonomic handles that make it easier for you to put them on top of the base. Moreover, it has big 3-speed settings control dial that lets you adjust the speed with ease.
It comes with a stable base with anti-slip grips that prevent it from moving from any vibration that might occur while the process of grinding or mixing is underway.
Furthermore, it comes with a cord winder so it brings cable clutter of tangled wires behind your workstation. It keeps the cable free from dust and stains as well.
The look of any kitchen appliance is important especially for women. This mixer grinder from Havells has a sleek design that will perfectly complement the decor of your kitchen.
Overall, it gives hassle-free cooking time and comes with 5 years warranty on motor and 2 years warranty on the body. It's a compact and stylish machine for you to check it out right away.
Best Customer Experience
I would like and recommend this product as I have a good experience with this product I had earlier bought Philips HL7576/00 Juicer Mixer Grinder and when I used it, It was pathetic its lids were loose and it spilled everything then I returned that product and bought this Havells Sprint i am really happy to use it its lids are quite good it doesn't spill things around
Worst Customer Experience
Pieces of the unprocessed food are bound to remain in it no matter what. The dry grinder is the medium jar which is too big for dry grinding. The biggest jar cannot grind small quantities of food. Absolute waste of money.
Pros and cons:
---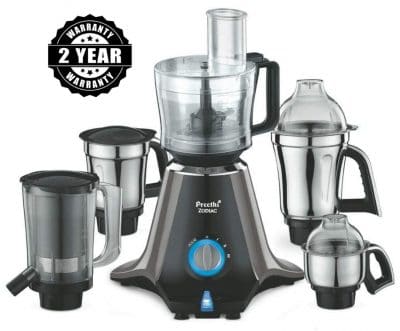 Product Highlight:
Preethi is India's No 1 Mixer-Grinder brand ensures robust operations. And Preethi Zodiac MG 218 is a magnificent product that enlightens you with the amazing Vega 5 Motor.
It comes with 3-in-1 insta fresh juicer jar – One Jar which can do three functions:(1) centrifugal juicer which can juice fresh fruits, (2) super extractor which can extract tamarind essence of coconut milk (3) blender which can make shakes and lassi.
Moreover, this has first of its kind 2.1-liter master chef plus jar which can perform seven functions – atta kneading in 1 min, chopping in 2 pulses, citrus press in 1 min, pureeing, slicing, grating and meat mincing in 1 second.
Preethi Zodiac is the first mixer grinder with ROHS compliant(chemical-free machine material) and high-quality food-grade components.
Also, it has passed 215-hours motor endurance test,30-min grinding test,10 hours blade reliability test, 2000 cycles of jar durability test, 5000 cycles of rotary switch test, in short, a product replacing your daily kitchen machine.
It comes with 3-speed control and has ABS (Acrylonitrile butadiene styrene) plastic material body. It has flex cord with PVC insulated 3 Core material, comes with plug top & earthing.
The mixer grinder has also super sharp multi-functional blades. It comes with razor sharped stainless steel blades that allow the finest grinding and juicing experience.
Look wise, Preethi Zodiac has graceful design & has a blend of soothing colors and fine craftsmanship.
The best part about this mixer grinder is it has a safety Indictor. So, in case of an overload, the color of indicator light will be changed from blue to red. This will help indicate that the motor has tripped and then you need to reset the overload protector which is located at the bottom of the mixer.
Also, it has non-slip feet for better grip. At last to your best advantage, it comes with 5 years motor warranty, and 2 years of product warranty.
Best Customer Experience
This product is eye-catchy and it comes with various options. It's easy to use and It grinds anything we throw at it in a flash since it has a powerful motor.

To my knowledge, the only con is its bit noisy compared to other mixer grinders. I will have to check the durability with long term usage. Hopefully, it will not give much trouble.

Overall I am satisfied with the product.
Worst Customer Experience
Cheap Plastic is used in this product.
Too noisy
Vegetable shredder stopped working.
Not at all good for juice extraction.
atta kneading will not work properly …
Pros and cons:
---
Product Highlight:
Morphy Richards Aero Plus is 500-Watt Mixer Grinder comes with 3 jars. The powerful motor of Morphy aero plus enables you to perform the toughest of job effortlessly.
It has 1.5 Litre liquidizing jar for blending, whipping and mixing, 800 ml jar for dry and wet grinding, making batters, and gravies, 400 ml jar for chutney, dry and wet grinding. The jars are high-grade stainless steel with attractive lids.
Moreover, it has high-quality stainless steel blades with razor-sharp effectiveness for mincing and chopping.
It has ABS(Acrylonitrile butadiene styrene) plastic body that makes the outer surface shock-proof. And also it has overload protection that prevents the motor from burning out or running either when the jar is overloaded or used continuously for a long time at one go.
According to quality check, this mixer grinder gives flawless functioning for up to 30 minutes. And it has 2 pin plug for safety during electrical fluctuations. The Morphy Richard mixer grinder comes with 2 years of the warranty period on the product.
Best Customer Experience
It comes with 3 jars one for grinding solid, the medium one is good for grinding semi-solids and the biggest one is best used as a mixer for milkshakes. The only issue with Morphy Richards is that it starts getting noisy over a time period. Rest everything else works.
Worst Customer Experience
I bought it for a good Brand Name and design. But the product quality is terrible. Within two months, the top plastic body developed cracks. The service center is asking for Rs. 500 to replace it because the body is not covered under warranty.

Other problems:

Its sound is too loud.
Jars fit very tightly. Very hard to put them on and remove them.
Pros and cons:
---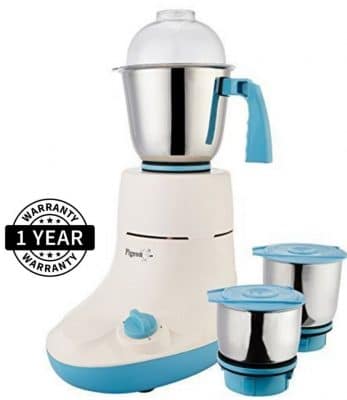 Product Highlight:
The brand Pigeon by Stovekraft Torrent brings to you the latest entrant in its long line of kitchen appliances. Experience next-generation technology with elegant product design.
Moreover, this mixer grinder has been manufactured from the highest quality raw materials. It has a stylish body of virgin plastic and will look very attractive in your kitchen.
Pigeon is by Stovekfrat Torrent has 750-Watt Mixer Grinder comes with 3 jars and the sizes of the jars are as follows: liquidizing jar (1.25 Litres), Chutney jar (0.44 Litres) and Grinding jar (0.7 Litres).
It comes with 20,000 RPM mixing speed and control the speed of the mixer grinder with the 3-speed control knob.
This mixer grinder from Pigeon Torrent has an affective dimension of 18.5 x 23.4 x 42 cm. It weighs around 3.5 kg. These attributes make this product compact in size and add to its portability quotient.
Moreover, the mixer automatically shuts off when used for a long time, thus preventing damage or any other inconvenience.
It has 3 blades at the bottom that grind all your ingredients to a smooth paste or powder. Also, the cord is 1.7 meters long for easy kitchen operations.
This mixer grinder has a powerful motor which results in increased performance. This feature allows you to grind or grate your items in lesser time.
If you want to purchase this from Amazon, check out the pricing. Moreover, this product comes with a 1 year warranty period.
Best Customer Experience
Very sturdy product for the price. Was able to grind even turmeric pieces. Normal items are grinding in less than a minute. Have been using only for a week though. Hopefully, the same performance continues.
Worst Customer Experience
Good looking product but Ek dam BAKWAAS result. Total waste of money. Look wise product above average but when it comes to performance BIG ZERO. Powerful Motor just on paper that's it. Amazon guys u don't test the product. I m literally feeling SORRY for Amazon for displaying such DABBA products on their site. My personal suggestion to pigeon guys if they would have used 4 blades rather than 2 normal blades it would have made the product result oriented. Just small changes huge difference.
Pros and cons:
---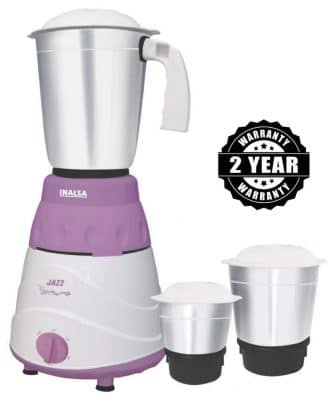 Product Highlight:
Inalsa Jazz is a 550-Watt Mixer Grinder, dose powerful and efficient grinding. The powerful motor with high torque for efficient high-performance grinding do all mixing and grinding work with ease.
It comes with 3 stainless steel jars: 1.2L SS liquidizer jar, 0.8 SS multi-purpose jar & 0.4L SS chutney jar.
These jars have PP(polypropylene) lids to hold the contents properly in place and intact. Also, it has break-resistant lids, compact and straight design.
The skilfully designed handles provided are convenient to grasp in hands and facilitates easy mounting and dismounting the jars.
It has a uniquely designed blade that is specially designed to enable uniform and powerful grinding. They are durable & are made of high-grade stainless steel.
Moreover, it has a sturdy and strong ABS plastic body that helps to withstand heavy grinding applications. It makes this appliance long-lasting & durable. Also, it has overload protection.
It runs mixing and grinding on 18,000 RPM. Also, it has high-grade nylon couplers with tough metal inserts that ensure longer and durable performance with minimum wear and tear.
Furthermore, it has a concealed bush fit at the bottom of the mixer jar, prevents any kind of oil leakage during use. Also, this helps provide a hygienic and safe grinding experience by preventing any contamination during mixing and grinding processes.
This appliance comes with a 3-speed setting that makes blending and grinding easy allowing you to gradually increase the speed without overloading the system.
Also, the pulse function gives you more control over the blending or chopping process. It stops the chopping immediately.
The best part about this mixer grinder is that Inalsa Jazz comes with a 30 minutes motor rating (5 min On and 2 min Off, maximum 6 cycles) so you can operate for 30 minutes at a stretch hassle-free, without any heating up.
This is a perfect mixer grinder to recreate traditional recipes and enjoy true flavors of recipes and textures of Indian masalas.
Overall, this is a multi-purpose super mixer grinder comes with 2 years warranty period. It is developed by Inalsa and has a sleek body and compact design which not only occupies lesser space on your kitchen counter but also adds grace to the contour of your kitchen.
Best Customer Experience
This product is working very smooth. I have used it for about 2 weeks now. This serves the purpose and you won't be disappointed at all. Overall if you are looking for a low budget mixer grinder with great performance, you must go for this. Happy with the purchase.
Worst Customer Experience
The mixer is of low end and very poor quality. Due to luring with 6 months extended warranty by Inalsa messages buyers are giving good reviews and full stars. Even though it is available at the best lower price at a high discount, it is advisable to go for a high-end mixer which may be available at four times the rate of this mixer and avoid this one. It always better hassle-free use of good products than using 4 poor quality products in the same duration. I have returned this product within 3 days.
Pros and cons:
---