Do you want to purchase a mixer grinder but aren't sure what to look for in a mixer grinder? Let us help you choose the best mixer grinder based on blade type, safety lock, and the number of jars.
Without much ado, let us get started with the buying guide to help you choose that perfect mixer grinder for your kitchen.
Buying Guide in a Snapshot
Click on the brand name to read the complete product review.
How To Decide The Best Mixer Grinder
Before you buy any mixer grinder, you must consider these factors:
1. Wattage
Wattage is the basic unit of energy consumed against each volt. Higher watt means more electricity. However, more wattage also means powerful performance. Ideally, a branded mixer grinder comes with 750-800 watts.
In the best hand beater guide, we have explained the concept of wattage in great detail. So I would request you to go through it kindly. Although wattage is a technical aspect yet, it is essential to understand. Why?
It is because of the performance of the motor. Powerful motors tend to function better, giving a uniform grinding experience. Not only grinding, but the motor is designed to operate a series of tasks. For example, kneading the dough, chopping, slicing, grating & even mincing.
Therefore, if you have such a varied requirement, then look into the motor performance. And yeah, do read the hand beater guide to understand what is wattage.
2. Speed (RPM)
After motor & wattage, speed is the next deciding factor. First, let me tell you that the speed in the mixer grinder is in the context of the blades. Moreover, we measure it in revolutions per minute (RPM).
Hence, here the motor capacity, speed & blade quality are at stake. All these three collectively decides whether or not the mixer grinder is right for you. Generally, you will come across grinders with speeds between 18000-20000 RPM.
Every mixer grinder brand more or less offers 18000-20000 RPM, provided the motor capacity is good. Therefore, check out the grinding speed when you purchase a mixer grinder.
3. Number of Jars & Size
Not mandatory, but still, the number of jars are relevant. Typically, you get at least three jars. Yes, 3 of them are the least a manufacturer will give you. These three jars include one liquidizing, 1 for wet or dry grinding & 1 for the chutneys.
Okay, that was the basic model. On the contrary, we now have next-gen technology in kitchen appliances. For example, this next-gen mixer grinder comes with five jars. The extra jars are for extracting juice or other culinary purposes.
All in all, 3 to 5 mixer grinder jars are the best combination available in the market.
Now comes the size of the jars. A typical mixer grinder jar is of 1-litre capacity. The big one. After that comes the chutney jars that is around 0.4-litre to 0.5-litre. In other words, 400-500 ml capacity. The third jar is approximately 700 ml for other purposes.
Unrelated to all of the above, the juicer jar is enormous, with a capacity of 1.5-litre. Not only this, but there are additional jars for kneading, mincing, chopping, etc. The size of the jars ranges between a minimum of 0.4L to 1.5L.
The bottom line is the usage & requirements decide how many jars you need. Needles to say, your family size also matters while buying small or big jars.
4. Blade Types
There's only one single option when it comes to grinding blades. Thye all must be of stainless steel SS material. Not to mention the quality of steel used in the blades must be top-notch.
Let's talk about popular brand mixer grinders. They provide high quality & durable, super steel blades. If you touch them, you will feel the weight, sharpness & density of the material. Further, these blades are tough to bend using bare hands easily.
On the exact opposite side, the non-branded manufacturer offers sub-standard blades. Again, you can feel the difference in the steel material used. They are thin & looks like they will hardly survive the intense grinding process.
Quality blades are meant to serve for a more extended period. They are designed keeping in mind the requirement of an average household. Additionally, they are engineered for prolonging grinding processes.
Therefore, always go for quality mixer grinder blades.
5. Speed Control & Setting
There's nothing fancy about the speed control settings in the mixer grinder. They all come with a 3-speed control knob ranging from low to medium & high. Almost every branded & non-branded machine has the same speed settings.
The question is, how reliable is the speed of the machine that you choose to buy?
The word reliable is essential here. The speed may be good enough, but the result isn't satisfactory. The machine is not grinding properly. It leaves large chunks of food items in the jar without grinding them. Now the speed is not the only factor responsible for such an outcome.
The motor capacity, blade quality, sharpness & RPM are collectively at fault. All these together compromise the result. Hence, do not get impressed with fancy speed knobs & LED lights. Act wisely. Look at the core performance.
6. Safety Lock
Okay, now, this is something you must be serious about. I will tell you why. My sister-in-law had a bizarre experience while using a mixer grinder. She accidentally slipped her left hand into the steel jar while it was at full speed.
She laid her hands on the lid so it didn't spill what was inside. Somehow the lid didn't lock properly & her hand fell inside the jar. Yeah, there was blood everywhere. Luckily, she was rushed to the nearest hospital. All her fingers are intact & she is fine now.
Why did this happen? What can you do to avoid such mishaps?
Check whether or not your jars have a lock system. The safety lock on the lid is of paramount importance. It ensures total safety and avoids accidents. If there's no lock system, watch out for rubber gaskets inside the jar lids.
Try to shut the lid & see if it comes out easily or not. If it comes out quickly, then it's unsafe. As a result, there will be potential leaks. Moreover, the lid may fly during intense grinding. I repeat, do not put your hands on the lid when the blades are running.
7. Extra Accessories
Accessories like spatula can come with the mixer grinder. It can be plastic or wood quality. Also, sometimes hand blender can be included with a mixer grinder as the best package buy offer.
8. Slip Proof feet
Check this out while purchasing a mixer grinder. When your grinder is at full speed, there will be vibrations. As a result, the machine will come into motion due to vibrations. To prevent this, there are slip-proof rubber pads at the bottom.
These rubber vacuum bottoms keep the grinder in a fixed position. Remember, a mixer grinder without rubber at the bottom can be seriously hazardous. It can cause a fatal causality in the kitchen. Hence, do not compromise on this.
9. Warranty Period
Warranty is what we always look forward to in every electronic product. The higher, the better. Electronic Rice cookers have about five years warranty period.
But in mixer and grinder, two years warranty is ideal. It is because mixer grinders are frequently used in the kitchen compared to other appliances. All in all, a 2-year warranty period comes with almost all mixer grinders.
Keeping the above factors in mind, we have compiled a list of mixer grinders. But before we get into the complete details, let's go through some FAQs. Here you go.
Common FAQ's About Mixer Grinders
The following are some frequently asked questions & answers. First, take a quick look at them. Then, see whether or not your queries are answered.
Here are 10 Best Mixer Grinders under Rs.3000 in India.
The Best Mixer Grinder in Review
Now from the best selling mixer grinders in India, we will choose the best Mixer Grinder.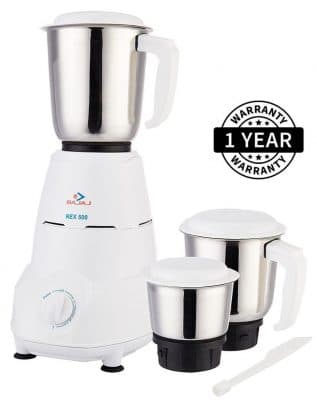 Product Highlight:
The product has an elegant design.
It is sturdy with and tight grip.
500-watt powerful motor performance (20000 RPM).
Rust-free stainless steel jars & blade accessories.
1.2, 0.8 & 0.3 litre jar capacity simultaneoously.
Vacuum feet to hold the machine in one place.
Three variable speed control settings.
Premium quality ABS plastic body.
1-year manufacturer's warranty.
Best Customer Experience
The product is doing well, is durable. It has been packed into travel cases etc, with ease, it is definitely not delicate.
Worst Customer Experience
Worst quality. The multi-purpose jar caught rust in just 3 months. The chutney jar lid flips open while grinding even after applying enough pressure on the lid and on the 1 power mode.
Pros and cons:
---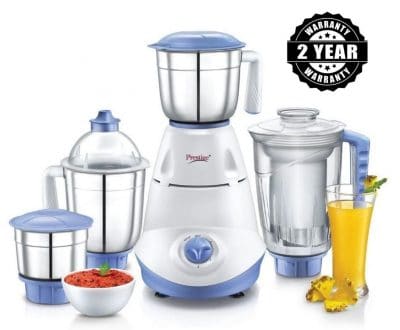 Product Highlight
3 stainless steel jars with a transparent juicer jar.
750-watts heavy-duty motor (20,000 RPM).
1.5-litre, 1-litre & 300 ml stainless steel jar capacity.
Polycarbonate material juicer jar with 1.5-litre capacity.
3 variable speed control settings.
Jar handles with firm grips to hold the jars tightly.
Overload motor protection switch to prevent overheating.
Premium jar safety locks for safer usage.
2-year warranty on both motor and product.
Best Customer Experience
Very nice and powerful mixture for daily use. If handled with the care it works good & can last long.
Worst Customer Experience
I had bought this machine in Aug 2019. Within one month, we had a visit from the Prestige technician as the machine stopped working completely.
Pros and cons:
---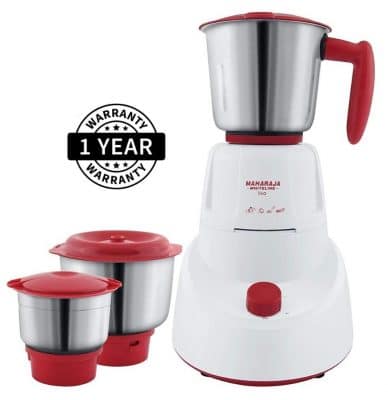 Product Highlight:
Best for grinding chutneys, spices & other ingredients.
500-watt heavy-duty motor. (20000 RPM).
Overload protection & speed regulation features.
3 stainless steel jars viz 1.5-litres, 700-ml & 400-ml capacity.
Air ventilation system to prevent overheating.
30 minutes continuous grinding capacity.
SS 304 sharp blades to cut hard food ingredients.
High-quality nylon 66 coupler (a rubber stand) at the bottom.
1-year manufacturer's warranty.
Best Customer Experience
The product is very nice Very light weight and can be carried easily while shifting for plugs. The plastic lid for 3 jars is superb. We can use these jars for grinding anything.
Worst Customer Experience
Too much noise, too much disturbance. Will not grind anything, even this will not grind fruits. Such a shame. Jars made with very cheap quality material and covers will not fit the jar, the liquid will come out.
Pros and cons:
---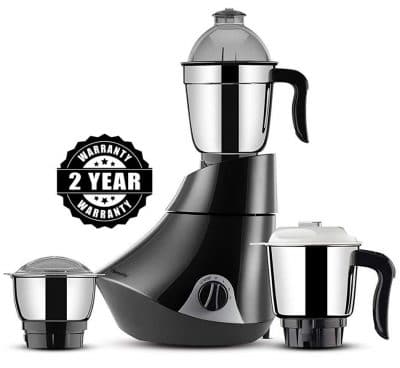 Product Highlight
750-Watt powerful motor (18,500 RPM).
Shockproof ABS material body cover.
Transparent dome & flat lid designs.
3 grinding jars with variable capacity.
3-speed control knob with LED indicator.
Rubber coupler for a firm grip on the surface
Razor-sharp rotator blades
Transparent lids to monitor the process.
Heat-proof & shatter-resistant lids.
2-years manufacturer's warranty.
Best Customer Experience
Mixie is very nice. It's working well till now. Been a week I am using. No complaint at all. Design is very eye-catching.
Worst Customer Experience
Very bad quality product. Cheap quality plastic. Jar Not fitting in nicely very loose. Motor quality seems low smells something melting when started motor.
Pros and cons:
---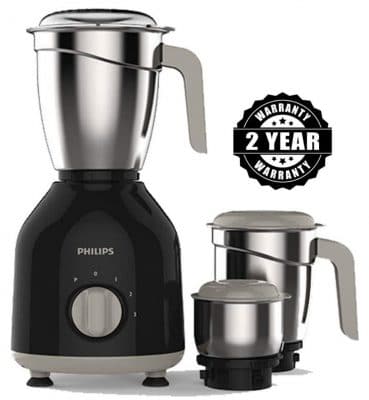 Product Highlight
750 Watt turbo motor mixer grinder
3 jars viz 1.5-litre, 1-litre & 0.3 ml capacity.
Stainless steel jars with ABS plastic machine body.
Ait ventilation in case of heating.
Best for masalas, chutneys, shakes & purees.
25 minutes of continuous grinding.
Semi-transparent & durable jar lid.
5-year motor and 2-year product warranty.
Leak-proof jar design with rubber gaskets.
Compact body design for easy cleaning.
Best Customer Experience
It is a good little mixer grinder. The design of this thing is amazing, it looks awesome in black and it's sleek curves make it easy to clean the mixer. It has a two-pin plug to connect to power.
Worst Customer Experience
There is no gasket for the dry jar as per this model, it would have been nice if it came with the package. You have to buy separately.
Pros and cons:
---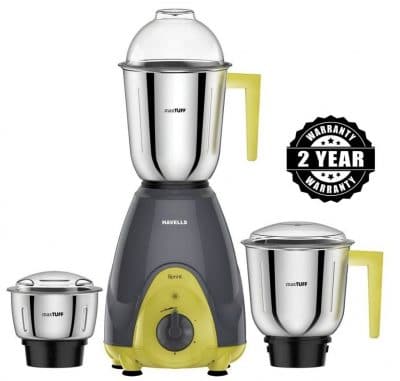 Product Highlight:
500-watts power motor (18000 RPM).
3 jars of 500ml, 1.2-litre & 1.5-litre capacity.
SS-304 grade stainless steel blades
Easy to mount & dismount jars.
Vacuum grip at the bottom to stabilise the machine.
Cord winder to keep cable free of clutter.
Sleek design that occupies less space.
5-year motor and 2-year body warranty.
Best Customer Experience
I would like and recommend this product as I have a good experience with this product. Really happy to use it its lids are quite good it doesn't spill things around
Worst Customer Experience
Pieces of the unprocessed food are bound to remain in it no matter what. The dry grinder is the medium jar which is too big for dry grinding. The biggest jar cannot grind small quantities of food. Absolute waste of money.
Pros and cons:
---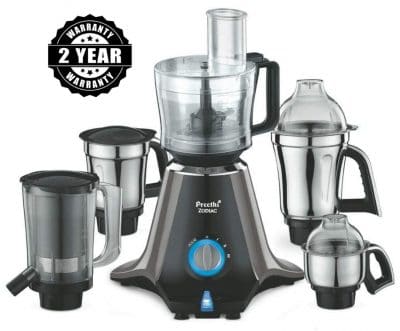 Product Highlight
Multi-functional juicer jar
Kneading, chopping, slicing, grating & mincing.
High-quality food-grade components.
30 minutes continuous grinding.
3-speed control with ABS plastic material body.
Super sharp multi-functional blades.
Blue & red indicator lights in case of overload.
5-year motor and 2-year product warranty.
Best Customer Experience
This product is eye-catchy and it comes with various options. It's easy to use and It grinds anything we throw at it in a flash since it has a powerful motor.
Worst Customer Experience
Cheap Plastic is used in this product. Too noisy. Vegetable shredder stopped working. Not at all good for juice extraction. Atta kneading will not work properly.
Pros and cons:
---
Product Highlight:
Gorgeous double colour compact design.
Blending, whipping and mixing functions.
1.5-litre, 800 ml & 400 ml SS steel jars.
Continuous grinding for up to 30 minutes.
2 pin plug to safeguard against power fluctuations.
2-years manufacturer's warranty period.
Overload protection to prevent motor failure.
Razor-sharp blades for mincing & chopping.
Best Customer Experience
It comes with 3 jars one for grinding solid, the medium one is good for grinding semi-solids and the biggest one is best used as a mixer for milkshakes.
Worst Customer Experience
I bought it for a good Brand Name and design. But the product quality is terrible. Within two months, the top plastic body developed cracks. The service center is asking money to replace it.
Pros and cons:
---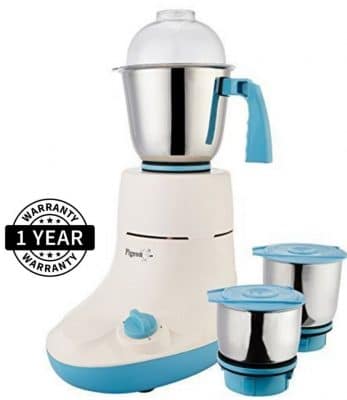 Product Highlight
Next-gen technology with elegant design.
750-watt motor for uniform grinding.
1.25-litre, 0.44-litre & 0.7-litre gridning jars.
3 tier speed settings with a control knob.
20000 RPM mixing speed for powerful grinding.
Only 3.5 kg machine weight (excluding jars).
Auto shut off to prevent motor damage.
1.7-metre long cord for easy kitchen operations.
1-year manufacturer's warranty.
Best Customer Experience
Very sturdy product for the price. Was able to grind even turmeric pieces. Normal items are grinding in less than a minute. Have been using only for a week though. Hopefully, the same performance continues.
Worst Customer Experience
Good looking product but Ek dam BAKWAAS result. Total waste of money. Look wise product above average but when it comes to performance BIG ZERO.
Pros and cons:
---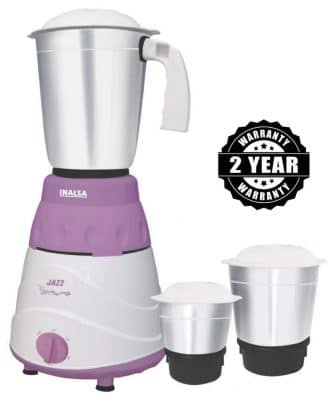 Product Highlight
550-watt motor for powerful and efficient grinding.
3 SS jar viz 1.2-litre, 0.8-litre & 0.4-litre capacity.
Polypropylene lids to tightly shunt the jars.
Jar handle design for a strong grip.
Premium quality blades for uniform grinding.
Long-lasting ABS plastic mixer grinder body.
Motor performance is 18000 RPM.
3-speed setting with overload protection.
30 minutes continuous grinding without a heating problem.
2 years manufacturer's warranty.
Best Customer Experience
This product is working very smooth. I have used it for about 2 weeks now. This serves the purpose and you won't be disappointed at all.
Worst Customer Experience
The mixer is of low end and very poor quality. Due to luring with 6 months extended warranty by Inalsa messages buyers are giving good reviews and full stars. I have returned this product within 3 days.
Pros and cons:
---