Here is the list of some Indian salad recipes that gives a healthy, delicious, and refreshing look. Serve it with your main course and enjoy the full experience of your meal of the day.
These salads are refreshing, unique, sweet, spicy, tangy, and juicy. All these have different textures, colors, and tastes. Also, we have included some non-veg salads as well to tune into going with different flavors.
Whether you are vegan or non-vegan, each option is available for you all to experience the healthy trail. So now without much ado, let's check out some of the best Indian Salad Recipes.
Download our Free Recipe Cookbook
---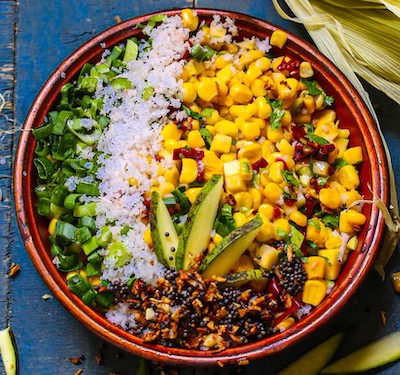 Corn salad is an Indian salad and specially made in summer times. Summer is a Mango season, and therefore it's the best time to eat such delicious and tangy salad. Moreover, in this dish, you can use some fantastic spices and other ingredients used in it like garlic, jalapenos, coconut oil, mustard seeds, green chili, coconut, and cilantro.
Source: thepeppercook.com
---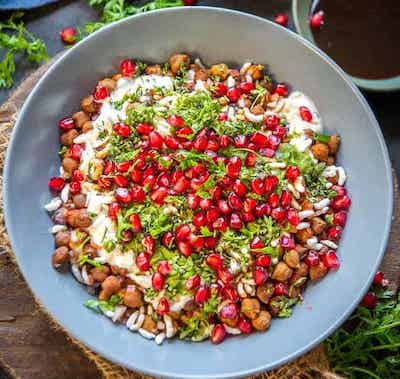 Chana chaat is delicious tangy salad and chaat as well. It contains boiled black chickpeas. Also, it's healthy and best to include in your daily diet as well. Garnish with some pomegranate and yogurt for an aesthetic look.
Source: whiskaffair.com
---
Mixed vegetable poriyal is a south Indian salad recipe. It is made with carrot, beans, and peas and flavored with Indian spices. Moreover, it's mostly seen in South Indian weddings feast. A refreshing, healthy salad with maximum nutrients.
Source: sandhyascookbook.com
---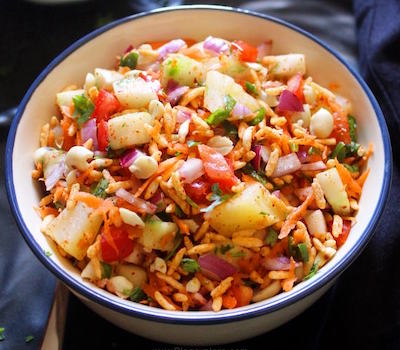 Puffed rice salad has a lot of flavors and spices. It's Indian's tastiest salad. Moreover, one can also eat it as bhel. It's effortless to make with simple vegetables and the delicate crunch of peanuts.
Source: blogexplore.com
---
Spicy chickpea salad is a nutritious recipe to include in your diet. It's a traditional salad with an Indian spice twist and worth a try. Moreover, it has many ingredients like tomato, red onion, cucumber, and mango powder as well to elevate its flavor and taste.
Source: foodandwine.com
---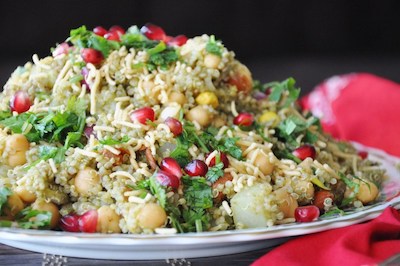 Quinoa bhel salad is a satisfying and delicious salad to serve your family members. It is a new version of bhel puri but with a twist of Quinoa. Furthermore, it's straightforward to assemble with some ingredients like boiled potatoes, green chutney, cooked Quinoa, and chopped veggies.
Source: honeywhatscooking.com
---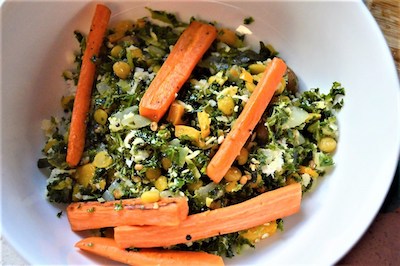 Stir-fried kale salad is an Indian style salad with kale greens, shredded coconut, chana dal, and veggies. It's a vegan, healthy, and delicious salad to make for your loved ones.
Source: upgrademyfood.com
---
Thai mango salad is a perfect balance of tartness and sweetness. An ideal summer cooler salad to beat the heat. Serve with your favorite foods and or eat it on a snack. Moreover, it's a beautiful, colorful and delicious salad dish that you must try today itself.
Source: flavorquotient.com
---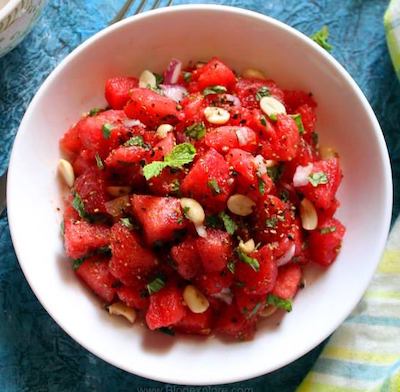 Indian watermelon salad is a refreshing and watery salad that fills your stomach quite easily. Moreover, it's best to make during summertime to beat the tropical heat. This recipe has fresh watermelons along with mint leaves, peanuts, and few spices.
Source: blogexplore.com
---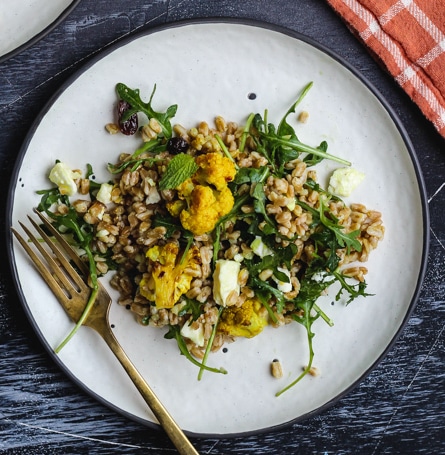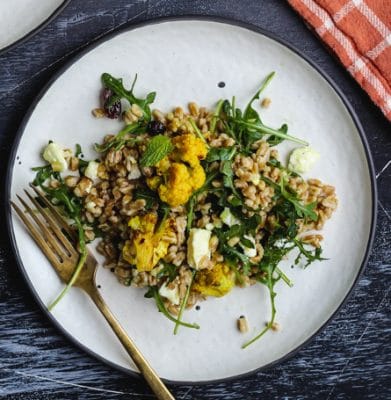 Roasted cauliflower is a perfectly healthy salad option. It's a unique salad with roasted cauliflower taste. Moreover, this recipe has nutty farro, arugula, raisins, and mint flavor to elevate the taste and the charm of the dish.
Source: hangrywhitemale.com
---
Paneer corn salad is a fusion salad mixing two different ingredients. The salad dressing is made with the dressing of olive oil. The chaat masala, pepper powder, and chili flakes add the perfect spice taste to it. Also, you can serve it with your dinner meal and enjoy it as a side dish.
Source: clicksandbites.com
---
Indian pomegranate salad is easy to make and prepare in a short time. This salad is made with pomegranates, coconut oil, curry leaves, and salt & pepper.
Source: mydiversekitchen.com
---
Chicken salad with mango dressing is a fresh vegetable salad with mango and chicken dressing. It's a unique Indian salad recipe to try at your home today. Some lime, yogurt, and roast almonds will create a massive difference in the taste and the texture of the whole salad.
Source: alittleandalot.com
---
Dahi bread chaat is a fusion Indian salad recipe to get crazy over. Toasted bread with crispy papdi, sweet yogurt, and mix of chutneys make this dish delicious. It's a colorful dish with lots of flavor and taste. A tangy, sweet, and little spicy makes the best chaat and serves it as a salad as well.
Source: oneteaspoonoflife.com
---
Pickled carrot & mung bean salad is a brilliant and healthy Indian salad recipe. It's light on the stomach, and uniquely pickled carrot and red onion create authentic Indian taste. It also gets a hint of exotic spices of India.
Source: krumpli.co.uk
---
Indian kachumbar salad is well-known around the cities of India. It's best to eat with the main course, especially during lunchtime. Moreover, it's a blend of veggies and Indian spices.
---
Creamy macaroni salad is a mix of veggies, boiled macaroni, and a layer of mayonnaise. It's creamy, crunchy, and tummy-filling salad to serve with your lunch. Also, it will be loved by your children.
---
Potato chickpea salad delicious, tangy, tasty & tummy-filling salad. It is made of mashed potatoes & boiled chickpeas and a layer of greek yogurt with the spark of red chili flakes. Chickpeas are a full pack of nutrients and best to include in the morning breakfast.
---
Mashed potato pomegranate salad is tangy and refreshing. It only takes fifteen minutes to prepare this dish. Moreover, garnish with coriander leaves to add a dash of refreshment. It's tummy-filling, delicious, and worthy of claps.
---
Cabbage pineapple salad is fresh & healthy. Also, the taste is sweet and tangy at the same time. It's healthy as well as a good mixture of fruits and veggies. The dressing of the salad includes Greek yogurt and olive oil.
---
Russian salad is one of the best mixtures as it includes various veggies and fruits. It includes bell peppers, apples, pineapples, potato, peas, and greek yogurt. Also, the layer of mayonnaise & olive oil makes it an excellent and shiny salad. One can also add some rock salt to create a unique taste.
---
Greek salad is a breezy and perfect summer salad. It's full of veggies and amazing to serve during dinner time. Moreover, the paneer is the main charm in this salad and some mouth-watering vegetables like onion, cherry tomatoes, cucumber, bell peppers, and cucumber.
---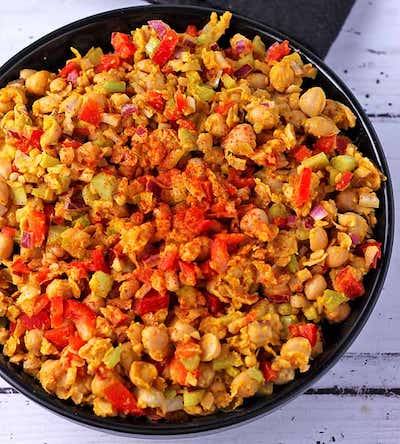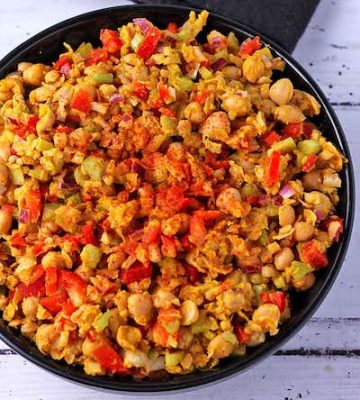 Curried chickpea salad has a unique flavor of curry powder. Chickpeas are cooked with curry powder masala that is different from garam masala. The key ingredient in this powder is turmeric. Cook some veggies with chickpeas like bell pepper, onion, and celery.
Source: anothermusicinadifferentkitchen.com
---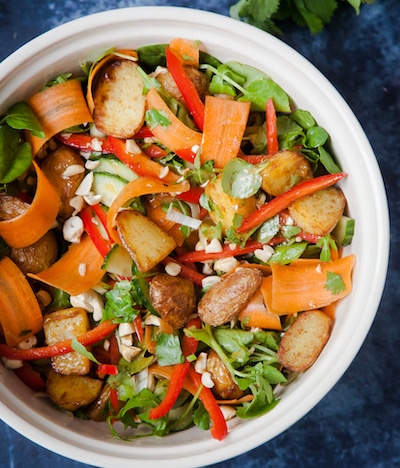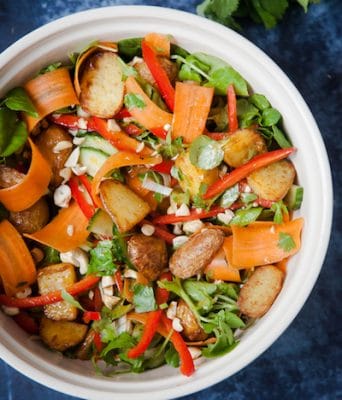 Crunchy potato salad is a light, fresh, and healthy option. This salad includes spicy baby potatoes and red pepper chutney, carrot, cucumber, and leafy greens. Also, a different ingredient mango vinaigrette chutney is added as a layer that elevates the taste of the whole salad.
Source: wallflowerkitchen.com
---
Tandoori chicken salad is genuinely an authentic salad to enjoy chicken. A perfectly cooked chicken, with creamy raita made from greek yogurt, cashews, cucumber, and lettuce. It is packed with genuine ingredients that add color and texture to this beautiful and yummy salad.
Source: kitchenathoskins.com
---
Curried chicken salad is well seasoned with curry masala and nuts. Also, it's spicy and crunchy as well due to some veggies inside. The coating of the masala tastes delicious when it's ready.
Source: primalwellness.coach
---
Cucumber & peanut salad is very easy to make, and with a simple dressing. It has a nutty flavor and a little spicy. Moreover, it has grated coconut, curry leaves, roasted peanuts, green chili, and cucumber. A healthy salad on your way.
Source: malinispace.com
---
Fruit salad with custard is a yummy, creamy, and fabulous dessert. It is made of milk, custard, and some exotic fruits like orange, grapefruit, strawberry, mango, and cherry. A perfect sweet salad to serve your family for a typical day.
Source: asmallbite.com
---
Cucumber tomato salad is a crunchy, refreshing salad for the day. It is made with cucumber slices, tomatoes, red onion, roasted peanut, and olive lemon-herb as a salad dressing. Also, it's healthy and an excellent choice for morning breakfast.
Source: aromafoods-simplerecipes.com
---
Curried tofu salad is an instant salad. It gets ready in less than 10 minutes. Moreover, it's filled with raisins, shredded carrot, and pistachio for crunch in the mixture. You can also fill this salad in a wrap or with a sandwich. The choice is yours!
Source: cadryskitchen.com
---
Moong dal sprouts salad is juicy, crunchy, and healthy salad recipe. Also, it's the most nutritious salad of all time. It has so many textures and lovely taste. It's quick to make with light Indian seasoning.
Source: myweekendkitchen.in
---
Indian kababs & tomato salad has a fantastic flavor of ginger, chili, and cilantro. These kababs are crunchy outside and soft inside. Also, you can pair these kababs with tomato salad that is creamy and delicious.
Source: gingerwithspice.com
---
Tandoori salmon salad has a delicious and magnetic flavor. The salmon is tender, roasted, and crispy outside. Also, the roasted cauliflower in the salad marinade with yogurt gives an outrageous taste. Moreover, the Indian spices in the dish are giving an enchanting taste that you will never forget.
Source: thehealthyhunterblog.com
---
Moong dal Kosambari is a South Indian salad prepared with yellow moong dal. A crunchy dish made with vegetables like carrot and cucumber that are tempered with mustard seeds. Also, you can add green mangoes in it during the summer season to elevate the taste of the dish.
Source: vidhyashomecooking.com
---
Fruit chaat is a refreshing fruit salad dish. It's juicy, salty, and sweet due to honey mixed with veggies. Moreover, the vibrant color of the meal is satisfying to your eyes. One can make this salad with any seasonal fruits they like.
---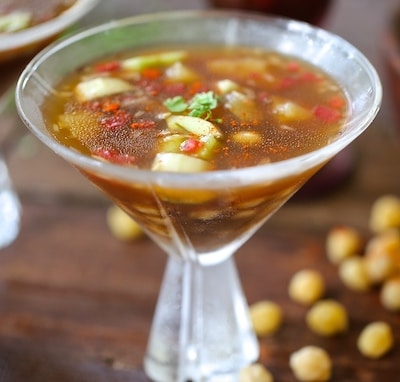 Tamarind jellied salad is a fresh, delicious type of salad. It's a sweet, salty, tangy, and spicy jellied salad that will be loved by all. Also, you can add it fried dish like papdi, or even with panipuri. The beans in the jellied create a crunchy taste.
Source: thepeppercook.com
---
Mooli salad is also called as a reddish salad. It's a quick and easy salad. Spicy and tangy flavors of mooli, lime juice, and pepper powder to compliment your meal. Also, it gets ready with just four ingredients.
Source: vegetariantastebuds.com
---
Mixed quinoa salad is trending and one of the healthiest salad. It's easy to cook, super healthy, also, gluten-free. Here, the quinoa salad mixed with sweet corn, lemon juice, and green chilies. A light salad for a healthy stomach.
Source: merrytummy.blogspot.com
---
Corn chaat is a delicious, buttery salad dish that will just melt in your mouth. It is made with simple ingredients like corn, some spices, lemon, and a lot of butter. Garnish with various types of sev and enjoy the taste of it.
---
Indian potato salad is tummy feeling, delicious, vegan, refreshing. Salad with turmeric and green peas. A vibrant dish with all Indian spices like mustard seeds, and turmeric, ginger gives appetite taste. Moreover, the coconut milk in the recipe elevates the taste of the dish.
Source: holycowvegan.net
---
So, all these Indian salads have different texture and taste that you will fall in love with. Try at home today with available ingredients and make something delicious for your family.