Basket Chaat is a famous chaat in North India, specifically Lucknow. It is full of flavours and crunchy. This chaat is also known as Katori Chaat.
Lucknow is like a heaven for foodies. Even if the city is known for its famous kebabs, chole bhature, biryani, kachori, kulfi, shahi tukda, etc., dishes are just as loved. Basket Chaat is one such food dish.
This chaat will make you experience many flavours on your taste buds. It is sweet, sour, spicy, tangy, and more. Plus, you will experience soft and crunchy textures in your mouth.
Here, we have not made an authentic version of what people get to eat in Lucknow. It is a far more straightforward and fuss-free version of basket chaat, similar to what we eat on the streets in other cities. If we exclude boiling part of the potatoes, this becomes a no-cook recipe.
Replace the basket with bread, and you'll have canape. This chaat can be a substitute for an actual canape dish if we use canapes available in the market instead of papdi baskets.
You won't need to worry too much or make a fuss about anything if you follow our recipe for this chaat. The preparation is not going to take much time. When you have boiled the potatoes and prepared green & sweet chutneys beforehand, the only thing left will be to chop onions and tomatoes.
Roasting peanuts will also not take much time. If you don't like them, you can skip them and use something else instead. The peanuts are for crunchiness. You can replace them with the flat papdi to contribute to the crunchiness.
Besides, chaat recipes are always versatile and customised according to an individual's taste. Hence, you can add or minus anything from this recipe as per your liking and preference. You can make your very own version of the chaat we have made.
Tokri Made with Aloo or Potatoes
We are using readymade tokris but you can also make them.
To make it, first, we need to grate the potatoes into long strips or cut them into julienne. It is essential to use Pahadi aloo or potato rougher in texture. Then, soak them to remove the extra starch after changing the water. Once, you can add yellow edible colour or turmeric to give a lovely yellow colour to the basket. Leave them for around 15 minutes.
Once soaked, make sure to drain the water entirely from the potatoes or else it will be challenging to fry them. Then take a tea strainer bigger in size. Spread the potato strips on the surface. Be mindful that they are spread evenly from all the sides, or they will be only half-cooked from the thicker side. You can add rice flour or cornstarch to make them crispier and bind.
Put another strainer or bowl over it and then deep-fry it on medium flame. Fry until they turn crispy. Once done, remove the tokri from the strainer and fry for one or two more minutes. Do not try to remove it from the strainer forcefully. It will get detached automatically. Aloo tokri is ready.\
Now that we are done on how to make the tokri let's move on to the variations we can have with it.
Variations For Basket Chaat
As I mentioned, chaat is a versatile dish, and you can customise those whichever you like. So it is natural that you will find multiple variations of them. I am going to tell you about a few of them here.
However, there is one thing in common in all of the variations. The basket or the tokri is used as a base for the chaat.
Lucknow Style Chaat
Royal cafe in Lucknow is well known for serving the best basket chaat. And I've mentioned before that we have made a far simpler version than them. You'll know why now.
The chaat that they serve there has multiple layers. They add the cooked matar, Dahi Bhalla, Aloo Tikki, dry spice powders, chutneys, papdi, sweetened curd, pomegranate pearls, and sev. These are in one dish, so it's a complete package.
If you want to take some shortcuts, use fried potato pieces instead of Aloo Tikki. Also, matar is replaceable with white chickpeas, and Dahi Bhalla can be substituted with rasgulla without the sugar syrup.
Mexican Style Chaat
Are you surprised reading the name? As you all know, chaat is a very customisable dish. You can add whatever ingredient that goes well, and just the fillings in the basket will diversify them.
You can use this aloo tokri but since it's Mexican, use a tortilla to make the tokri. The filling will be of potatoes and beans, along with salsa. You can quickly get the sauce in the market.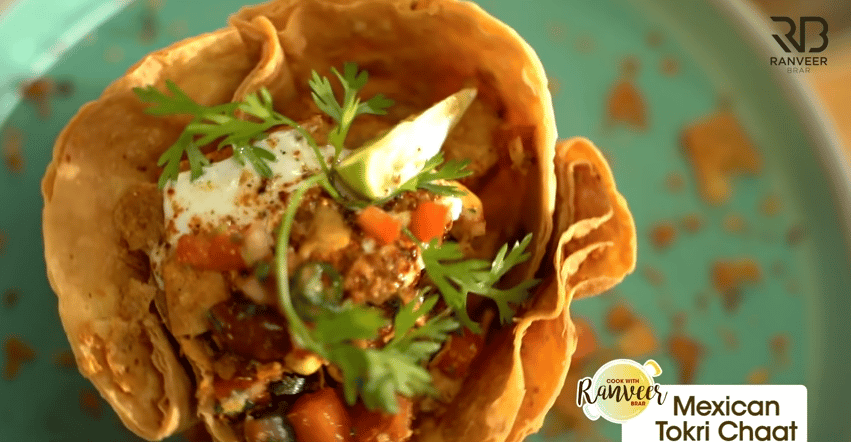 Image Credit: Chef Ranveer Brar
Chinese Style
Similarly, you can use all the Chinese sauces and stir-fry the veggies. It is easier to cut the vegetables as fine as possible in a wok. Then place them in the basket. Believe it or not, there is a similar dish available in Chinese cuisine. That is called Crispy Potato Bird's Nest.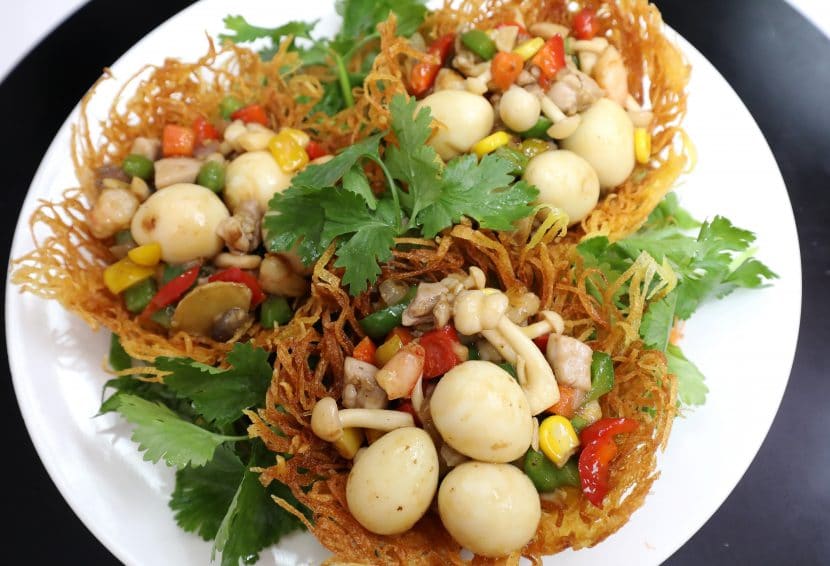 The picture above shows the dish in its most lavish form.
The dish is only available in high-end restaurants and is a part of Chinese and Cantonese cuisine. More of a starter, the word is originally from Hong Kong. But it contains non-veg food like quail eggs, chicken, and shrimp, along with some vegetables. So you can even try that.
Image Credit: www.kuali.com
Customised Chaat Masala
The final and most crucial thing for taste is the dry spices masala used in this chaat. You can use the one available in the market or make it yourself.
For Mexican chaat, you will have to add cumin seeds, coriander seeds, dry red chilli, dry oregano, black peppercorns, and salt in a pan and dry roast until fragrant. Then, remove and let it cool down and grind it coarsely.
Add cumin seeds, fennel seeds, coriander seeds, and black peppercorns for the authentic version. Add black cardamom seeds, dry red chilli & salt to taste. Dry roast on low flame until the spices turn aromatic. Grind coarsely to use.