As a mother, daughter or wife you might be getting into situations deciding whose choice to make. But do you know that there are popular Indian recipes which are everyone's choice?
Some like this and some like that. Sometimes husband feels happy but kids unhappy and sometimes mother in law or father in law.
We have especially hand-curated these 20 popular recipes to suit everyone.
Let's check out the common love between all. Let's look at what's here for everyone.
Click image for full view recipes.
Veg Makhanwala is an utterly butterly delicious Indian curry made with veggies, butter, cream, and aromatic Indian spices. It's totally Makhni dinner you gonna have. Serve it with hot paratha and get your tase to the next level.
Idly is not only South Indian Food anymore. Because it is loved by everyone, even non-south Indians. One dish for the whole day and that's really okay.
Pudhina rice or Mint rice is a refreshing and healthy, delicious recipe. It is so refreshing & the fragrant is very strong to make your face blow beyond wow! It's the best rice for "no cooking day". Am I right ladies?
Veg Bread Pizza is a quick and easy snack recipe made with bread, white sauce and veggies of your choice. Just a few ingredients and gets ready in no time. When you are hosting a small party at home, you know what to include in the menu- it's pizza. Sabka favorite, Sabki pasand.
Virgin Mojito is a Cuban refreshing and mood swinger drink made with lemon, mint leaves, castor sugar, and carbonated drinks like sparkle water, soda, or Sprite. The aroma of mint leaves and the tangy taste will make you fall in love with it.
Change your family member's mood by giving them a whole glass of refreshment. They gonna just love this total change of mood in seconds.
Try this recipe at your home & if you have small kids, they will be blown away by the taste. It is so sweet & sour in the beginning and takes to you to yummiest dinner land just after 2 spoons. The most favorite dish that every kid in the house will love.
Source: www.chefdehome.com
Aloo Paratha is one of the most loved Punjabi Indian breakfast bread which is cooked and enjoyed in all regions of India. In India. Every Indian mother's love and daily breakfast funda – the parathas are in the house people!
Just 3 step process; apply the mint chutney over the bread, arrange the veggies of your choice and finally toppings of your choice. That's it. You can eat it in the afternoon or in the evening while catching up with friends for tea time.
This you can eat with anyone anywhere. Because the most common food love you share with your friends is sandwiches.
Source: www.binjalsvegkitchen.com
Achari Dahi Bhindi is a flavorful & delicious recipe. 'Achari' means pickling which is made using a mix of spices. That moment when your lunchtime suddenly becomes a king time seeing bhindi ki sabji in your lunch box!
Bread Jamun recipe is a delightful and easy on-the-spot dessert made up of breadcrumbs. I bet you, it won't take much time to prepare. The taste is stunning and unique from the normal Jamun. For every occasion, for everytime dessert that is loved by all us since ages.
Light on the stomach and easy to digest. These potato dumplings of Bataka Vada are a great choice for friendly meetups. Feeling hungry? Feeling lazy? These two feelings can be really satisfied with this savory Bataka vada.

Source: www.spiceupthecurry.com
Veg Manchow Soup is a Chinese soup recipe famous across India. Your chilly winter days soup idea, totally worth it.
Chocolate Cherry Cake is a perfect festive cake recipe and holiday dessert completely made at home. This scrumptious and soft cake is a must for chocoholics (die-hard chocolate lovers). This can be all time cake you can make. Both for vanilla and Chocolate lovers.
Source: www.chitrasfoodbook.com
Batata Poha,  a quick and easy tea time as well as snack recipe. Gets ready in no time. Our very own Indian breakfast recipe or traveling light food to enjoy with morning tea.
Korean Egg Roll Recipe, an egglicious treat for your morning breakfast. A Korean egg recipe made with an Indian twist. Made with simple at home ingredients and gets ready in 15 minutes. A healthy lunch box option for kids and elders. An egg lover justicfied recipe.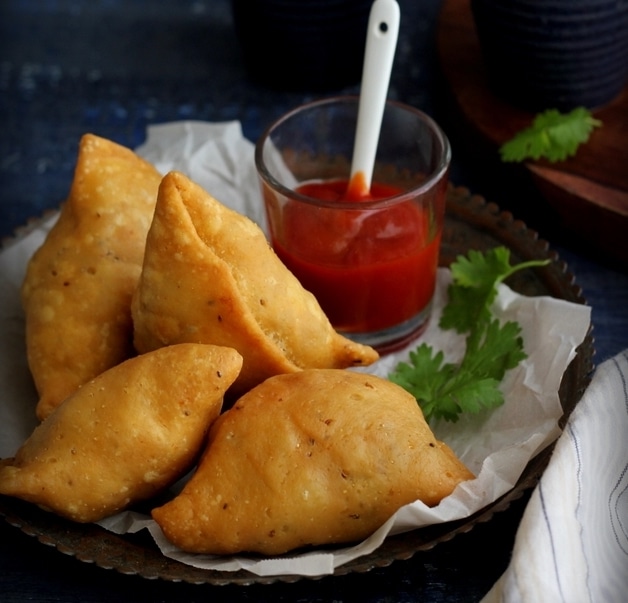 Source: www.easyfoodsmith.com
Samosa is one of the most popular savory Indian street foods, especially in Northern India. It is on the menu of most parties and is loved by people across ages. This filling can fancy you with its taste and aroma. An amazing option for evening snack time.
Surti Bataka Puri is the all-time favorite snack option for Surtis (People of Surat). Easy to make and loved by all. It is usually served as a tea snack and a special snack in the rainy season. All the crunch in your mouth, none of the guilt.
Made with spring roll wrappers filled with yummy chicken or veggies mixed with Chinese Sauces. Oh! This lovely starter is asked a hundred times in a restaurant. Why not make it at home?
Source: www.simplystacie.net
A Jalapeno Popper Grilled Cheese Sandwich will take your lunch to a whole new spicy level! A taste of a golden state in one single bite.
Multi-Grain Dosa is one of the best ways moms can feed their kids nutrition-rich food. You can mix and match any combinations of grain. Healthy option you should know how to cook.
Hopefully, you all might agree with this compilation. These recipes will help you to make a win-win situation at your dinner table.
If you have any queries, feel free to contact us through the comment section. We will be happy to help you.