The Indian Egg Omelette (aka masala omelette) is a dish made using beaten eggs fried in cooking oil or butter without stirring it. If you stir the omelette mixture in a frying pan, you will make scrambled eggs.
There's an interesting fact associated with the word omelette. It is believed that the phrase omelette originated in "France".
However, the dish egg omelette (spelt as Omelet) is way older than what french people started calling it. Surprisingly, more than 15 countries have a variety of egg omelettes, including Korea and the Philippines.
Let alone India has a dozen-plus omelette variety. So let's see what they are.
Indian Egg Omelette – 2 Ways
The Indian egg omelette that we are making today is a masala egg omelette. There are spices and masala powders to integrate taste and aroma.
1. with Green Chilli Paste
This particular omelette differs from the other one in terms of ingredients and texture. For instance, this omelette has no onions. I have skipped them, but you can add them if you want.
Then there's no red chilli powder. Still, we have used Kashmiri red chilli powder to give the omelette light red colour. But again, the red chilli powder here is optional.
2. with Red Chilli Powder
The red chilli powder egg omelette is contrary to the street-style omelette. The street vendors typically use green chilli paste and a pinch of red chilli powder. So we have the Lal Mirch wali Indian masala egg omelette given these points.
We also have chopped onion, chopped green chillies and fresh coriander leaves. Instead of green chilli paste, we will be adding whole green chillies. The rest of the ingredients are the same without any change.
What's the Difference?
Like I said above, there are unique methods to make an egg omelette. The taste, texture and aroma of your omelette depend on your choice of ingredients. Let's look at how these two omelettes differ from each other.
Texture
When you add red chilli powder, the texture will be dark and vice versa. However, if you look closely, the surface of the omelette with green chilli paste is light compared to the other one.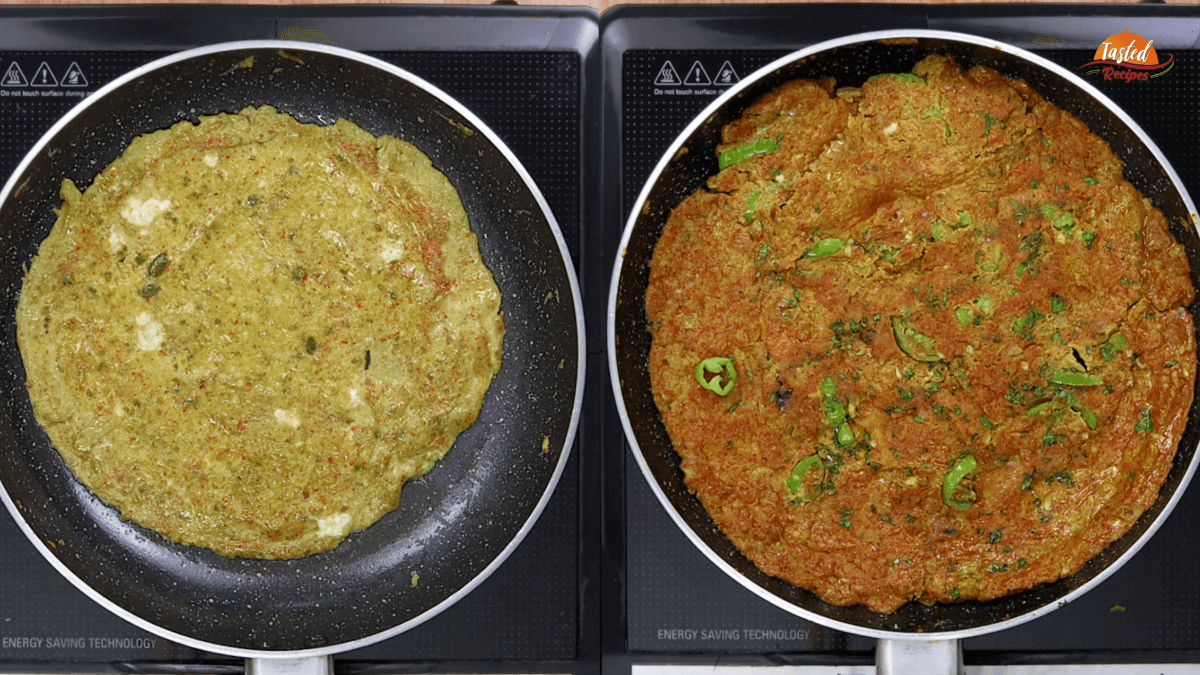 Taste
The one with red chilli powder differs slightly when it comes to taste. It is because of chopped onions and green chillies. You will feel the crunchiness of fried onions along with their taste. The bottom line is the red chilli powder omelette is a bit hot compared to the other.
Aroma
There is nothing much to discuss when it comes to aroma. The fragrance of shallow-fried raw eggs will quickly overpower any and every ingredient you combine. Hence, the scent of both the omelettes is similar.
Making
The taste, texture and aroma of any food item depend on the ingredients. The same is valid with our Indian masala egg omelette. The item list of these two omelettes differs due to chopped onions, green chillies and fresh coriander.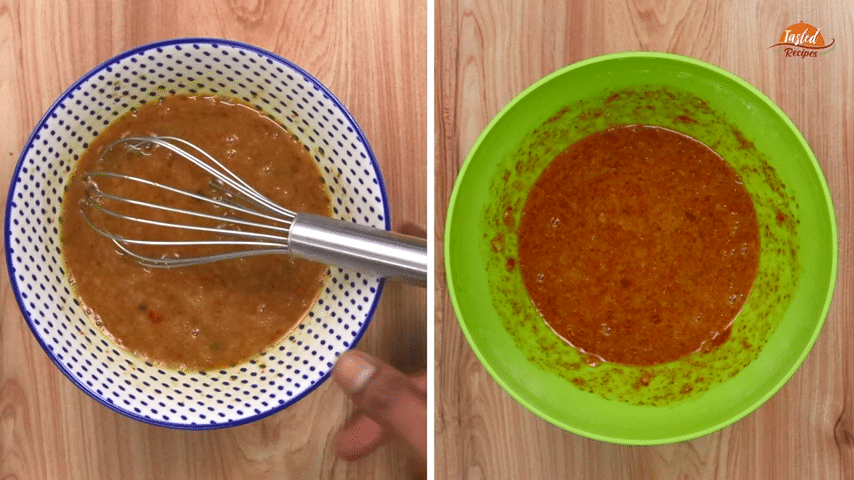 The rest of the ingredients are the same.
Indian Egg Omelette Varieties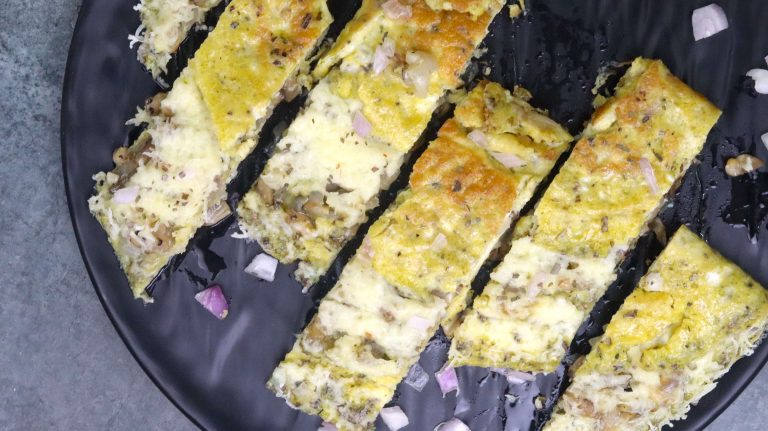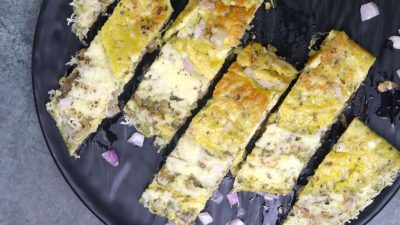 Cheesy Mushroom Omelette is the most filling & delicious egg dish. It's an interesting combination of eggs & mushrooms for breakfast.
Prep Time: 10min; Cook time: 20min;
---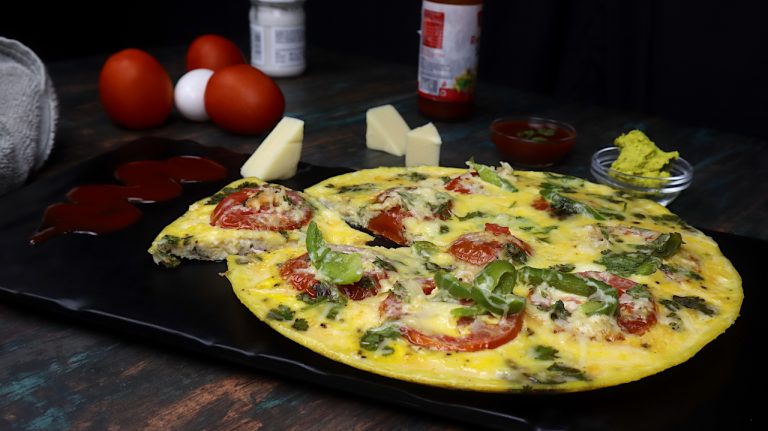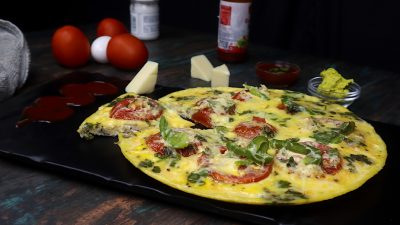 Tomato Cheese Omelette is another unique and deliciously cheesy egg recipe. A healthy, easy-to-make, and less fussy recipe to serve.
Prep Time: 5min; Cook time: 15min;
---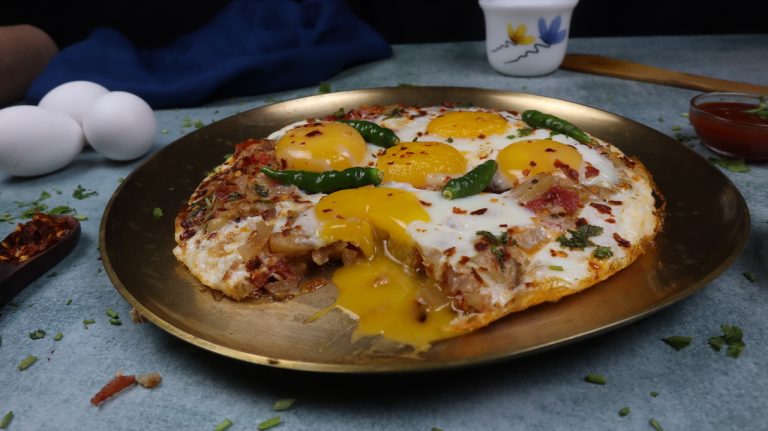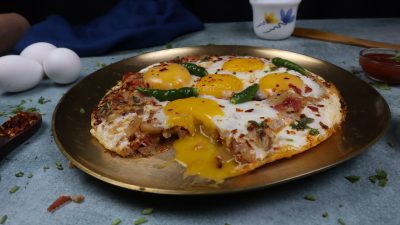 Afghani Omelette is an easy & tasty pan-fry breakfast recipe. This recipe is just as tasty & fancy looking as that in a restaurant.  
Prep Time: 5min; Cook time: 15min;
---
Egg Omelette with Minimal Items
The below-given tips and item list are primarily for bachelors without prior cooking experience. However, even if you don't know how to cook, you will still successfully make this one.
It is also for those who are away from their homes. One can make an Indian masala egg omelette using minimal ingredients.
You require four ingredients only. They are:
Egg (for obvious reasons)
Salt (for taste)
Red chilli Powder or Green Chilli paste (for spiciness)
Cooking Oil (to shallow fry)