Urad Dal Mesub is one of the popular traditional sweet recipes of India. People make this in both a harder and softer version as well.
While the traditional way of making it is quite time-consuming. And therefore, people do not make it that much.
A closely similar counterpart sweet recipe like this is available in South Indian cuisine. That is known as Mysore Pak and is made by using all-purpose flour. Also, another such counterpart is in Gujarati cuisine as well. That is known as Magas, which is made with besan flour.
Urad Dal Mesub is a winter special sweet. It tastes not only delicious but also is healthy and nutritious.
The main nutritional part is the edible gum or the gond/gondh we use in this recipe. We derive it from the plant gums of the acacia plant majorly.
This edible gum has medicinal properties that are great for ailments like diarrhea, cough, congestion and is extremely good for strengthening the bones. And we use it in several dishes, mostly sweets.
It is one of the expensive sweets of Gujarati cuisine. Nowadays, the live Mesub counter is very much popular at Gujarati weddings.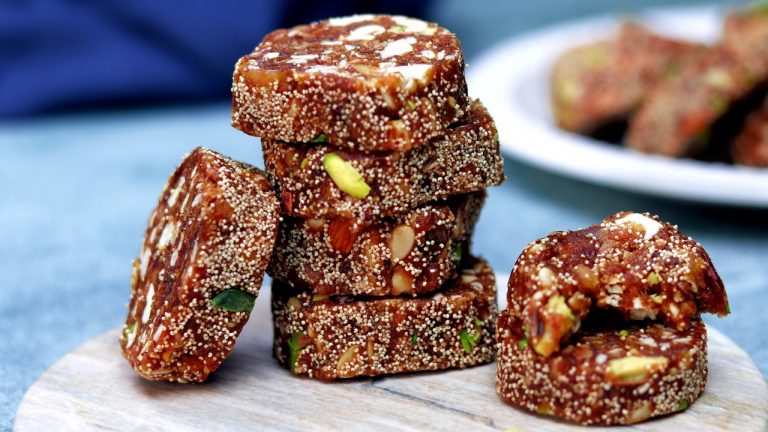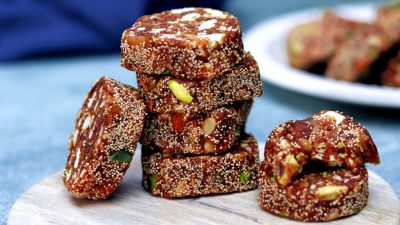 Khajur Roll is a sweet dish with lots of dates and dry fruits. It provides energy and warmth, hence it is a winter special food. 
Prep Time: 5min; Cook time: 25min;
---