Tadka Maggi is a fusion snack recipe. The name itself suggests that it's a combo of 2 recipes. The best part is tadka Maggi is easy to make and tastes better than plain Maggi.
All you need to do is make the legendary 2-min Maggi noodle and add Indian tadka to it. I call it west meets east. Tadka Maggi is straightforward as well as tasty, and there's no doubt about it.
We all are fond of 2-min Maggi. Aren't we?
Maggi is like potatoes, and it is a super adjustable vegetable that fits in almost any recipe. The same is with Maggi. So whether it's a birthday party, school picnic, tiffin, lunch box or a Sunday morning breakfast – Maggi fits everywhere!
Let's see what tadka Maggi is and how to make it.
What is Tadka Maggi?
Tadka Maggi is Maggi noodles tempered using Indian spices. First, Maggi is prepared using the age-old method (the 2-min one) and tempered later on. That's it.
Surprisingly the recipe involves only two steps and nothing beyond it. So I call it the lazy lad recipe. Why?
Because you need to do nothing literally beyond making noodles and then tempering it, anyone who knows a little cooking will be able to make tadka magi for sure.
Tadka Maggi v/s Plain Maggi
The difference between both of them is the tempering process. We all eat plain Maggi daily as evening snacks or morning breakfast. So, instead of eating it plain, I decided to temper it a bit. It's just to enhance the taste & flavour of the Maggi.
See, there's no harm in trying it. Plain Maggi, you have been eating for ages. Now try the tadka Maggi. Tell me how and when you made this dish. I would certainly like to know your style and secret ingredient used, if any, in this recipe. Go ahead and comment.
This Tadka Maggi is:
Kids favourite lunch box item when in school.
Ridiculously easy to make & tastes better than plain Maggi.
A fusion recipe of western noodles plus Indian tadka.
Best for birthday parties & get together or any in-house occasion.
Perfect if you serve it as a starter with tomato sauce.
A great lunch & dinner idea when there's no vegetable in the fridge.
Quick & tasty dish that anyone can make in no time, especially when you don't want to cook.
If you are lazy on Sundays just like me and want to make something super fast, then tadka Maggi is what you must try. So try this Sunday and tell me how it was.
What Are We Adding To Tadka Maggi?
Like I said above, this recipe is a combination recipe. Hence, the ingredients will be a mixed bag of 2 recipes – Maggi & Tadka. For your convenience, I have made a list of all ingredients. Refer to them below:
Maggi Ingredients
I haven't modified anything here. All the ingredients to make a classic 2 min Maggi are the same. Uncooked Maggi noodles and Maggi masala sachet are available in the pack. It's like काटो, घोलो और बना लो 😁.
Green Peas
Fresh green peas are just an add-on to the plain Maggi here. If you don't want peas, skip them, and everything's fine. However, kids do like green peas (matar) in Maggi, so I suggest you not skip them.
Tadka Materials
Again the tadka items are not so fancy. Every single ingredient is already present in your kitchen. Moreover, all these items are regular ones that we use daily to temper dal, rice and main-course dishes. So, go with it.
If you have a unique tempering style (making tadka), please let me know in the comments. I would be happy to read and reply.
What else can you make using plain Maggi?
Options are unlimited. I can only imagine what wonders one could make using plain Maggi. Even if I google Maggi variations or Maggi recipe variations, I will get more than a dozen dishes. Take a look at the list of delicious Maggi variants.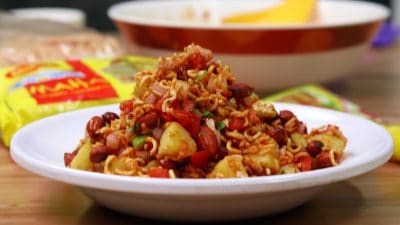 Maggi Bhel is an Indian fusion recipe. It is made up of two dishes, that is Maggi and Bhel. A lip-smacking dish, fuss-free recipe to enjoy.
Prep Time: 5min; Cook time: 10min;
---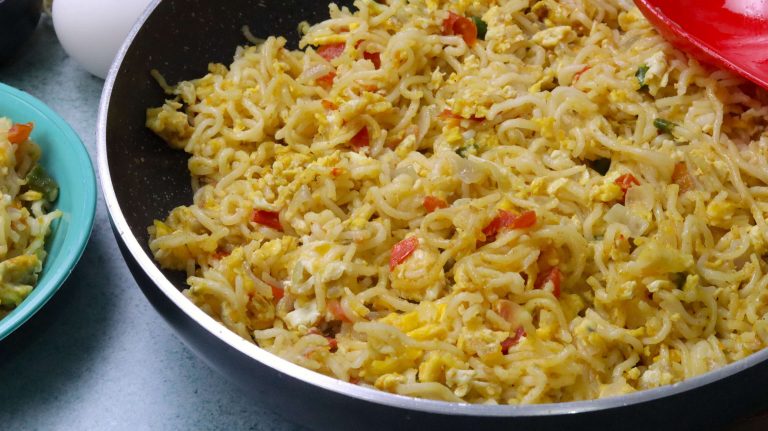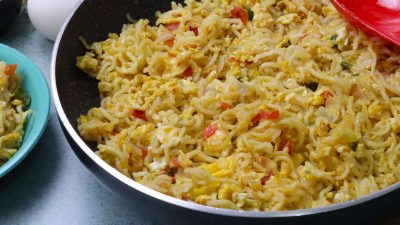 Maggi Anda Bhurji is a fusion of Maggi & scrambled eggs. It is an easy-to-make & delicious item to eat as a snack or breakfast.
Prep Time: 10min; Cook time: 10min;
---