Veg Cheese Burger is a kind of snack with loads of flavorful vegetables in a bun. It is a popular street food believed to be originated in the United States.
Burgers and their varieties are quite popular. People munch them day in and out like there's no tomorrow. One can find burger variations in branded food joints like McDonald's and Burger King. This holy snack is best for parties.
Origin Story Of Burger
The first and oldest burger joint in America was an establishment called White Castle Burger in 1921, in Kansas City and not Mcdonald's. And it is a must to have burgers there if you ever happen to visit. Maybe after eating them we'll know why Harold & Kumar from the film were so adamant about eating there even after going through so many hurdles the whole night.
Even if Veg Cheese Burger hails from the U.S., still some believe it to be of German origin. The most famous form of a burger is Hamburger.
I, like the majority of people, believed that it is named so because hamburger has ham slices in them. But that is not the case. If we believe the story of their origin in Germany to be true, then that is where the name is derived from.
Germany has a port city named Hamburg that possed very rich and popular meat. When German immigrants went to New York and Chicago while World War, they started selling Hamburg stakes. This evolved into selling the stakes pieces in a bun toward the end of the war; the initial version of the hamburger we now know.
However, this dish did consist of a slice of ham in the filling. The ground beef patty was another favorite alternative to a hamburger.
But at present, we can find innovative versions of this dish in both vegetarian and non-vegetarian forms, as chicken is the main ingredient in the non-veg version of it.
Tips For Veg Cheese Burger
Here, in this recipe, we did not make it a patty with veggies. But instead cooked them with spices and filled the bun with it. You can shape and fry them as patty if you like though.
If you are actually making and frying a patty then it will be better to add breadcrumbs and Poha. These ingredients will provide more binding, and crispiness, and will soak the extra moisture.
Grill or caramelize the onions before adding them to the burgers.
This recipe does not require a microwave. So you can make it at home even without one, as it is believed to be otherwise.
There is no definite recipe to make a burger or the filling inside it. You can try anything that suits your taste. The commonly used veggies in a classic burger are lettuce and pickled cucumber with a special burger sauce.
Mayonnaise or spread cheese is also an excellent option to make it even tastier. But you can have it with any kind of dip you like.
Also, check out our other burger recipes: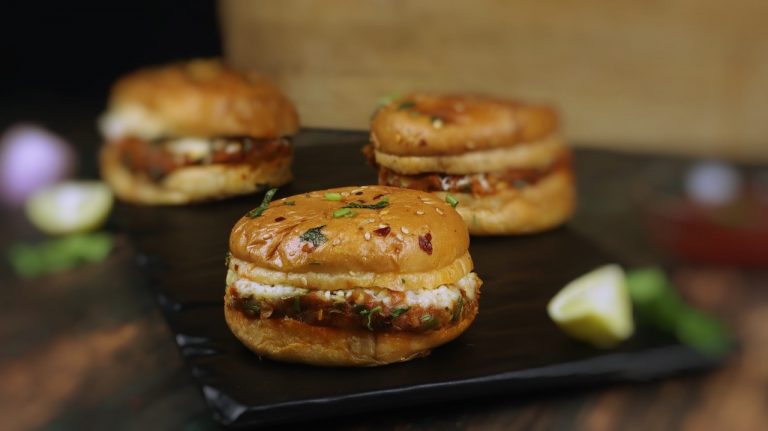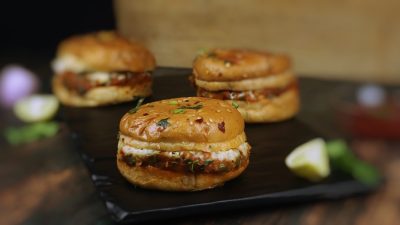 Veg Cheese Burger is a snack with loads of flavorful vegetables in a bun. It is a popular street food originated in the United States.
Prep Time: 15min; Cook time: 15min;
---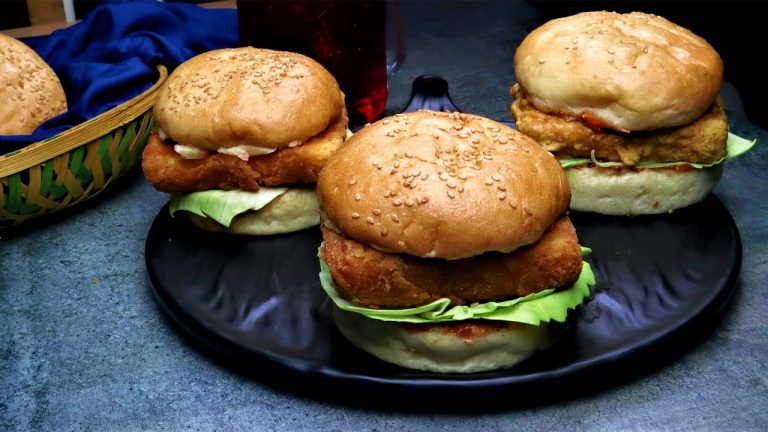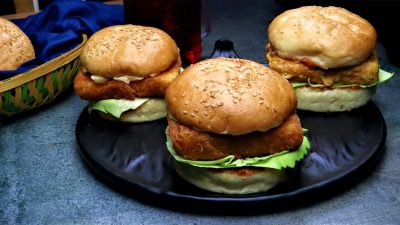 Paneer Burger is a unique and delicious burger recipe. You can say it is one of the Indian street burgers version, including paneer.
Prep Time: 5min; Cook time: 15min;
---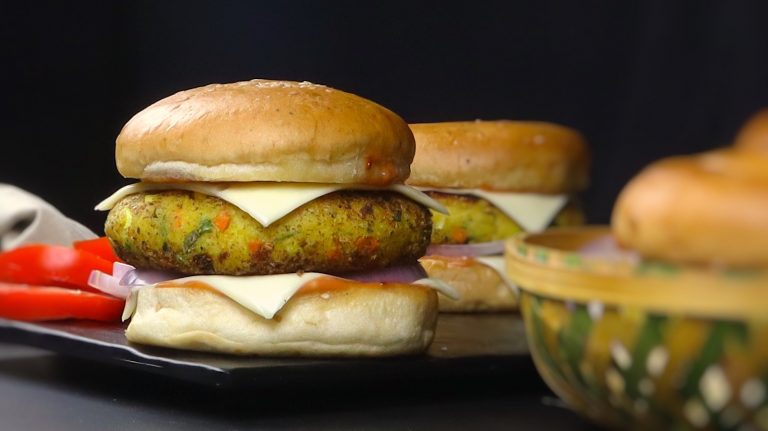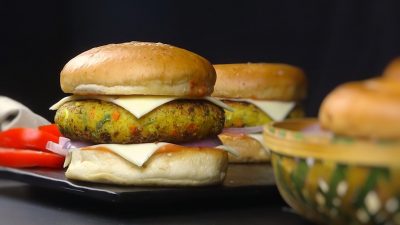 This desi McDonald's style aloo tikki burger is the ultimate meal for your next party. Watch the video & follow tips to make it today.
Prep Time: 10min; Cook time: 10min;
---