I am excited to share my Indian style spicy aloo tikki burger. The concept of making a tikki burger is derived from the famous McAloo Tikki of McDonald's. However, both of them are completely opposite to each other. Additionally, there's a thoughtful comparison between both of them ahead.
Follow the recipe & my tips below & we will make the best aloo tikki burger at home. This aloo tikki burger will be more or less similar to the one we eat at our favourite restaurant. Hence, let's get started.
Why this desi spicy aloo tikki burger is unique?
Our desi potato tikki burger perfectly integrates the magic ratio of veggies & ground spices. It may sound like a regular burger but there's a huge difference in the texture & taste.
The vegetables in it make the burger a delightful treat to enjoy. Moreover, the cheesy taste exactly replicates the experience of eating age-old fast food.
Aloo tikki burger v/s MacDonald's McAloo tikki
The legendary McAloo tikki burger is a balanced meal aka a wholesome meal in itself. The patty (tikki) contains fresh vegetables, including potatoes & green peas.
According to the official McDonalds blog, the McAloo burger has added dietary fibre. Due to this, the patty absorbs less oil while frying. As a result, the extra fibre helps in maintaining a healthy digestive system.
On the contrary, our desi aloo tikki burger is no less than the McAloo. Along with potatoes, it contains french beans, carrot & sweet corn. In a way, our Indian style burger is also a wholesome meal.
The delicious combo of potato patty & Indian spices coated with breadcrumbs, cheese & tomato sauce in a regular bun is divine. In short, both burgers are stellar in their own way.
What you'll need to make an Indian aloo tikki burger?
Making an aloo tikki burger is not a challenging task. However, there's a small glitch. We require vegetables, ground & whole spices with a few herbs. The item list is already mentioned in the recipe card at the bottom. However, I would like to discuss the browny points of this aloo tikki burger. Here they are.
List of items you must not skip:
In the potato mix, we will add chaat masala. It will add a chatpata flavour.
The basic feature of bread crumbs is to stack all the items together. Since it has all-purpose flour it acts as a binding agent.
Rice flakes are lightweight. Additionally, they give a crunchy taste & texture to the tikki. Don't skip them it's just 30 grams.
Skip mayonnaise if you are intolerant to it. You can replace it with white sauce if available.
Cheese is for obvious purposes & we all love cheese. The tarty flavour will lit up the burger.
Rest everything is easily available either at home or in your kitchen closet. Gather everything first & then proceed with making the burger.
How to make a spicy aloo tikki burger?
Here's the brief method to make an aloo tikki burger at home. Don't forget to get the full recipe with measurements down below.
Heat oil & saute whole spices, masala powders & veggies.
Then add boiled potatoes, mash them and mix lemon juice.
Cook the mixture & transfer it to a bowl.
Add chaat masala, breadcrumbs & rice flakes. Mix properly.
Make patty (tikki) & coat them with breadcrumbs.
Shallow fry all the patties until crispy & keep aside.
Slice buns, toast them in butter & keep them aside.
Now make the tomato & mayonnaise mix & apply on the buns.
Finally, assemble the burger using cheese slices & onion rings.
Your desi aloo tikki burger is ready. Enjoy with soft drinks.
Why does my aloo tikki turn dark brown?
The number one reason why this happened is you over fried them. The second reason is too many breadcrumbs on the patty. Once you coat your patty aka tikki slightly tap to remove excess breadcrumbs.
More importantly, avoid the temptation to fry a little more to make it crispy. Don't do that. In the wage of making the patty crispy you will end up burning it. One more thing, allow the cooking oil to be hot enough to fry.
This is a common mistake. We put the patty in warm oil instead of hot oil. Since the oil is warm it takes time to attend to the required temperature. On the other hand, the patty in it starts the frying process. That's the reason why patties burn.
Why did my aloo tikki break in hot oil?
This happens because either the patty is loosely stacked or the potato mix is watery. When you make the potato mix it will become dry over time. Now what we do is add water to loosen it up. That's the problem here. We think it's dry & won't fry well. Hence, we add water.
Since our patty contains moisture it easily breaks in hot oil. Therefore be careful.
The solution is to cover the mixture or wrap it in aluminium foil paper. This will help preserve the moisture & keep it nice & moist for a long time.
TR's Pro Secrets to Crispy Aloo Tikki
The potato patty is the centre of attraction. However, other items are either readymade or require no cooking. Follow the tips below to make crunchy & crispy aloo tikki.
Boil potatoes beforehand & peel their skin. Store them in a container. Don't leave them in the open air or else they will dry out in no time.
Do not store potatoes in the fridge after boiling. If you have frozen boiled potatoes then first bring them to room temperature. Thereafter use them to make patties.
If the potato mix is loose add rice flakes to absorb extra moisture.
The patty must be thick enough to hold the shape.
Allow the oil to reach the minimum required temperature. Start frying patties thereafter.
Garnish your burger either with mayonnaise, tomato sauce or white sauce. You skip mayonnaise.
Have a look at other recipes like: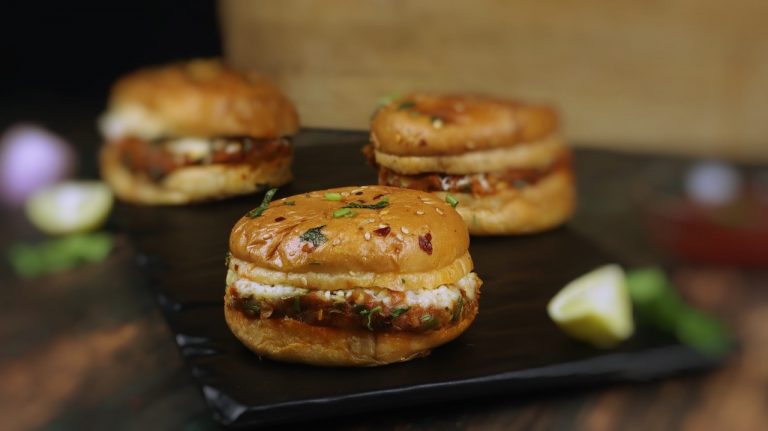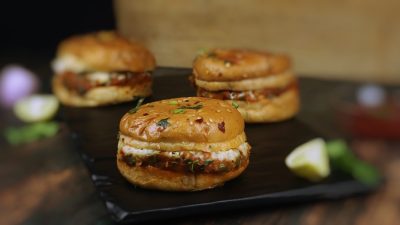 Veg Cheese Burger is a snack with loads of flavorful vegetables in a bun. It is a popular street food originated in the United States.
Prep Time: 15min; Cook time: 15min;
---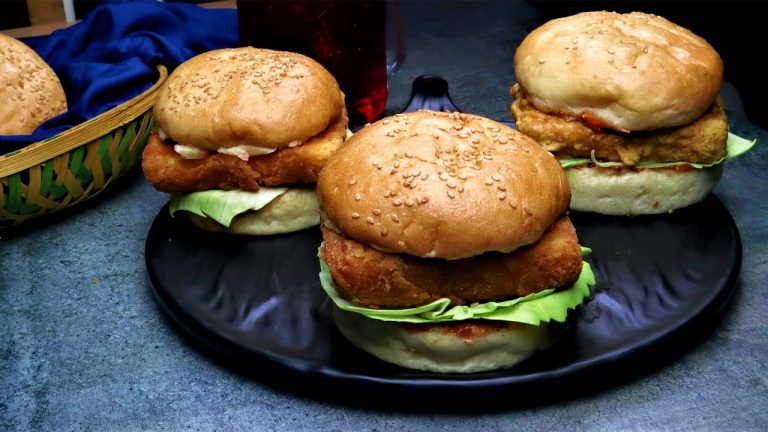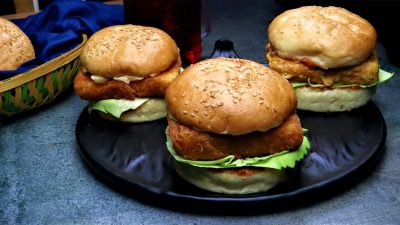 Paneer Burger is a unique and delicious burger recipe. You can say it is one of the Indian street burgers version, including paneer.
Prep Time: 5min; Cook time: 15min;
---