Tomato Paste is a thick paste traditionally made in southern parts of Italy & Malta. The conventional method of making this paste is unique.
They spread the paste on flat wooden boards & set it outside under sunlight in summer. Doing this makes the paste dry & thick under intense natural heat. That's the traditional way.
The one that is available in the supermarket is the industrial version. It's way thinner than the one mentioned above. The secret lies in the quality of tomatoes.
Yes, the tomatoes used in the commercial production of tomato paste have low moisture. Therefore, these tomatoes are entirely different from those available in the market.
According to Wikipedia, Tomato paste is a thick paste made by cooking tomatoes for several hours to reduce the water content, straining out the seeds and skins, and cooking the liquid again to reduce the base to a thick, rich concentrate. It is how we impart an intense tomato flavour to various dishes, such as pasta, soups and braised meat.
Yeah, that's precisely how we make this paste at home. In simple words, boiling & straining tomatoes gives you the tomato paste.
Tomato Puree v/s Sauce v/s Paste
Crushed raw tomatoes (in a grinder) gives you puree. It is uncooked & has a liquid consistency. Put tomatoes & crush them. Use the puree to flavour curries, meat, chicken & veggies.
On the other hand, tomato sauce is a different thing. It is cooked, contains tomato paste, herbs & flavouring spices. Tomato sauce pairs well with pizza, pasta, sandwiches & a lot more food items.
This red paste is used as an ingredient to make tomato sauce. In short, boil & strain, and you will get the paste. I have explained it above for your reference.
Tomato Paste Across the World
The tomato paste is referred to as puree or concentrates in the UK. In the US, it is tomato solids without seeds & skin. A step further, the US version also contains artificial sweeteners like high fructose syrup.
On the contrary, the European tomato paste is salty. Above all, the middle eastern paste is sweet (using sugar), especially the Israel tomato paste.
The Turkish version is a bit different. They call it salca, and a thick deep red paste made using peppers, tomato & salt. In India, we use tomato puree more often compared to paste. Not to mention tomato sauce for us is Kissan Ketchup. Yup, the sweet & tangy one.
Okay, now we have a lot of info about the tomato paste. Let's try making it.
Helpful Tips
Resist the temptation to add extra salt. It will become salty.
Do not add sugar because we aren't making tomato ketchup.
Avoid any artificial colours, preservatives or flavouring agents.
Boil tomato pieces properly in oil till the skin peels off.
If your tomatoes become soft or melt, don't worry. You are still in the game.
Sieve the boiled tomatoes well to extract every single drop of the pulp.
Heat the pulp to burn the remaining water content in it.
Use non-stick cookware for best results.
Stir continuously so that the mixture doesn't burn at the bottom.
How to Store?
Use glass containers instead of plastic ones. Make sure your containers are air-tight. Keep away from direct heat or sunlight. If available, store it in the refrigerator. An excellent and dry place increases the shelf life of such products.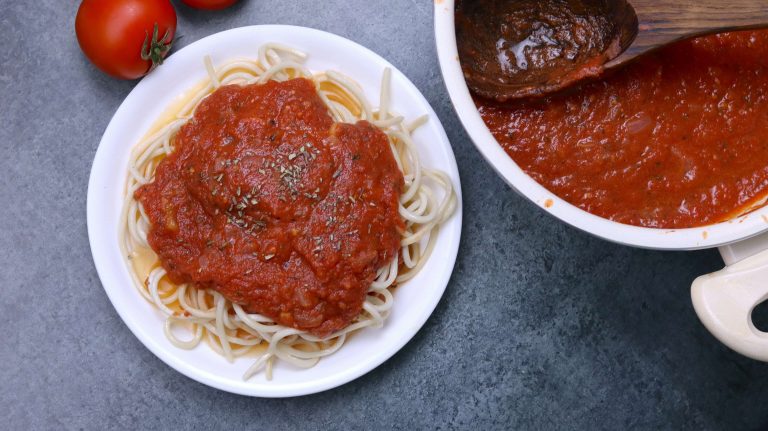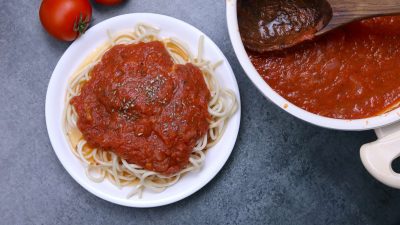 Red Pasta Tomato Sauce Red Pasta Tomato Sauce is an easy one-pot recipe. This sauce is originally from Italy and was adapted by Americans.
Prep Time: 5min; Cook time: 15min;
---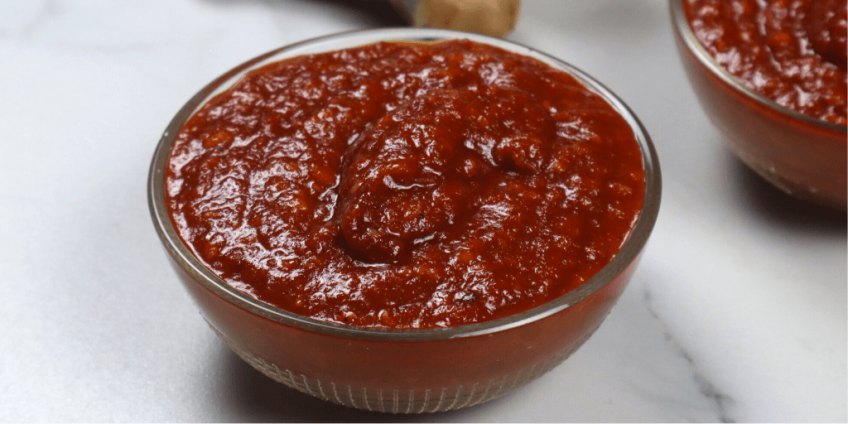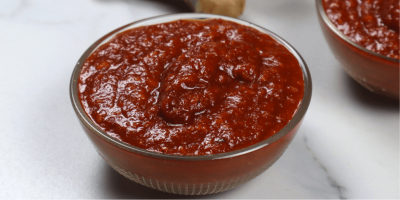 Schezwan Sauce is a quick and tasty Indo-Chinese sauce recipe. It has a very strong taste and burst of flavors and is served as a condiment with snacks.
Prep Time: 5min; Cook time: 10min;
---