Jhalmuri, the Bengali version of one of the best chaat dishes of all time, Bhel! This variant of bhel won hearts not just in Bengal and Orissa but in Bangladesh as well! The name is Jhal = spicy, and Muri = puffed rice.
Though it originated in Bengal, it is famous in multiple states and internationally. For example, Jhal muri, the variant of bhel in Bangal, is also famous as chat pate in Nepal!
You may even have tried it and didn't even know! Many vendors sell it in trains, especially when you are about to reach Howrah. They call it bhelpuri when they are nearing Mumbai but change the name to Jhalmuri when they approach Kolkata. I mean, chaat dishes are like that only. Do one thing differently, and you make another variation.
It is straightforward to make jhal muri. It merely takes 15-20 minutes. So if you are craving a quick bite and want to try something new, then jhal muri are the way to go!
It is best to eat within the first 30 minutes of preparing. Otherwise, the puffed rise may get soft. It will still taste delicious, but the crunchiness is the best part of its taste.
What is the difference between Jhalmuri and bhelpuri?
I am sure you want to know the difference – Bhelpuri is less spicy than Jhalmuri. We have made both, and you can check out the bhelpuri recipe here.
Bhelpuri is street food from Mumbai and Jhalmuri is street food from Kolkata or Bengal.
However, authentic jhalmuri has mustard oil (सरसों का तेल), but we in Surat aren't using mustard oil because some of my family members do not like it.
Further, the Bengali people like green chilli-based spiciness, so Jhalmuri has more green chilli than red chilli powder.
One more thing is, because jhalmuri has to be hot, it has a lot more masala than bhelpuri. However, you are free to choose or skip anything that you like or don't like. No one will file a case against you for not having a masala.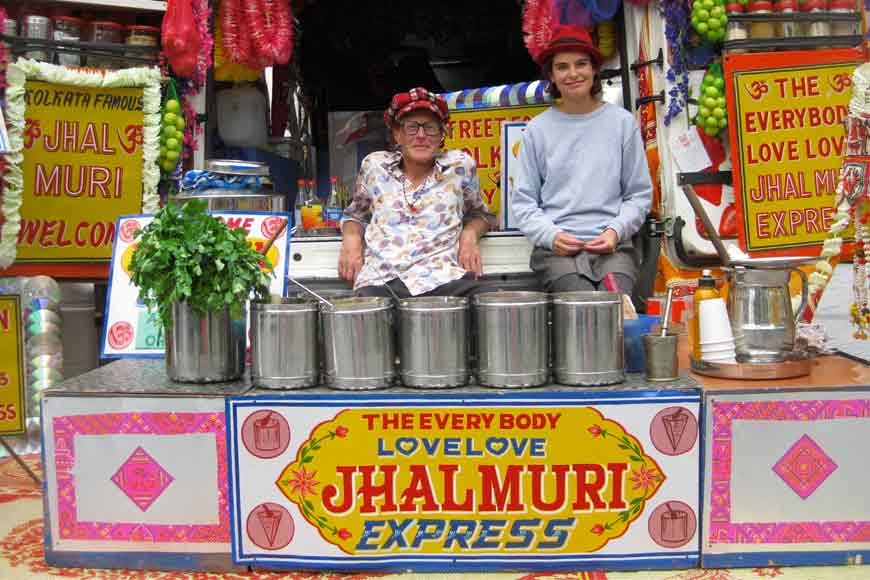 (Image courtesy: Getbengal.com)
One English chef, after visiting Kolkata, liked Jhal muri so much that he started his shop Jhal muri in England. An English chef named Angus Denoon (From the image) started his stall, and he even gets called to Indian weddings in the UK! The jhalmuri has also reached the oval cricket ground in London.
You can read about the story here.
So Jhalmuri is already an international star!
What more can I add to my muri?
Chana chor garam: This has to be one of the best add on! Its taste will compliment the tangy taste of tomato and lemon and will go nice with the masalas!
Chana: Chana or chickpea is a great addition as well. They will compliment the tanginess well. Plus, chickpeas have a high nutritious value as well.
Flattened rice: Flattened rice, popularly known as chivda (In Hindi), is also a great friend of chaat dishes like jhal muri.
Raw/unripe mango: Raw or unripe mango is always a good option for chaat dishes. It will amaze you how good raw mangoes go with jhal muri.
How long can I store jhal muri?
Jhal muri and other chat dishes are made with chutneys and puffed rice. Jhal muri or other chaat dishes are in their best form when all the ingredients are mixed. The longer you keep the mixed ingredients, the more puffed rice will absorb the chutneys and become soft.
After absorbing chutney, the chaat dishes become softer. It loses the crunchy element. So it is best to consume it as soon as possible and in the first 30 minutes of preparation.
If you wish to eat it after some time, do not mix the ingredients (or at least chutneys). Instead, store them differently in the fridge and mix them when you wish to eat them. Don't worry, Jhal muri tastes just as good if served cold.