Let's make some creative Desserts to sweeten your Bakri Eid. Because you have tones of varieties of foods. You start with mutton recipes & dig into desserts as the last meal.
You must be searching for the best dessert recipes online & may have found some good ones. But here I have compiled 10 creative desserts to enjoy your Eid lavishly.
During Eid time, 3-4 days are just into banging on food and some of them are heavy and spicy.
Why don't you make these desserts & create fun for your taste buds?
This Eid is getting sweetened than ever.
Click the image to see revolutionary dessert recipes.
---
Download our Free Recipe Cookbook
---
Dry coconut falooda pudding is a fruity pudding over flavored with dry coconut & coconut milk. It is the milkiest pudding you will ever eat.
---
Kubani Ka Meetha is a traditional Hyderabadi sweet delicacy prepared with dried apricots, milk and fresh cream. Khubani is the Urdu word for apricots. One interesting thing I want to tell about this dessert is it is a tummy feeling creamy recipe. To complete one small bowl of this will need at least four people to finish it. It's worth a tried recipe this Eid.
---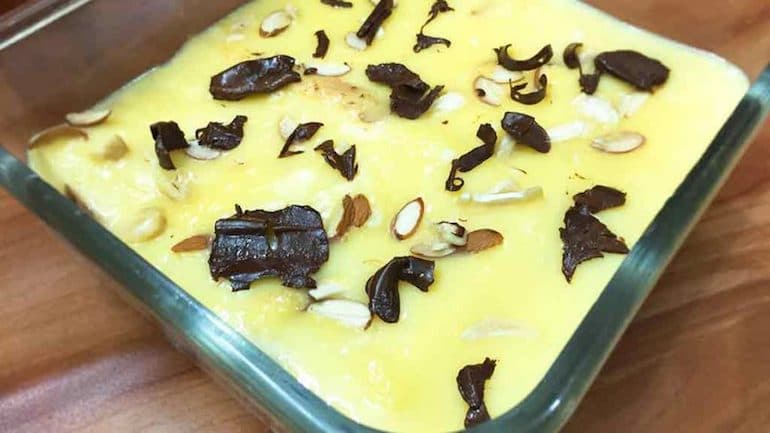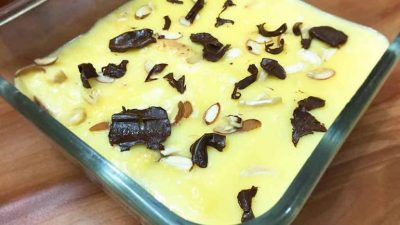 No-bake bread custard pudding will suffice your carving for sweet after a delicious iftar. The combination of colors with yellow pudding, yummy Chocolate sauce, and dry fruits is a real treat to eyes.
---
Dudhi Ka Halwa is a nutritious sweet dish that everybody likes. The Halwa made by my mom is just another dish served from heaven. pure ghee etc.
---
Fruit chaat is not exactly like a dessert but you can say it's a sweet substitute for your dessert. During your Eid days, heavy foods and heavy desserts will make your stomach less digestive. In that case, one bowl of citrus fruits will help you to digest your food and back to normal celebrations.
---
Sheer Kurma is a Hyderabadi traditional recipe made with rich ingredients like milk, dry fruits, cream & saffron. Make a huge serving of Sheer Kurma & arrange a get together during Eid & create sweet memories with your loved ones.
---
Source: www.foodviva.com
Shahi Tukda is a very authentic Indian dessert recipe. It is made with bread. The bread is fried in ghee until it gets crispy & then topped with creamy Rabri. Just wow! We can make desserts from anything I mean. A bread too!
---
Source: www.hebbarskitchen.com
It's a unique rice dessert recipe that is similar to rice kheer. It is an easier recipe than making sheer kurma. You can refrigerate it and serve in a small quantity after your dinner.
---
Source: www.fauziaskitchenfun.com
Lab Ae Shireen is a Pakistani fruit & custard recipe. A delicious and refreshing flavor of Rose. You will never get so yummy feeling than eating this.
---
The chocolate cherry cake is a scrumptious and soft cake is a must for chocoholics. its layers studded with cherries above and even more cherries buried inside. Drizzled and decorated with whipped cream with a rich chocolate glaze and garnished with cherries.
---
Enjoyed these dessert recipes? Me too! These are some extraordinary sweetened desserts that will make your Eid so delicious and special.
Serve this in a decorative small bowl or dish & eat first through eyes & then with your mouth. Don't forget to share these recipes with your friends and relatives.
Eid Mubarak Sabko!