We all like schezwan sauce, but we often don't know which one is best for us. Some sauces are high in carbohydrates and sugar, and others are low in comparison to it.
If you like spicy one, go for the chutney, and if you are a fan of spicy and tangy things, go for the sauce. Furthermore, it is made from shallots, dry red chilies, and garlic & oil. The best ones are sunflower based because they taste better.
In this buying guide, let's find the best schezwan sauce brands in India and also know the pros and cons of each. However, the best choice will always be to make it at home. If you want, here is a recipe video to help you make it at home.
So without much ado, let's check out the best schezwan sauce brands in India.
Buying Guide in a Snapshot
Click on the brand name to read the complete product review.
Our Choice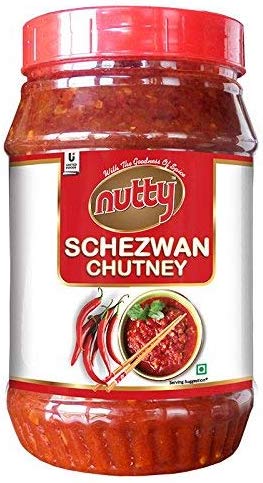 Nutty Schezwan Chutney with Quality Seasonings
Made from Quality Indian Spices
No Artificial Flavour
Completely Vegetarian
How To Choose Best Schezwan Sauce?
Let's understand the factors to choose the best Schezwan sauce brand.
Content of nutrition
The content of nutrition on the backside of every pack is essential to read. It gives you a snapshot of how much carbohydrates, sugar, protein, preservatives, and artificial color it contains. One of the main criteria for us to decide the best schezwan sauce is based on the ingredients and preservatives in it.
Expiry Date
When you buy schezwan sauce, look at the manufacturing date on the bottle and for how many months-long it's gonna stay fresh. Organic schezwan sauce has less expiry time due to its freshness, and also, it's without any preservatives.
Frequently Asked Questions
What is schezwan sauce made of?
Schezwan sauce is made of water, garlic, chili, ginger, oil, onion, sugar, salt, corn starch, soya sauce, spices, white pepper, schezwan pepper, etc. It's fusion Indo-Chinese sauce.
What is the difference between schezwan sauce and schezwan chutney?
The only difference between them is tasted. While the schezwan sauce is spicy and sour, schezwan chutney is spicier in nature.
Is schezwan sauce healthy?
No, Schezwan sauce or chutney is not considered healthy. Every brand of schezwan sauce available in the market contains preservatives and artificial colors. Moreover, there hasn't been any study on the schezwan that reflects any of its health benefits.
What does schezwan sauce taste like?
Schezwan sauce taste is pungent, spicy, tangy, and has Chinese flavor mixed with Indian tadka in it.
Also Read:
From the top tomato ketchup brands in India, we analyzed protein, carbohydrate, and sugar to conclude the best tomato ketchup brand in India
Best Tomato Ketchup Brands in India
Let us dig deep into each of the better tomato ketchup brands available in India.
Product description
No Refined Sugars & No Artificial Sweeteners.
No Gluten, No Trans Fat, No Preservatives, No Additives, Non-GMO, No MSG & No Soy.
Organic and 100% Natural, packed in Glass bottles.
Low Carbohydrates & Ultra-Low Glycemic Index (GI).
Nutrient Dense & Antioxidant.
Best Customer Experience
Healthier versions of the same tastes.
Pros and Cons
Pros
Organic and vegan.
Low in sugar.
Low in carbs.
Product description
Made from Quality Indian Spices.
No artificial flavor.
Best Customer Experience
Vegetarian.
Best Customer Experience
Taste tangy and hot.
Worst Customer Experience
Doesn't feel like original Schezwan chutney.
Pros and Cons
Pros
Feels fresh taste.
Balanced tangy taste.
Low in fat.
Product description
Move over regular chili garlic sauce of old.
Use as a sauce or a marinade.
Delicious with your noodles and fried Rice.
Use it to spice up your meats and veggies.
Vegan friendly.
Best Customer Experience
Super tasty and nice Chinese spicy.
Worst Customer Experience
Taste like tomato sauce blended with red chilli sauce.
Pros and Cons
Cons
High in carbs.
It doesn't have a bit of garlicky taste.
Feels like red chili sauce mixed with tomato sauce.
Product description
Schezwan Chutney.
It is delicious.
It is used during cooking.
Rich in nutrients.
Best Customer Experience
Very mild not much spicy for the less spicy lovers.
Pros and Cons
Pros
Less spicy.
High in sugar.
Good taste and texture.
Product description
Hot paste.
High in protein.
Best Customer Experience
Good taste and lovely flavor.
Pros and Cons
Pros
Good flavor.
Low in fat.
Authentic Chinese taste.
Product description
The Super-versatile sauce can be relished as a dip or a spread
Make schezwan biryani, schezwan pasta, schezwan Dosa, Bhel or dip in french fries, nachos, sliced veggies.
It can be used to make fried rice, noodles.
Indian dishes for a wonderful and unique flavor.
Pack Included : 2 x 220 gms.
It can be used as a cook, dip, or spread.
Pros and Cons
Pros
Sunflower based.
Good taste and flavor.
Product description
Ingredients: Water, Garlic, Ginger, Chilli, Sunflower oil, Suger Sauce, Acetic Acid, Sodium Benzoate, Celery.
Stir well before use, Refrigerate after opening.
Suitable for vegans, dairy-free.
This product was processed on machinery and in a plant that also processors wheat, peanuts, tree nuts, sea same seeds, soy, mustard & milk.
Pros and Cons
Cons
Not an organic
Not a well-known brand.