Attention Home Chefs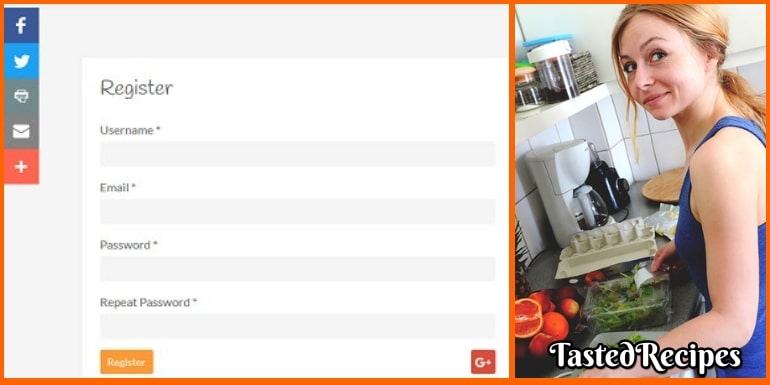 TastedRecipes.com is happy to announce a new platform for Home Chefs to promote your innovative cooking skills and get famous around the world.
Every one of us has a hidden talent in us and we know that. Some get chance the platform to show them and get famous and some not.
Though you are a man or a woman, you have a hidden Chef in you. To bring that Chef in you we at TastedRecipes have decided to feature your lovely, scrumptious, mouthwatering dishes on our website.
This will be an ultimate opportunity for all the home chefs who want to showcase their cooking style or food dressing or anything you are good at in Cookery.
HOW TO REGISTER?
Step 1: Open www.tastedrecipes.com
Step 2: Click on the link "Register". A registration form will open where you need to fill in your details. Refer to the image below: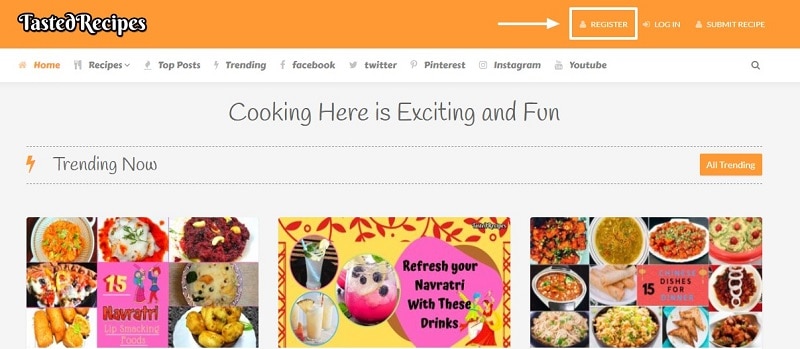 Step 3: Fill in all the details like a unique username, email, and password. After entering your details click on "Register" button.
Step 4: An email will be sent to your registered email address.

On successful registration, you will see the above message.
Step 5: Log in to your email account for the confirmation link. If you don't find the confirmation link email in your inbox then search the spam folder too.
Step 6: Click on the link and confirm your email address. Once you confirm your email address you will get the following message.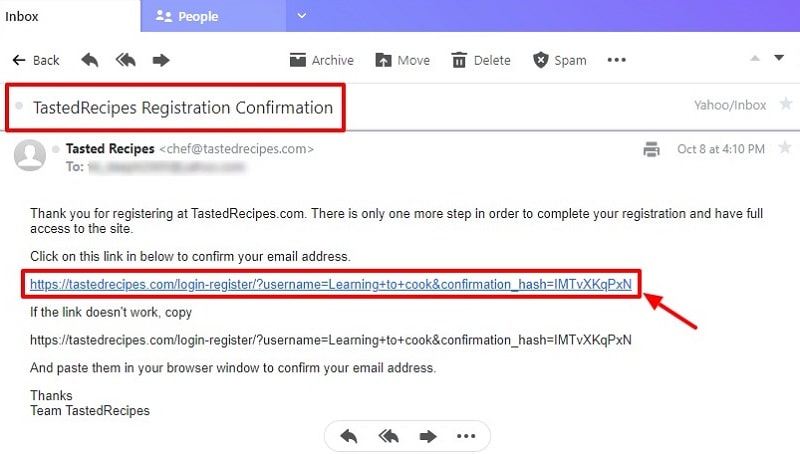 Congratulations.

You have successfully registered yourself. Welcome to the Tasted Recipe Family.
HOW TO UPLOAD YOUR RECIPES?
1. Log in to your account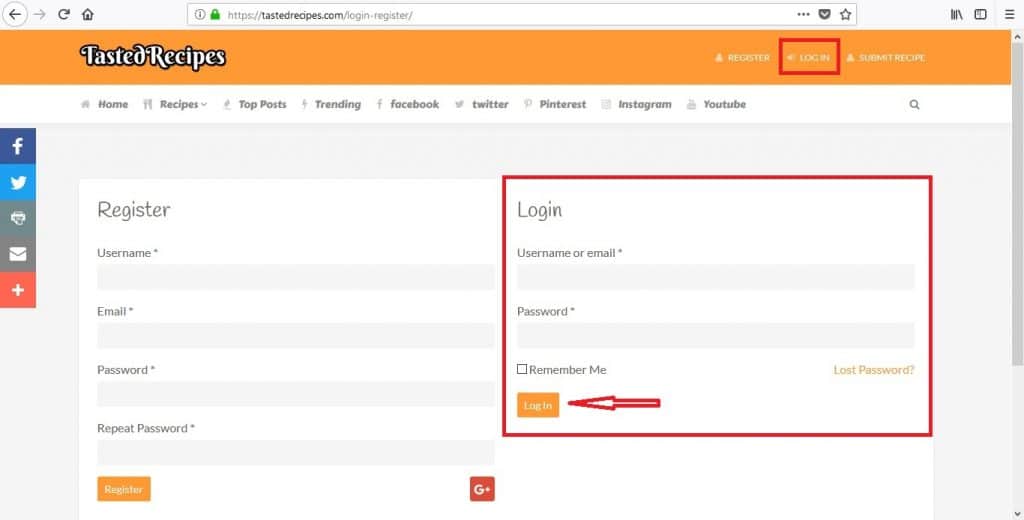 2. Once you are logged into your account, click on Submit Recipe at the top right corner. See image below for reference: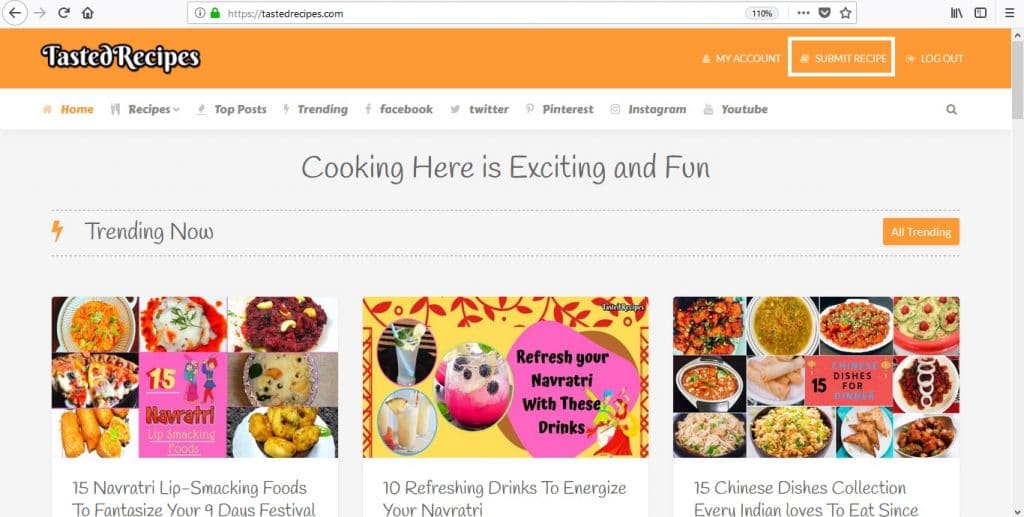 3. Once you click on submit recipe following screen will appear: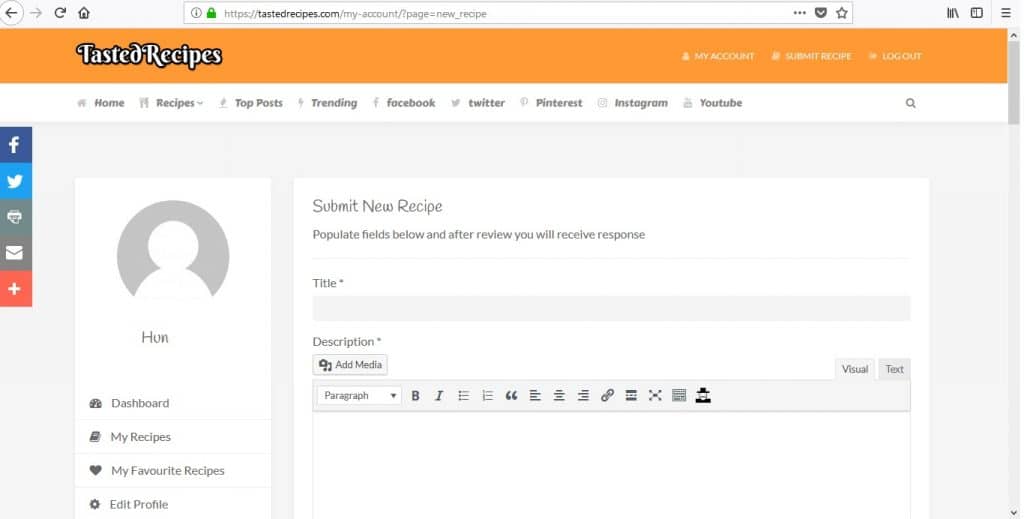 You need to enter the following details:
Title – Name of the Recipe
Description – An emotional description for your recipe describing what it is made of, how is the taste, for whom you made it etc.
Click on the link to see a sample recipe: Veg Dum Biryani
Featured Image – This will be the main image of your recipe. Completely cooked and garnished.
Recipe Excerpt – Brief information of recipe.
Video URL – If you already have a video then you can post the Youtube video URL here.
Servings – No of person that can eat the finished product you have made using the number of ingredients.
Time to prepare – Preparation time (Cutting, washing of ingredients, mixing ingredients etc)
Time To Cook – Time you need to cook in the oven or on the stove.
Ready Time – (Time To Prepare + Time to Cook)
Ingredients – Put ingredients in line. Put enter after every ingredient.
For Example:
Rice – 1 Cup
Ginger Garlic Paste – 1 Tablespoon
Nutrition – Nutritional Values
Steps – Mention each step of making. Enter two dash"–" after each step. Don't write step numbers. The system will automatically pick numbers. Add extra images of preparation of food should be added clicking on "Add Media" button.
Recipe Difficulty – Easy, medium or advanced.
Recipe Category – Kind of Recipe Beverage, Main Course, Dessert etc
Recipe Cuisine – Indian, French, Mughlai, etc
Tag – Possible names and ingredients used in the recipe
Submit – Click on Submit Button after all the things are added.
If you have any queries feel to contact us anytime on call/WhatsApp on below number:
Mr. Fahim – 9687858563